First of all, Happy New Year! It's a bit late, I know, but I still want to wish you all the best for 2022.
We've had an uneventful but nice and relaxing week, and I hope you've had a good time, too. My Christmas Break knitting project is almost finished. I'll share that with you next week when it's all done (I hope).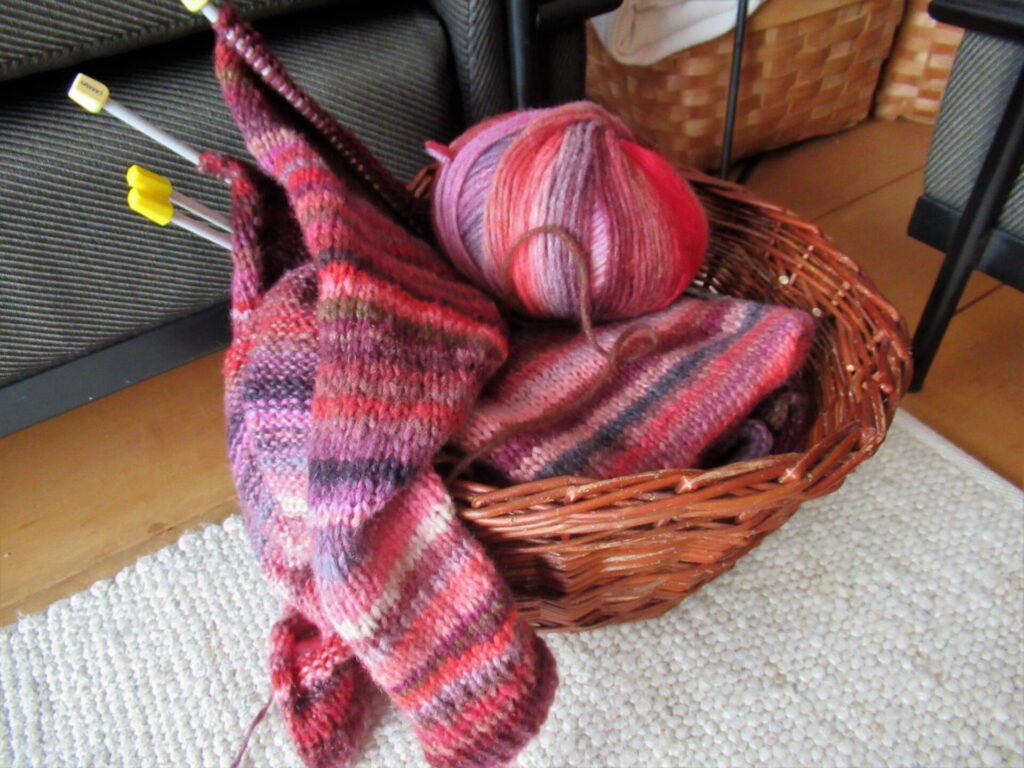 What I'd like to share with you today is the recipe for knieperties, paper-thin waffles that are traditionally served on New Year's Eve and Day in this part of the Netherlands. They can be eaten flat or rolled up. Similar ones are also baked in Germany, which isn't all that far away from here.
Baking knieperties (pronounced something like kneepertees, with an audible k and stress on the first syllable) is a tradition passed on to me by a neighbour across the street. She baked stacks of them on New Year's Eve for her extensive family and always brought us and other neighbours some, too. After she died about a decade ago, I decided to continue the tradition.
Traditionally knieperties were baked using a cast-iron waffle iron held over a fire, but nowadays everyone I know uses an electrical waffle iron. Mine is from German manufacturer Cloer.
INGREDIENTS:
(makes about 100)
150 butter at room temperature
325 g fine caster sugar
2 eggs
500 g flour
A pinch of cinnamon
600 ml lukewarm water
METHOD:
Cream the butter together with the sugar and the eggs.
Stir the cinnamon through the flour.
Add small quantities of flour and water alternately to the butter-sugar-egg mixture until everything is stirred in (the batter should be quite thin).
Preheat the iron for about 10 minutes until the little light switches off – heat setting 3 (middle top) works best for me.
Place one tablespoon of batter on the waffle iron. Close it and keep it firmly closed with your fingers. Hot steam will come out – take care not to burn your fingers!
Open the iron when steam stops coming out. The waffle should now be a pale golden brown. Quickly transfer it to a chopping board.
Leave to cool flat or roll up very quickly using the handle of a wooden spoon.
From start to finish, baking this quantity will take about 90 minutes to 2 hours.
Knieperties are deliciously crunchy and so thin that they are almost translucent.
This is my set-up, with from left to right: chopping board for cooling knieperties, wooden spoon for rolling them, waffle iron, plate for stacking cooled knieperties, small bowl of batter (works easier than big mixing bowl; refill from time to time), pancake turner (bottom right-hand corner) for flipping knieperties from iron to board.
And this is the whole batch, excluding the ones that got eaten during the process. Rolled-up knieperties can be filled with whipped cream if you like.
In the pouring rain (we've had quite a bit of that here lately) I took them around to several neighbours. A great opportunity for catching up on the latest news.
Knieperties are not just served around New Year's, but also on other special occasions.
Instead of an ordinary Christmas card, dear friends sent us this:
A wonderful pop-up card of Villa Rams Woerthe, a historic house in a nearby town. The last time we visited it, we were served tea and knieperties in the drawing room. 'Must enjoy baking knieperties' is high on the list of requirements for anyone who wants to work there as a volunteer.
This is what it looks like from the back:
And this is what it looks like in real life (photo taken in spring):
I'd love to visit it again someday soon. Ah, so many plans and ideas for the New Year! I'll try to share anything I think may be of interest and hope to 'see' you here often.