Hello!
In Dutch, we have the expression achter de geraniums zitten (sitting behind the pelargoniums). It's hard to explain exactly what it means, but on the whole it's considered a Bad Thing. Not quite as bad as pushing up the daisies…
… but it comes very close. Sitting behind the pelargoniums, you're a dull old stick-in-the-mud.
I never particularly liked pelargoniums. But since we came to live here, almost 20 years ago, we've bought them from our local brass band every year to sponsor their uniforms and instruments.
Ironically, last year – when we spent more time behind the pelargoniums than ever before, figuratively speaking – we had to go without them. Fortunately this year, the brass band players were able to go round the doors selling them again.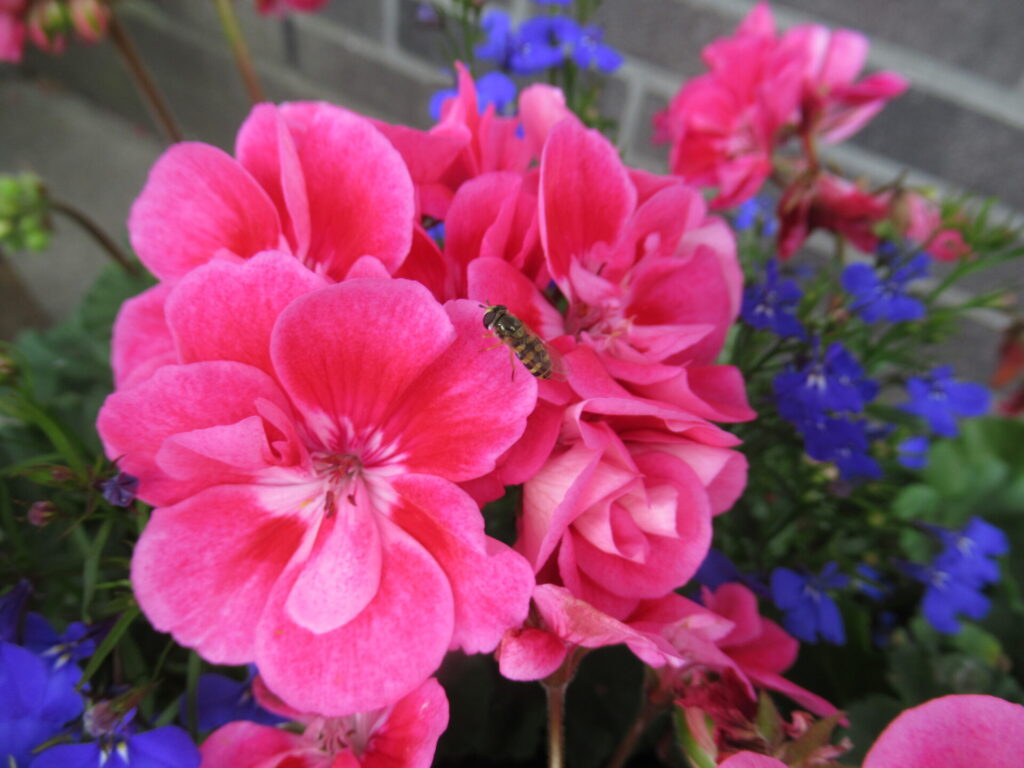 I don't know if I'll ever love pelargoniums, but I've come to like them over the years. They provide some nice splashes of colour around the house.
And how about sitting behind those pelargoniums?
According to our government, it is no longer necessary to do so. I don't know what it's like in your part of the world, but here almost all of the covid-measures have suddenly been dropped. As of last Saturday, we don't have to wear face masks anymore, and almost everything is allowed (with 1.5 metres distance). It's a BIG step, and I wonder where it is going to take us.
It is not going to take us (my husband and me) anywhere much in the foreseeable future. We don't have big plans. I mean, it would be a shame if we weren't here to enjoy our wonderfully fragrant miniature strawberries, wouldn't it?
And who among our neighbours would be crazy enough to pamper my little woad seedlings the way I do? Yes, the seeds have germinated! Well, most of them anyway.
We will just continue living our lives, and doing the things we normally do this summer. But we are planning to take a day off now and then to venture away from behind our pelargoniums. I hope you'll virtually join us on some of our outings.
One thing we have planned, is a visit to our niece. She left home last September to go to uni and I am really looking forward to finally see where she has been studying so diligently on her own this past year. Before that trip, I am crocheting her a pair of old-fashioned pot holders from blue and cream cotton.
On the knitting front, I don't have any big plans either. I'll focus on small projects from those yarn remnants I talked about last week. There is one big project I want to finish, though – the soft, light and relaxed cardi I started earlier this year. Only, I found out that I've made a mistake in one of the front bands. Oops.
I think I know how to fix it, but I need to pluck up the courage for that.
Some crochet is also on my list of things to do this summer. Not a big blanket or anything – I'll keep it small, too.
For the rest, I'll keep enjoying the small miracles surrounding us and sharing them with you.
The other day, when I was starting to lower our awning, I heard a dry, crackling sound. Like something dropping down from it. And this is what I found:
An emperor dragonfly. I couldn't see it breathing, and after observing it for a while concluded that it was dead. A rare opportunity to study it more closely. Such a beautiful creature.
Another thing I found just outside our backdoor this past week is this:
I've zoomed in on it; in reality it is only about 3 cm long. At first I thought it was a bit of moss fallen from off the roof, but when I looked more closely, I saw 'things' in it and realized it was a pellet. Probably regurgitated by this sparrowhawk.
I may seem like a dull old stick-in-the-mud to others, spending so much time behind the pelargoniums. But life never feels dull to me. To close off, here is one of the young woodpeckers who visit our garden every day.
Wherever you are in the world, and whether you are staying behind the pelargoniums or not, I wish you a safe and enjoyable summer and hope you'll pay me a visit here from time to time.
PS If you'd like to see a dragonfly breathing (they breathe through the lower part of their body), here is a lovely video I found on YouTube.