Hello there! Here, in the Netherlands, many people take some time off work in the last week of April and the first week of May. With most schools closed, King's Day on April 27th and Liberation Day on May 5th, it is a time for going to festivals or travelling. While everybody seemed to be having a great time, I was feeling grumpy. Like, everybody is having fun but me. Was I envious?
Well, yes and no. When I saw the crowds in the cities and at the airport on tv, I was happy I wasn't among them. I didn't mind missing out on the big events and didn't particularly want to travel either. What I did want was some time to unwind, though. Only on a much smaller scale. So that's what I've been doing over the past couple of weeks, and I'd like to share some of it with you.
One thing I've been doing is literally unwinding and re-winding yarn using my nøstepinne.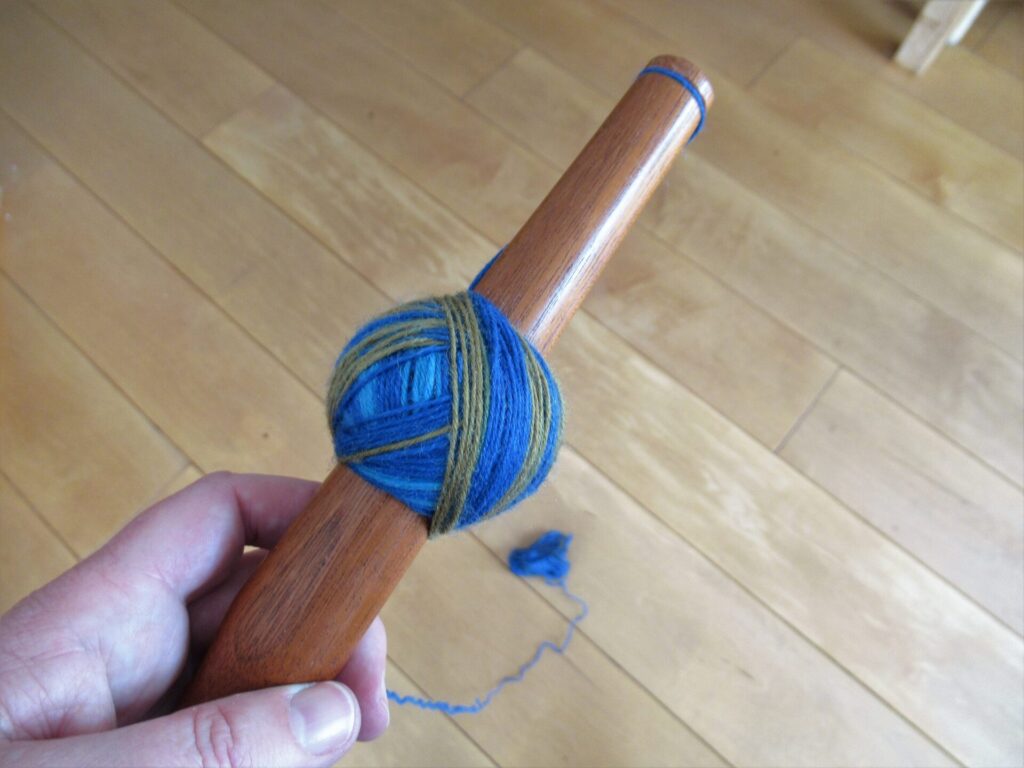 It's a totally unnecessary thing to do, but for me very relaxing. Seeing a mini-skein or an unattractive looking leftover bit of sock yarn transform into a perfect little ball with a hole in the middle is just so satisfying.
Going for a walk or cycling are other great ways for me to unwind. (Thank you for joining me on last week's wood anemone walk – I really appreciate your comments. Knowing that you are there and enjoy some of the same things inspires me to keep blogging.) We are very fortunate in where we live. Hopping onto my bicycle, I'm here in three minutes:
And even closer to home, I've been pottering around the garden, doing some weeding and taking a few photographs. In our herb patch, I found a blackbird's egg – unfortunately not hatched.
(We've also found shells of eggs that did hatch, so not to worry.) Looking at flowers through the lens of my camera, I forget everything else.
Most of the things I did to unwind were close to home (or even at home) and took just a few minutes to an hour at most. But we also took an entire day off to visit a fair at Middachten Castle.
My husband lived close to the castle as a child and our daughter lived almost next-door for several years, so it feels a bit like home to us. Although it is a beautiful place, I'm glad it isn't really our home, to be honest. I'd feel totally lost in a big place like this, and think of all the work involved! The house and gardens are closed until June, but just looking at them from the outside was still enjoyable.
The fair we'd come for was rather disappointing. I'd hoped to be able to buy a few gifts at the stalls, but didn't see anything special. Apart from some spectacular bulbs of different varieties of garlic, that is.
But a bunch of garlic as a gift for a 20-year-old niece? Not, not quite what I was looking for. Fortunately we had enough time left to visit a few shops in nearby Zutphen. Ah, it's such a lovely city – I'll take you there for a longer visit again some other time. (An earlier post about it can be read here.)
I also spent quite a bit of time unwinding with my Seventh Heaven Scarf. It's growing much faster than I thought. After the greens, I'm now deep into the blues (literally – after all the unwinding any figurative blues have lifted), knitting up some of my small nøstepinne-wound balls of yarn.
Well, that's it for today. I hope you can find some time to unwind in your days, too, and hope to see you again next week!