Hello! No big projects or FOs today, but 7 small things that have made me happy over the past week.
1. A walk
The nights have been frosty this week, with temperatures just above zero during the daytime. On Sunday morning it was dark, cold and foggy, and I didn't feel much like going for a walk. We went anyway. The heather and grasses were still white and frozen.
But the trees were already dripping.
It was cold, it was wet, it was gloomy. And it was lovely.
2. Small hands, big hands
Our grandson and his parents came to celebrate Sinterklaas last Saturday. At 8 months, he was more interested in the wrapping paper than in the gifts inside them. His small hands next to my husband's big ones made me sigh a sigh of happiness.
3. Jingle bells
Sinterklaas brought me a few gifts, too. One of them was a small tin filled with jingle bell stitch markers.
4. Small bird feeder
A dear friend came on a very belated birthday visit bearing gifts. One of them was a new bird feeder, hand-made from willow. Too small for woodpeckers and too difficult to hold on to for house sparrows and finches, it is specifically for great and blue tits. I asked them if I could post a picture of them eating pieces of peanut from it on my blog, but they said: uh-uh, we value our privacy! So here is just the feeder.
5. Small cable
The same friend also gave me this:
Only a fellow-knitter would know how happy that would make me. It's a new type of cable for my Chiaogoo circular knitting needles. I am trying it out on the small Advent mittens I'm knitting with the magic loop technique.
What can I tell you about it? Well, the Swiv 360 cable is quite a bit thinner than the original red cables, and it is also a lot more flexible – very nice! These cables are attached to the ends that screw onto the needle tips in such a way that they can rotate freely – a tremendous improvement.
The only downside of these new cords is that there is a slight hitch where the cable is attached to the ends, which makes sliding the stitches from left to right over them towards the tip (when moving from one needle to the next with the magic loop method) a little more difficult. But, all in all, I'm very happy with it!
6. Mini-mittens
I'm not quite but almost on schedule with the Norwegian mini-mittens I'm knitting for an Advent calendar to gift next year. Number 13 has just slid off my needles.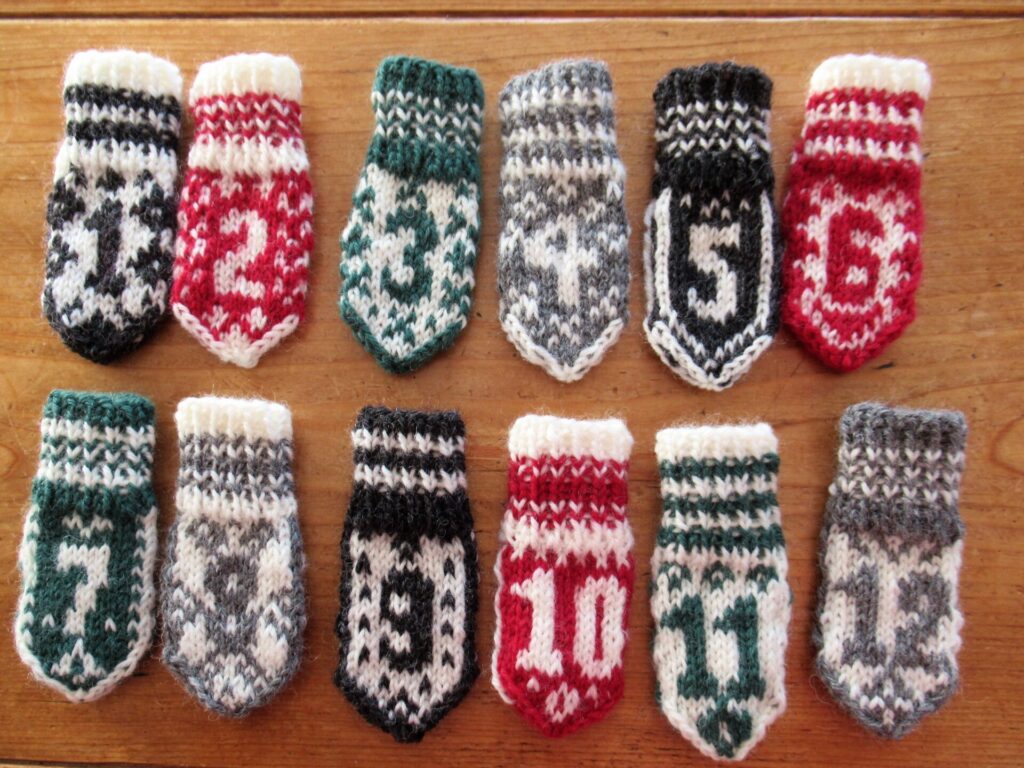 It's great fun, knitting these. My idea was to spend some quiet, contemplative time burning a candle and listening to music while knitting one of these every day. In real life it's more like 15 minutes here, 20 minutes there, sometimes with, sometimes without music, often forgetting to light a candle or to be quiet and contemplative.
Still, I'm getting there and enjoying these knitting moments. The only thing I'm not quite happy with is the bumpiness of the sides of some of the mittens and the irregularity of some of the stitches. But let's look at it from a positive side: I still have things to learn – yay!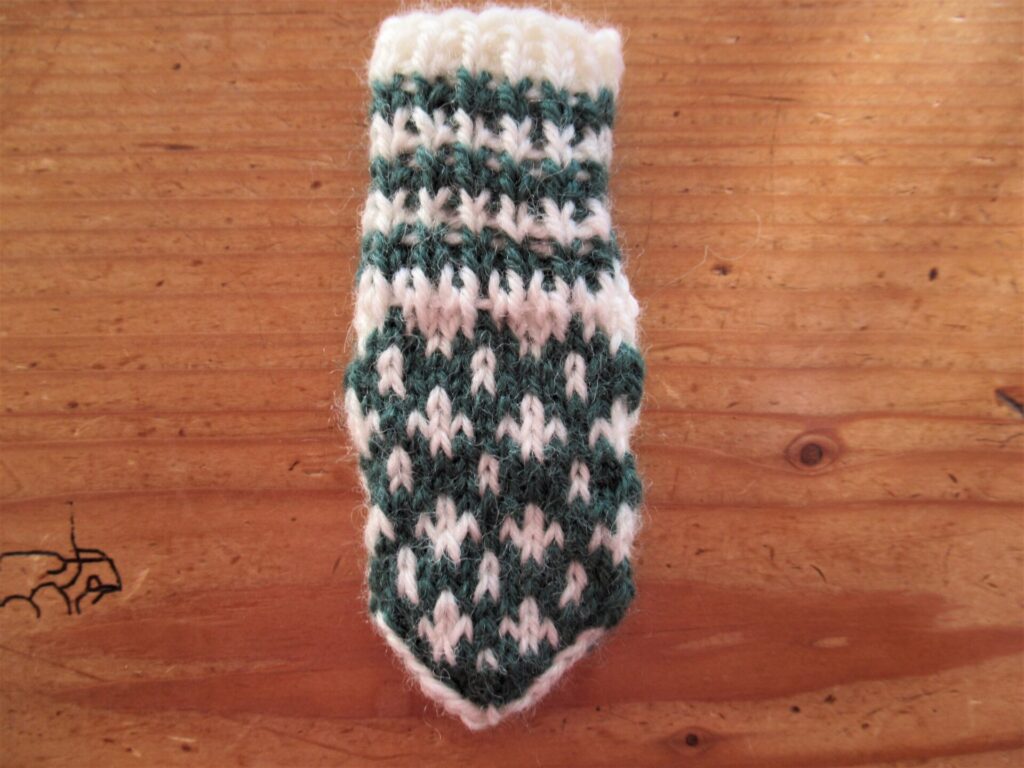 7. Mini-sock
The first Christmas card arrived accompanied by a small gift – a mini-sock. No, actually it wasn't a Christmas card but a New Year's card. The friend who sent it explains why on her wonderful blog about her life, knitting, walks with her dog and music. It is in Dutch, but Google does a fairly decent job of translating it. You can read about and see all of the mini-socks she knit here.
I'm happy and honoured to be the recipient of one of these sweet little socks. I've attached it to the zipper of my babysitting bag, so that it will travel with me every time I'm looking after our grandson.
May your weeks be filled with small things that make you happy, too.