Hello!
First of all, thank you to those of you who suggested better names for my Simple Sock Scrap Stripe and Slip Stitch Scarf – great suggestions, all of them!
When deciding on a name for a knitting pattern, besides choosing something I like, it's also about how findable it is on Ravelry. Taking everything into consideration, I've decided to go with Lynn's idea and call it Seventh Heaven Scarf. Thank you, Lynn! It's not just great because of its reference to the seven Ss in the original name, but also because for me, playing with yarn and colours is one of the fastest routes to seventh heaven!
In case you'd like to knit something like my Seventh Heaven Scarf, too, I'll give you the preliminary pattern here. It's going to be a fairly large rectangular scarf in garter stitch and slip stitch stripes (but it can be made in any size). This is what mine looks like so far: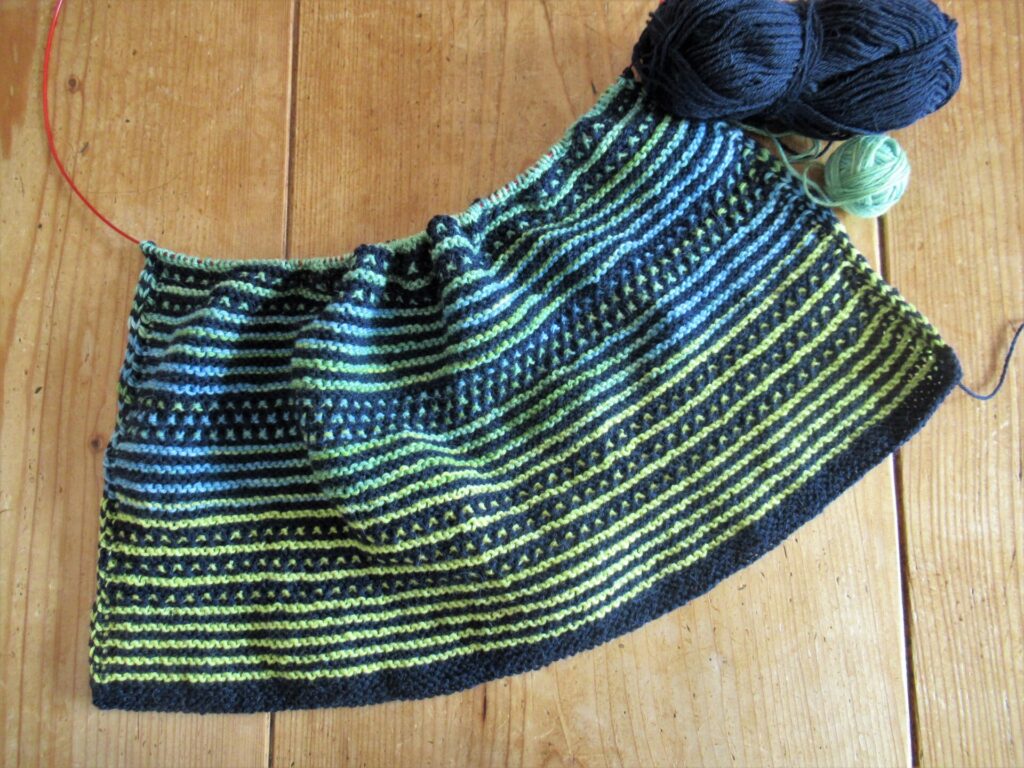 Measurements
I'm aiming for a width of approximately 45 cm/18" and a length of 1.80 m/71" or a little longer.
Yarn
Main colour (MC): 220 g of fingering-weight/sock yarn in a very dark or very light (semi) solid colour. I'm using 5 skeins of Isager Sock Yarn (50 g/193 m; 40% alpaca, 40% merino, 20% nylon) in colour 100 Navy blue.
Contrast colour (CC): 220 g of fingering-weigh/sock yarn remnants (+ some extra just in case). Anything will work: solids, semi-solids, variegated and/or self-striping yarns.
(These are estimated quantities. The actual scarf may take a little more or less yarn.)

For my scarf I've chosen 22 different yarn remnants of at least 10 grams each. They include: Lana Grossa Meilenweit, Regia 4-ply, Schoppel Crazy Zauberball, various hand-dyed yarns from indie dyers, Drops Fabel, Zitron Trekking XXL and other yarns that have lost their labels.
To remind myself of the order I'm planning to use my CC yarns in, I've split them up into 3 smaller groups, photographed them and put each group in a separate plastic bag.
Needles and Gauge
Knitting needles: 3.5 mm/US 4 (For socks I'd use 2.5 mm/US 1.5 needles for these yarns, but for a drapier scarf I've gone up several needle sizes.)
Gauge: 23 sts x 50 rows = 10 x 10 cm/4 x 4" in stripe pattern.
Pattern notes:
The scarf has 3-stitch I-cord edges (photo below). The first 3 sts of every right-side row are knit in the colour of the previous row.
When changing colours after the 3 edge stitches on right-side rows, always pass the 'new' yarn in front of the 'old' yarn.
The scarf can be made in any size or yarn weight you like. Decide on the measurements you'd like, knit a generous swatch, and then weigh and measure it. Based on this swatch, calculate how much yarn you're going to need and how many stitches you need to cast on. The instructions below are for my size.
Always cast on an odd number of stitches.
Work the same number of rows with every remnant or vary the number of rows.
For a smoother transition from one CC yarn to the next, switch to a new CC yarn on a wrong-side A, C or D row (see below).
All slip stitches are slipped as if to purl (i.e. inserting the needle from right to left), sometimes with the yarn held in front (wyif), sometimes with the yarn held in back (wyib). Sl1 = Slip 1 stitch; Sl3 = Slip 3 stitches, Sl4 = Slip 4 stitches.
ABCD stripes
Basically, the scarf is composed of 4 different pairs of rows – A, B, C and D:
A (CC garter ridge):
Row 1 (RS): With MC knit 3 sts, switch to CC and knit to end.
Row 2 (WS) (CC): Sl3 wyif, k to last 3 sts, sl3 wyif.
B (MC garter ridge):
Row 1 (RS): With CC knit 3 sts, switch to MC and knit to end.
Row 2 (WS) (MC): Sl3 wyif, k to last 3 sts, sl3 wyif.
C (CC slip stitch pattern starting with a k st):
Row 1 (RS): With MC knit 3 sts, switch to CC and (k1, sl1 wyib) to last 4 sts, k4.
Row 2 (WS) (CC):  Sl3 wyif, (k1, sl1 wyif) to last 4 sts, k1, sl3 wyif.
D (CC slip stitch pattern starting with a sl st):
Row 1 (RS): With MC knit 3 sts, switch to CC and (sl1 wyib, k1) to last 4 sts, sl1 wyib, k3.
Row 2 (WS) (CC):  Sl4 wyif, (k1, sl1 wyif) to last 5 sts, k1, sl4 wyif.
INSTRUCTIONS
Cast-on and set-up rows:
With MC cast on 111 sts.
Row 1 (RS): knit.
Row 2 (WS): sl3 wyif, k to last 3 sts, sl3 wyif.
Work rows 1 and 2 two more times.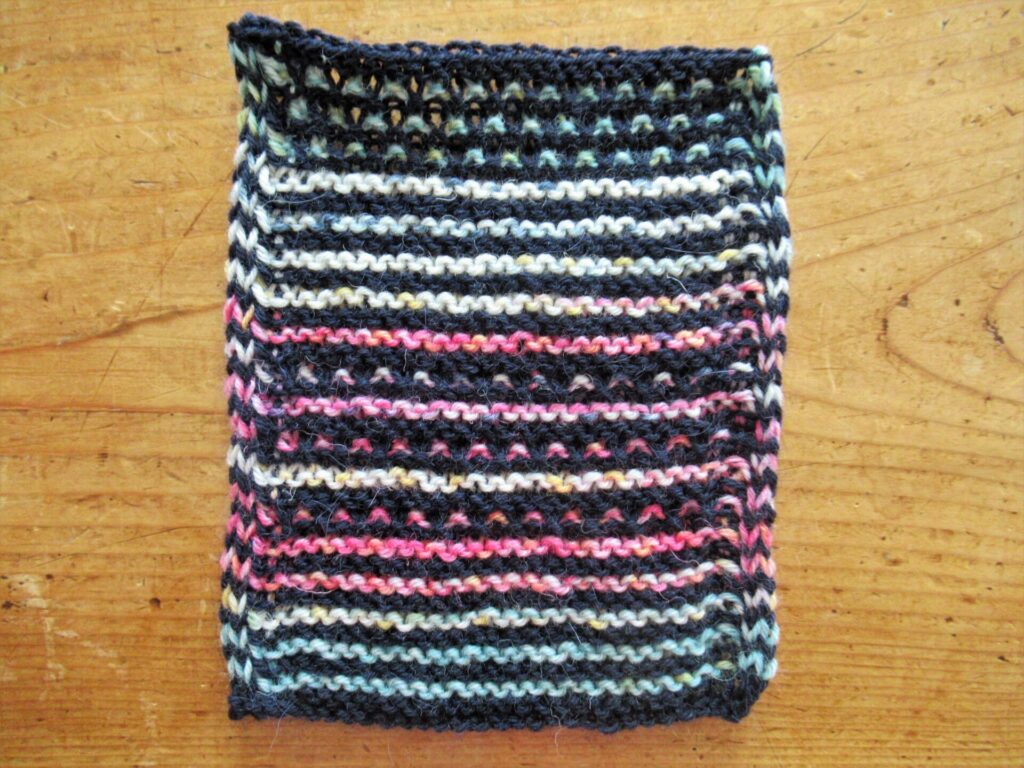 Start working in stripe sequence:
(The swatch above shows one complete stripe sequence.)
Rows 1-20: Starting with A, work A and B five times in total (= 10 garter ridges alternating CC and MC).
Rows 21-22: C.
Rows 23-28: B, A, B.
Rows 29-30: D.
Rows 31-36: B, A, B.
Rows 37-38: C.
Rows 39-40: B.
Rows 41-60: Repeat rows 1-20.
Rows 61-72: C, B, D, B, C, B.
Repeat these 72 rows until you've almost reached the desired length.
Work 4 rows in MC in the same way as set-up rows 1-2. Bind-off loosely. Weave in ends, soak and block.
Knitting with all these bits of yarn in different colours is such fun. My first little ball was the yellow-green of the Euphorbias in our front garden. The second one is a variegated blue and green yarn:
It's like fresh young hawthorn leaves against a blue sky.
I'm enjoying knitting up the greens and can't wait to get to the heavenly blues and then the flowery purples, pinks and oranges.
Note: This is only a preliminary pattern – I'll publish a complete downloadable pattern on Ravelry later, when my scarf is finished. I hope everything is clear so far. If you're going to knit your own Seventh Heaven Scarf, have fun! For any questions, please leave a comment and I'll try to answer asap.