Hello!
The past few days have been lovely, weatherwise. Quoting Goldilocks, neither too hot, nor too cold, but just right. Over the past two weeks we've had several hot days, though, with one when our outdoor thermometer reached 39 ˚C (102 ˚F) in the shade. Pffffff, waaaay too hot to have a pile of knitting on my lap (we don't have an air conditioner). What is a person who can't NOT knit to do on days like that?
Faced with that conundrum, I thought of knitting something really small. Some more of those Gift Leaves, but even smaller than the ones I knit before, for an earrings-and-pendant set. At first, I thought I'd use embroidery floss – all those lovely colours to choose from!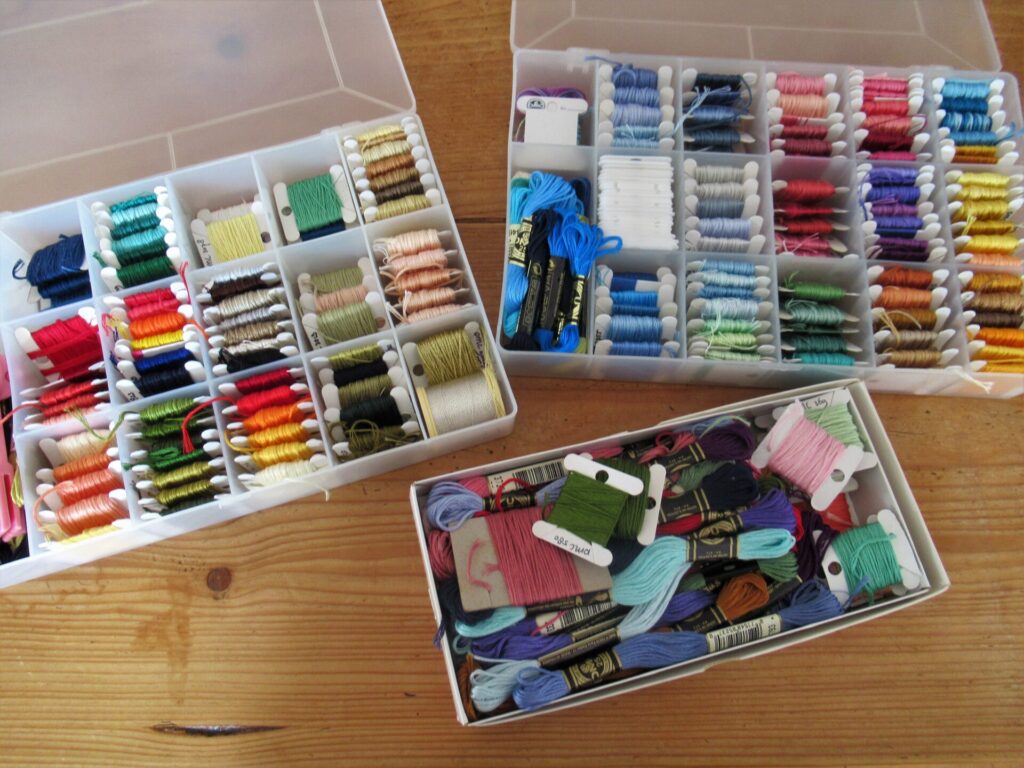 But that didn't work as it is completely non-stretchy and terribly splitty (duh, that's the essence of embroidery floss), which made knitting and especially a sl1-k2tog-psso-manoeuvre sheer torture. Rummaging around for something else, I came across some small remnants from my Tellina cowls. Remember them? (Click on images to enlarge.)
This what I had left after knitting two cowls:
Since then, I've used part of the leftover yarn for a Blogiversary Bag and a Soothing Sachet, but there was plenty left for this set (and more small future projects).
If you'd like to make a set, too, here's what you'll need and how to go about it.
WHAT YOU'LL NEED:
Two 1.25 mm/US 0000 knitting needles
Small quantity of fine fingering-weight yarn
Tapestry needle
Pair of ear wires
Metal or leather necklace
Optional:
Three 4 mm Ø and three 2 mm Ø beads
Sewing thread
Needle small enough to pass through smallest bead
The yarn I used was Manos del Uruguay 'Fino' (70% Merino; 30% Silk; 448 m/490 yds/100 g) in the colour Velvet Pincushion. The pendant took only 0.50 g and the earring leaves even less.
I used ear wires in this shape (the kidney-shaped ones and hoops will work as well, but not the ones with a small closed eye):
HOW TO KNIT THE LEAF EARRINGS AND PENDANT SET:
Download the free Gift Leaves pattern from Ravelry.
Knit 2 leaves size S for the earrings and 1 leaf size M for the pendant, knitting 2.5 cm/1" long stalks.
Weave in the ends at the leaf tips. Use the yarn tail on the stalks to sew them into loops. For the earrings make the loops flat by sewing the beginning of the stalk next to where the stalk ends and the leaf begins. For the pendant fold the stalk in half towards the back of the leaf and fasten it behind the place where the leaf starts.
If you like, sew on beads to resemble little raindrops drip-drip-dripping from the leaves. (I used clear glass beads with a silver lining and white sewing thread.) Fasten the sewing thread to the back of the leaf with a few small stitches and let it come out at the leaf tip. Pass the thread through the larger bead, then through the smaller bead, back through the larger bead and into the leaf tip. Fasten off at the back.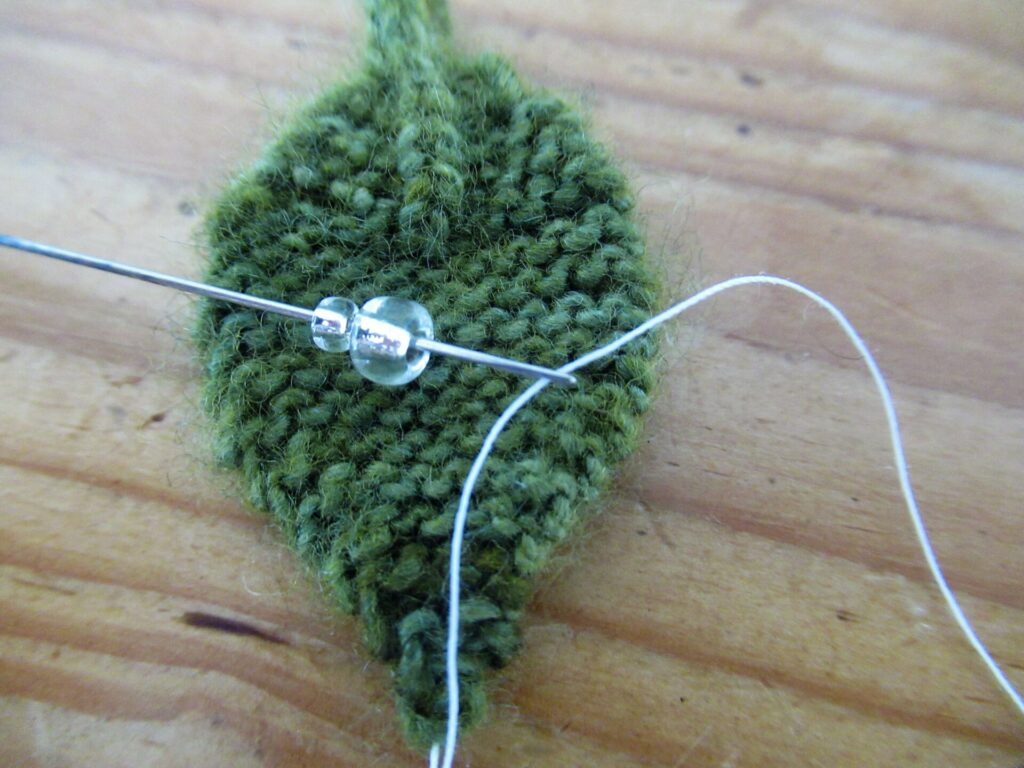 Knitting on these small needles is fiddly and for me required good, bright daylight. But it is really rewarding. For comparison, below you see a Gift Leaf in size M knit with ordinary sock/fingering-weight yarn on 2.5 mm/US 1 needles next to the pendant in size M knit with fine fingering-weight yarn on 1.25 mm/US 0000 needles.
Early one morning, while I was quietly knitting a leaf with the French windows wide open to let in as much cool air as possible, a young great tit came to visit. After fluttering around frantically for a bit, it alighted on the highest perch in our living room: the wooden eagle on top of a book case.
I was afraid it would hurt itself trying to get out, but between the two of us my husband and I were fortunately able to guide it back outside safe and sound.
These leaf earrings and pendant are quick little items to make for yourself or for gifts. One earring leaf took me about 30 minutes to knit, the pendant a little longer, plus a little time to sew on the beads. Here are a few pictures of me wearing them to give you a sense of scale.
Goodness, how I've aged since the Tellina pictures were taken just three years ago. Or is it that this picture lacks the rosy glow of the make-up I was wearing in the earlier pictures?
Here you can see how the stalk is fastened into a loop to make the leaf hang flat facing to the front:
And this photo shows how that is different for the pendant:
I chose green for my leaves, but who says that leaves need to be green? Why not choose a lovely autumnal colour, like warm red, fiery orange, bright yellow, or earthy brown? If you like making fiddly little things and are going to knit yourself or someone else a set of these, I wish you happy knitting!