Hello!
The long, very hot and very dry summer finally seems to be coming to an end here. I'm ever so grateful for the rain we've had the past couple of days, and am hoping for lots more as everything is parched. The only thing that has done well in our garden this year are our grapes.
My summer knitting projects are also nearing completion – more about those soon, I hope. But today, it's Raspberry Ripple day!
First of all, here is a shawl I finished knitting quite some time ago and have finally blocked. The shawl pattern is called Morbihan, but I'm calling this version Raspberry Ripple.
The yarn I've used for it is John Arbon's Knit by Numbers 4-ply. It's a 100% organically farmed Falklands merino, and each colour is available in a gradient of 6 shades. The colour shown here is called Raspberry (what else?), and in total I've used eight 25-gram mini skeins – 3 of the darkest shade and 1 each of the other 5 shades.
This is what my Raspberry Ripple Shawl looks like spread out:
I like wearing triangular shawls scrunched up and wrapped around my neck like this:
Morbihan was first published in English only, but now I've also translated into Dutch. The pattern can be found here on Ravelry in both languages.
Morbihan was eerst alleen in het Engels beschikbaar, maar ik heb het patroon nu ook in het Nederlands vertaald. Het is hier op Ravelry te vinden.
Raspberries, how I love them. Not just their colour, but their taste, too. If I want some for a dessert, I need to make a trip to the supermarket. We do have wild raspberries around here, but they are rare.
It'll soon be woolly-shawl-weather again, but at the moment it's still warm enough to be ice-cream-weather. So here is my simple (no ice cream maker needed) recipe for Raspberry Ripple Ice Cream.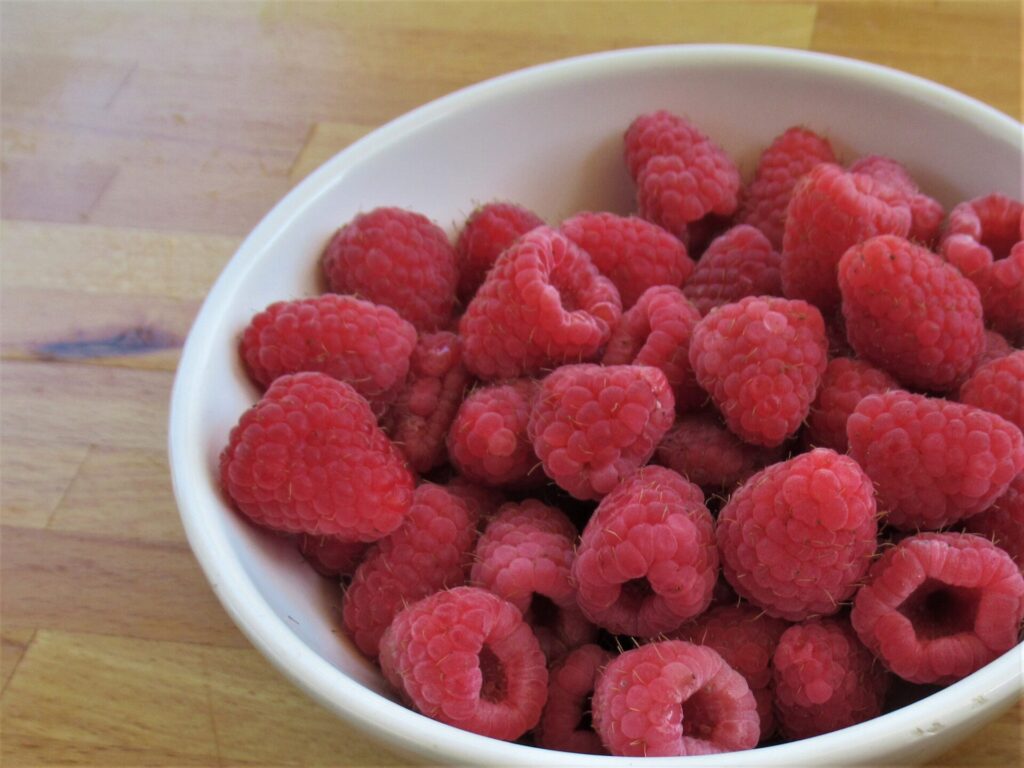 Raspberry Ripple Ice Cream
(makes approx. 1 litre)
Ingredients:
250 g raspberries
130 g caster sugar
3 egg yolks
250 ml milk
250 ml double cream
1) Place the raspberries in a small saucepan with 30 g of the sugar. Cook on medium heat, stirring from time to time and squashing the raspberries with a wooden spoon. Simmer for about 5 mins without the lid on. Push through a sieve with your wooden spoon. Discard the seeds and the last bit of pulp left in the sieve. Leave to cool.
2) Whisk the egg yolks and the remaining sugar together. Pour the milk in a pan and bring to boiling point. Pour the hot milk on the egg-and-sugar mixture, whisking all the time. Return the eggy milk to the pan and heat slowly, stirring until it has thickened slightly (make sure it doesn't boil!). Leave this to cool as well.
3) When the raspberry sauce and the custard have cooled completely, whip the double cream until it forms soft peaks. Gently fold the cream into the custard. Pour the creamy custard into a container (holding at least 1 litre).
4) Pour in the raspberry sauce and make swirls and ripples using the handle of a wooden spoon. Cover, place in the freezer, and freeze overnight.
Enjoy!