Hello!
Here is the embroidery sampler I promised to show you. Like the knitting sampler I wrote about two weeks ago, this sampler isn't spectacular or particularly beautiful. But unlike the knitting sampler, whose maker is unknown to me, I know with 100% certainty who made this embroidery sampler. It was my Mum.
Not only did she show it to me, she also embroidered her name and the date on it.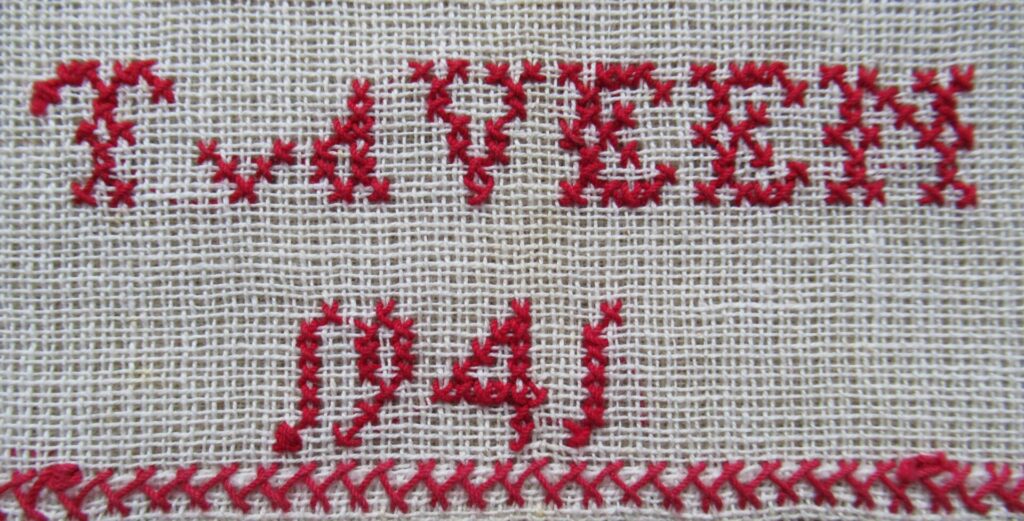 My Mum made the sampler at school in 1941, when she was 8 or 9. It was the beginning of World War II and the family lived in Leeuwarden, the capital of Friesland. She didn't talk about it very much, but I have heard stories of bombings and scarcity.
One story that has stayed with me, is that they sometimes had 'guests' staying at their house. At those times, she and her sisters shared one bed to free up their own beds. During a razzia, the children were woken up in the middle of the night. The visitors were hidden in a secret space, and the girls had to run around the house, so that the Germans couldn't see who had been sleeping where. A strange and scary time to grow up in.
To some girls, making an embroidery sampler may have been a welcome distraction. I don't think it was to my Mum.
I've seen similar samplers, and compared to those, hers has only a few decorative borders. The alphabet is incomplete and the letters are jumbled up.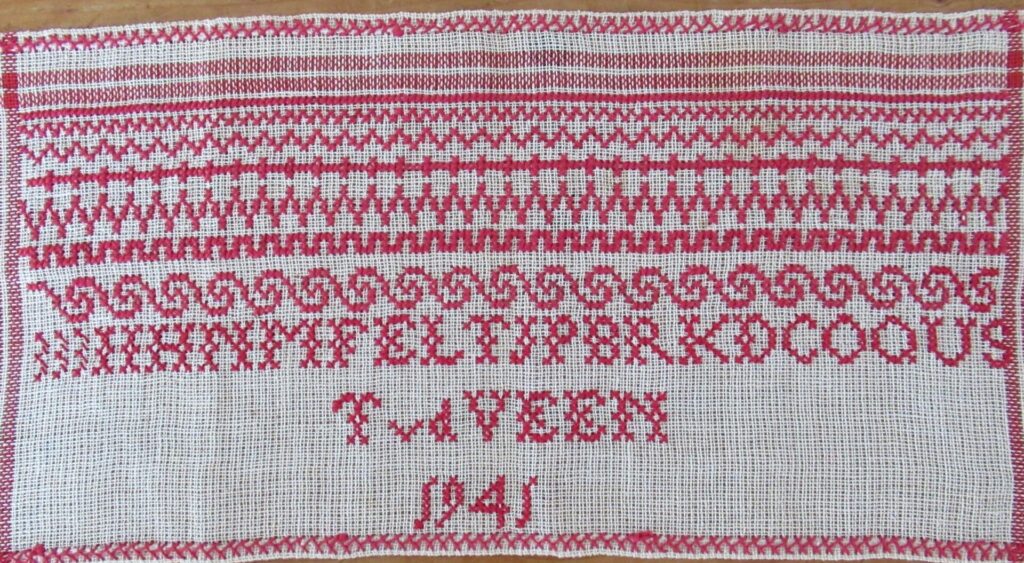 To the left of the actual letters, there are 3 aborted attempts (photo below, bottom left). Or were those the place where she started, meant for practicing cross stitches?
After this, she never did any counted cross stitch again. She did like embroidery, but of a different kind. She has made many, many colourful table cloths embroidering over pre-printed patterns.
Still, although Mum didn't enjoy doing cross stitch, the sampler must have been special to her. After WWII, in the early 1950s, the family (minus one daughter who was already married) emigrated to Australia, hoping for a better life.
My Mum's fiancé (later my Dad) came with them, but couldn't acclimatize. And several years later my Mum and Dad came back to the Netherlands, with just one suitcase each holding all of their earthly possessions. The embroidery sampler must have been in her suitcase, travelling all the way to Australia and back again. An extraordinary story about an ordinary sampler.
I have an old magazine packed with pictures and patterns of embroidery samplers.
There are many much more elaborate samplers in it, but also several school samplers. Here is Mum's sampler next to one in the magazine. Same kind of letters, same kind of decorative borders.
And here are three similar ones framed on a wall. They are almost always embroidered just in red thread, with a few exceptions using blue as well as red.
I'm thinking of having Mum's cleaned and framed now, too.
Years ago, I knit a series of beaded wrist warmers…
…including a pair inspired by the embroidery sampler. One of them with my initials, and the other with the year I made them on it.
They are nice accessories that keep the wind from blowing up my sleeves when I'm riding my bicycle.
I'm now working on a project incorporating elements from both the knitting sampler and the embroidery sampler. More about that in a few weeks' time, I hope.
For those of you who'd like to know more, this is THE book on Frisian embroidery samplers: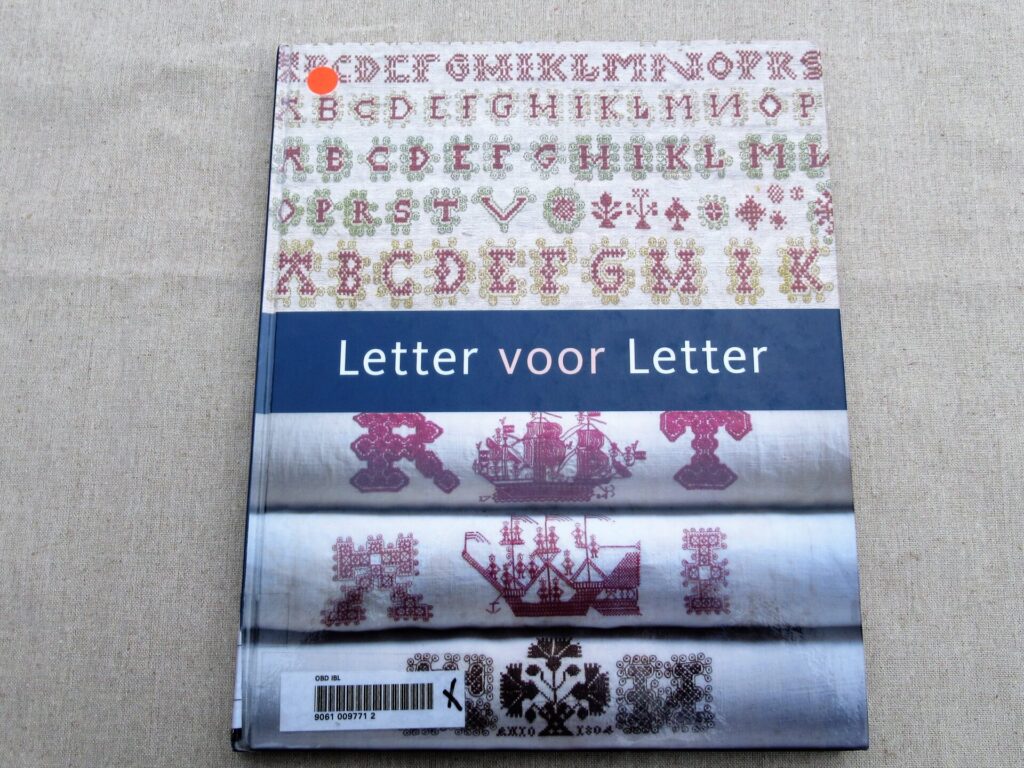 Letter voor Letter was written by Gieneke Arnolli, the now-retired Fashion and Textiles curator of the Fries Museum in Leeuwarden, and Rosalie Sloof. It contains loads of information, many beautiful photographs, an English summary, and a complete fold-out pattern for a sampler. It is out of print, unfortunately, but there are some second-hand copies around, and it can still be borrowed from Dutch libraries.
The Fries Museum has a collection of over 600 samplers from the 17th to the 20th Century. A large part of the collection can be viewed on the website friesemerklappen.nl. A wonderful source of information and inspiration. Most examples of red school samplers like my Mum's can be found on pages 6 and 7 of the website.
Click on the button 'Alle merklappen' for an overview. Zoom in on the samplers by holding the Ctrl key and scrolling simultaneously, or by holding the Ctrl key and using the + to zoom in and – to zoom out. Be amazed and have fun!