Hello!
For two nights and a day-and-a-half it was wintry here, with starry nights, bright sunshine during the day and frost in the air. We're back to higher temperatures and overcast skies now, but it was lovely as long as it lasted, with the thinnest layer of ice on ponds and lakes…
… and hoarfrost on the brittle yellowed grasses.
It was on one of these days that I decided to start a new, wintry knitting project: an Advent calendar with 24 small Norwegian Christmas mittens or Julevotter. A few days earlier a newsletter in my in-box mentioned it. As soon as I saw it, I loved it.
I didn't plan on making one, though, until the wintry weather made me change my mind. It made me crave warm, woolly yarn and things. And, thinking about it, didn't I have exactly the yarn called for in my stash?
The next minute I was running up the stairs, rummaging through boxes, and Yes! Found it! Some Dale Garn 'Heilo' and some Drops 'Karisma' in just the right colours.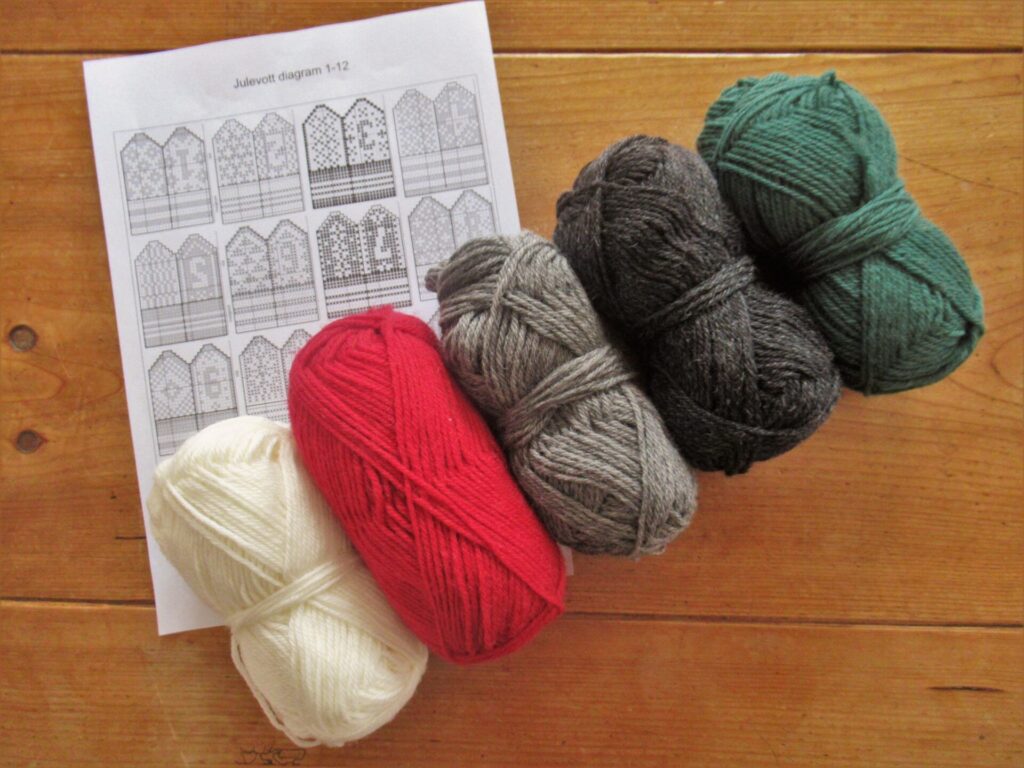 This advent calendar is going to be a double gift. This year it's a gift to myself – the gift of some peaceful knitting time every day during the Advent period. And next year it'll be a gift for someone else – filled with small gifts.
I've already knit mitten number 1 to try the pattern out, at first using the indicated 3.0 mm/US 2½ needles. This made a very stiff mitten, so small that it would be almost impossible to wriggle a tiny gift into it. I tried another one on 3.25 mm/US 3 needles and that was better. Still small, but less tight.
Using knitting needles just a quarter of a millimetre thicker made a visible difference.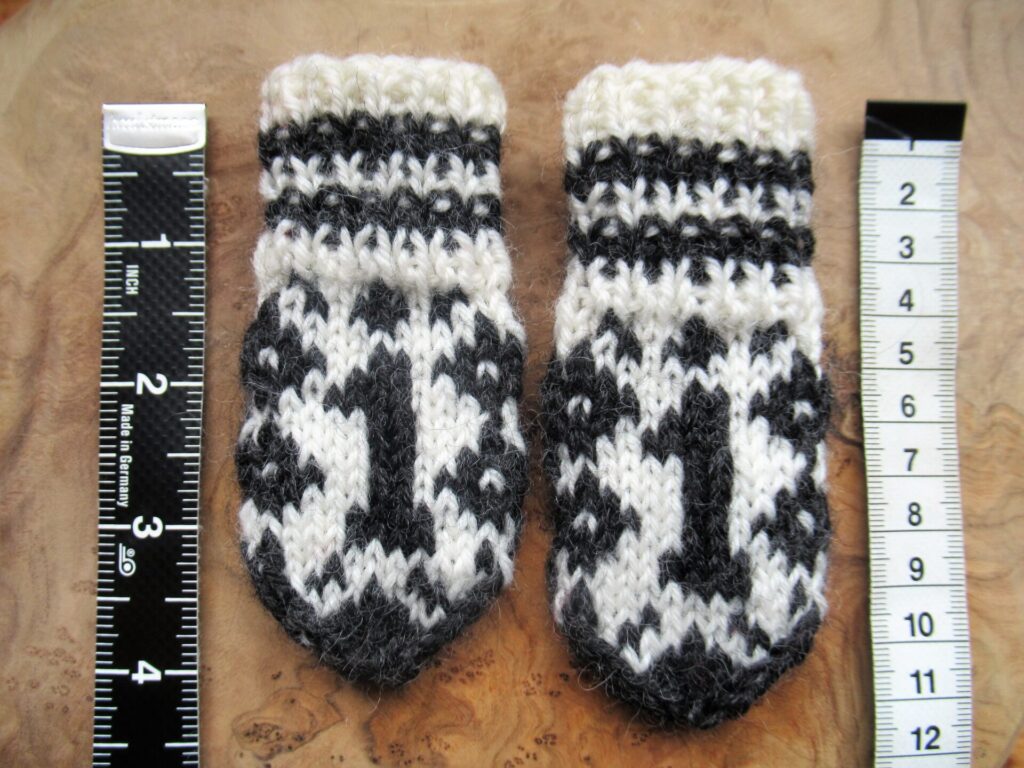 The pattern is in Norwegian, but that's not really a problem even if you don't speak a word of the language. Legg opp 26 m means: cast on 26 sts. The ribbing is k1, p1. And there are charts for the colourwork patterns and the decreases at the top.
The 24 tiny thumbless mittens are all going to be different, with a number on one side and lovely Norwegian patterns on the other.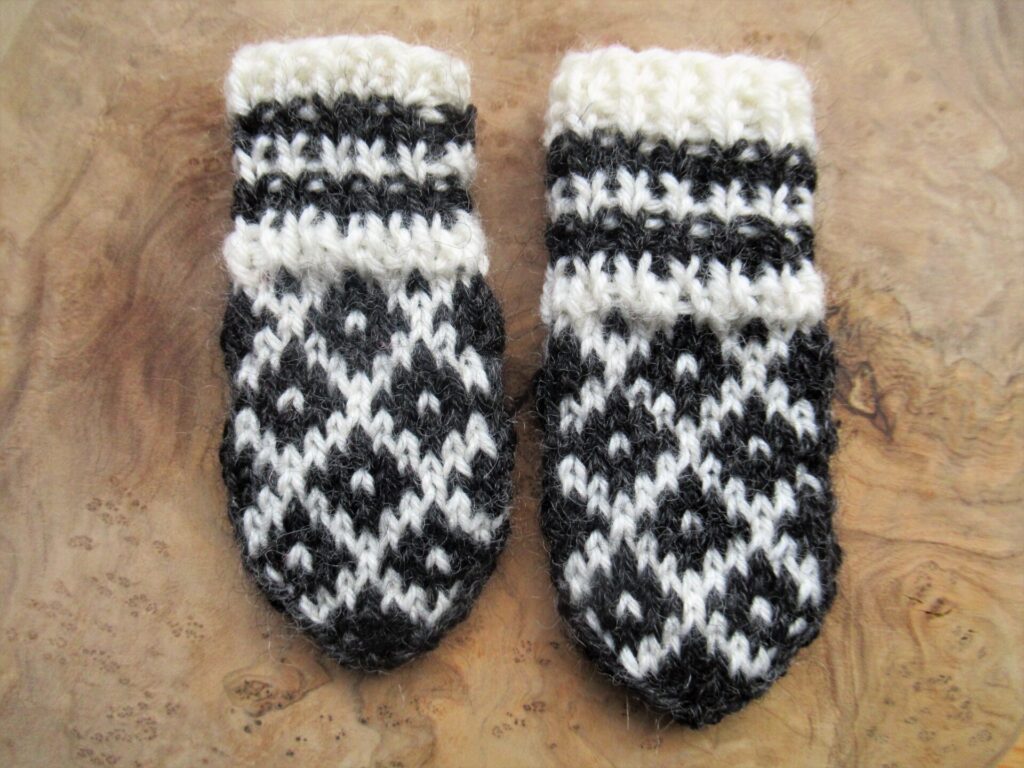 I'm not sure it's doable, knitting a mini-mitten every day during the run-up to Christmas, but we'll see. I'm really looking forward to spending quality time with them and am not going to hurry. If they're not finished 'in time' I'll just keep knitting on in the New Year.
I read about this Advent Calendar in an e-mail from Rosy Green Wool, a German producer of organic yarns. I've subscribed to their newsletters because they are not too frequent and there is usually something interesting in them. Their post about this project can be read here on their website.
Sabine, the author of this 'Knitting Letter' as they call it, has knit one for each of her two children, and it's fun to see them in the un-Christmassy colours she's chosen, very different from my traditional ones.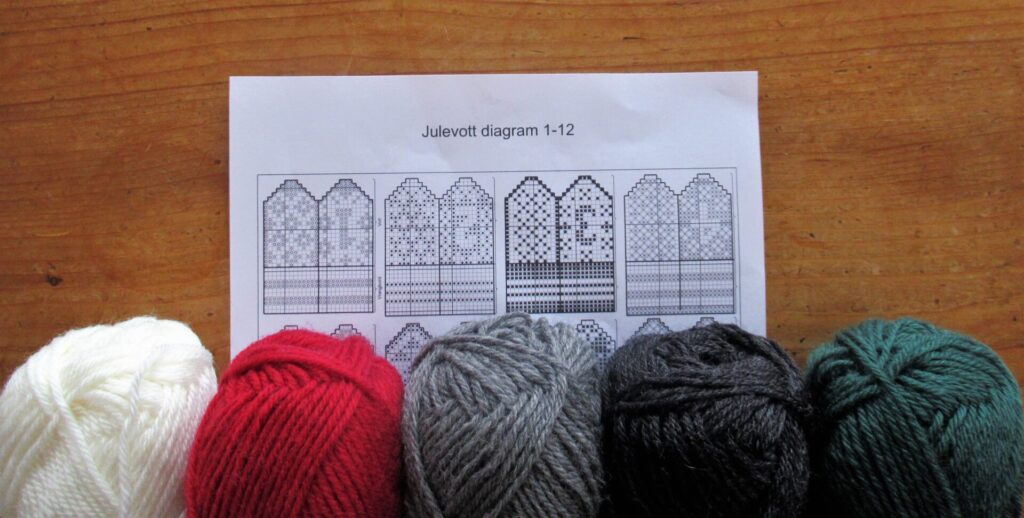 The free pattern for the mini-mittens was published by Dale Garn and can be found here on Ravelry. Rosy Green Wool's knitting letter says that it is no longer available for downloading, but it is. It is no longer available from Dale Garn, but can now be found on the Wayback Machine. Here is how to find it:
If on Ravelry you click on 'This pattern is available for free' or on the link under 'For more information, see:' you're sent on to the Wayback machine (on my computer it takes a while). It looks a bit iffy, but the Wayback Machine is a bona fide internet archive.
When there, click on 'Last ned katalog'. Then you'll get a pdf of a lovely booklet with lots of patterns for knitted and crocheted Christmas projects.
For the mitten Advent calendar pattern scroll down past all the cosy pictures and you'll find it on pages 1-3 of the instructions.
Well, I won't keep you any longer. I know this is a busy time of year for many, but I hope you can find some quiet time in between all the jobs on your list to just sit and knit, or read, or listen to music, or do whatever else feels peaceful to you. xxx