Hello!
Here (above) is my entire collection of scraps and mini skeins of sock yarn. I'm fairly sure most of you will have some stored away somewhere, too. I keep mine in a plastic carrier bag. Not just any old plastic carrier bag, but one from that wonderful Norwegian institution Husfliden. Besides the yarn, it holds happy memories.
In it are two bags filled with sock yarn remnants, more or less sorted by colour.
Because I am allergic to dust mite, I store all my yarn in plastic. Not very attractive, but I just can't go around wheezing and sneezing all the time, especially now.
Emptying them out, there is a heap of mainly pinks and purples, and another heap of mainly blues and greens.
On my bookshelves there is a book called Color in Spinning.
It contains a lot of information about and inspiration for choosing and combining colours for blending, spinning and plying your own yarns. It works with the colour wheel.
Although I usually choose colours intuitively, it is interesting to look at them within the framework of the colour wheel for a change. Arranging my sock yarn remnants in this way, it looks like this:
A hugely unbalanced colour wheel. Many, many blues. Some bluey greens, pinks and purples. Just one ball of bright yellow (whatever did I use that for?). And hardly any brighter greens, oranges or reds.
My collection of neutrals is tiny, too.
But there is more in my carrier bag. A selection of naturally dyed mini skeins that once entered my house through a subscription. The Natural Dye Studio (which no longer exists) sent me several small skeins in different fibres and colours once every week or so for a while. Here they are, also laid out in a sort of colour wheel.
A very different range of colours from my sock yarn remnants – much more balanced. But here, too, there is a gap in the wheel. Why? Where are the pinks and purples? After some digging, I found the missing section in a different bag.
Although I loved looking at and petting the hand dyed mini skeins, I have never actually done anything with them. I didn't know what to do with such small quantities (10-20 g each) and some of them were really not 'my' colours.
Apparently I did have a plan for the pink and purple section of the colour wheel. They are wound into small balls and numbered. And I even made a colour card. There are no further notes with it, though, and I can't for the life of me remember what I was going to do with them. Well, never mind. I'll mix them in with the rest of my collection.
I have very clear preferences, easily summed up as blues…
But the world would be a dull place without yellows…
In many respects, I think the world would be a poorer place without the entire rainbow. But when it comes to knitting, I don't know.
Although I feel dubious about some of the colours, in a sense I feel like Smaug, with my hoard of yarnie gold.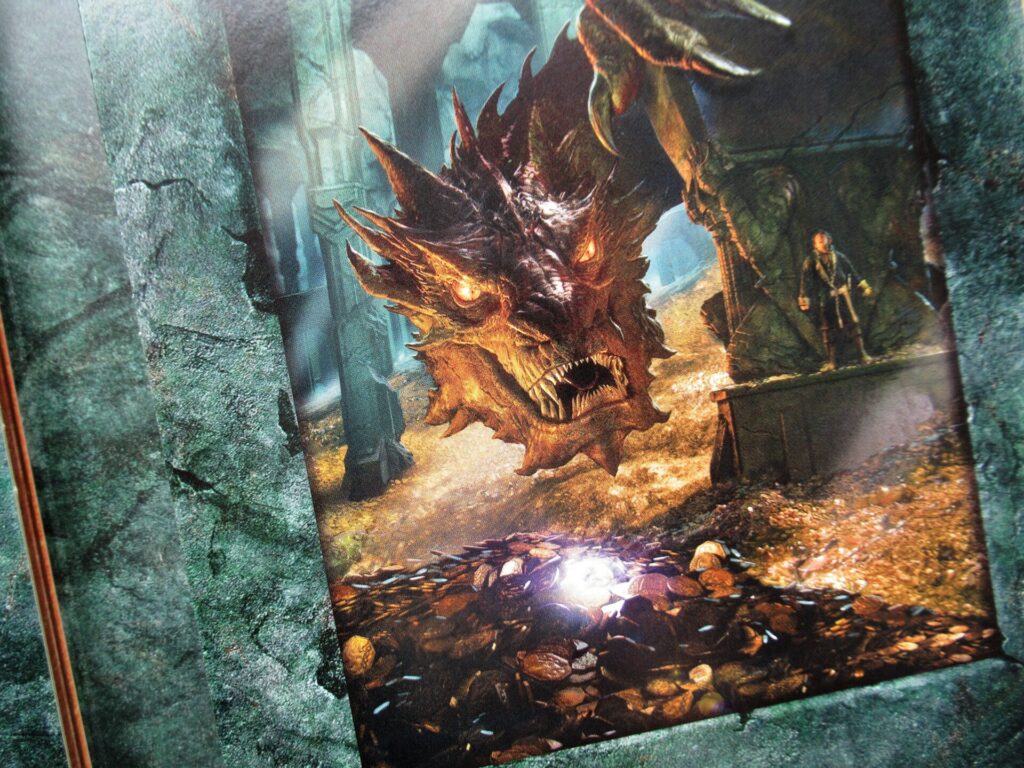 But unlike Smaug, I'm more than happy to share my treasure with others. In the past, I have given my yarn scraps away to sock yarn blanket and dolls' clothes knitters. Now I'd like to knit some gifts with them.
I think it's going to be a real challenge to make something beautiful with these small quantities of yarn. Well, maybe 'beautiful' is raising the bar too high. Let's say something really nice. Gifts that won't force the recipients to lie about how much they love them.
Will I be able to do that? And will I be able to step outside my colour comfort zone and use those bright green, orange, red and yellow mini skeins? I'm not sure, but I'll give it a try.
I took the picture below, of a roundabout just outside our village, several days ago. Not my colours in knitting, but on a roundabout? Wow!