Hello!
It's been an unsettling and busy week. Certain things have taken up so much of my attention that other things have piled up. Now what am I going to do? Rush around the house cleaning and tidying? Tackle a pile of ironing? Do some admin? Or write a blog post? Reading this, you know the answer.
Ah, it's good to sit here, look through my photos and chat with you. Today I'm going to chat about a belated birthday visit to one of my dearest friends, who is a wonderful knitter, spinner and yarn dyer.
Shortly before leaving home, I hopped onto my bicycle for a quick visit to the flower garden just outside our village. (In case you have found my blog recently, you can read more about it here.)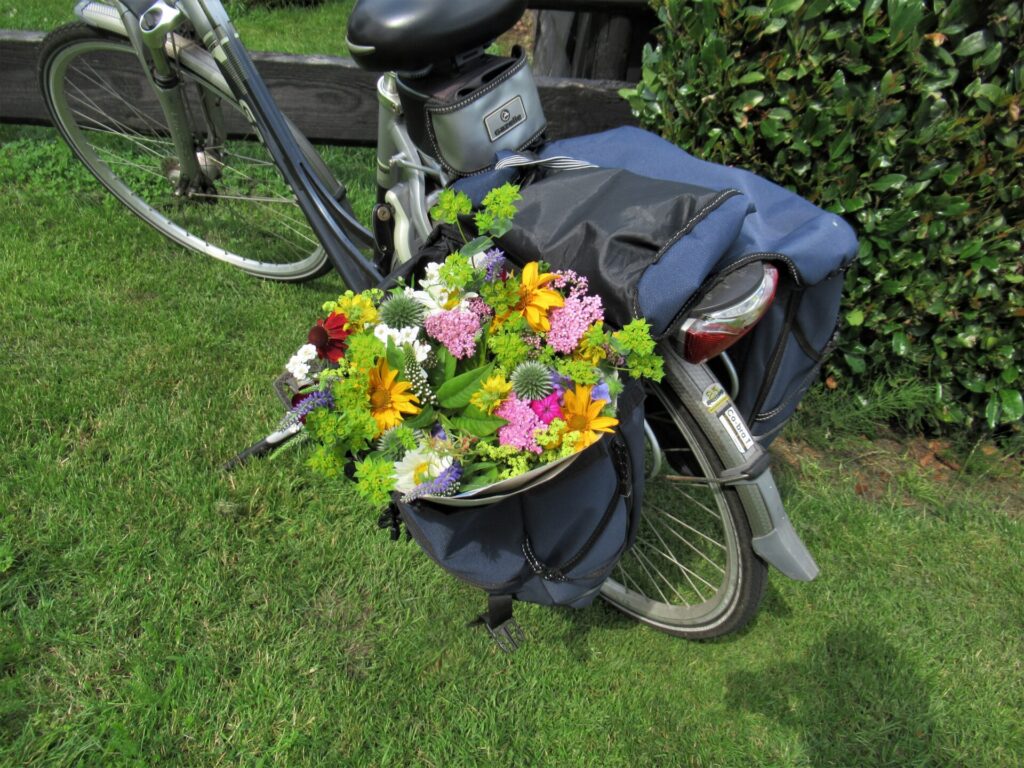 Armed with a bunch of flowers and a bag filled with small birthday gifts, I set off for my friend's place. I won't give you a full account of my visit – you can imagine that: sitting in her garden with mugs of tea, cake, and endless talk and laughter. What I'd like to show you, is how my friend inspires me.
Last year she gave me some spinning fibres in a gradient of blues.
I spun the yarn a long time ago – looking back through my blog posts I saw that I mentioned it in August 2020. And then it stayed on the bobbin for almost a year!
I wasn't sure what to do with it. In order to keep the gradient intact, I could do various things:
I could have split the fibres up in two portions and made it into a 2-ply yarn, but I didn't. I spun it into a fairly thin single ply.
I could ply this single thread in on itself (aka chain plying or Navajo plying).
I could ply it with another thread.
Chain plying would have given me a fairly short yardage, and the possibilities for things to knit with it would be limited. So, after thinking it over for a loooooong time, I decided on the last option. I could have spun a thread to ply the gradient with myself, but I chose a commercial thread instead.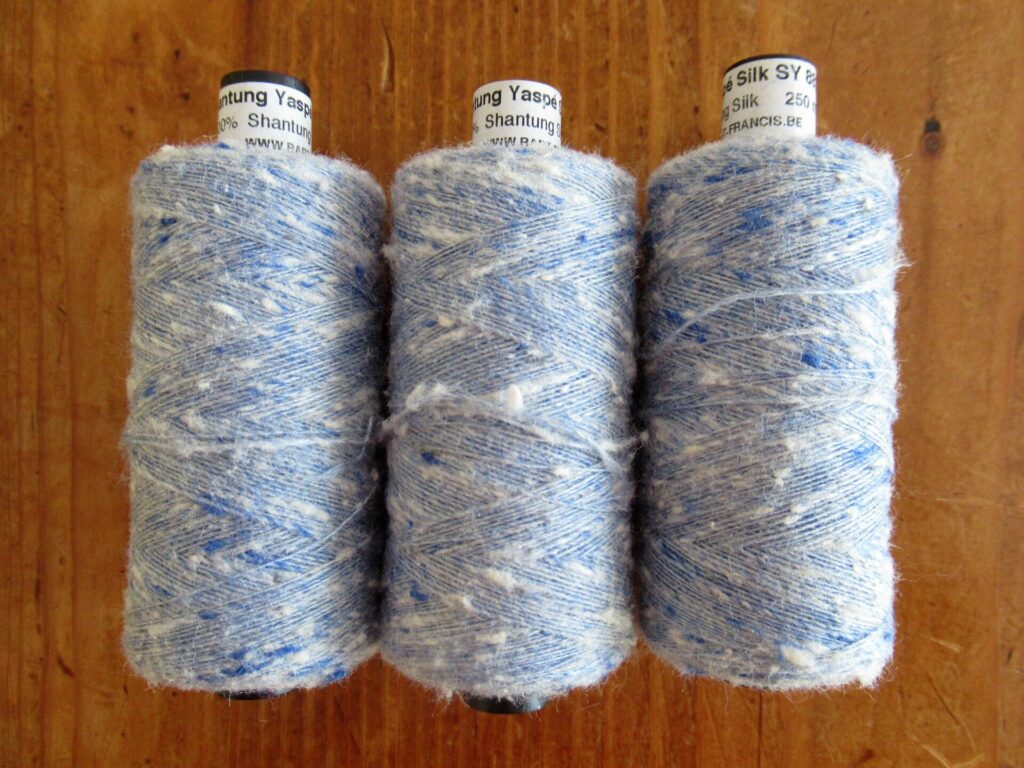 This is a lace-weight silk yarn sold as 'Shantung Yaspee' by two weird and wonderful Belgian guys who stock some very special yarns and fibres. (Ever heard of the fibre categories Bizaroides, Experimental Recycle Upcycling, or Brazilian Chicken?!)
My inspiring friend had used this technique before, and I was curious to see how it would work out. It was very handy that the silk yarn fitted onto the bobbin holder of my spinning wheel.
Plying these two different fibres together went very well. It gave a lovely barber pole effect at the dark end of the gradient.
At the light end, the effect was more subtle. All in all the shantung silk, with its nubs of white and royal blue, and my hand-spun merino-and-Tencel, made a lovely tweedy kind of yarn, from deep navy to start with…
Here it is – 138 grams/572 m/625 yds of a merino/Tencel/silk blend…
… ready to be knit up into… something. I have a vague idea, but it'll take a while to take shape.
I arrived at my friend's place bearing gifts, and also left with gifts. Tidying her crafts room she came across some fibres she wasn't going to use and thought I might be happy with. And I am!
This is what she gave me – some turquoise-and-lime wool blended with undyed silk:
And a box filled with small quantities of wool from various sheep breeds.
I think I'll start spinning the turquoise-and-lime blend straightaway – such cheerful colours!
What with the current explosion of Covid-numbers in this country, the extreme downpours and flooding in the south and our surrounding countries, and news of unprecedented heatwaves and conflicts in other parts of the world I sometimes have the feeling that the end of the world is near.
Will spinning yarn save the world? No, of course not. What spinning (and an inspiring friend) can do, is lift my mood of gloom and doom, so that I can keep functioning and making a positive contribution, albeit in a very small way. Spinning is such a gentle, soothing thing to do. Do consider giving it a try, if you are not a spinner already.
Again, I hope you're all safe and well. Take care!