Hello!
I thought of skipping my blog this week. Sometimes I just don't know what to say, and nattering about knitting feels totally irrelevant. Rising numbers of covid cases almost anywhere in the world. People losing their homes and children going hungry as a result. People shouting that it's all a hoax. And then the devastating explosion in Beirut…
How to live in the face of disasters like these? Sometimes, I just don't know.
It doesn't help that we're going through another record-breaking heatwave. I can't see it as anything other than a sign of rapid climate change – another disaster in the making. I've always struggled with hot weather anyway. As temperatures rise, my mood plummets.
One of the best things for me to do when I feel a knot in my stomach, is to go cycling. On hot days first thing in the morning.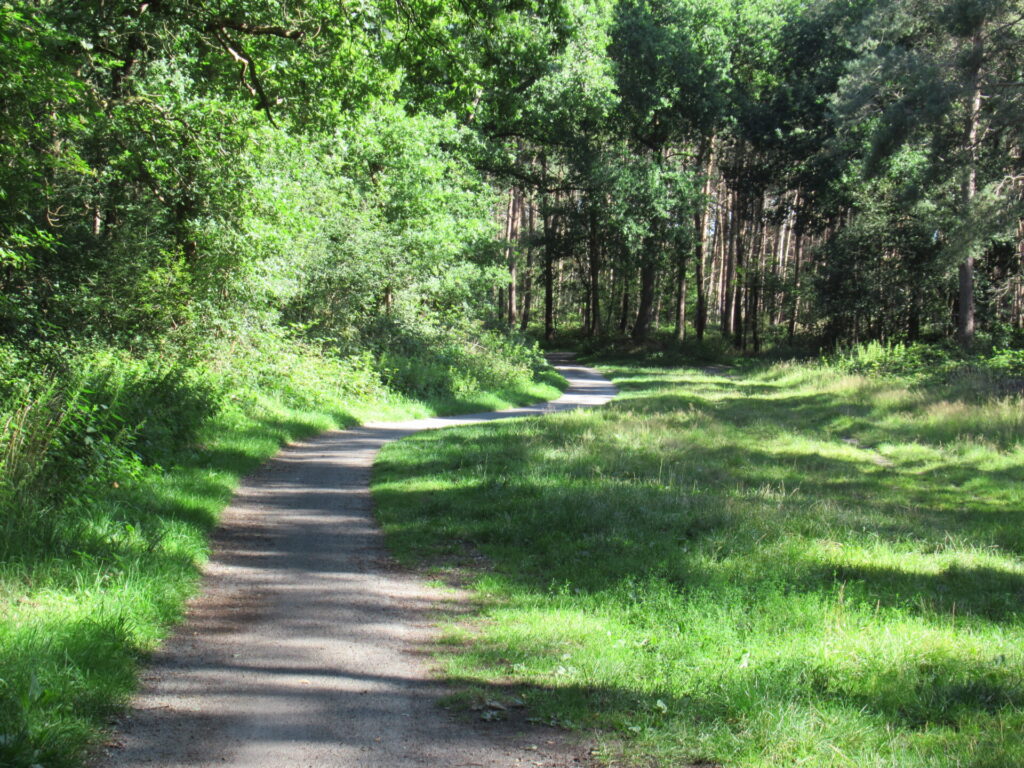 I often take my camera with me. It helps me get out of my head and focus on my surroundings instead. And I often follow the same route. Without camera it takes me 30 minutes, with a little longer.
First I cycle through 'our' woodland. There are already some early signs of autumn – mushrooms, acorns and blackberries.
As soon as I leave the wood, I come to a school for animal husbandry, hay for their horses stacked high.
On the other side of the road is a small farm with some sheep and cattle. There is a young calf suckling with its mother and another one having a snooze.
There are cornflowers in the field next to it.
Taking photographs as I cycle along also helps me to slow down, which is a good thing in this sweltering heat, too.
Many of the flowers along my route at this time of year are blue. Or is it just that my eye is drawn to them? Along a ditch I squat down to photograph what I think is tufted vetch.
One of the most beautiful flowers of this season, if you ask me, is the harebell. It grows in clusters along my route. There is quite a bit of wind, making the delicate flowers dance, and it takes a lot of patience and concentration to get a good, sharp picture.
The harebells have slender stems and small flowers, but not as small as the sheep's-bit below. From close up it may seem like quite a big flower…
… but it is just 1 to 2 centimetres in diameter. There's a clump of them at the top of this post that gives a better impression of their size, I think.
Getting home, an hour or so later, I feel better. I haven't solved any world problems, but I don't feel hopeless and powerless anymore. There is always something I can do to make things better. And I realize again that there is still a lot in the world that is beautiful and good, and that small and seemingly irrelevant things can make a big difference to a day.
It's too hot for knitting – another thing that is making me edgy. But cycling along, I thought of a dear friend of mine. We exchange e-mails every Sunday. Recently, she wrote that all she feels like doing in her spare time when it's so hot is spinning and reading.
That reminded me of some spinning fibres she gave me a while ago. Merino wool in a gradient of blues with some white Tencel mixed in. I know that spinning those lovely fibres will also help to lift my mood.
Well, those were my thoughts for this week. Thank you for reading. I hope that you are all safe and as well as can be. And for those of you in the grip of the same heatwave, I hope this weekend will bring some rain and relief.