Hello!
After all the gadding about of the past few weeks, I think it's time for some serious knitting again. I hope you're up for it.
I first heard of domino knitting from a Danish woman I once met on a campsite in Rondane, Norway. She was sitting in front of her tent knitting back and forth on very short wooden needles. I was intrigued and asked her what she was making.
As is often the way with knitters, she was only too happy to talk about it. She told me that she was making a scarf for her sister-in-law from a pattern in the booklet Domino Strikk, by Danish designer Vivian Høxbro.
As soon as the booklet came out in English, in 2002, I bought it.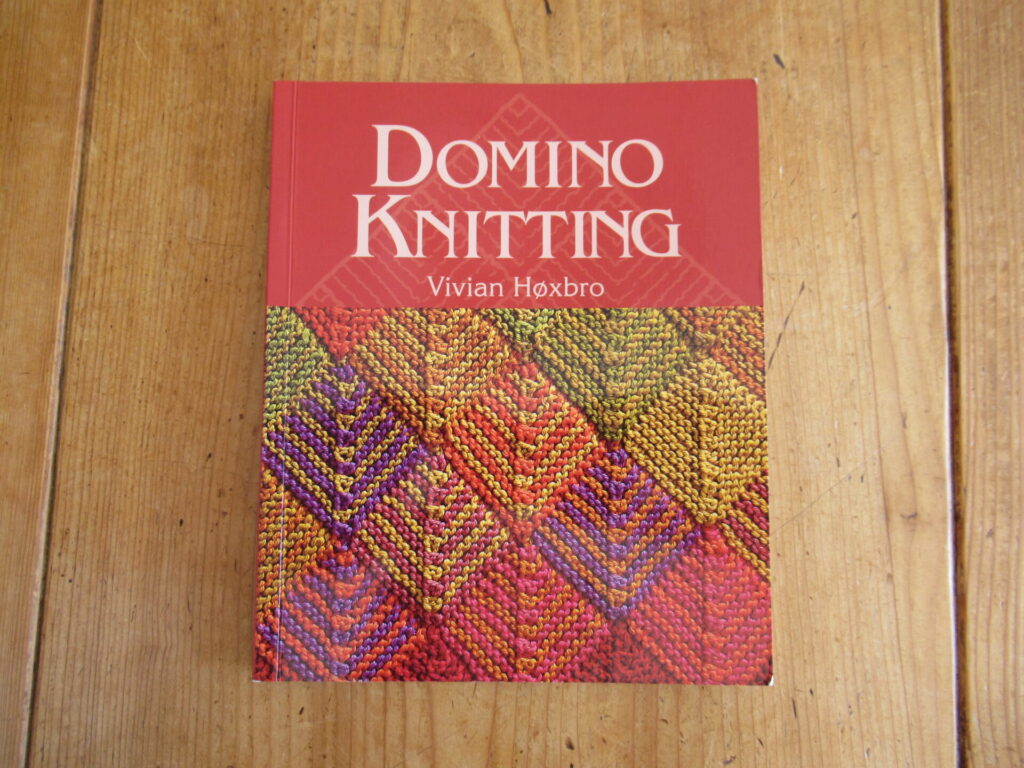 Høxbro didn't invent the technique. In her foreword she tells us that it had been around for at least a century before she discovered it, only it wasn't called domino knitting then. She was the one who made it popular, though.
The booklet clearly explains how domino knitting works with small modules, 'knitted together while the work progresses, just as one "pieces" the tiles in dominoes', and encourages us to try the techniques out by knitting potholders first.
I made a couple of potholders to give domino knitting a try. They turned out too big and floppy to be useful. I have never used them, but kept them as a kind of curiosity. Here they are:
I left it at that, went on to knit other things, and more or less forgot about domino knitting. Until I started knitting a cardigan called Panel Debate last month.
As the name suggests, it is made up of panels. After finishing the first three panels, I suddenly thought, Why does this feel so familiar? Wait, this is potholder number five!
Well, it's more like a super extended version of potholder #5, but it follows the same principle.
Narrow panels (1-3 below) are knit back and forth in alternating knit and purl ridges. Then stitches are picked up along the long sides for the next panel (4), knit lengthwise. The panel next to that is a narrow strip again, attached by knitting it together with the stitches of the previous panel every other row, and so on and so forth.
Calling Panel Debate an extended potholder doesn't do it justice at all, of course. What with the knitted-on sleeves and I-cord finishing it is much more than that. The designer has also added lovely short-row fans at the bottom of fronts and back.
It's a lot of stitches on 2.75 mm needles, and after I'd knit the swatches I wondered if this cardigan really was a good idea and if I'd ever finish it. But because of the modular technique, Panel Debate stays interesting and makes me want to keep on knitting.
There are heaps more domino-knit type of garment patterns around. Many of them use variations on the mitred squares of my potholders.
It's a technique particularly suitable for colour-shift yarns like Noro. I really love the way this sweater makes use of the colours.
As Høxbro warns us in her foreword, 'Domino knitting is addictive.' Why did it take me so long to get hooked?