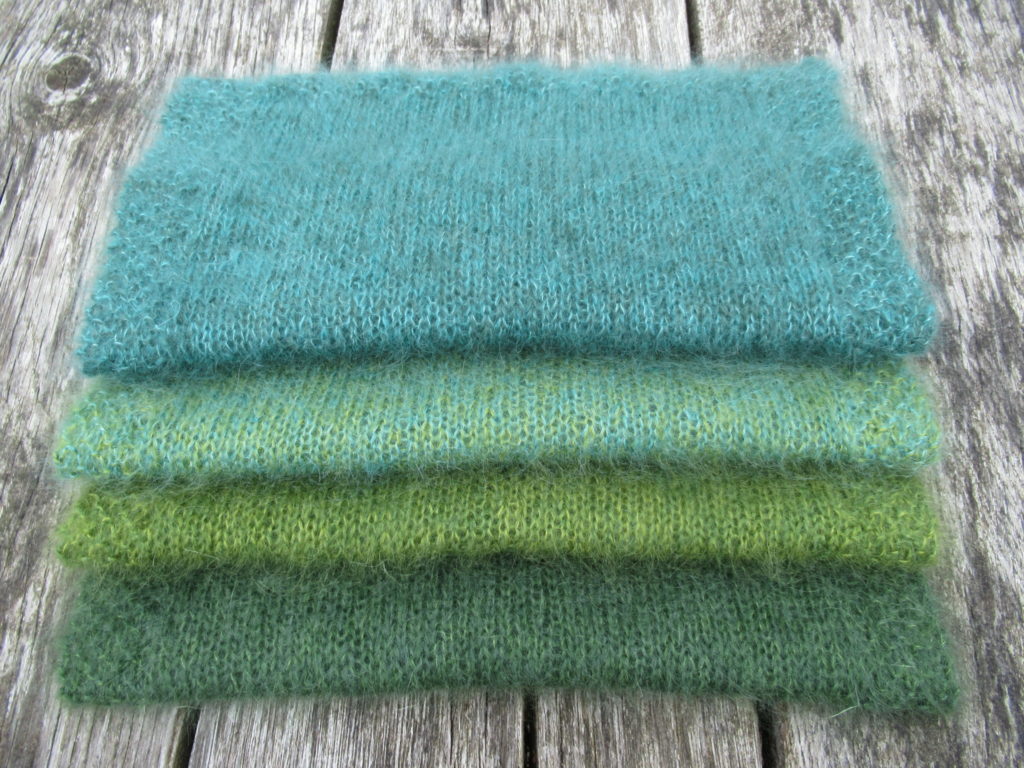 A while ago, I decided to mend my ways and finish things immediately after the actual knitting, instead of leaving them lying around half-finished. With my green mohair and silk scarf that was easy. I only needed to darn in two tails (at the beginning and end of the scarf, because I'd knit in the others at the colour changes), give it a soak and allow it to dry.
The pattern told me to roll up the scarf in dry towels, after soaking it, and gently squeeze out the moisture. That's the advice that's generally given for delicate yarns, to prevent them from breaking. But I just put my scarf in the spin dryer. (No! Really? Shock! Horror!). Yes, really! I know from experience that this yarn doesn't come to any harm, as long as it stays in for just a short time. (I have a separate spin dryer, and haven't tried the spin cycle of the washing machine, though.)  The yarn is thin, but it is stronger than it looks, especially when two strands are knit together.
After spin drying, I just spread it out to dry on the floor at first. But on second thoughts I decided to block it on my foam mats, with blocking wires along the insides of the border. And I must say, that was worth the effort. It dried up nice and straight along the sides, and the fabric became loftier and more even than it would otherwise have been. It ended up really, really soft and fluffy, as you can see: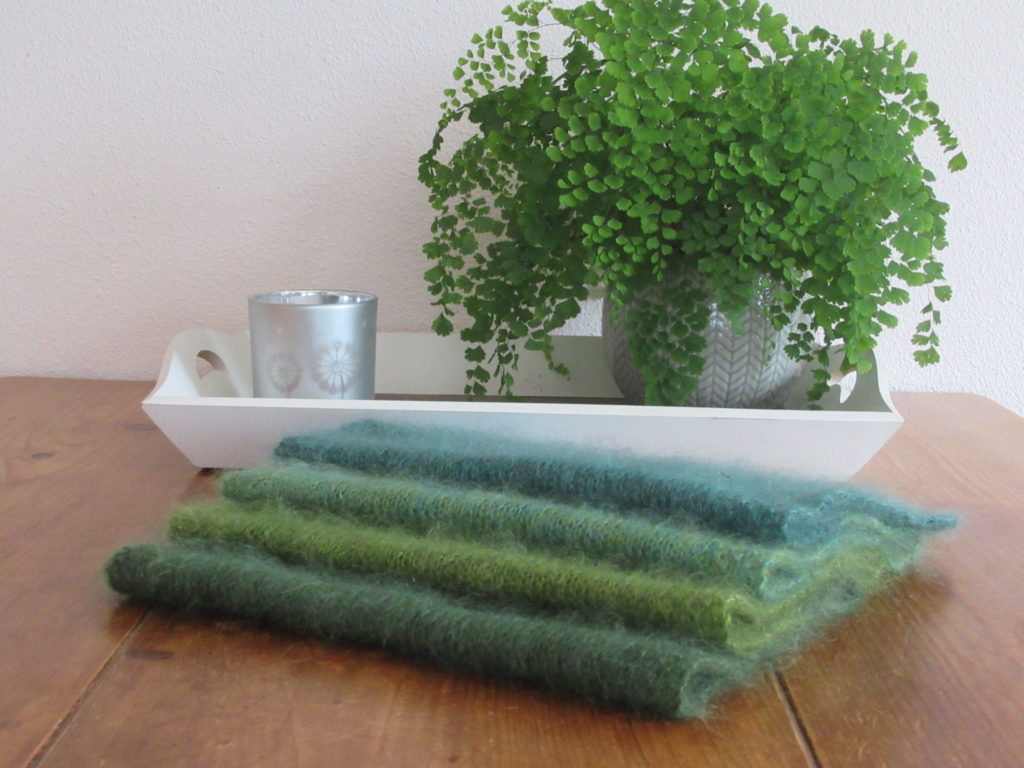 The pattern I used is the Color Play Mohair Scarf by Churchmouse, a yarn and tea shop on Bainbridge Island on the west coast of the US, near Seattle. I love their simple and stylish patterns. The CPMS is very easy to knit. Basically it is nothing but a stocking stitch rectangle with a seed stitch border. I could have knit it without a pattern, but I bought the pattern anyway. Why?
Because the pattern tells me exactly how much yarn I need (for this scarf as well as for a bigger wrap version), which needles to use, how many stitches to cast on, and when to switch colours. It is nice when somebody else does the thinking for me now and then. Besides, it has gorgeous colour photos and useful tips.
The scarf is knit in four shades of green, with two strands of yarn held together. This gives such a lovely effect: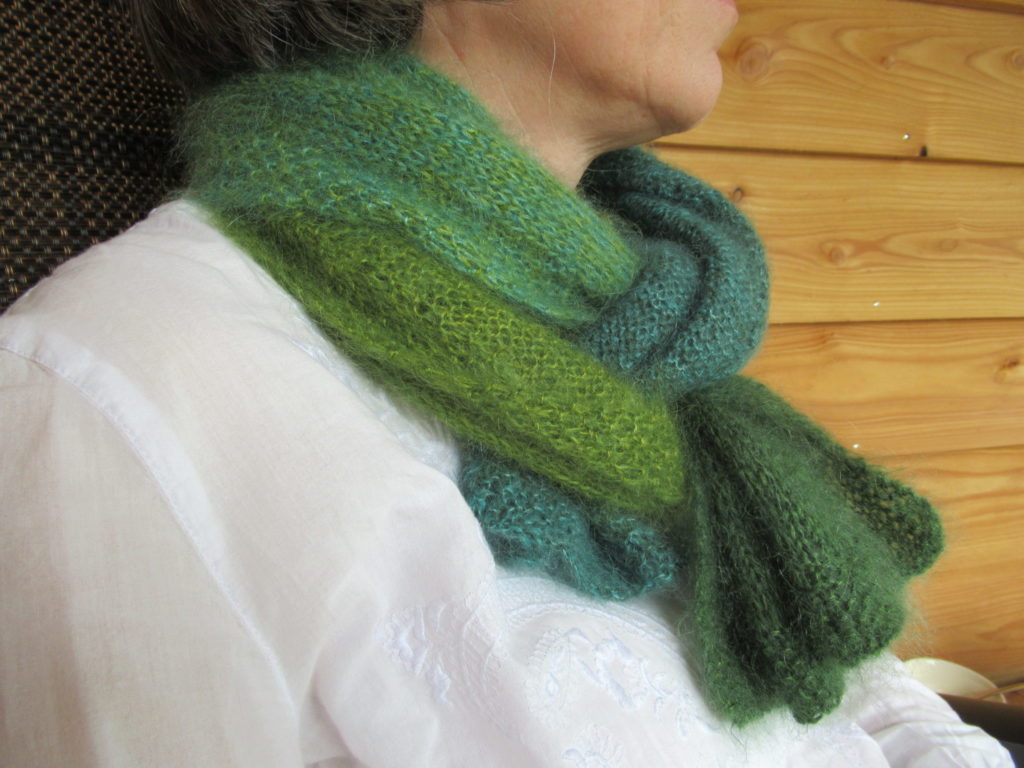 Several years ago, I knit the same scarf in a red/orange/pink colour combo, and it's still one of my favourites. If I had a limitless yarn budget, I'd knit ten of these, all in different colours.
The only thing is, I'll have to wait for a few months before I can wear it, because it's much too warm now. I often seem to finish things in the wrong season. At least, the wrong season from a temperature point of view. Colourwise it is exactly the right season!
The month of May has been like an explosion of green. Part of our local wood has a green (and white) carpet of Lily of the Valley.
I knelt down to take some photographs from closer up. And to breathe in the heavenly scent of the flowers, of course.
During the past few months, the CPMS was my take-along project. It accompanied me on visits to friends and relatives. And also on an outing to Münster, Germany, where we spent a rainy morning at the Botanical Gardens. Speaking of green…
We didn't really mind the rain. It made everything smell nice and fresh. And look how beautiful the raindrops gathered on the leaves of the Lady's Mantle (this is a small alpine variety):
The Botanical Gardens had a big pond, with a weeping willow with bright green young leaves in the centre. It looked more like a lawn than a pond, though, with its surface covered entirely by duckweed.
A Mallard and several ducklings were swimming around in it. The beak of the little duckling in the picture is covered in duckweed, which made me wonder if they actually eat it. I looked it up and – yes, in addition to insect larvae, snails and so on, they also eat duckweed.
(Looking this up, I also found out that scientists are investigating duckweed as a possible food source for us, humans. And why not? I can see duckweed soup, duckweed smoothies and duckweed pesto in my future.)
And then suddenly, in between all that green, a spot of red! A squirrel with a bushy tail, nibbling a nut.
Well, I hope you've enjoyed my shades of green. Many of us in the Netherlands have a long weekend ahead of us. I'm going to immerse myself in as much green as I can and I hope you have the opportunity to do so, too. Have a great time!