In May…
…all birds their eggs do lay, or so an old Dutch saying goes. But that's not the only nice thing about the month of May. It's also the month the vendors at our nearest Farmer's Market put up their stalls again after their winter break. Visiting this market is a real treat.
The singer who is always there with her guitar, welcomes us with Dolly Parton's 'Play a song for me, Apple Jack, Apple Jack', and other old favourites. The music creates a great atmosphere around the twenty or so stalls.
We always buy a punnet of strawberries. These are so much tastier than the ones from the supermarket. And sometimes we buy some delicious handmade goat's cheese, too.
New to the market this year is a lady with felt objects, like hats and scarves, as well as handspun yarns. I wouldn't immediately know what to do with her riotously colourful skeins, as I usually choose quieter yarns (maybe combine them with a matching solid colour?), but they're a joy to look at.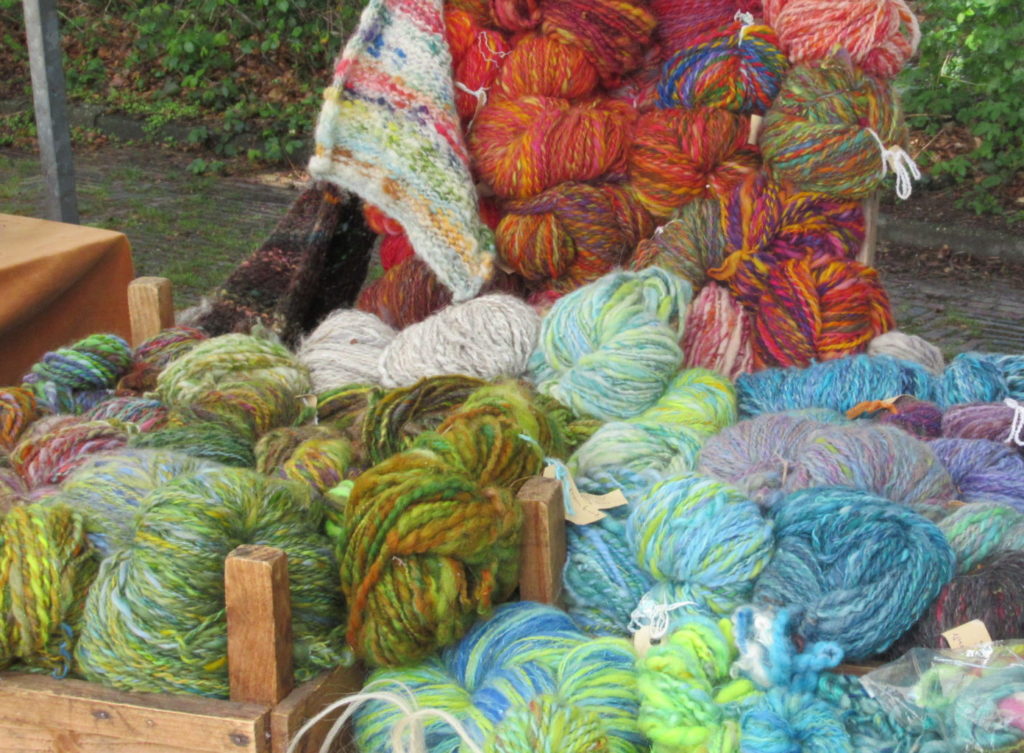 I love chatting with other crafters about the things they make, about what moves and inspires them, the techniques they use, and so on. So I asked the new lady about the 'fleece' hanging at the back of her stall. I've seen fleeces like this before, felted onto a woollen background, but always made from the wool of just one sheep.
This crafter, however, combined wool from different sheep breeds to create the fleece in the photo below. She mentioned at least six breeds. (But I don't remember a single one. Sorry, my brain was also having some time off.) It shows beautifully how greatly sheep's wool can vary.
Apart from the colours, ranging from white through grey and russet to almost black, the structure of the wool varies too. There are some long straight locks, some fluffy, wavy bits of wool, and some very tight curls.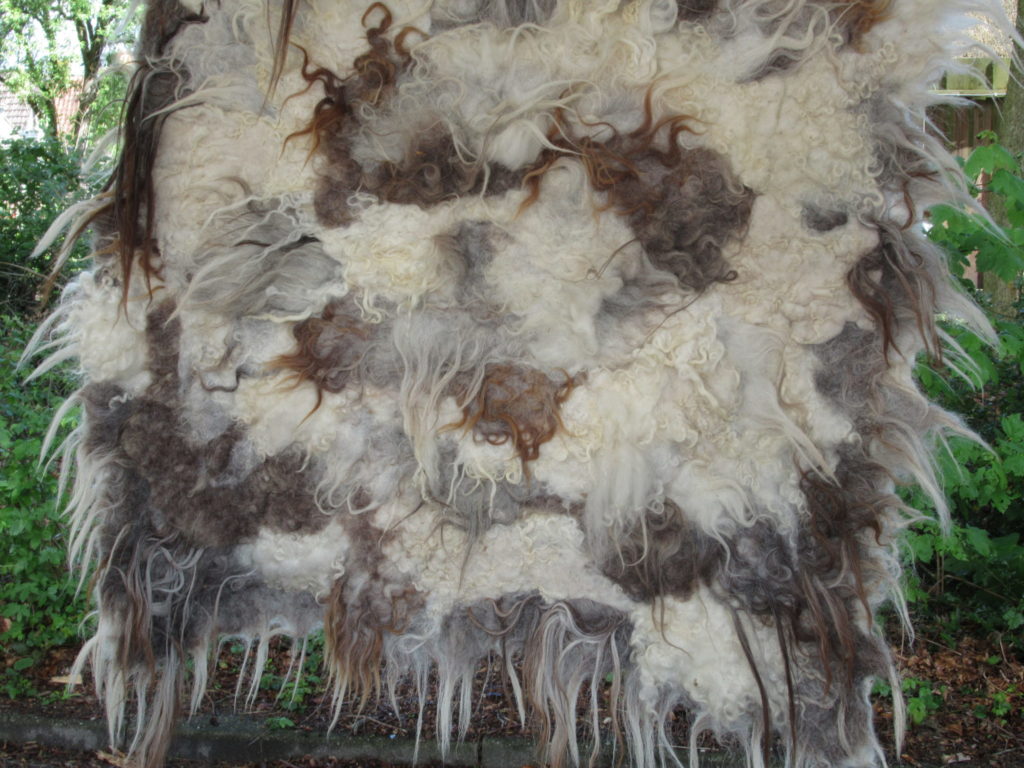 Birds
Now on to those birds laying their eggs in May. Our nest boxes are often used by blue and great tits (picture below), but I'm not sure who is using which nest box this year. We don't want to disturb the birds, so we don't open the boxes to look what's inside. I'll just have to spend more time in the garden watching flight movements.
In our beech hedge there's a blackbird's nest – or perhaps even two. And just above our bedroom window there are two house martin's nests. These were first occupied by squatters – two families of cheeky sparrows, whose chicks have already fledged. I've seen the parents feeding small pieces of peanut from our feeder to their young.
After the sparrow chicks fledged, the house martins returned from the south. They set about cleaning out and repairing their nests straightaway. I can't look inside to see whether there are any eggs in them, but I'm pretty sure both nests are back in use.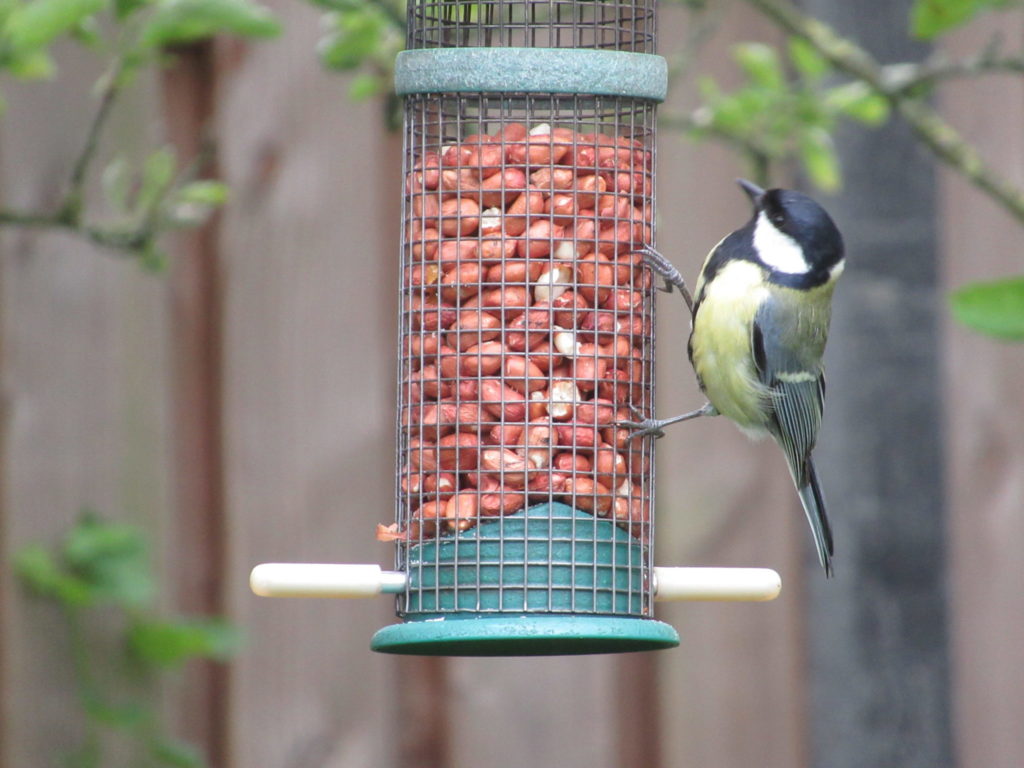 And the winner is…
I started the month of May with a blog post about a gift of yarn from a friend. In it, I asked for your help in choosing between two patterns I had in mind, called 'Stripe Study' and 'Stay Soft'. I have now counted the votes, and Stay Soft came out on top. It got an overwhelming majority of the votes: 70% for Stay Soft against 30% for Stripe Study.
Now you may think, 'Huh, but there was only one person who left a comment, voting for Stay Soft! How did you arrive at these percentages?' Well, many people seem to be hesitant about leaving a comment on a blog. I quite understand. I often read blogs without commenting, too. That's absolutely fine. What I got instead were phone calls, emails and face-to-face reactions.
So, Stay Soft it is going to be. I've already made a start.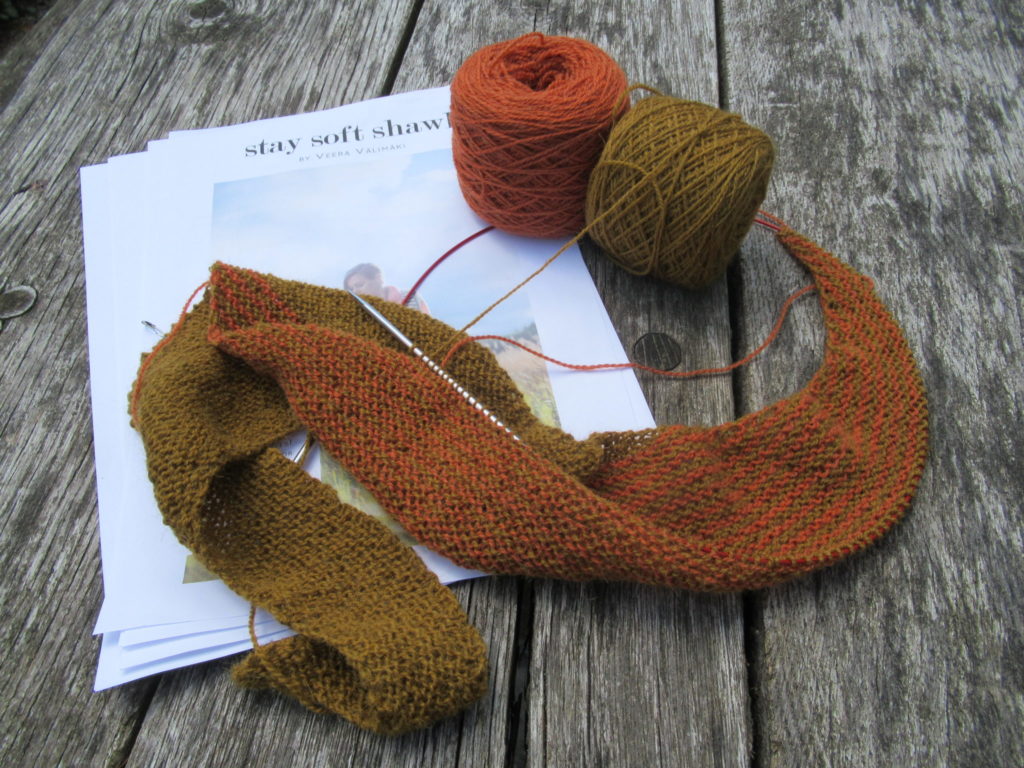 A funny thing that struck me, was that most knitters voted for Stay Soft, while most non-knitters voted for Stripe Study. Why would that be? We talked about this in the knitting group I belong to, and one of the members said: 'It looks like non-knitters focus more on the end product, and knitters more on the knitting process.' Isn't that an interesting thought?
Thank you to all of you who helped me decide.