Last November, I found a parcel in our letterbox. It wasn't my Birthday. I wasn't expecting any parcels. Had I ordered something that I'd forgotten about? I didn't think so.
I hurried inside to open it, and I couldn't help laughing out loud when I saw the contents. It was the red bag in the photo at the top of this post, but even better. It was covered in colourful tape: yellow tape measure tape and cheerful flowery tape. I should have taken a photo straight away, but didn't think of it at the time. I was too curious what was inside.
I ripped the tape off and found this: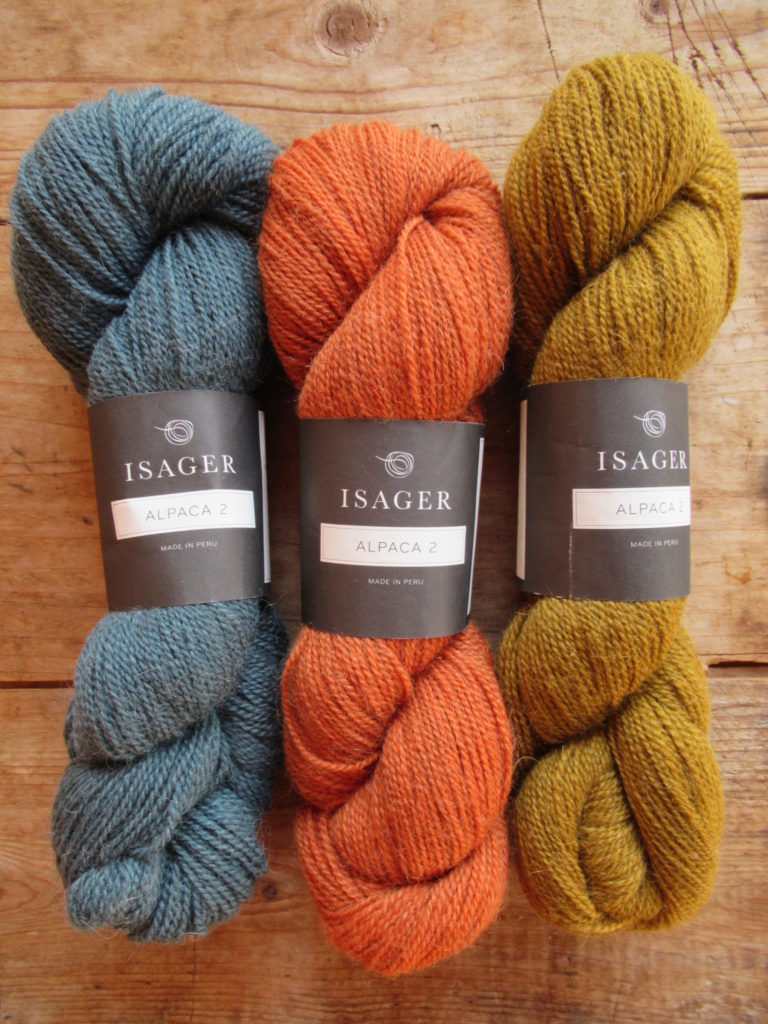 Three beautiful skeins of soft, squishy yarn (and a postcard). A present from a dear friend I've known for over 40 years, to thank me for a shawl I'd knit for her. Totally unnecessary, of course, because knitting that shawl was such a pleasure, but what a lovely surprise!
My friend wrote that she'd been to Amsterdam for work, and had taken the time in between two meetings to visit one of my favourite yarn shops to buy some yarn for me. Wasn't that a wonderfully thoughtful thing to do? She is not a knitter herself. She must have learnt to knit as a child (we all did), but I've never seen her knitting.
So how does a non-knitter choose from all those beautiful yarns on display? On the postcard she wrote: 'For me the shop was a jumble of yarns and wool, but I just had to choose these three autumn colours.' She may not be a knitter, but she is an art-lover with a good eye for colour.
She chose three skeins of Isager 'Alpaca 2', a 50/50 blend of alpaca and wool. It's a yarn I've never knit with, but have been wanting to.
And look how carefully the postcard that she sent was chosen to match the colours of the yarn: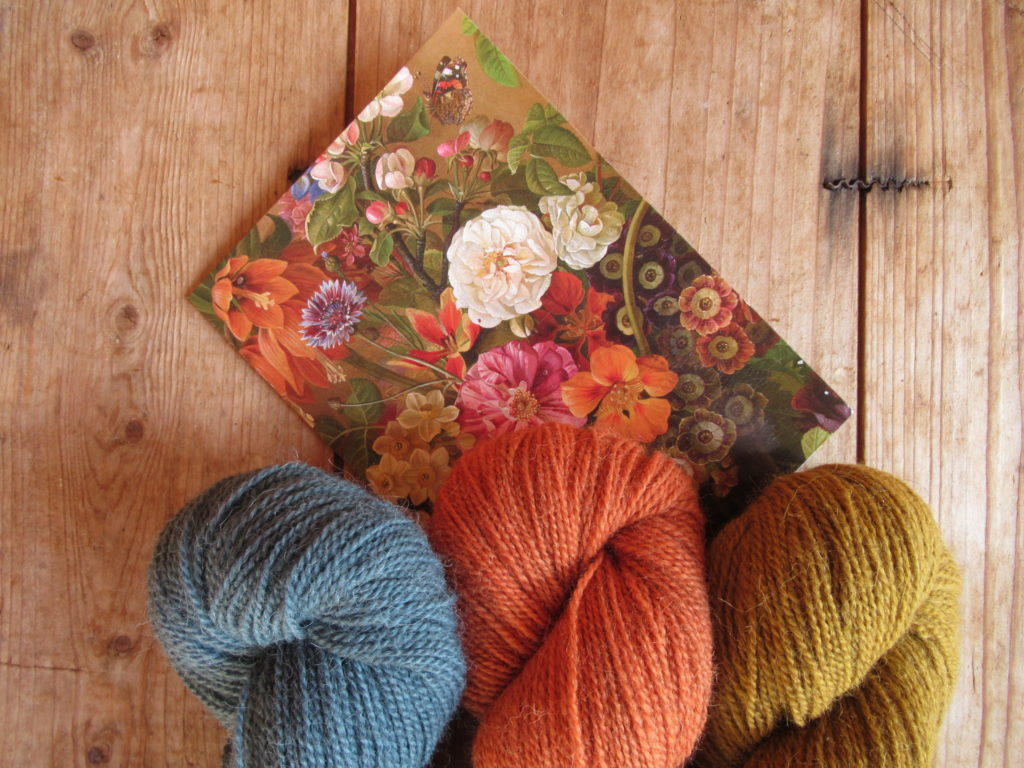 The combination is a thing of beauty in itself. The yarn has been lying around for a while. First in a basket, just to be admired and petted, and later wound onto balls. I don't know if you can see the colours properly on your screen, so I'll try to describe them.
There's a mustardy yellow, a warm marmalade orange, and a blueish or greenish (depending on the light) dark grey. It looks like part of the fibre was from a grey or brown animal, which makes the colours muted and slightly heathered.
Really autumnal, woodland colours. It's springtime now, but I'm not going to wait for autumn to come around again. I want to make something with this yarn now. But what?
A shawl, I think. Something modern and geometrical. It's 150 grams altogether, so it won't be huge, but it should make a good-sized one if I choose the right shape.
What would be a good pattern for this yarn?
Ravelry
The best place to look for an answer is Ravelry, so that's where I went. Most of you will be familiar with it, but for those of you who aren't: Ravelry is a online knitting and crochet community, with currently around 8 million members. It is a great place to meet knitters from all walks of life and all over the world. It is also a database with tons of patterns to choose from. This is the log-in screen: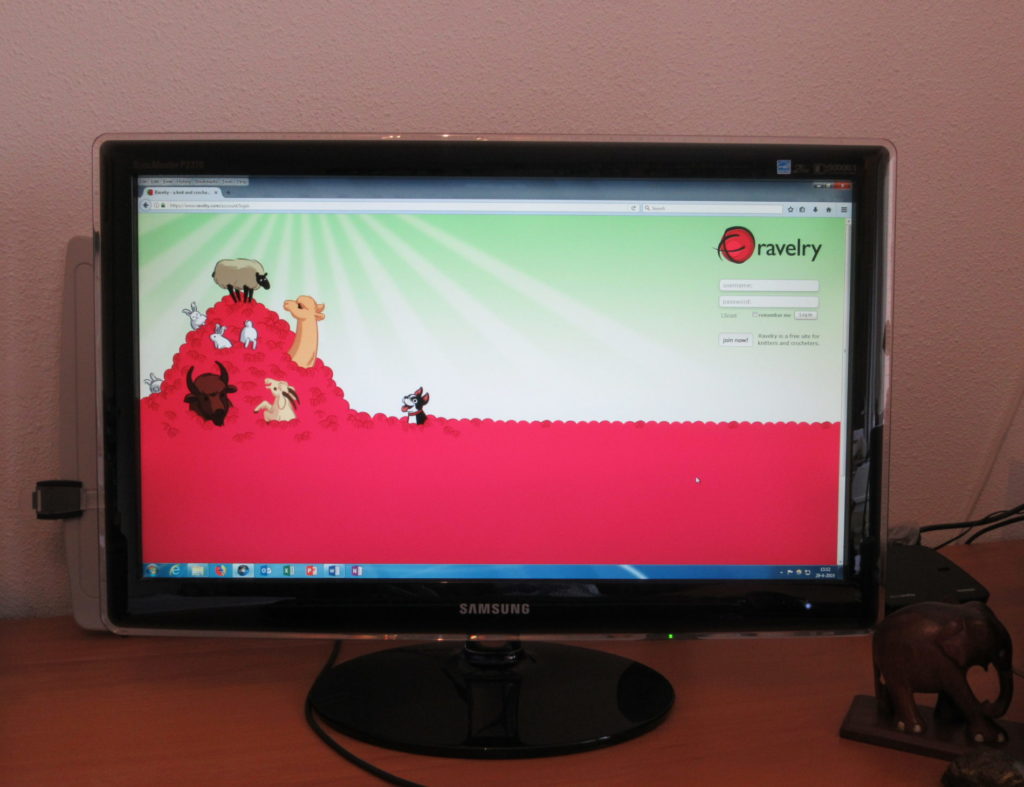 Entering search criteria for project category and approximate yarn weight I got about 24.000 options to choose from. I refined my search criteria some more, some more again, and then some more, and finally got a manageable number of choices.
One of the patterns that came up was Earth and Sky (Ravelry link) by Stephen West, co-owner of the shop where the yarn was bought. It is a great design, and very suitable for 3 colours.
But then I scrolled on and came across Finnish designer Veera Välimäki and thought: Yes, of course! Veera is famous for her geometrical designs. Several of her shawl patterns fit the bill, and I finally whittled them down to two: 'Stripe Study' and 'Stay Soft'.
Stripe Study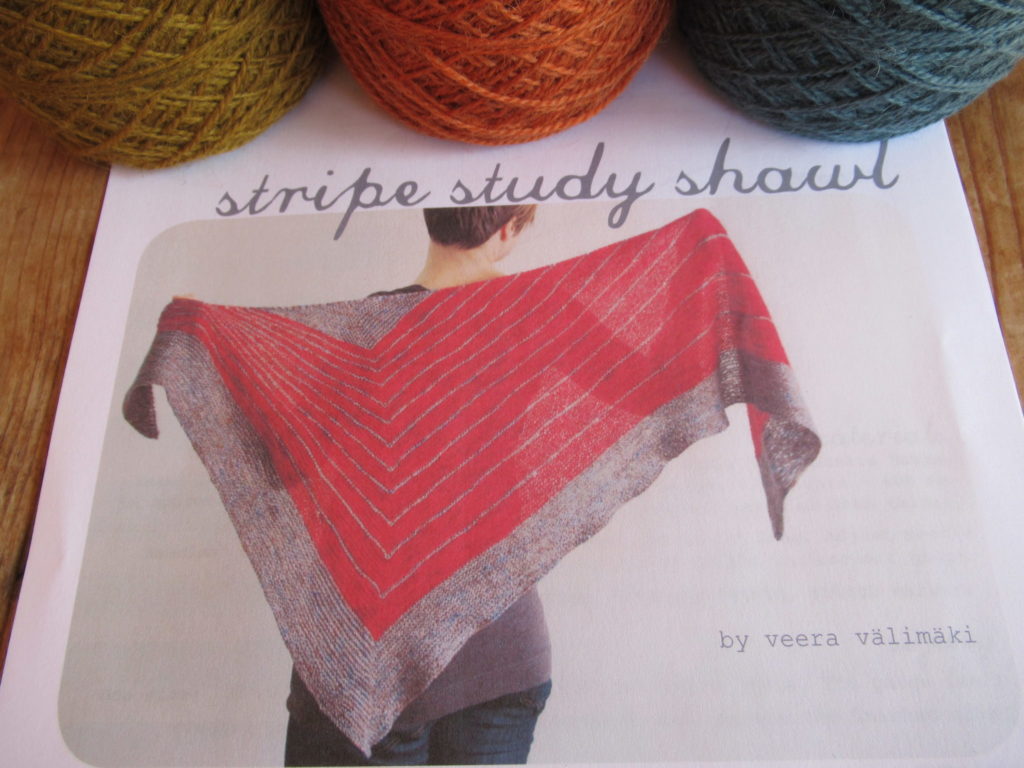 Stripe Study is an asymmetrical triangle knit from the top down, with the stripes closer together at one end than at the other. A great pattern, but… Stripe Study is designed for 2 colours. The challenge is: how to divide my 3 colours over the shawl to get a pleasing effect and use all of them up as much as possible?
Stay soft
Stay Soft is a shallow, slightly curvy triangle designed specifically for 3 colours. It is knit in 2 sections from one point to the other, with the top section in colours 1 and 2, and a wide border in colour 3. This is a great pattern too, but… My colours have much more contrast than the ones in the example. Would they still form a pleasing whole, or would the contrast be too strong?
I couldn't find a better picture of Stay Soft, so I've taken photos of the diagrams of both shawls to show their constructions more clearly (click on images to enlarge):
Which one is it going to be? I don't know – there's something to be said for both. What do you think? Stripe Study, with its bold, straight lines, or Stay Soft, with its softer, curvy shape? Will you help me choose?