Hello!
How are things going in your part of the world? I really hope that you are safe and well, and have enough to do to keep your hands occupied and your mind free from too many worries.
Here, in the Netherlands, we are still spending an inordinate amount of time at home, or thús, as the Frisians say. And what better thing to do at home than knit? It's utterly comforting and relaxing. Plus you end up with something nice for yourself or someone else.
So, high time for a new version of Thús, a pattern I published earlier this year. Here it is – Thús 2!
The original version of Thús was a one-skein project, with an all-over stitch pattern of rows of interconnected houses.
Thús 2 is covered in the same tiny houses, but is wider and longer. And it is a scarf instead of a loop – a bigger symbolic hug for yourself, a friend or a relative.
I hate having my pictures taken, but my beloved photographer was patient, I called upon my inner Doutzen Kroes (who also grew up in Friesland, by the way), and we actually ended up with a few in which my eyes aren't closed.
Thús 2 is long enough to be worn wrapped around the neck.
Or folded in half with the ends pulled through the loop.
Thús 2 may look like a lot of knitting, but it isn't really. It takes four 50-gram balls of fingering-weight yarn. That is the same quantity as two pairs of socks. I won't say it is done in a jiffy, but on 3.5 mm (US 4) needles it is a fairly quick knit. And an enjoyable one, too, I think/hope.
The yarn I used is Pascuali 'Balayage', a blend of 20% organic merino wool and 80% baby alpaca. The wool is certified organic. The alpaca isn't certified, but is produced sustainably. Both fibres are produced in Peru, where the yarn is also spun and dyed.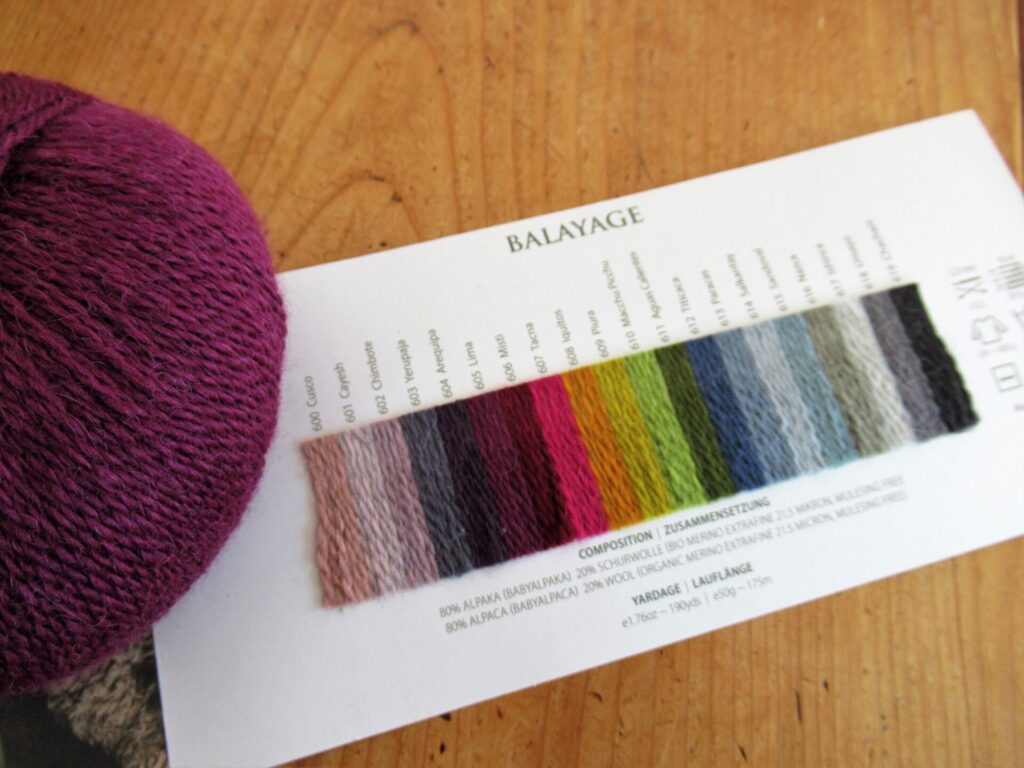 This was a delicious yarn to knit with! (I'm not sponsored to say this – it is my own honest opinion.) It is very, very soft and smooth. To my mind, the yarn has the best of both worlds. It has the drape and smoothness of alpaca, but thanks to the wool content it isn't as 'limp' as 100% alpaca can be. I think it is ideal for lace and will also show up other stitch patterns very well. I don't agree with the yarn producer that it is suitable for Fair Isle knitting, though. Imho it is too slippery and not stretchy enough for that.
Something that doesn't show in my dark plummy shade, is that part of the alpaca is grey, which gives the lighter shades a lovely heathered look.
Although I have a shade card (I love shade cards!) it works best for me to choose colours in real life, in the skein or ball. From the rainbow of gorgeous colours at the not-so-tiny-anymore yarn shop I recently wrote about, I chose a shade called 'Lima' after the capital of Peru.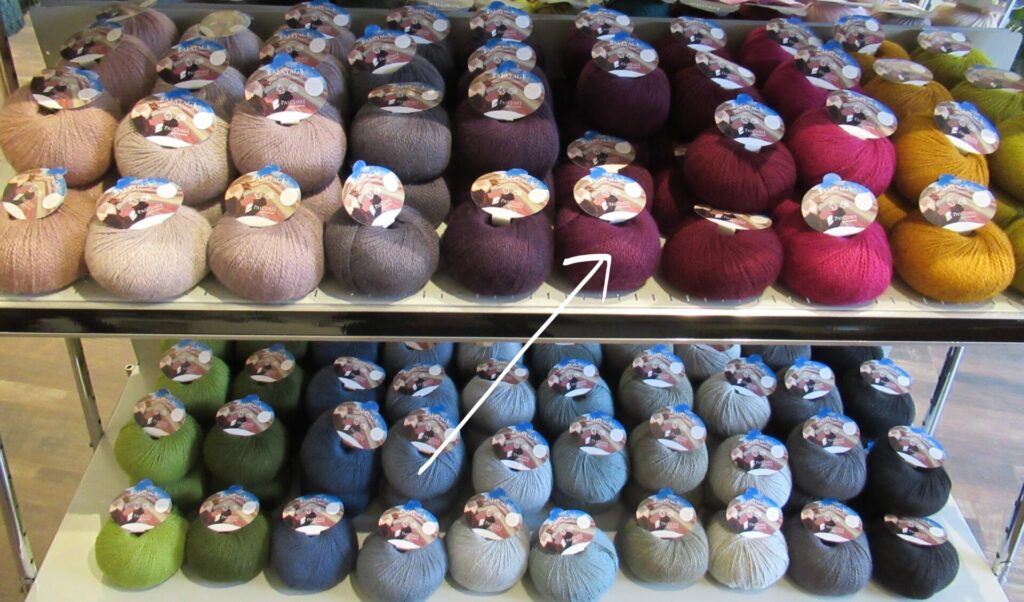 What always helps me choose, is seeing colours in relation to each other. Take the gradient of pinks and purples below. Lima is on the darker end of the spectrum. Compared to the burgundy to the right of it and the eggplant to the left, it isn't really purple or red, but something in between.
I made this Thús 2 for a friend, in lieu of a real hug. She has a cardi in the same kind of red-purple that looks very good on her, and I am fairly confident that she'll like it.
(That I wrote about the yarn I used in so much detail, is just because I'm a little obsessed with yarn. Please don't feel that you have to use the exact same yarn if you'd like to make a scarf like mine – 200 grams of another, similar fingering-weight yarn will be fine, too.)
Here is a tip for starting a new ball and weaving in the ends invisibly. (This also applies to the original version, and any other shawl or scarf with garter stitch edgings.) In my experience the best place to do this is on the inside of the narrow bands of garter stitch along the long sides. This is what I mean on the wrong side:
And if that picture isn't clear enough, this is the place indicated on the right side (the actual weaving-in is done on the wrong side).
Well, I think that is all I can tell you about it for now. After the original Thús, I hope you like Thús 2, too.
Oh, and like the original version, Thús 2 is a free pattern – a small positive gesture in this challenging time. If you'd like to take some positive action in return, please consider making a donation to an organisation supporting refugees, other homeless people, or children/adults in unsafe home situations.
Thús 2 can be downloaded here from Ravelry
(available in English AND Dutch, also to non-Ravelry members)
Thank you and happy knitting!