Hello!
Several of you have asked me for the recipe of the apple-and-blueberry pie I baked at the start of our autumn break. Your wish is my command (sometimes), so here it is. (For those of you not interested in recipes, just scroll on for a ramble and a tiny bit of knitting.)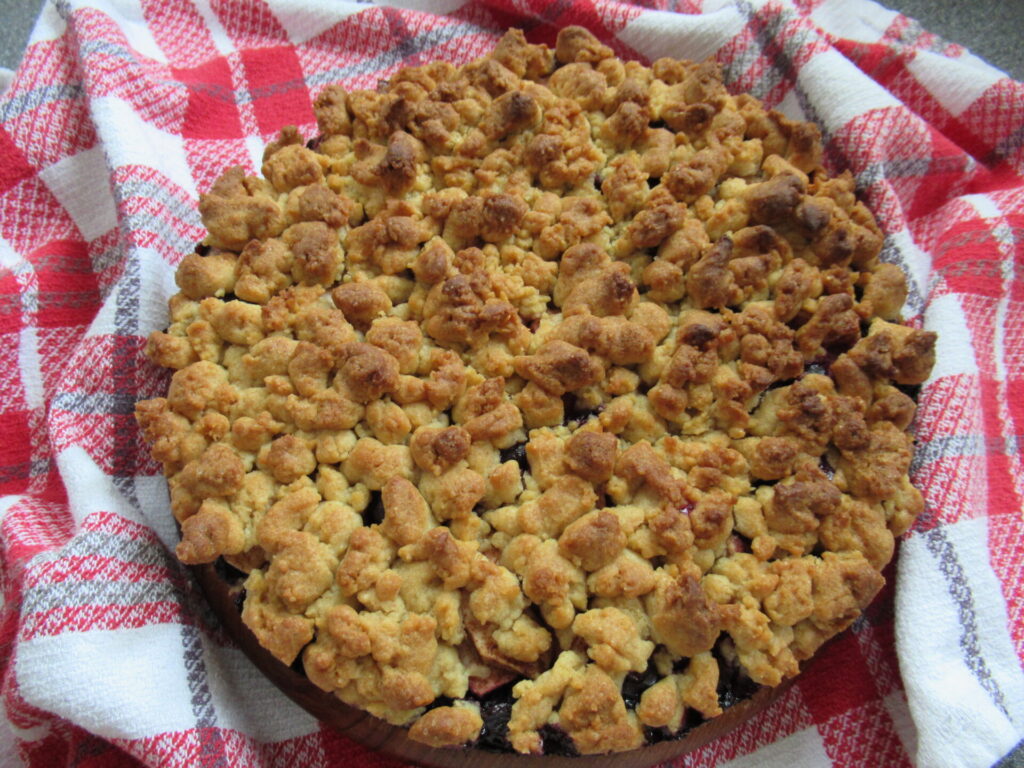 Apple-and-Blueberry Pie

For a 24 cm/9½" ø spring form cake tin
Makes 8-12 slices
Ingredients
200 g unsalted butter
200 g sugar
1 medium egg
½ tsp vanilla extract
200 g plain flour
200 g wholewheat pastry flour
12 g baking powder*
A pinch of salt
2-3 apples (depending on size)
150 g blueberries**
1 level tsp cinnamon
* I like making my own half-and-half mixture. Instead of the two types of flour and baking powder you can use 400 g of ordinary or wholewheat self-raising flour. (Voor mijn Nederlandse lezers: ik gebruik een mengsel van gewone bloem, gebuild tarwemeel en wijnsteenbakpoeder i.p.v. zelfrijzend bakmeel)
** When using frozen blueberries, the pie may take a little longer to bake
Method
Preheat the oven to 200 ˚C/400 ˚F (180 ˚C/350 ˚F fan oven) and grease the cake tin
Cream the butter with 175 g of sugar
Mix in the egg and the vanilla extract
In a separate bowl mix the flours, salt and baking powder. Sieve these dry ingredients and gradually mix them into the butter, sugar and egg mixture to a slightly crumbly dough
Peel, core and slice the apples. Mix the apple slices with the blueberries, cinnamon and remaining sugar
Cover the base of the tin with two-thirds of the dough, pressing it in evenly
Pour in the apples and blueberries
Cover with the rest of the dough, crumbled coarsely
Bake the pie for about 40 minutes
Leave to cool completely before removing from the tin
Enjoy!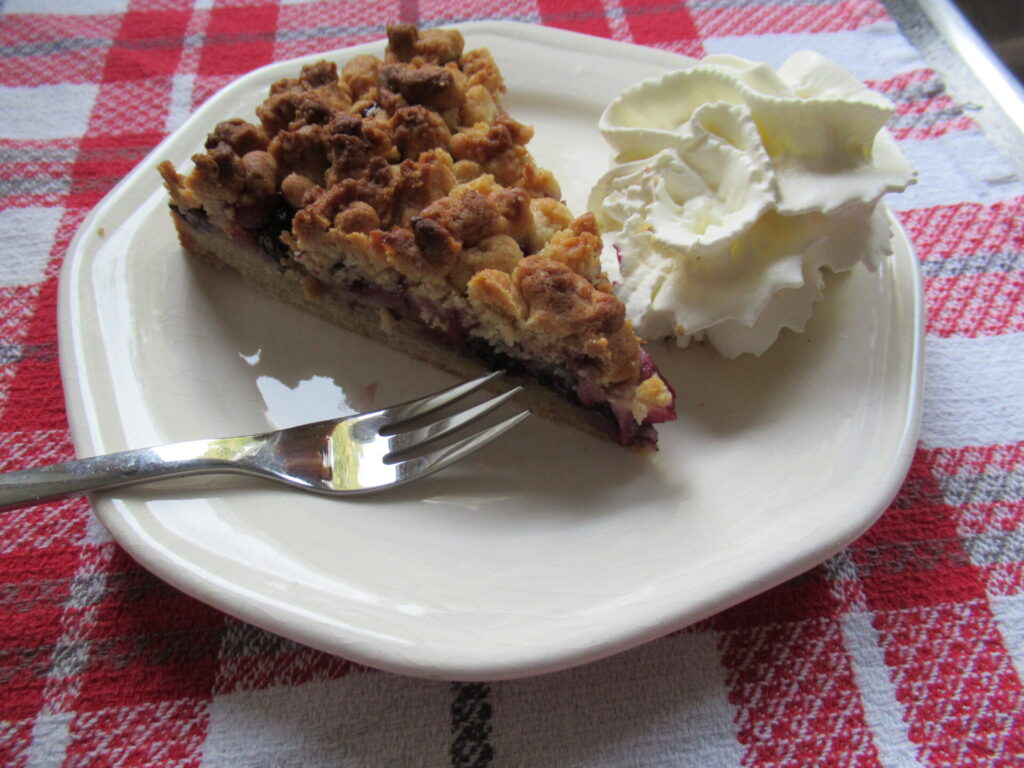 Now, let's go for a ramble. It's early Sunday morning in one of our favourite places. There has been a slight ground frost and the light is hazy.
This is a small-scale landscape with a meandering brook, some open marsh and farmland, and some woodland.
When it is getting a little lighter, the sun slants across a hillock, showing a strange sort of white veil on the top. What is it?
Zooming in it becomes clear that the grass and fallen oak leaves are covered in spiders' webs.
A slightly eerie but beautiful blanket of spiders' webs.
There is some heather as well, although it is partly overgrown with purple moor grass. A small group of sheep is grazing quietly. Not a sound to be heard. The highland cattle that also help keep the heathland open are nowhere to be seen today.
It is getting lighter, but the sun is still low, casting elongated shadows.
Towards the end of our ramble, the sun is fully out, giving the hay and wood in a barn a golden glow.
Time seems to stand still here.
Not so at home. On the knitting front, I'm in the finishing stage of all kinds of things. I've just finished another pair of socks. Now there's only the ends to weave in and then I can try out my new sock blockers.
And what's that hanging over the back of my knitting chair…………?
Take care and see you again soon!