Hello!
First of all, thank you so much for all of your kind comments about my Thús 2 scarf, here and on Ravelry. If you're going to knit it, I hope knitting it will bring you as much pleasure as it did me.
Today, I'm taking you along for some outdoor shopping. A visit to our nearest Farmers' Market is one of the highlights of the month for me. Normally, it is held once a month from spring through autumn, with an extra Christmas edition in December. This year, it didn't start until the summer, and there isn't going to be a Christmas Market, but I'm glad that we've been able to go a few times.
Apart from the late start, several other things were different, too. The singer with her guitar was absent, the stalls were spaced out a little more, and there were red-and-white tape and arrows for managing the 'crowds'.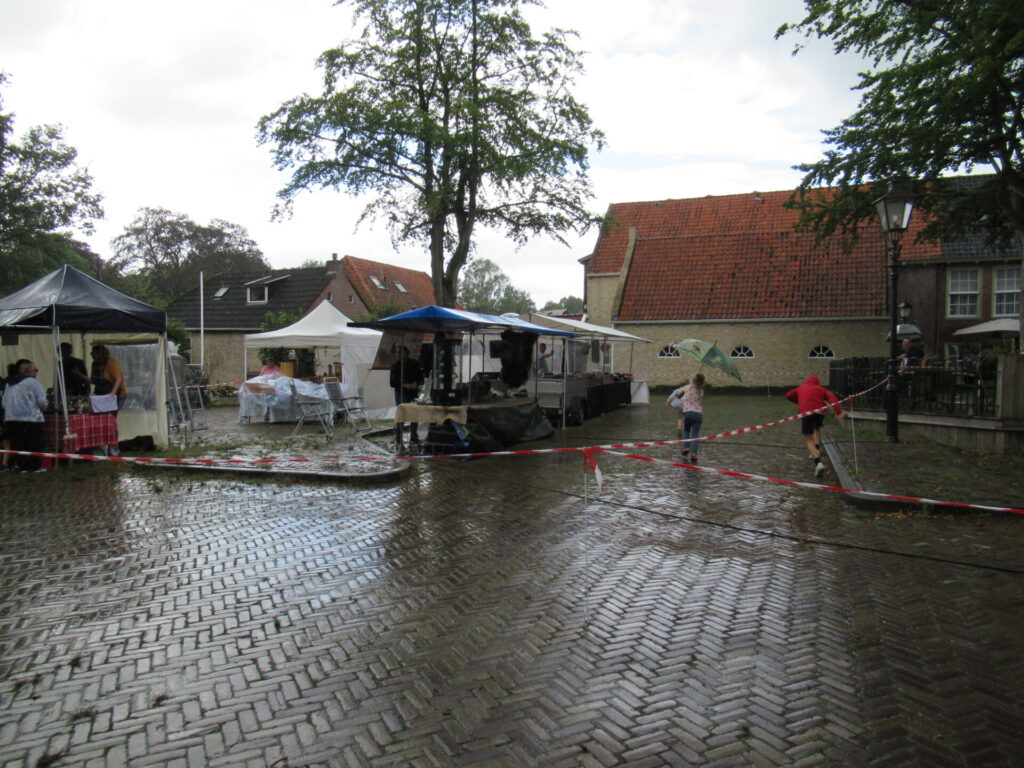 It was raining when I took this picture, and there are usually a few more people strolling around, but this market never attracts anything remotely like a crowd. Still, it's good to be on the safe side.
Other than that, it was the same enjoyable place, with the same friendly people and the same attractive wares.
One of the things we always buy here is cheese. The ones below are made from cow's milk with chives (left) and fenugreek (right).
Our favourites are Doetie's goat's cheeses. She makes different varieties – harder ones that have been left to mature for a while…
… and soft, fresh ones that cannot be kept long (they never are in our house anyway). The heart-shaped ones below on the left are like a mild brie and the grey ones on the right have a layer of ashes on the outside and are sharper.
There was also a new stall this year, selling sheep's cheese, skins and other sheep products.
From them, I bought 30 grams of unspun Frisian dairy sheep's wool. I'll let you know more about that when I've spun it.
Another fairly new face here, is soap maker Melanie's. She didn't actually want to show her face here (I understand – I'd feel just the same), but I'm happy with a few pictures of her soaps.
Melanie uses only natural ingredients, including flowers, plant extracts and essential oils. In addition to hand and body soaps, she also makes hair soap bars (to be used instead of shampoo).
She also sells a mixture of different 'tastes' and shapes in jars.
I first bought one of her handmade natural soap bars last year – cinnamon soap with poppy seeds as a scrub element. I loved it! This year I went back for more, not just to wash with, but also as accessories for photographs of my next knitting design. I'll tell you more about that next week or the week after.
Our next stop is the tea stall. Liesbet blends all her teas and tisanes herself, using organic ingredients. Her blends have fun names like 'feet-up-on-the-sofa-tea', 'shivery-weather-tea' and 'everything's-gonna-be-fine-tea'.
What makes this market so special to me is its small scale, the relaxed atmosphere, and especially the people, like goat farmer Doetie, tea blender Liesbet, and soap maker Melanie. Their products are totally different, but all made with much love, expertise and their own two hands. (None of them have webshops, or I would link to them here.)
And here is another pair of hands – that of the flower lady (I don't know her name).
A wreath similar to the one she is working on still graces our dining table.
Well, the clock on the church tower tells us it's time to head home for some lunch. Have a lovely weekend and I hope to see you here again next week!