Hello!
Well, here is the new (free) pattern that I promised you last time. It's a loop/cowl called Thús, which is the Frisian word for Home.
As a child growing up in Friesland, I had no idea what I wanted to be when I grew up. What I did know, was that I wanted a peaceful, cosy home.
My wish was granted.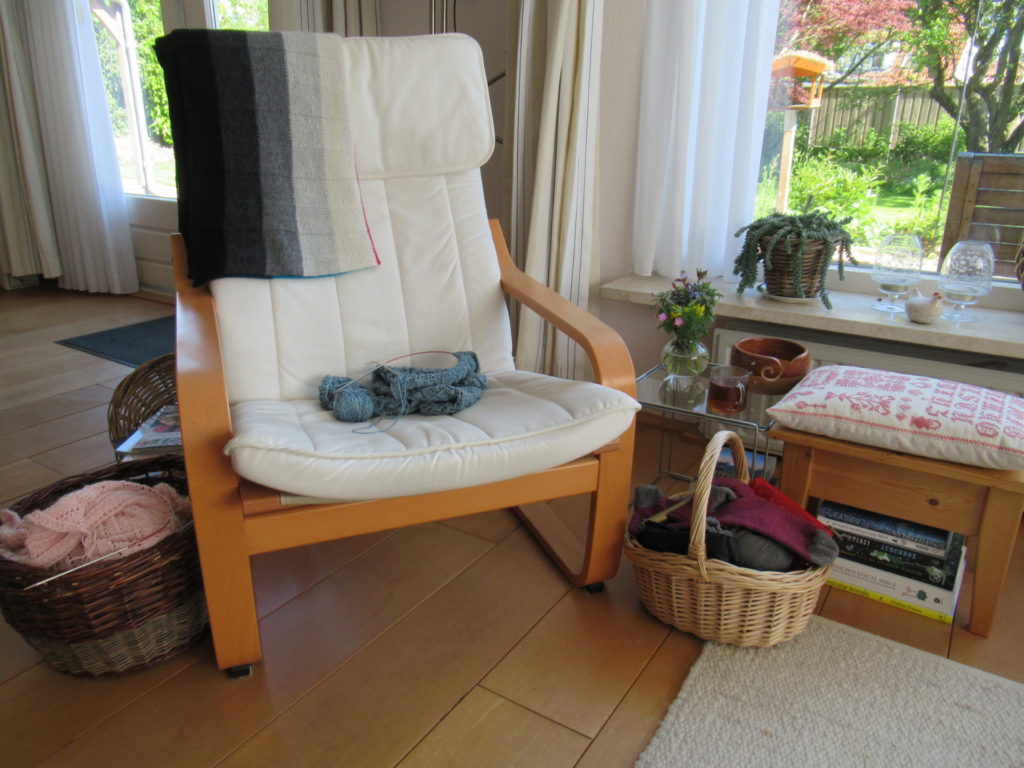 But I don't take it for granted. I'm grateful for my home every single day, now more than ever.
When we were first exhorted to 'Stay Home, Stay Safe', my initial reaction was, '……….??????' (Read: Stunned – is this really happening?) Soon followed by thoughts like, 'What can I do, other than just staying home?' and also, 'But what about people who don't have a safe home?'
One of the ideas that popped into my mind for positive things to do was to design a knitting pattern. Something small and not too complicated, but just complicated enough to take a knitter's mind off their worries for a while. Something that would be comforting to wear and suitable to send as a gift to a friend or relative when it's impossible to visit them.
After many swatches, sketches and tries, it became this loop. I've made two versions. You've already seen the pink one at the top of this post, and this is me wearing the blue one.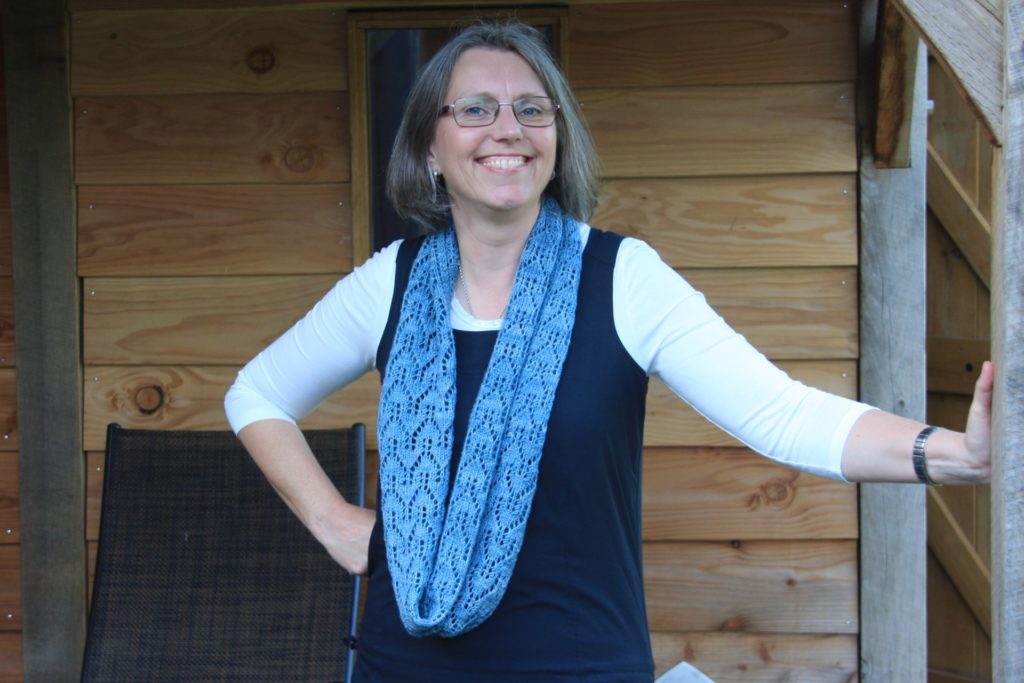 (I'm so not cut out to be a model. It is way out of my comfort zone to be in the spotlights like this, but someone has to show what it looks like when worn.)
Knitting may seem trivial in a world in crisis. And maybe it is. But for me it's a way to bring some beauty into the world, and also a way to express my love and concern.
With a little bit of imagination, you can see that the stitch pattern looks like rows of tiny interconnected houses.
It's my take on John Donne's 'No man is an island'*. Even if we are all staying in our own homes, we are still all connected.
Now, here are some technicalities.
Thús takes just one 100-gram skein of fingering-weight or sock yarn. I think most knitters will have something like this in their homes somewhere. I chose blue and pink, because those are the colours I feel most at home with.
The pink version is made from a skein of Merino Singles dyed by Catharina at Wolverhalen (I wrote about her here). For the blue version I used a skein of Tosh Sock that had been marinating in my yarn stash for a while. These two yarns are very similar, and yet knit up differently.
Specs of the blue yarn: 100% merino wool; total meterage/weight 361 m/395 yds/100 g
Specs of the pink yarn: 100% merino wool; total meterage/weight 366 m/400 yds/100 g
The difference is that the pink yarn is a single, untwined thread, while the blue yarn consists of two plies. As a result, the blue version turned out shorter, cosier and squishier, while the pink version is sleeker, drapier and considerably longer than the blue one – it has five more rows of tiny houses.
The loop starts with a provisional cast-on and is knit flat (back and forth). I've heard of knitters who love grafting ends together, but I have never met any of them. I certainly don't belong to that rare species. So, no grafting here. The ends are joined together using a much more knitter-friendly three-needle bind-off (all explained in the pattern).
Thús can be worn single…
…or wrapped around twice.
Thús is a free pattern – no strings attached. But if you'd like to do something in return, please consider making a donation to an organisation supporting refugees, other homeless people, or children/adults in unsafe home situations.
Thús can be found here on Ravelry
(available in English AND Dutch, also to non-Ravelry members)
Thank you and happy knitting!
* The quote comes from John Donne's Devotions upon Emergent Occasions, Meditation XVII. This is the entire passage:
'No man is an island, entire of itself; every man is a piece of the continent, a part of the main. If a clod be washed away by the sea, Europe is the less, as well as if a promontory were, as well as if a manor of thy friend's or of thine own were. Any man's death diminishes me, because I am involved in mankind, and therefore never send to know for whom the bells tolls; it tolls for thee.'