Hello!
It's good to be back! After a week of taking things a little more easy, here is the promised knitting update. I hope you don't mind that it's grown rather long. All three projects that are on my needles right now are pink, as you can see above. But first, let's stop and smell the roses.
There's a lane just outside our village that officially goes by another name, but is locally known as the Black Road. That may sound rather ominous, but it's just that the soil in that particular area is black, and the road was literally black before it was covered with grit and rubble.
The Black Road isn't the fastest route to anywhere, and is just used by agricultural traffic and people like us, going for a stroll. At this time of year, the sweet briar growing along it is in flower.
Fully open, the flowers are a very pale pink, almost white. But when they are just opening, they are a more, well, rosy pink.
This is the shade of pink of the first knitting project on my needles. The pattern is called Lace Sampler Scarf, but it is actually more the size of a stole than a scarf.
The 'sampler' bit refers to the fact that it uses three different lace patterns and can be a practice piece for beginning lace knitters. These are the first two, called Van Dyke Lace and Diagonal Lace:
I'm using an alpaca yarn that had been waiting for a suitable project to come along for a long time. It is thicker than the yarn used by the designers and I needed to modify the pattern to suit my yarn and the amount of it I had. I'll write more about how everything works out when it's finished. What I can say already, is that it's a very enjoyable knit.
The second project on my needles is actually a UFO – one of the 9 UnFinished Objects languishing in a dark corner that I want to finish (or frog) this year. It is in the shades of pink of some of the lupins in our front garden.
It is 'Kinetic', a long, striped cardigan from Rowan Magazine 65.
I started it in early summer last year and am not quite sure why I abandoned it. It certainly isn't the yarn. The pink yarn is a gorgeous blend of cotton and cashmere. It is combined with some white Kidsilk Haze – a fine lacy blend of mohair and silk – left over from another project.
I think it's the stripes that I'm not really happy about. Perhaps the white is too white next to the pinks? The cotton-cashmere yarn is also much thicker than the Kidsilk Haze, and the narrow white stripes knit on the same needle size are slightly transparent as a result. What will that look like when worn? Will the garment underneath shine through? Will it stand up to frequent washing? And won't it sag?
What to do? Finish it? Or frog it and make something else with the yarn? What do you think?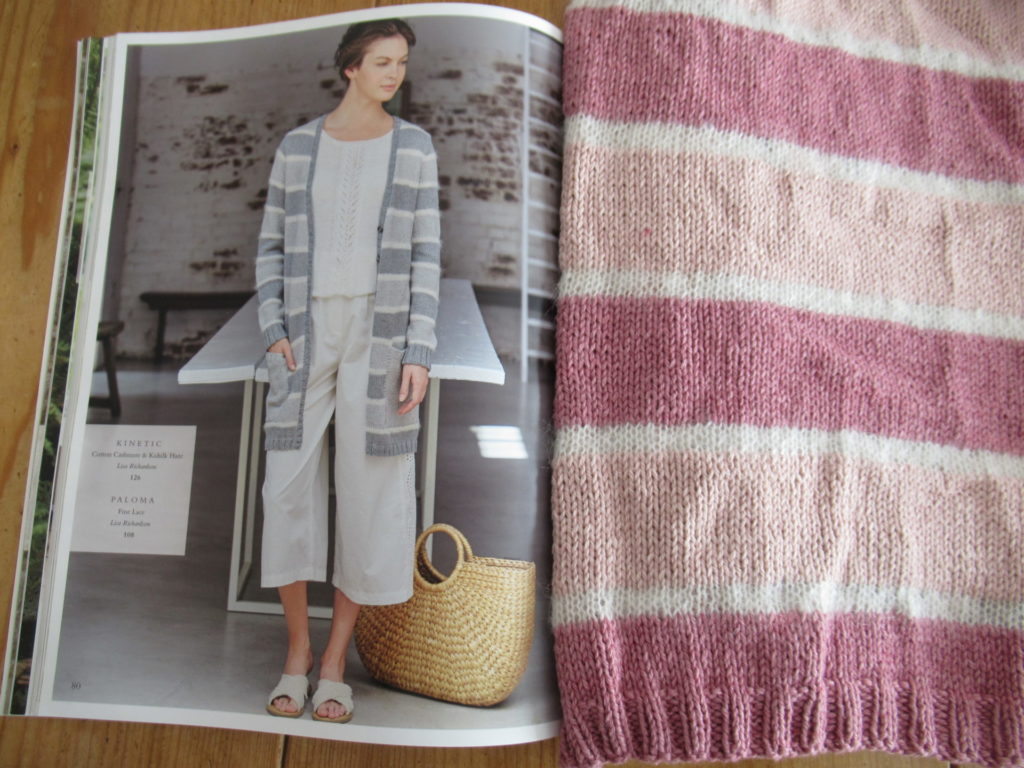 Looking at this post and my blog in general, it may seem as if I view the world through rose-tinted glasses. Well, I do and I don't. I'm not a happy-go-lucky person by nature. World politics, racism, poverty and climate change can keep me awake at night. And now there's also this pandemic with its short and long-term impact. Sometimes, I'm hopeful that the current crisis will lead to a better, fairer and cleaner world, but on the whole I'm not so optimistic.
I think it's important not to look away, and to do what is within my (limited) power. I also think it's important not to go down a figurative Black Road. That's why I deliberately put on those special glasses now and then – the ones that focus on things that are good for the soul. Like roses. And knitting.
So, here's a tiny corner of the third rose-tinted project I'm working on. It's something I'm designing myself. I hope to publish the (free) pattern soon, if not next week, then the week after that.
It's inspired by this challenging time we're going through. I know that may not sound very attractive, and I can't guarantee that you'll like it, of course, but I really hope that it will make you smile.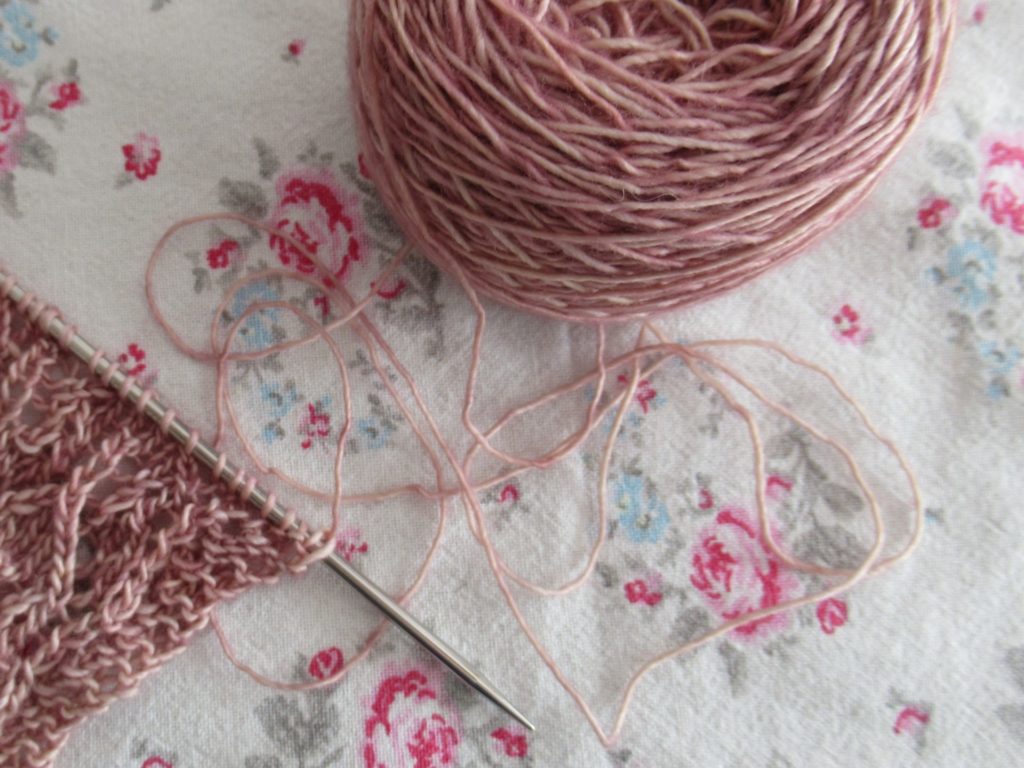 It's a small project for intermediate knitters with some experience in lace knitting. If that sounds like you and you feel like starting something new in the near future, why not start rummaging through your stash now?
What you should look for in those boxes in your attic, in the cupboard under the stairs or under the sofa, is 100 grams of fingering-weight yarn (approx. 360 m/395 yds). A solid or semi-solid colourway will work best. It can be a luxury yarn or a sock yarn, as long as it is soft enough to be worn around the neck. Choose the colour you feel most at home with!
Well, that's all for now. Thank you for reading and I hope to 'see' you here again soon!