Now and then, I come across something in my diary I wrote down months ago. For last weekend, my diary said, 'Knitting & Crochet Days Amsterdam'. Under normal circumstances, I would have taken an early train to the capital and then taken the ferry across the IJ for a day of meeting up with friends, chatting with yarn sellers and dyers, and finding new inspiration. I would also have taken pictures and shared them here with you.
I know that there are worse things in life, and I'm 100% behind the government's decision to cancel all events until at least September, but I did feel slightly disappointed that I had to cross this event out (I'm only human).
I soon found a good alternative, though – I paid an online visit to a lovely dye studio and yarn shop in my part of the country.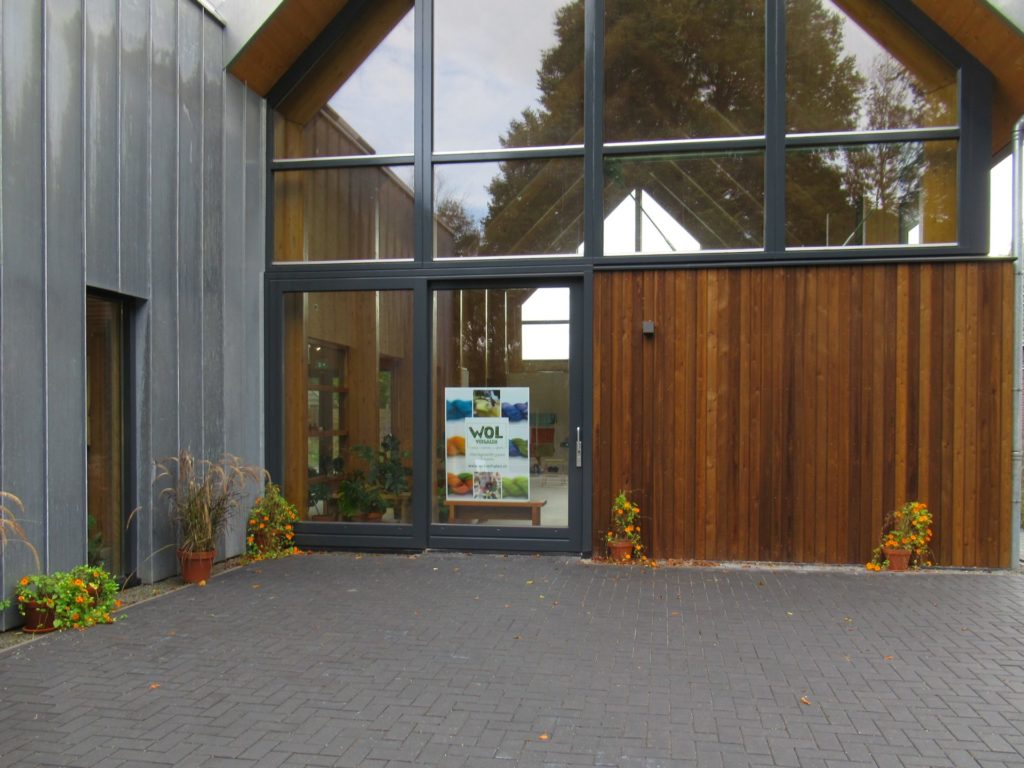 It is called Wolverhalen, or Wool Stories in English. I also revisited the pictures I took during a visit in October 2019 (the ones you're seeing here), and had a lovely long phone call with the owner, Catharina. She kindly sent me this photo of herself:
Catharina is a woman of many talents. Before she started her shop and dye studio about a year ago, she was an ambulance driver for many years. And before that, she ran her own flower shop.
I can't say that the ambulance driver part of her career is reflected in her business, except in her friendly and caring presence, but the flower shop part certainly is. In addition to yarn, knitting books and tools, and Swedish woollen blankets, she also offers a great selection of plants and pots.
They give the beautiful light and airy space a relaxed and homey feel. For us, knitters, the most important part is the yarn, of course. Adjacent to the shop, there's a sparklingly clean, well-organized and well-lit dye studio.
Here Catharina dyes her wool, silk, mohair, yak and suri alpaca yarns. (Don't these materials just sound like music to your ears?) During my visit last autumn, there were some freshly dyed skeins in very bright shades on her drying rack. They were meant to be wound into sock minis – small skeins to be used as accent colours.
In addition to these bright and cheerful shades, she also produces sophisticated neutrals, refined pastels as well as gorgeous charcoals, deep blues, purples, greens and browns.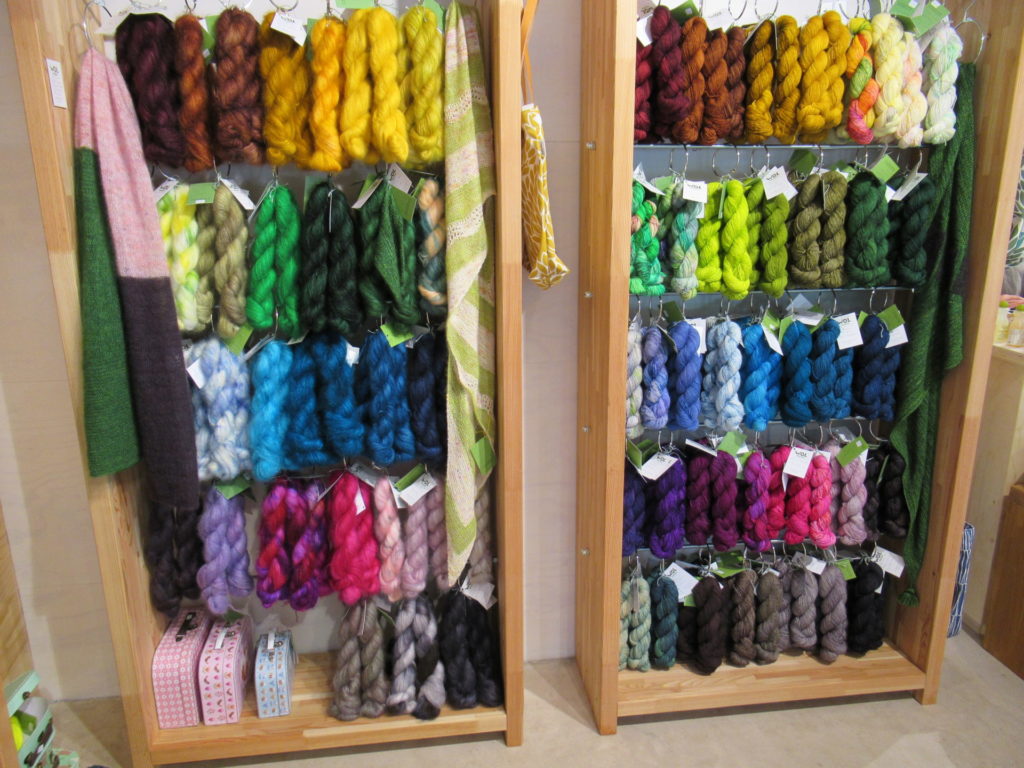 When I asked her why she decided to start Wolverhalen, Catharina told me about her life-long love of making things, and that she had been dyeing yarns as a hobby for several years before turning it into a business. Guess what her favourite colour is? Green, of course! I needn't have asked.
Some of the yarns are dyed with natural dyestuffs and some with acid dyes. Environmentally friendly citric acid is used as fixative for the latter. (Acid dyes are not themselves acidic but require an acid to set them.)
The environment, sustainability and animal welfare are important to Catharina. (That sounds like music to my ears, too!) She avoids the use of plastic as much as possible, chooses recycled or recyclable materials for packaging, and all her wool is mulesing-free.
Well, let's browse around the shop a little more. Below, on the right, is some økologisk Hverdagsuld and Tynd Lamauld from Danish brand CaMaRose.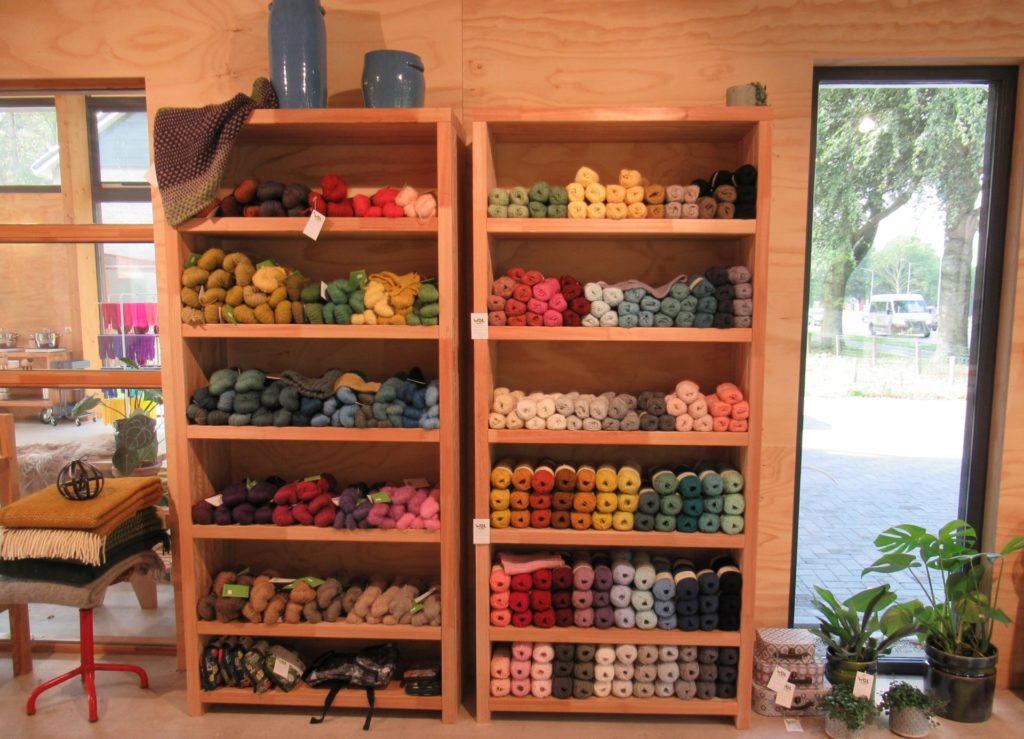 (I don't remember what the yarn on the left was.) I have no experience with these, but I love the range of colours and bought a few balls during last year's visit to try them out. They're still waiting patiently in a basket.
And here is some BC Garn Baby Alpaca, also from Denmark.
Not my colours, but oh so soft!
During my recent online visit, I ordered one skein of yarn that definitely IS my colour. It came wrapped in tissue paper with a lovely plant print, accompanied by a handwritten card with a personal message. Such a treat! I have an idea for it, but can't tell you about it yet for fear of jinxing my creativity.
This blogpost is one of the ways in which I try to help small businesses survive this crisis. The world would lose so much of its colour if they were to disappear, don't you think? I know it's just a small drop in the ocean, but many small drops…
I hope your local yarn shop is still open for (online) business, or will be again soon. If not, there's always Wolverhalen. The website is entirely in Dutch, but Catharina does ship worldwide and I'm sure she'll be delighted to answer any questions.