Hello! Do you have an Advent calendar? A home made one? A new one, or one you use year after year? A paper one, or one with 'real' gifts?
Advent calendars are not a tradition I grew up with. My Dad did not believe in Christmas. My Mum's belief in Christmas was very strong, but of a kind that did not approve of such things. This year, however, there are no less than three Advent calendars in our home. It seems like I have some catching up to do.
The first one is the one you see at the top – a fir tree that is gradually filled with birds, nest boxes and animals. It was a gift from our daughter last year and can be used again and again. It is a small treat to hunt for that day's ornament in their box every morning and add it to the tree.
The second Advent calendar is a traditional paper one with a door to open every day. It is next to my bed and the first thing I see in the morning when I turn on the light.
It was a gift from a dear friend. I found it in our letterbox on December 5th (our traditional gift-giving day), in a large envelope that also contained a pair of beautiful 'pre-loved' earrings and a bag of tea from Germany with the brilliant name Warme Socken (I don't think I need to translate that).
It is a delicious seasonal blend of rose hips, apples, almonds, cinnamon, cloves and more.
The third Advent calendar was, in a way, also a gift from the same friend, because she recommended it to me. This one is in the shape of a book, The Alternative Advent Calendar: Secrets of the True Spirit of Christmas by Gillian Monks.
The book gives ideas for things to do for every day of the Advent period that are, in the words of the author, 'universally relevant, regardless of geographical and genetic origins, social, academic or professional status, cultural background, religion or belief.'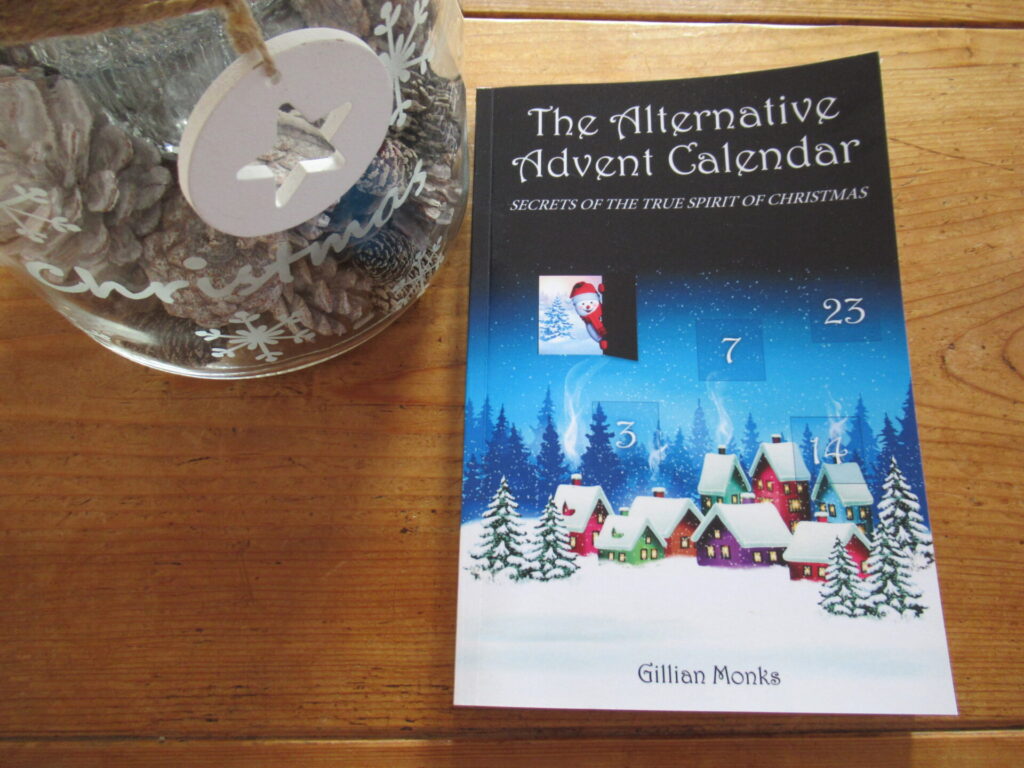 All of the ideas in it are small and enjoyable ways to offer of yourself to the world. Most of them can easily be done even during the strict lockdown we are now finding ourselves in, in the Netherlands. Some require a little creativity under these special circumstances, but so far I have only found one that seems well-nigh impossible: 'Open your door to all. Invite all your neighbours to supper – and I mean ALL your neighbours… as many as you can sensibly fit inside your house.'
Although the book was only published in 2019, this now sounds like a bizarre idea from a very distant past or for a far-off future, almost like an indecent proposal. But with a bit of creativity… a Zoom supper, perhaps?
Behind another 'door' there is a more doable suggestion: 'Make someone a hot or cold drink'. My friend did that from a distance by sending me Warme-Socken-tea. In my turn, I am offering you a virtual hot drink.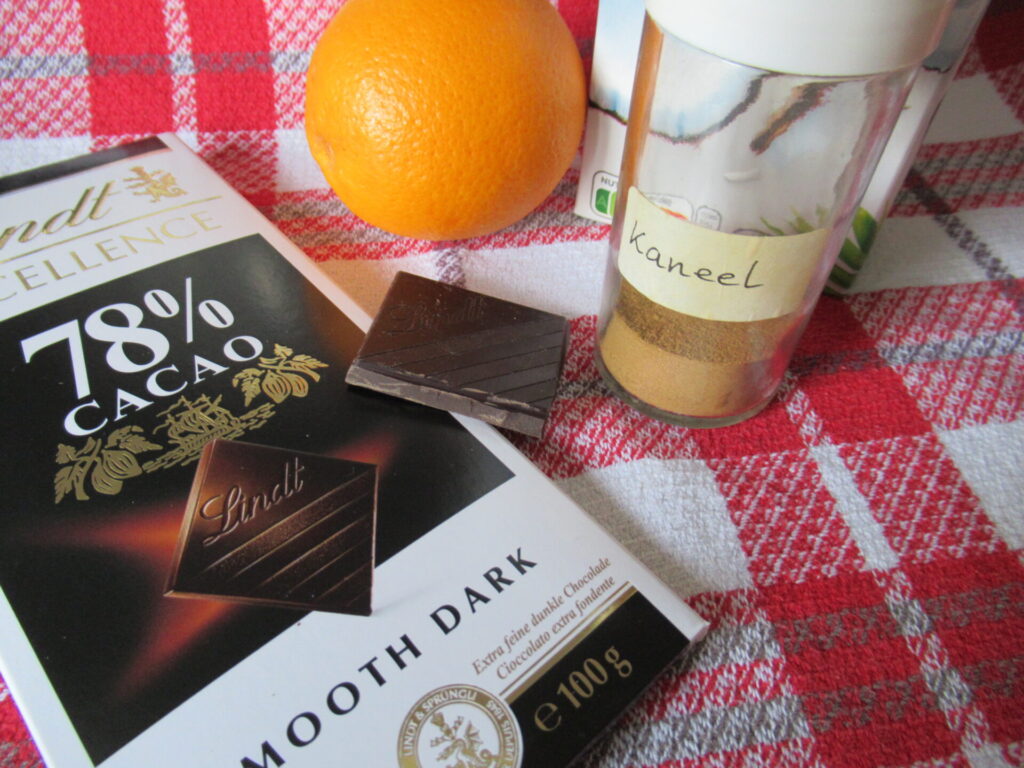 Cinnamon-and-Orange Cocoa
For one small mug, you'll need:
10 grams of chocolate (I use a very dark chocolate, but think any kind will work)
Finely grated zest of half an orange
A pinch of cinnamon
200 ml milk (I'm allergic to cow's milk and use plant-based 'milk' – the rice-and-coconut variety is my favourite for this recipe)
Sugar or honey to taste
To make the cocoa:
Break the chocolate into chunks and put them in a small saucepan, together with the orange zest, the cinnamon and a little of the milk
Heat, stirring until the chocolate has melted
Add the rest of the milk and bring to the boil
Pour into a mug, add some sugar or honey if you like, and enjoy!
You're welcome to virtually join me on the veranda in front of our garden shed. I don't usually go to the trouble of outdoor decorating in winter, but in this special year I've made it into a cozy corner.
Our garden bench is overwintering there. It should of course have a beautiful hand knit blanket hanging over the back instead of this Ikea one, but nobody's perfect. Maybe next year.
I've placed a few candles next to it on a rickety old footstool. One of the glasses has a felted sheep's wool jacket, bought at a fair a few years back.
And in the back our little laurel tree is protected from the elements.
It looks happy there, and for the first time ever has flower buds.
According to the Alternative Advent Calendar, I should have asked you what you'd like to drink first. I didn't know how to do that here, so I've chosen cocoa. For our friends in the southern hemisphere – please pour yourselves a cold drink from us! And for anyone who doesn't like hot cocoa – maybe you'd prefer some Winter Tea instead? You can find my recipe for that here.