It's Christmas Eve, and we're nearing the end of a challenging year. Thinking about writing this post beforehand, I felt that I should say something Profound and Meaningful, but what? I wouldn't know where to begin. I'm not some kind of oracle or Wise Woman, after all. I'm just an ordinary person muddling along like everybody else.
In the end, I've gone back to what this blog is basically about and decided to share a few of the things that have given me comfort and joy over the past weeks, hoping they'll do the same for you.
The front door with the lovely garland at the top of this post isn't ours. It belongs to a house further down the street.
Every time I pass this house, looking at these neighbours' stylish grey-and-white decorations brings me joy.
Our style is more traditional, mainly red, green and silver. It's comforting to take the same old Christmas baubles from their box every year. This one symbolizes 2020 for me.
White hyacinths opening their flowers at exactly the right time scent our living room.
The upstairs Advent calendar has now opened its last door. And I put the star on the top of the downstairs one this morning. One of the first creatures I placed on this cardboard fir tree was a woodpecker.
It looks just like the great spotted woodpeckers that visit our garden. They've been away for a while, retreating to the wood during their moulting period, but are back in full force now. Sometimes there are four of them at the same time, looking for insects on the branches of our old pear tree and fighting for a place on the peanut feeder.
Watching these beautiful birds always brings me joy. They are fairly shy, but if I'm very quiet and patient, they allow me to take a picture now and then.
Something that always brings me a lot of comfort is knitting. It is the feeling of the yarn in my hands combined with the rhythmic movement that makes it so. And what's more, knitting things for others makes me feel connected with them during a time we are unable to meet. That's also a comfort.
Apart from knitting several pairs of socks, a scarf and a hat to give away, I've treated myself to two skeins of exquisitely soft yarn for a hat and a cowl.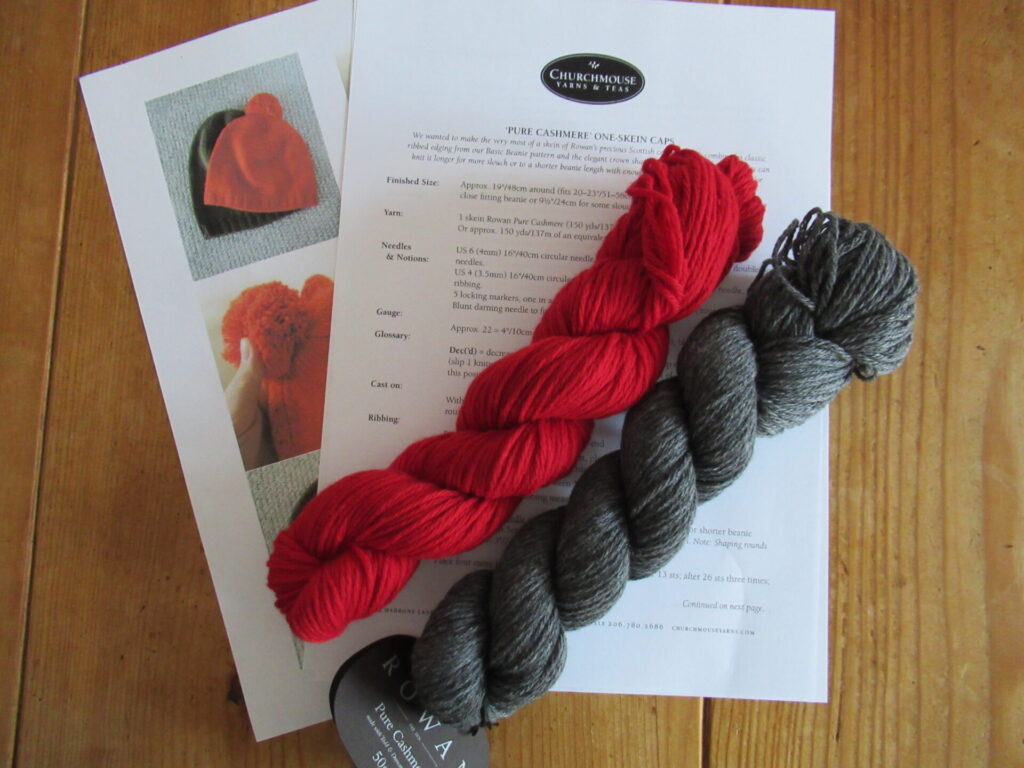 The hat pattern was a freebie from Churchmouse Yarns & Teas. They have a very active and friendly knitting group on Ravelry that I've enjoyed being a part of for years. The moment I saw this simple hat and read that the yarn they used for it was a sustainable cashmere, I knew that this was going to be my special December knit for me this year.
I was not just going to knit the hat, but also a matching cowl. Although I could have finished each of these projects in an evening, I decided to take it slow and enjoy every minute of the process, including winding the yarn and taking photos along the way.
I limited myself to knitting no more than a few rows a day. During these quiet, contemplative moments, I first saw my hat grow.
Knitting a pattern thought out by someone else is especially comforting – no stress about how many stitches to cast on, getting the right size, what decreases to use, and whether there will be enough yarn. I've given my own twist to it by adding a bit of contrasting colour to the rim of the hat, making a matching cowl, and finally duplicate stitching hearts onto both.
For the duplicate stitching I've tried out a new (to me) type of needle, with a bent tip. I've laid my ordinary darning needles and the new ones out on the finished cowl to show the difference.
The new ones are officially called tapestry needles, and they are a real improvement for duplicate stitching, I have to say. The bent tip slides easily between the knit stitches and is really nice to work with. (I'll keep using the regular straight ones for darning in yarn ends, though.)
And here are my hat and cowl all finished.
They were a joy to knit, and I know they'll be a joy to wear for a long time to come.
Now there is just one last thing I'd like to share with you – a gift we received on Tuesday. This year the organic farm that delivers groceries to our door, gave all their customers a bag of organic daffodil bulbs. It came with a message on a bit of sunny yellow paper. Translated it said:
When all of a sudden ordinary things
Can no longer be taken for granted
We realize how extraordinary
Ordinary things really are
Such a lovely gift – a ray of sunshine and hope during these dark days.
Thank you so much for reading my blog over the past year, and leaving a comment now and then. These small virtual moments of contact mean a lot to me. I'm taking a break now and hope to be back here somewhere in the course of January. I'm looking forward to 'seeing' you again then.
I wish you a safe and peaceful Christmas and the very best for 2021!