Hello! Today, I'm taking you along for a short walk, to a lovely place to sit and knit.
The bench in the photo above is about a mile from our home, a 20-minute walk. It is around the bend of a sandy path.
At first glance the view from the bench is underwhelming.
But the better you get to know the spot, the more you start to appreciate it. We cannot enter it, not just because it is a protected nature reserve…
… but also because it is a bog and we'd have a hard time keeping our feet (and the rest of ourselves) dry.
But we can walk around it.
We can say hello to some of the inhabitants. Hello big green frog!
Dragonflies are whirring through the air or sunning themselves.
At first glance, the vegetation is unspectacular, too. But again, the better you look, the more you see.
Our native blueberries, billberries, are much smaller than the ones in the shop. They are easily overlooked, but kneeling down and looking between the leaves you can see that they are ripe.
Another thing that is easily overlooked is the sundew. It is a teeny tiny carnivorous plant, with round leaves of only a few millimetres across.
Looked at from very close up, it is beautiful, with its glistening, sticky and treacherous (to insects) drops.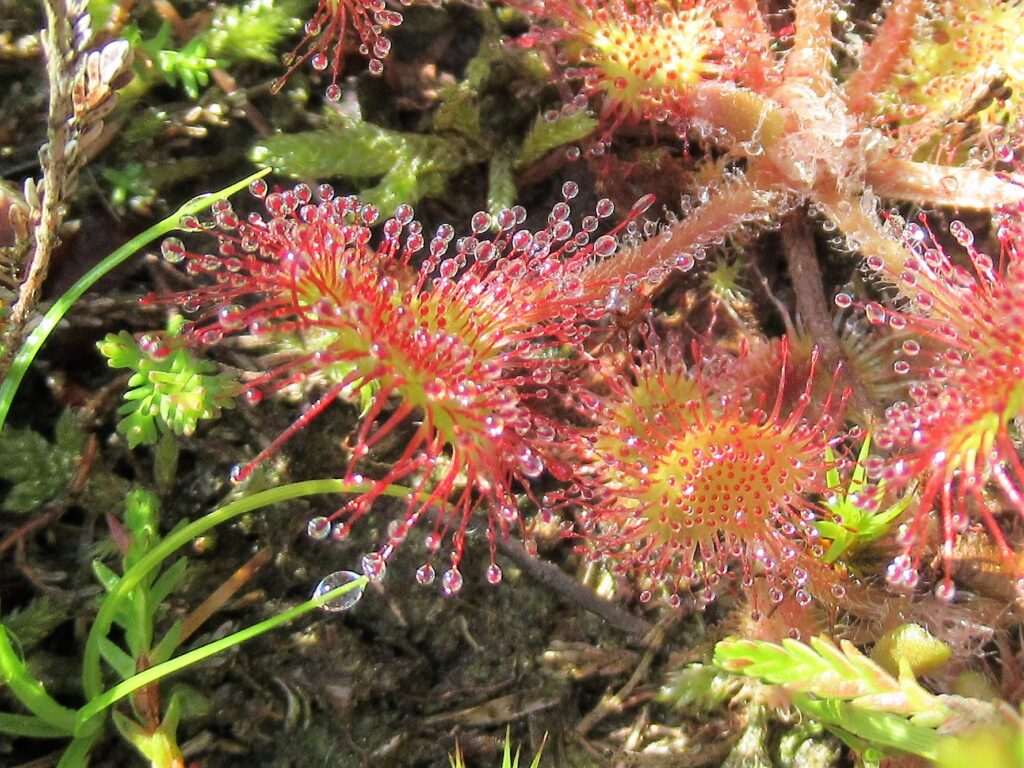 Strolling around here, taking photographs and enjoying the quiet, I suddenly had the idea of doing a series about 'Places to Sit and Knit'. I thought we could virtually sit here, and in some other lovely places, together, look around and chat about our knitting a bit.
Of course, a blog is always mainly one-way traffic, but I am really interested in what is on your needles or hooks. Do leave a comment telling me about it, if you feel like it. Mention the name of a pattern or yarn and I may know what it looks like, or I'll look it up on Ravelry or elsewhere. If you don't feel comfortable leaving comments on blogs, that's fine, too.
Today, I don't have a lot of knitting to show you, though. There are the beginnings of a small object from sock yarn remnants that doesn't look like much yet:
Some swatches for a new shawl design I'm working on:
And a December gift for someone who'll probably be reading this that I want to keep a surprise:
And I'm not entirely sure this will really become a series either. Maybe the idea will fall by the wayside, or maybe not. Anyway, I think it's a nice idea and I'll try to keep it in mind.
Well, let's head back home, past the house with the prettiest front door for miles around…
… and through a ferny, sun-dappled (at least today) part of the wood.
As of tomorrow, I have planned two weeks off. My husband prefers to keep working through the summer, albeit at a more leasurely pace, but I really need some time to just sit and knit. Apart from not setting the alarm clock and not doing work of any kind, I haven't planned anything. The plan is to have no plan. That also goes for my blog. I may pop in if there is something to write about and I feel like sharing it, but I'm not sure.
I hope that you'll also have some unplanned time this summer. To just sit and knit. Or to read, go for walks, maybe even travel a bit, or do nothing. Whatever you are planning (or not planning) to do, I wish you a lovely time!