For me, one of the best ways to relax is walking. Fortunately I have a husband who feels the same way, so we spent large parts of our Summer Holiday this year (and any other year) taking long walks. Woodland walks, coastal walks, riverside walks, city walks, but most of all heathland walks. The heather is in bloom this time of the year and it's glorious!  
As I wrote in a previous post, heathland needs to be grazed. Otherwise it would be overgrown with trees in no time and disappear within a few years. Usually this is done by sheep, whose cropping and munching is a peaceful sight.
But sometimes cows are recruited to do the job, especially highland cattle. I think they are beautiful, with their big horns and their shaggy red coats.
I prefer to keep a respectful distance, but during one of our walks other walkers and their dog didn't give the cattle a second glance and just barged on, right between a bull and his harem with their calves. This seemed to agitate the bull, and instead of continuing to graze, it suddenly charged across our path.
I held my breath, but nothing happened. As it turned out, the entire highland family was just as peaceful as sheep. All they wanted to do was go for a swim together.
We live in a small country, and our nature reserves are comparatively small, too. This means that long walks are hardly ever exclusively nature walks. They almost always cross some farmland as well. I don't mind, really. I even like it. Some less intensively farmed land can be very beautiful to walk across.
Besides, I love looking at farmhouses and their outbuildings.
They often have lovely flower and vegetable gardens. The vegetable garden of one of the farms we passed was a riot of colour.
So, so lovely.
And on some farms, there are animals to admire as well. On one farm we saw some magnificent long-haired Dutch Landrace Goats.
And on another a big, big spotted sow with a litter of piglets.
It's so good to see them rooting about outside, with lots of space and freedom. The piglets were incredibly lively, inquisitive and cute.
Taking photographs for my blog makes me look at the world with different eyes, and appreciate my surroundings even more. Sometimes my camera seems to see more than I do, and I don't really realize what I've seen until I look through my photos at home.
Take the photo below, for instance. We were walking along a grassy path when I spied something in the distance, very far away. Judging by the colour and the shape of the ears, I thought it was a roe deer. Roe deer are not an uncommon sight, but still worth taking a picure of.
When we came a little closer, the animal got up and raced away. At the time I thought, strange how small a roe deer can look from a distance, and how short its legs look in the grass, but didn't give it  much thought.
Looking through my photos at home, I realized that it wasn't a roe deer at all, but a fox!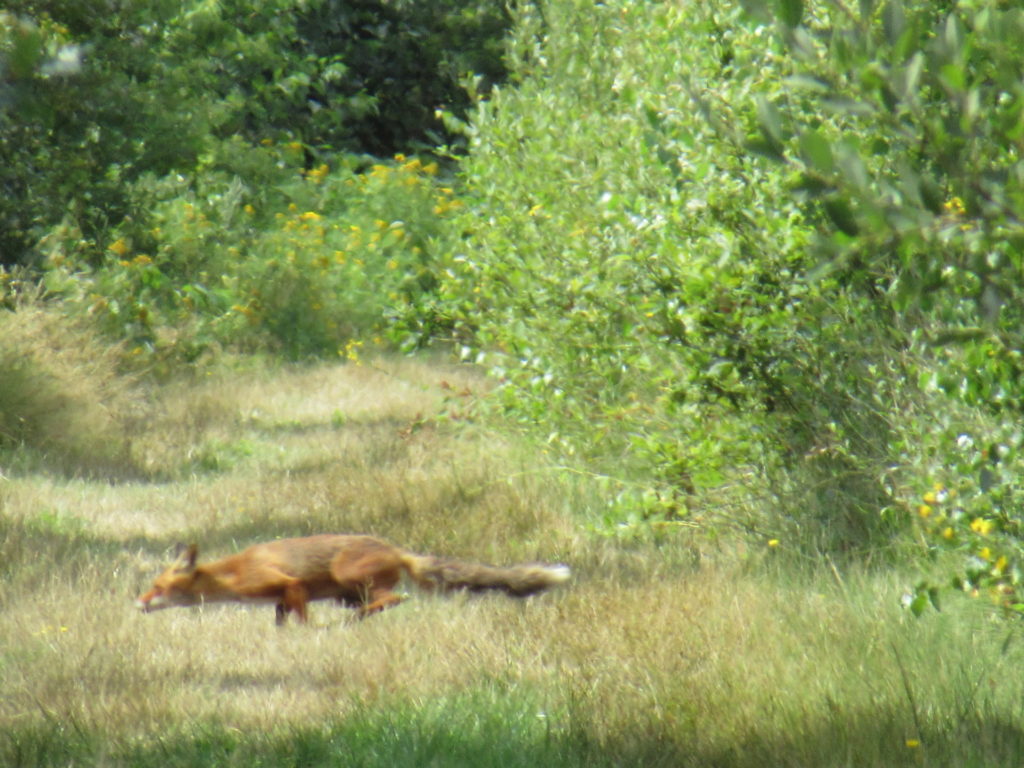 We know that there are foxes around here. It's something we know all too well, from the massacres they've caused among our hens. Twice! (Our chicken coop is now completely fox-proof). But we very, very rarely get to see them. In spite of what they did to our hens, I love foxes. I don't know why, really. Is it the shape of their face, their big bushy tail or their speed and agility?
One of the best things about walking is taking breaks at spots that you can't reach in any other way. Quiet, out-of-the-way spots. This was one of the best spots for taking a break that we passed on this walk. A pool surrounded by trees and tall grasses, with the wind cooling our skin and sending ripples out across the water.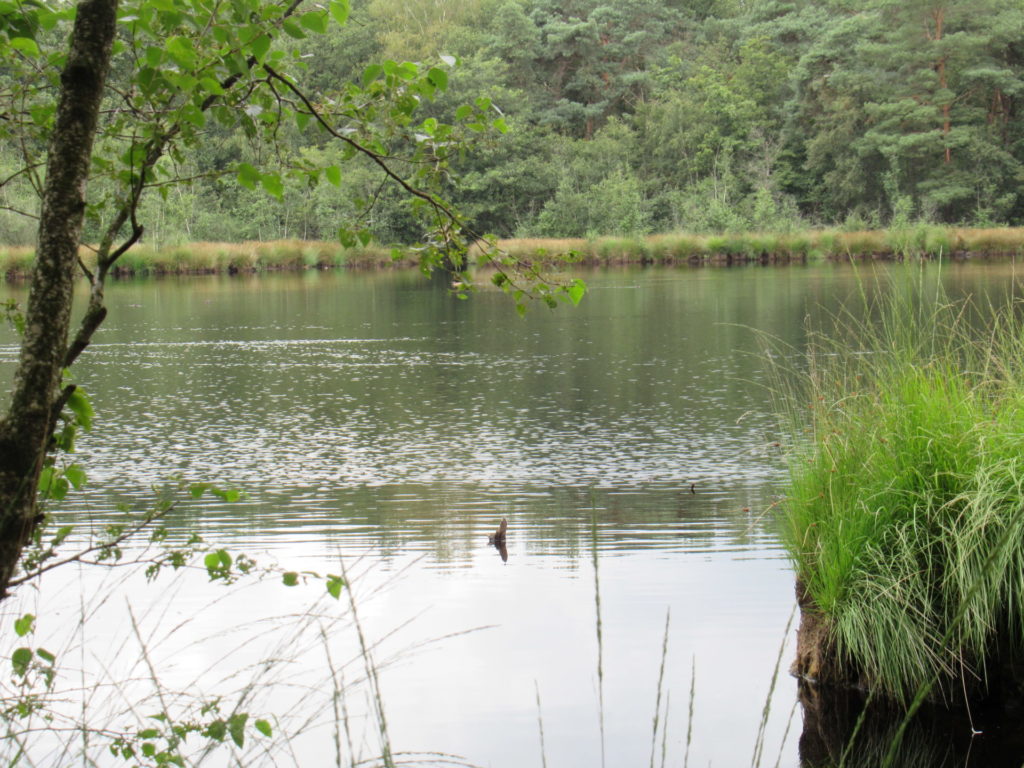 The water birds in the distance looked like ducks, but they made curious sounds, not like our ordinary, everyday mallards. I couldn't see what species they were with my naked eye, so I zoomed in on them with my camera. Maybe I could enlarge them at home and find out which duck-like bird it was that made such soft un-duck-like noises. But no such luck.
I'm not a very good photographer, and I don't have any fancy photo equipment. So, I ended up with some very blurry pictures, and one that was sharp, but had a beheaded duck on it. As far as duck pictures go, these photos were a total failure.
But then I looked at the rippling water and thought, wow, look at that!
The ripples on the water look just like the texture of my knitted fabric!
This is a close-up of the Sideways Tee that I'm knitting.
When we're on holiday, we often spend the evenings exploring the immediate surroundings of our holiday cottage or campsite. During our 'staycation' there was no need for that. We already knew the surroundings of our 'holiday home' through and through, so that I could spend almost every evening, all evening, knitting, reading or working on my crochet project.
I've made a lot of progress, but haven't actually finished anything yet. I need a little more time to finish things up, organize my notes and take pictures before I can show you more.
I hope you don't mind if I take you along on another walk next time. I'd like to show you a very different part of our country, and some crafty things I came across there, before I get back to some in-depth writing about knitting.