Hello, I'm back! Well, I haven't really been away. Just away from my computer and my blog for a while.
We've had a really, really nice and relaxing 'staycation', with lots of lovely walks, visits to some old towns, cities and museums, and plenty of time to read, knit and crochet in between.
I'd like to tell and show you more, but I don't know how just yet. I need to chew on everything we've seen and done for a bit first. In that sense I am like a cow. I don't have four stomachs, but I also need to ruminate on things to digest them.
We met this beauty during our summer holiday, by the way. She lives on an organic farm that we passed on one of our walks:
The farmer doesn't only take good care of his cattle, but also of the occasional passer-by. Between the barn with the red pelargoniums and the hay barn, where you can see a green parasol peeking around the corner, there's a wonderful cupboard built into the barn wall. It's filled with coffee, tea, biscuits and all kinds of other snacks. Just help yourself and leave some money in the box. There's even a bowl of water for dogs!
Oh, there I go again, getting off course. It happens so often – one thing leads to another, and before I know it I've strayed completely from where I was going. Well, at least now you've had a tiny glimpse of our holiday at home.
What I had planned to do today, was give you a recipe. I may have told you before that we have a flock of hens – 8 hens and a cock to be precise. They are Frisians, and their colourway bears the poetic name 'silver-pencilled', which looks like this:
Our hens love tomatoes, corn, worms and taking dust baths. Apart from worms, we try to give them everything they wish for. In return, they provide us with more eggs than we can eat. We give lots of eggs away to relatives, friends and neighbours. And we're always trying to think up new ways of using eggs ourselves.
The eggs are pure white and fairly small. I use 3 of these for 2 medium shop-bought ones. Some are oval and pointy, while others have a more rounded shape: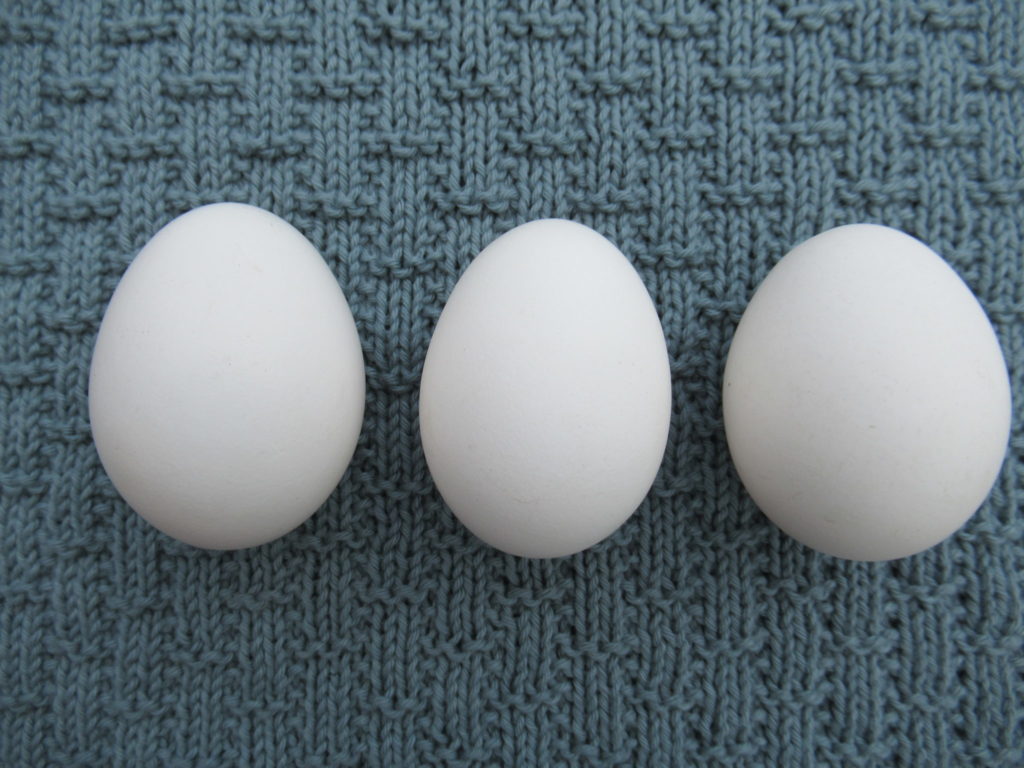 (I photographed the eggs on one of the dishcloths I've been knitting. More about those in another blog post soon. Or perhaps not so soon. There are so many ideas for posts whirling about in my mind that I don't know where to start.)
Besides eggs, we're also trying to use as many herbs in our cooking as we can too. This time I'm using thyme. We have three different varieties in our herb patch. Use any thyme you like – dried thyme from a jar is fine, too. Don't use too much, though. It can be overpowering in combination with fruit.
The recipe below is for a Clafoutis – a French dessert that is usually made with cherries, but can also be made with plums or other fruit. I chose apricots because I thought they would work well with thyme. (I used canned apricots, because we can hardly ever get any fresh ones, and when we can they are often dry and not very tasty.) Here's my recipe:
Apricot and Thyme Clafoutis
For a Ø 22 cm pie dish, serves 4
Ingredients
3 small Frisian eggs (or 2 medium shop-bought eggs)
150 ml milk
50 g flour
270 g tinned apricot halves (drained weight)
a few sprigs of fresh thyme (or ¼ tsp dried thyme)
1 tbsp butter + extra for greasing
50 g sugar
pinch of salt
icing sugar for dusting
Method
Preheat the oven to 200 °C (fan oven 180 °C).
Grease the pie dish
Sieve the flour together with the salt and sugar.
In a separate bowl, loosely whisk the eggs with half of the milk. Stir the egg-and-milk mixture into the flour little by little to a smooth batter. Melt the butter. Whisk the rest of the milk and the butter into the batter.
Distribute the apricot halves over the pie dish (hollow sides down). Pour over the batter and bake in the oven for 30 minutes.
Eat warm or cold, dusted with icing sugar.
Enjoy!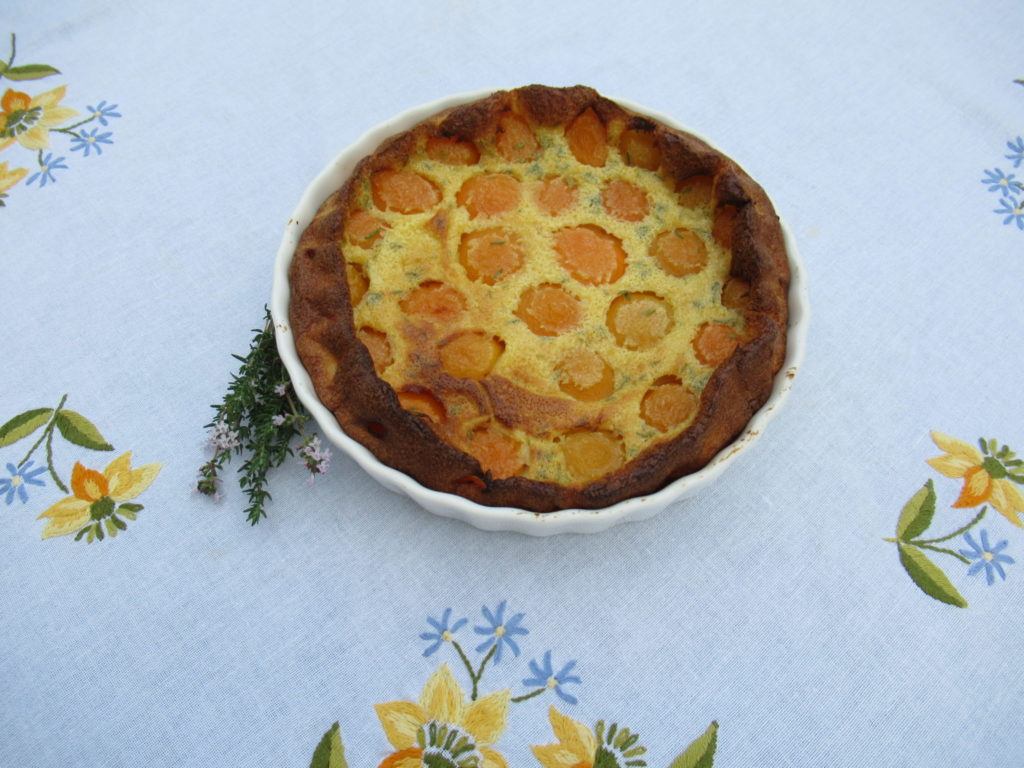 The table cloth underneath the oven dish was embroidered by my late Mum. She was a great knitter, too, but she loved embroidering these colourful pre-printed table cloths most of all. For me, there are many good memories attached to it.
Well, I hope you've enjoyed my ramblings and my recipe. And I hope to get back to some serious knitting in my next post, because I've received some urgent questions from readers that I need to look into…