Hello again! I hope you have some time in your busy day for a leisurely scroll through our garden, a visit to a beekeeper, and a cup of tea and some knitting afterwards. Or perhaps you're on holiday and have all the time in the world. Wherever you are or whatever your day looks like – welcome!
Today, I'd like to show you a new part of our garden. A part you haven't seen yet – our herb patch. It isn't very big (about two by two-and-a-half meters) but I'm very happy with it. Here it is just after we planted it mid-May:
And this is what it looks like now, two months later:
Isn't it amazing how quickly things grow? There's parsley, chives, thyme and sage for all kinds of savoury dishes. There's rhubarb for stewing, nasturtium flowers for decorating salads, and 'wild' strawberries for enjoying straight from the plant. I don't know what to do with the marigolds yet. I could use them to dye some yarn, but what would I do with yellow yarn? For the time being I'm just enjoying them for their cheerful colour.
And finally, there's chamomile, peppermint and lemon balm. We'll be making herb tea with those later. But first, let's get some honey to sweeten it. If we hop on to our bicycles we'll be at the beekeeper's farm in under an hour. It's a nice route along a canal, past some allotments, through a wood, and along a country lane.
Here we are. There are jars of honey and an honesty box at the roadside. We could just grab a jar and head back…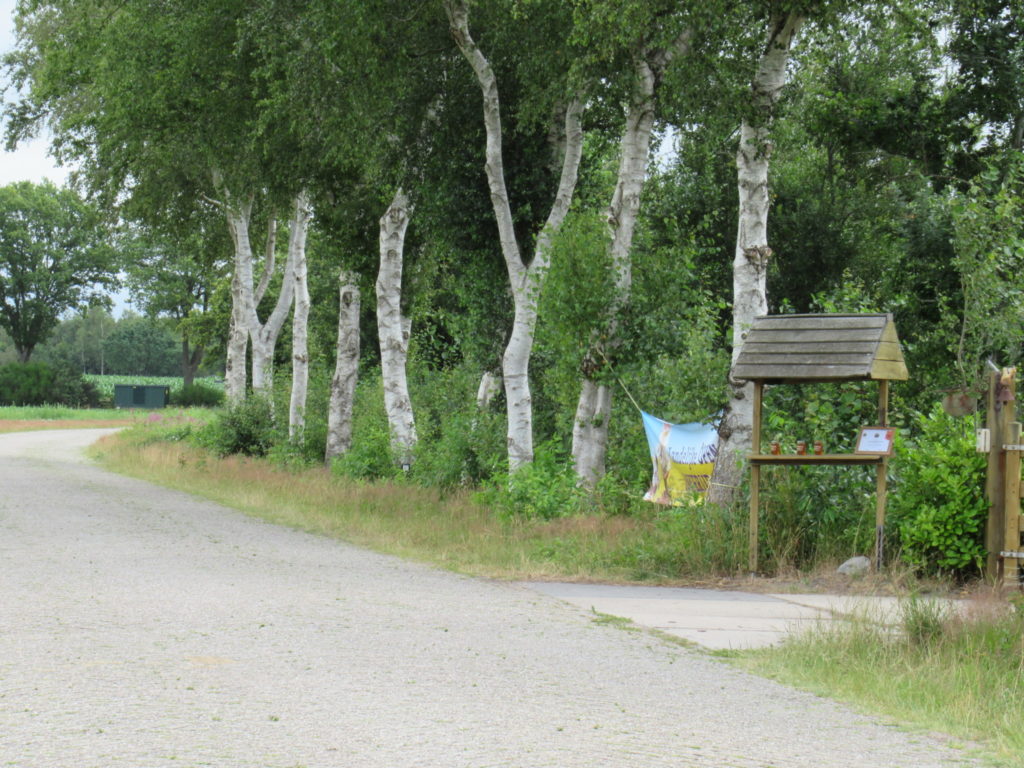 … but it's much nicer to have a chat with the bee keeper and take a look at the bees. We need to put on a special beekeeper's jacket with hood first. The bees are very quiet today, but it's better to be on the safe side.
Do you see the line of trees the beekeeper is pointing at? Behind them there's a nature reserve, with heather and all kinds of other flowering plants, shrubs and trees where the bees get the nectar for their honey.
The beekeeper deprecatingly says, 'Ah, it's just a hobby. My dad used to do it before me, and I've followed in his footsteps.' But to her own astonishment and delight both her bright and her dark honey won gold medals at the London Honey Awards 2019!
Most of the bees are housed in modern beehives:
These are far bigger than traditional hives, or skeps, and it is much easier to collect the honey from them. But she also has some traditional skeps, a sort of upside-down baskets. And even a wooden beehive in the shape of a house. It looks a lot like their own beautiful wooden house:
Zooming in on one of the skeps, the bees can be seen coming in and out of the opening:
It's that dark clump at the top left. Can you see them?
This beekeeper isn't complaining, but behind her words I can hear her worries about the threats her bees (and bees everywhere) face. They're threatened by the varroa mite, pesticides and the drought caused by climate change. Things like this often give me a feeling of powerlessness. Yes, it's worrying, but what can we do about such worldwide threats as insignificant individuals? Fortunately, in this case, there are a few easy things we can do to help the bees.
Apart from organic honey in jars, this small family business also produces other bee products, like beeswax candles, lip balm, soap, shampoo and so on. There's more information on their website.
Well, high time to cycle back and pick some herbs.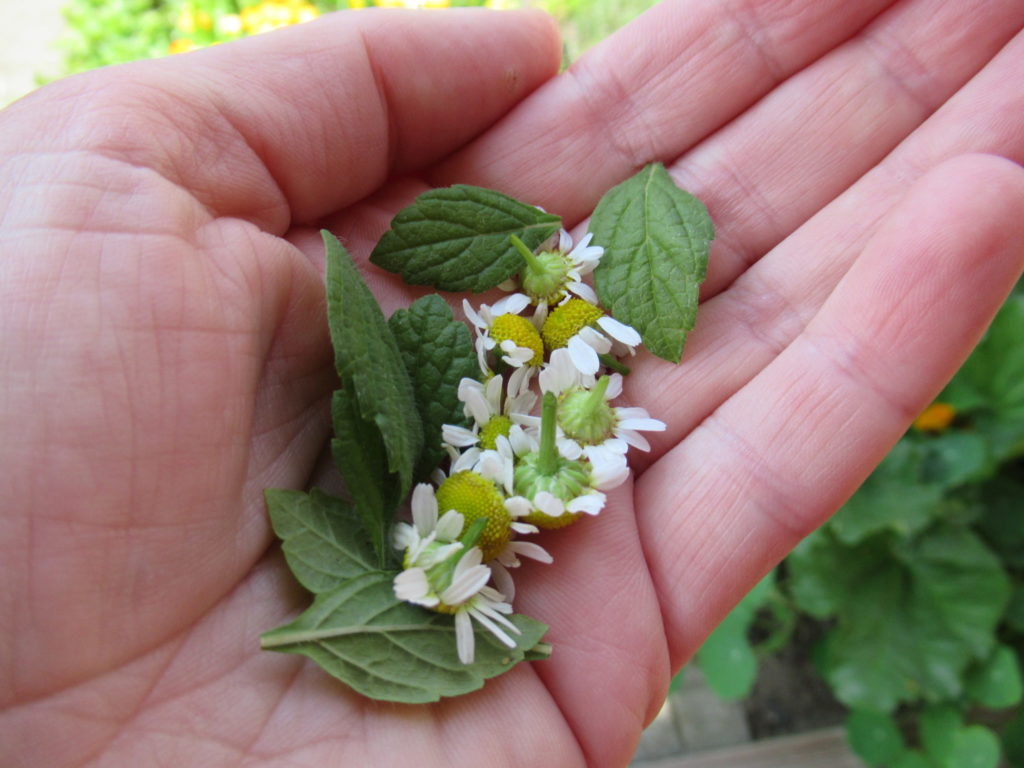 One of my favourite herb tea blends is chamomile and lemon balm. A small handful of chamomile flowers and lemon balm leaves is enough for a cup or two of tea (dried herbs work just as well as fresh ones). I have a small teapot with a built-in strainer, but any pot or mug will do.
Add honey to taste and enjoy!
Next to this cup of tea is my first dishcloth in progress. I was skeptical about knitting these (I mean, how twee can you get?), but the enthusiasm of two of my knitting group members made me give them a try. And I must say, I've been bitten by the dishcloth-knitting-bug too!
Another favourite is mint tea. There are many varieties of mint. Wat we usually get when we order mint tea at a cafe is Moroccan mint, with a fairly mild and sweet taste. The mint in our garden, peppermint, has a stronger taste. It really is more peppery. Two or three small sprigs straight into a mug make a refreshing drink. I like it even during the very hot weather we're currently having – I just leave it to cool first.
The blindingly white knitting on the needles here is the start of my Sideways Tee. There isn't much to see yet, but as soon as I'm a little further along, I'll show you more.
Well, that's all for today. Thank you for sharing a cup of tea with me!