On a day that was too hot for walking through woods or across heathland, we thought a walk along the coast might be a good idea, with hopefully a refreshing breeze. So we set off for my native Friesland. Our starting-point was the old town of Stavoren (photo above), and our destination was Hindeloopen, another small harbour town. (It was a one-way walk – we took the train back.)
This isn't the coast as in sea shore, but rather the coastline along the IJsselmeer, a former inland sea that was closed off around 1930 and is now a big freshwater lake. The dykes are still there, and our trail ran right across the top. Well, it wasn't really a trail, just grass, but you get the idea.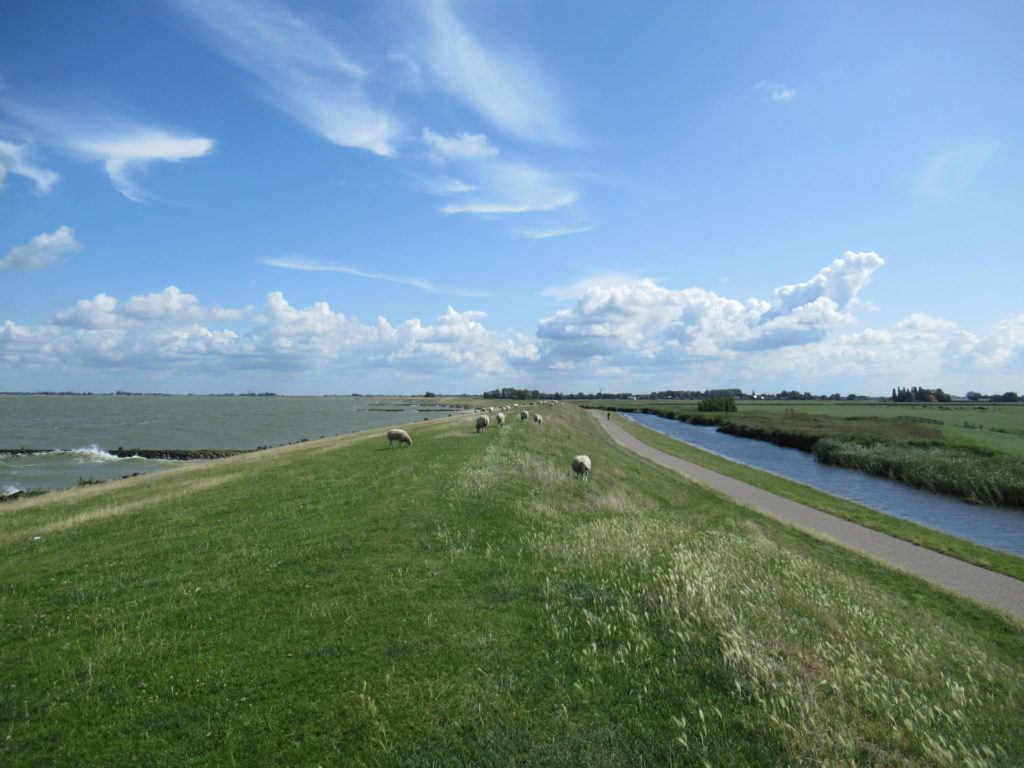 In reality the dyke is much steeper than it looks here. The narrow road on the right is a bicycle track. Nice when you're cycling, because it's sheltered from the prevailing wind. But not much fun when you're walking, because you'd miss the lovely views over the lake.
With a delicious breeze from behind it was an ideal day for this walk. Looking to the left, we saw a choppy lake with some sailing boats.
And looking to the right, we saw agricultural land, with some farms and modern windmills. Completely flat, with endless horizons.
All along the dyke, there were lots of fences with stiles to climb.
The fences are there to confine the Texel sheep to certain sections of the dyke. The sheep are kept company by water birds, like these black and white barnacle geese.
The sheep were not shy at all. They didn't run away when we came close, like they usually do. We had to step around and over sheep and lambs lazing and grazing on our path. And some of the sheep were downright pushy. When we sat down on the grass to eat our sandwiches, they came begging for a share. They must have been fed by other walkers.
'Come on, give us some of your bread,' they seemed to say. And, 'I really like the smell of that cheese.' They refused to be shooed away and were so insistent, that in the end we got up and walked on, eating the rest of our lunch along the way.
In the distance we could already see our destination. It wasn't just a perfect day for walking, but for wind and kite surfing, too.
Against the big blue sky, Hindeloopen looked very small, with its church and the houses with their red roofs huddled behind the dyke. And, in fact, it is small now, with under 900 inhabitants. In the 17th and 18th centuries, when the lake was still a sea, it used to be an important harbour and trade centre, with three times the number of people and a fleet of around a hundred ships.
It's nice to imagine merchant ships leaving and entering the town via the lock (photo below) that is now used by pleasure boats. On their outward-bound journeys they would be filled with gin and wool. And coming back from Scandinavia and Russia they would be carrying wood.
We slowly strolled through the old town centre and saw some monumental merchant's houses – a sign of great wealth in earlier times.
There was a museum, too, as well as several shops selling local traditional crafts. Hindeloopen is renowned for its decorative painting style, with garlands and stylized flowers on a red, green, blue or cream background. Here are several trays and a 'butte'.
A butte is a traditional travelling case used by seamen for their personal belongings. I think it's a thing of beauty and would like to own one someday. But as it's all handmade, it has quite a hefty price tag. It's not that it isn't worth it, but it isn't an amount I'd spend on a whim.
I came home with some more modest souvenirs – two pieces of fabric and two postcards.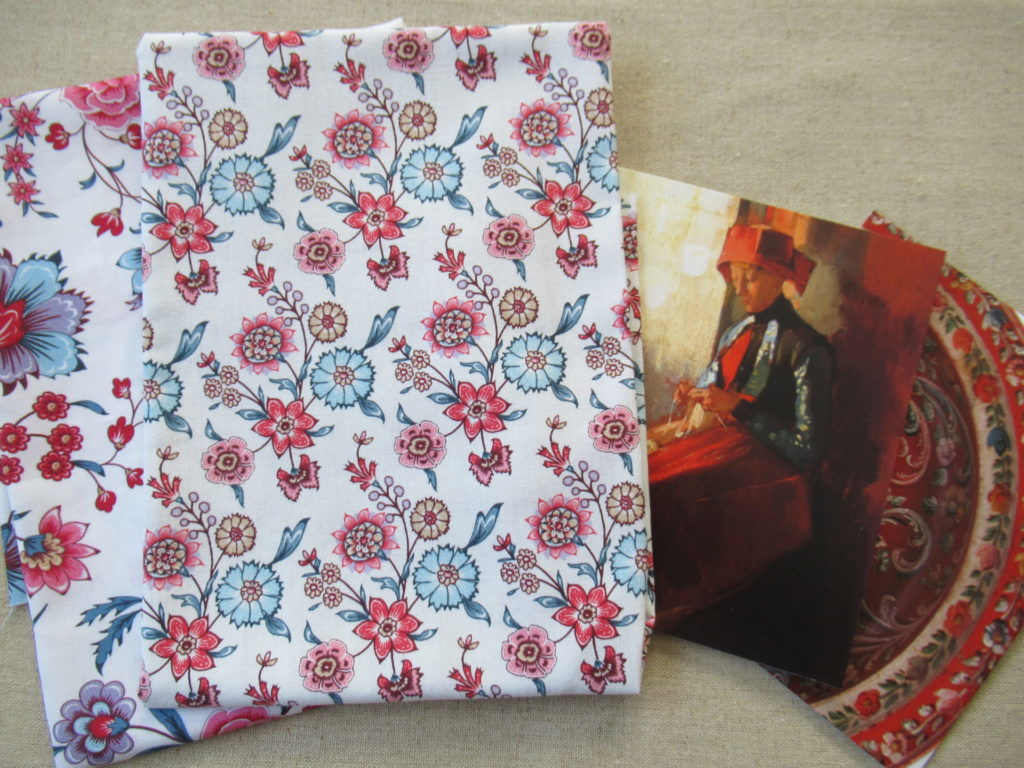 The fabrics are inspired by some of those used in the colourful traditional costumes of Hindeloopen. I don't know what I'm going to use them for yet, but I'll think of something.
One of the cards shows some of the typical decorative painting on a wooden platter. And the other shows a woman in traditional dress. (Unfortunately the postcard doesn't tell us who the artist is.) In the painting, the fabrics are simplified to solid colours. In reality they would be flowered and checked, in mainly red, blue and white. There's an picture of a complete costume on the town's museum website.
And what is the woman doing? Knitting – what else?