Hello! It's good to see you here again. For this week's summer outing, I'm taking you to Vries, another small village in our part of the country. Vries isn't as picturesque as last week's destination Giethoorn, and I doubt if it sees many tourists, but it does have some attractive spots.
Generally, the church from the middle of the 12th century is considered the village's main attraction. Granted, it is beautiful. Surrounded by trees, it wasn't easy to photograph, but here is a view from the side:
The church is dedicated to Saint Boniface and has doors in a particularly attractive shade of red.
But to me, Vries' biggest attraction is the smallest yarn shop I know. And when I say small, I mean tiny. It is called Wol zo Eerlijk (Wool so Fair) and is so small that it can only welcome one customer at a time with the 1.5 meter distance rule in place. This little gem is tucked away in a small corner between two other buildings.
Wol zo Eerlijk specializes in sustainable and fair-trade yarns, produced in animal-friendly ways and without child labour.
This may conjure up images of drab and scratchy yarns, but nothing is further from the truth. There are some neutrals, too, of course. But all in all, the first impression is a very colourful one. Let's go inside to take a look.
Although the selection of yarns is fairly limited (it is a tiny shop, after all) there is a good range of materials, from cotton and linen to different kinds of wool and even yak.
To start with, here is Erika Knight's 'Studio Linen' in some of the loveliest shades imaginable.
What makes this yarn sustainable is that 85% of it is recycled linen. Pure new linen makes up the remaining 15%.
The yarn in the photo below is mYak 'Baby Yak Lace'. This is a heavy lace-weight yarn spun entirely from baby yak hair, also known as yak down, from Tibet. Soooo soft.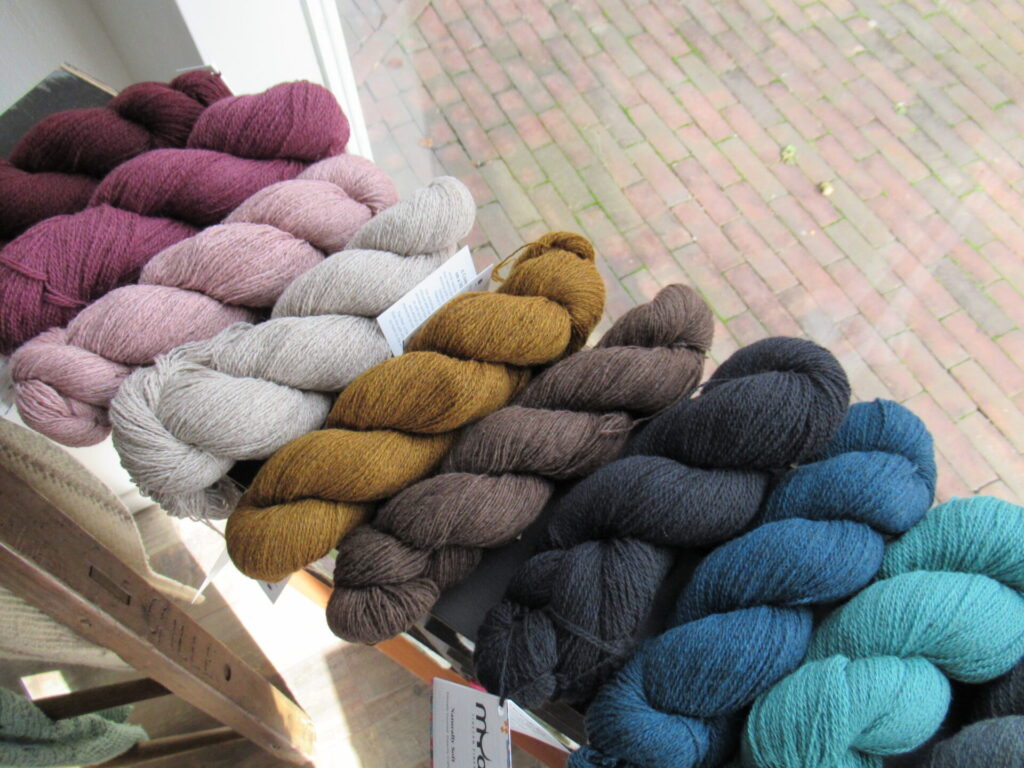 In my mind's eye I saw those poor little baby yaks shivering and bleating after being shorn, but fortunately that isn't how it works and there is no need to feel sorry for them. They are not shorn – the down is collected by combing. In fineness and softness this yak down is similar to cashmere.
Selling their yak fibres, enables the nomad families of the Tibetan plateau to continue herding their animals as they've done for centuries, in a way that keeps the fragile ecosystem intact. A further sustainable aspect is that the yak down is not bleached or decoloured, and that shows in the skeins. The overdyed natural colours give beautiful, slightly heathered shades.
And here is another yarn in some lovely colours – Rosários 4 'Belmonte'.
'Belmonte' is an organic wool-and-cotton blend in a dk-weight. Spun in Portugal, this yarn is GOTS certified, which means that it meets the toughest international standards for organic textiles.
Wol zo Eerlijk provides swatches of all the yarns in their shop.
I think this is a wonderful idea. It gives a much better impression of what the knitting will look like than just seeing a yarn in the skein or ball.
And here is one final yarn – 'Pip Colourwork', British wool spun and dyed in Yorkshire. Beautiful vibrant as well as more subtle colours in 25 gram balls. Ideal for fair-isle or similar stranded colourwork, but I wouldn't mind knitting an entire cardigan in duck-egg Bramley Baths, turquoise Lotherton or raspberry Rose window.
I didn't photograph each and every yarn at Wol zo Eerlijk. Please visit their website (in Dutch and English) for more information and yarns. (As always: I'm not sponsored in any way – I just love looking at, knitting with and talking about yarn. Besides, I think small, lovingly curated shops like this one deserve all the support they can get).
Well, shopping is thirsty work. High time for some refreshments. Take care, and see you next week!