Hello dear readers!
For today's instalment of my series of armchair trips, I'm taking you to the lovely old town of Hattem. I'll also show you some of my knitting, or rather frogging, and there's a little bit of crochet too.
Please fasten your seatbelts. This time we're travelling by car, as Hattem is too far to cycle from here. Well, it can be done (it's a 100-kilometre round trip), but we are taking the lazy option.
Actually Hattem isn't a town, but a city – a Hanseatic city.  Situated strategically on the river IJssel, it was an important commercial centre in past centuries. There is evidence of past wealth everywhere around.
Approaching the centre from the car park along the river, we soon come to the church.
Some of the houses surrounding the church have lovely pavement gardens, like this one:
Maybe we'll visit some of the museums another time. Today we're just strolling through Hattem enjoying the sights.
Looking at the signs in the photo below, with the sign in the red circle saying
8 m
↔
it may seem as if Hattem is extra careful, advising a safe distance of 8 metres instead of the usual 1.5…
… but it must mean something else, because I took these pictures last year, in the good old days when nobody had even heard of social distancing.
Walking on along the city walls (mind your head at the end)…
… we come to the moat on the other side. And what do we see in a secluded spot, away from all the tourist hustle and bustle? A complete frog orchestra! Here is the conductor…
… directing a twenty-something-frog-strong orchestra floating on water lily leaves.
Can you hear them?
If you're a knitter, you are probably familiar with the term frogging. It baffled me for a long time, until I read a book that explained that frogging a piece of knitting means that you rip it. Saying it out loud, 'Rip-it, rip-it', I finally got it.
Some people seem to have an entire frog pond, filled with items that need frogging. I don't. I do hear the frogs croaking frequently, but I usually heed them straightaway. It is only rarely that I ignore them. But ignore them I did with the cardigan below – I ignored them for a long, long time.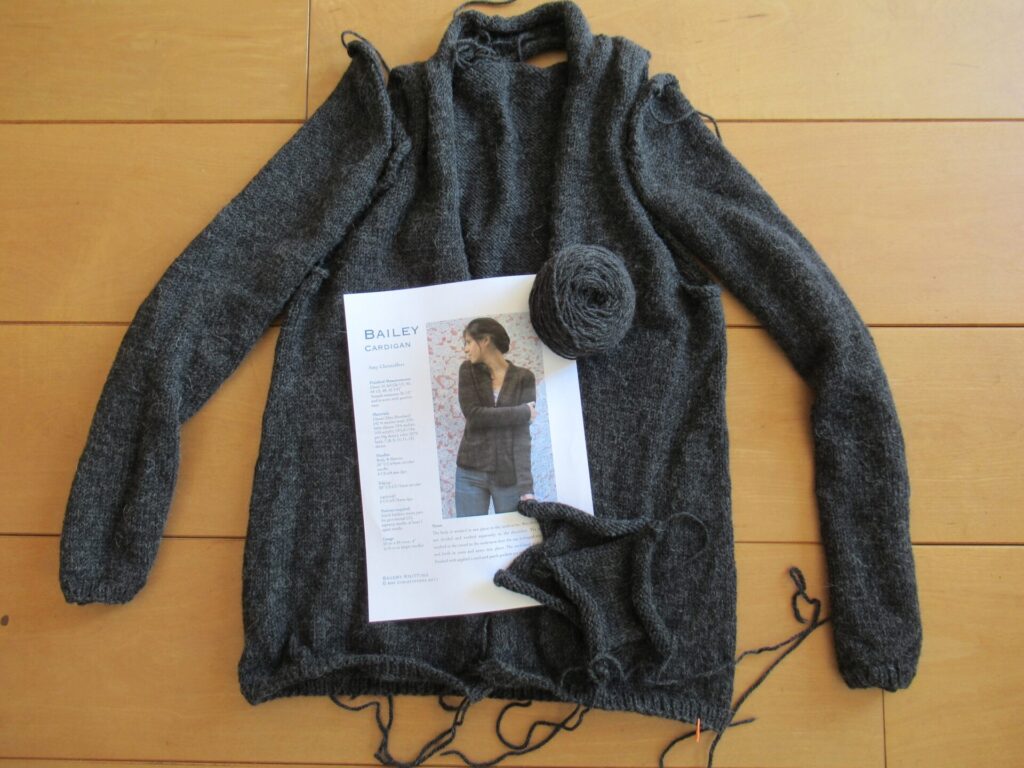 I patiently knit on and on, because I thought it would be a useful cardigan in this neutral colour. It wasn't until I had finished all the knitting, and only needed to sew in the sleeves and sew on the pockets that I lost my drive and it ended up as a UFO (UnFinished Object). Why?
The pattern was fine and the yarn was fine. So what was wrong? Isn't a useful cardigan a good thing? Well, this I what I learnt from this cardigan: for me, a knitting project first of all needs to 'spark joy' (to speak with Marie Kondo). If it doesn't, useful equals boring and can only end in frogging.
This cardigan didn't spark any joy at all. So after giving it a rest, I ripped the knitting out. I wound the yarn onto skeins, washed it and then wound it onto balls.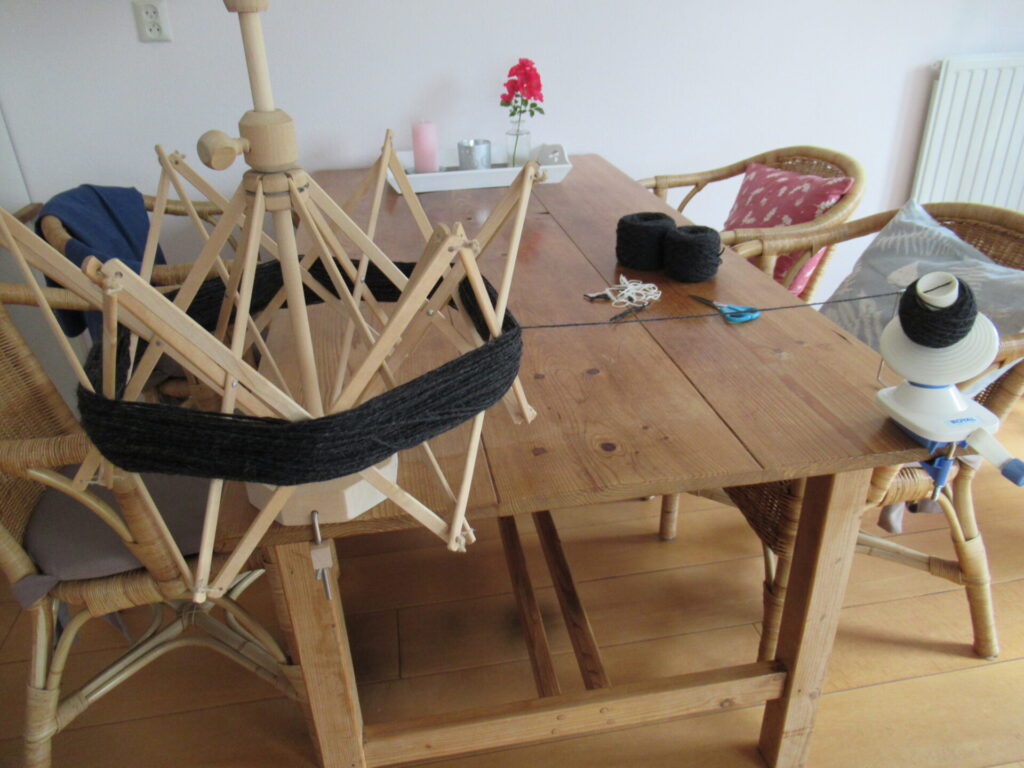 Normally, I don't enjoy frogging and try to get it over with as quickly as possible. But taking my time, using lovely lavender scented woolwash and reframing the entire process as 'repurposing' helped.
Immediately thinking of something else to do with the yarn also helped. I can see several of these useful and joy-sparking manly cap-and-muffler sets in the future for the frogged/repurposed yarn.
This is growing into quite a long blog post again. Sorry about that, but I really need to show you something else. So, let's take a break in one of the outdoor cafés in the market square before we go on.
Okay, ready for the last lap?
I would have liked to show you the local yarn shop, but forgot to take pictures. I did take pictures of one of their initiatives, though – the cheerful crochet mandalas that can be seen high up above the streets. Did you spot them while you were drinking your coffee or tea?
Here are some more.
And here are three against a white background, so that you can see how they were made. They are not all different, but there are many variations. They all use one colour each, which prevents them from becoming too gaudy.
Well, that brings us to the end of today's virtual trip. Thank you for coming along and I hope to see you again next week!