Hello!
Today I'm writing to you from and entirely different world compared to two weeks ago. The snow melted away in no time, and suddenly it feels like spring. The spring bulbs in our garden are bursting into flower.
It's not just crocuses and snowdrops, but also winter aconites,
and dwarf irises, yellow and blue.
It's so lovely to feel the warmth of the sun, hear the birds sing their hearts out, and enjoy the flowers and the buzzing of the first bees.
And yet… there is this gnawing feeling.
It shouldn't be like this in February – it's unseasonally warm. The highest temperatures ever measured in this month for 5 days in a row. I don't want to be a spreader of doom and gloom, but I can't just ignore such signs of a changing climate. I've heard that it affects different parts of the world differently. Here in the Netherlands the climate has changed noticeably even in my lifetime (less than sixty years!).
Seems to me that if we want to leave our children, grandchildren and their children with a liveable planet so that they, too, can enjoy the beautiful signs of spring…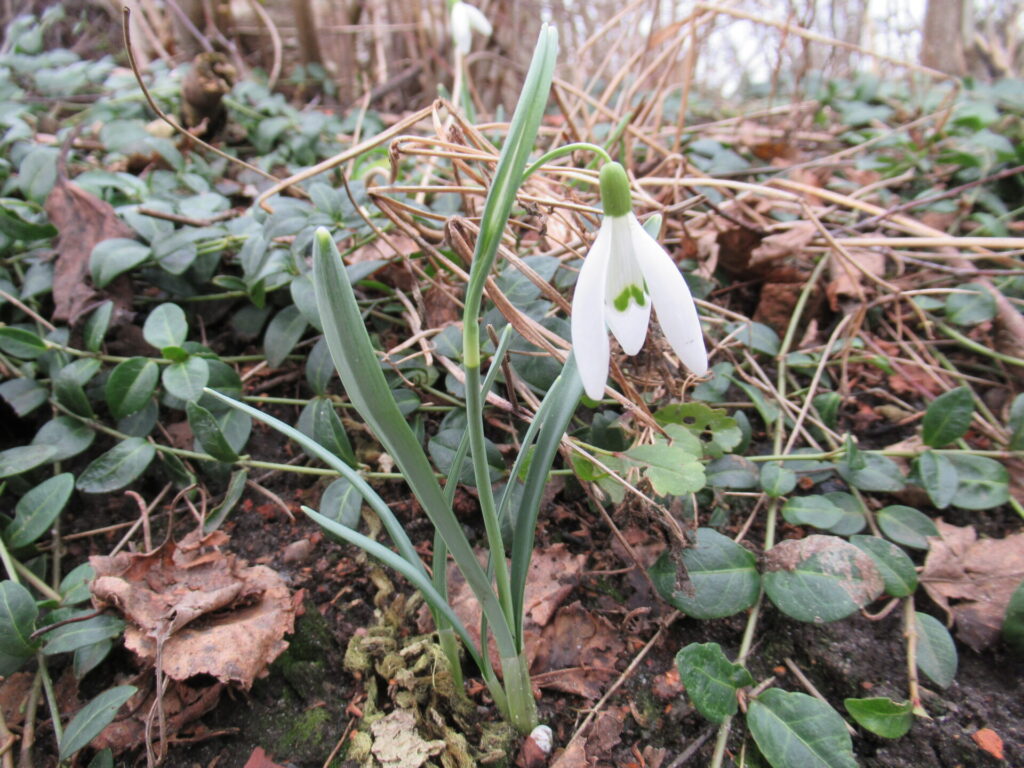 … we urgently need to learn how to be good ancestors.
Speaking of ancestors, on Sunday we visited a lovely place our ancestors left us. It's a country estate that for centuries belonged to a wealthy family and is now owned by a nature conservation organization.
The 17th century house with stepped gable, surrounded by a moat with a bridge leading to the front door, is no longer there. The only buildings left are five tenant farms. These are the stables of one of them, now converted to living space.
The estate is part woodland,
part pasture (the cows are still inside at this time of year.)
Like many other farms in our region, the farms on the estate all have their own little baking house. Can you see the small white rectangle on the wall of this baking house?
Let's zoom in – it's a face! A person with a high forehead, no nose to speak of, and an elegant hairdo. Is it just a decoration, a household deity, or the likeness of somebody who used to do their baking here?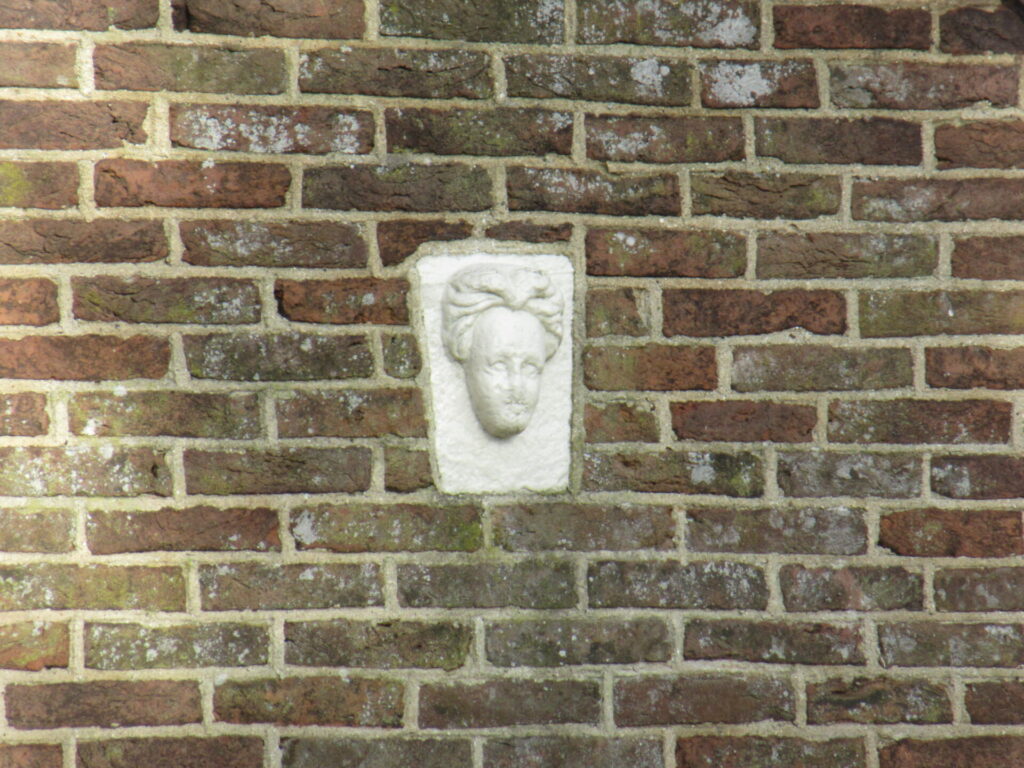 Going for a walk here, is like traveling a century or so back in time.
Apart from going for short walks, enjoying the garden, worrying about the climate and the pandemic, and generally doing what I need to do, I've also done some knitting. My blue Panel Debate cardigan is nearly finished and I'm knitting swatches and prototypes for a pair of fingerless mitts.
The yarn I originally had in mind for them didn't behave as I thought it would. Looking for an alternative, I found several skeins in my stash that were meant for something else, but will be just perfect for my mitts.
I want to make a single colour and a 2-colour version. It is hard to capture the colours exactly. There is an off-white undyed cream, a dusty blue and a warm cherry red. What shall I do? Cream and blue for the 2-colour version, and red for the single-colour one?
Or cream and red for the 2-colour version, and blue for the single-colour one?
What do you think?
I hope you've enjoyed the flowers and the walk, and would be grateful for some help with the colours. I'm in doubt. Is the blue-and-cream combo nice and subtle or too bland? Is the red-and-cream combo nice and cheerful or too Christmassy?
Thanks and take care! xxx