Hello!
Every time I start writing a blog post, I close my eyes and sit quietly for a while. To focus on what I want to show and say, but also thinking of you reading it. Sometimes it's hard to find the right words.
Over the past two weeks I've been watching BBC's Autumn Watch. At the start of this year's series, presenter Chris Packham said that they hoped their nature images and stories would be like a warm and colourful blanket for viewers in these difficult and uncertain times. I don't remember exactly how he phrased it, but that was the drift.
I hope that in my own modest way, I can do something like that here, too. I can't offer you spectacular footage of badgers, seal pups or otters. What I can offer is a colourful and comforting story about a yarn shop. Do you remember the tiny yarn shop we visited in July? Well, it has grown. Look!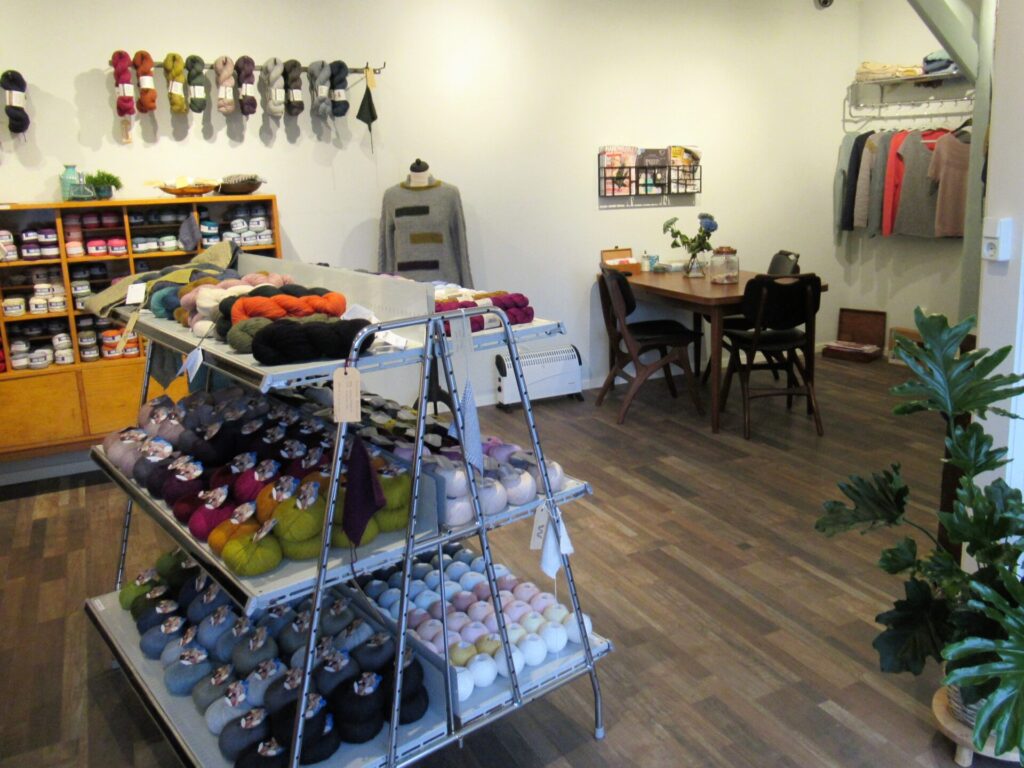 The yarn shop is housed in part of a former farm building. Until recently, the rest of the space was taken up by a bicycle shop. When that closed Saskia grabbed the opportunity to enlarge her premises. Originally her shop was only 15 m2, now it has almost tripled in size. It still isn't huge, but it is not so tiny anymore either.
A few days before our Autumn Break, I was on the doorstep early in the morning, just before the shop opened, hoping for a quiet moment without other customers. I was lucky and had the shop to myself for a bit, so that I didn't have to choose yarn in a hurry and also had the time to take pictures.
Wol zo Eerlijk still specializes in organic, sustainable and fair-trade yarns. The main components of these yarns are wool, cotton, linen or alpaca. But some contain more unusual fibres, such as yak, nettle or hemp. The sock yarn below is a blend of wool, biodegradable nylon (huh?!) and hemp.
The beautiful colours are a feast for the eyes – some really autumnal:
This is an organic wool-and-cotton yarn from Portugal.
There are also many yarns in lovely neutrals. As my own colouring is becoming more and more 'neutral', I don't wear these shades anymore. But that doesn't mean that I don't like them.
This is a very soft blend of organic cotton and alpaca:
Among the shop samples, there is also a stack of sweaters in off-white and grey.
And next to that is a mannequin wearing a sweater with a very interesting neckline.
While I am browsing around the shop, Saskia is processing online orders. You can see her at work in the background, over the top of this vegan yarn composed of cotton and Lyocell.
On the other side of the display is this rainbow of colours. It's a new yarn called 'Balayage' – a very soft wool-and-alpaca blend and one of the reasons for my visit.
Beautiful, isn't it? It's so nice to be able to browse around, see the colours in person and have a chat. It feels surreal and uncomfortable that there is a plastic screen between us at the till and we are both wearing face masks. I don't go out enough to get used to that, but if we can keep the virus from spreading this way and keep 'non-essential' shops like these open, you won't hear me complaining.
After my visit to the shop, I had a quick stroll through the old part of the village. (Is there such a thing as a quick stroll? It was quick because it was raining and I needed a loo. That can be a bit of a problem with all restaurants and cafés closed.)
Unlike some other villages, Vries still has a good range of shops, with two clothes shops, a supermarket, an antiques seller,
and a flower shop with a lovely display of crysanths and pumpkins outside.
And best of all a not-so-tiny-anymore yarn shop!
This is what I came home with:
Several balls of purple wool-and-alpaca yarn for a scarf that knits up quickly and is almost finished now.
Two 25-gram balls of red wool from Yorkshire for a project that is nothing but an idea yet.
Sock blockers in two different sizes that have been on my wish list for quite a while and will be tried out as soon as I finish my current pair of socks.
More about these over the coming weeks or months. All the best, stay safe, and see you again soon! xxx