Autumn is mushroom time. It's a terrible cliché, I know, but it's true. As soon as it was officially autumn, mushrooms started springing up like, well, mushrooms in the woodland on our doorstep.
Or perhaps I should say mushrooms and toadstools. I keep having difficulty with the distinction. In Dutch we call them all paddenstoelen, which literally means toadstools.
I've been taught that mushrooms are, on the whole, the ones you can eat, while toadstools are the poisonous ones. But what if you see a beautiful specimen and don't know if it's edible or not? What do you do then?
'Look, what a beautiful… errr'
'Hang on a minute, I need to look it up in my field guide first. Yes, here it is – I think it's a blusher. That's edible, so, 'What a beautiful mushroom!' (Or, wait, it may be a false blusher, which is poisonous, so…)
Maybe other people aren't bothered by this, but I am. I may have left the translation world last year, but the translator inside hasn't left me. I'm still very much focused on words.
It's not just the mushroom/toadstool distinction that's bothering me. It's also the word toadstool itself.
On one of our recent walks I nearly stepped onto a toad.
Can you imagine it sitting on one of these fragile stools?
It would never work. The only fungus that would hold a big fat toad without breaking that I can think of, would be a cep. But that's a mushroom.
It's all very confusing.
It's the same with some knitting-related words, like sweater, jumper, pullover and jersey. Very confusing.
Ravelry, the big online knitting platform most of you will be familiar with, helps a little. In its vast pattern archive it uses 'sweater' (124,663 patterns!) as an umbrella term, and in that category distinguishes between 'cardigan', 'pullover' and 'other'. But what about jumper and jersey? And why are sweaters called sweaters?
I don't know. But there's one thing that I do know, and that is that it's sweater weather again. Looking for some inspiration, I bought Kim Hargreaves' new pattern book – Covet.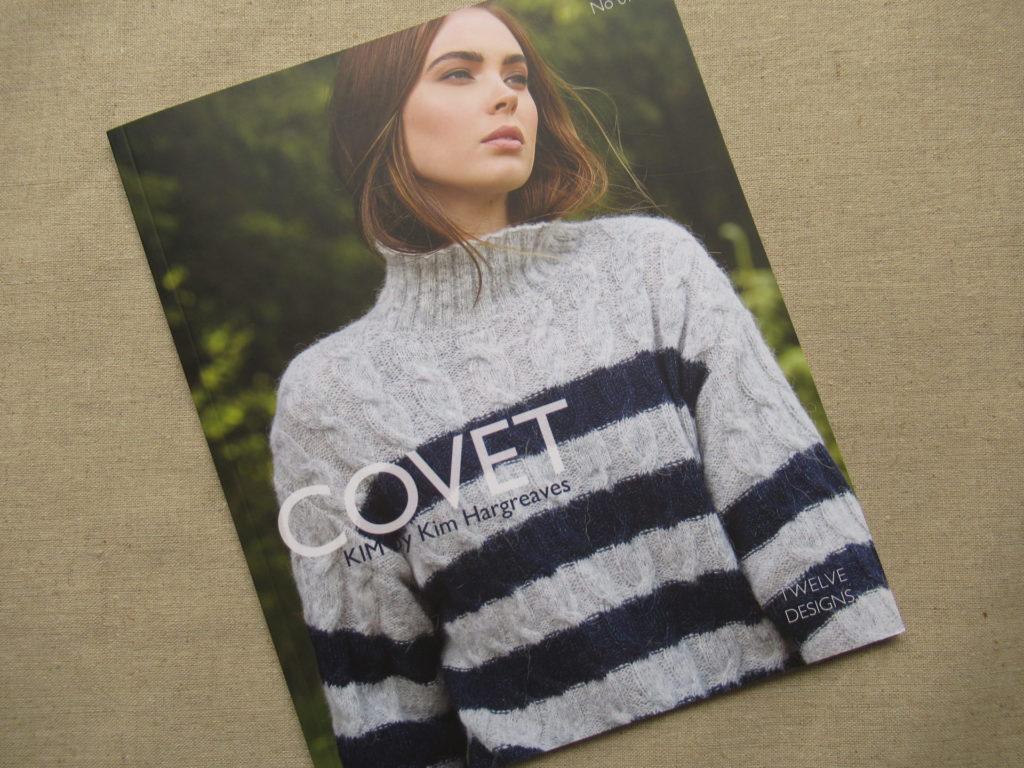 Kim Hargreaves started out as a designer for Rowan, but has been working as an independent designer for many years since. I like her designs a lot because they are timeless classics with great attention to detail.
There are 12 designs in Covet: 5 cardigans, 5 pullovers, 1 dress that can be shortened to a pullover (which Kim calls a sweater) and 1 granny square crochet wrap in a bulky yarn. No hats or scarves this time.
I love the cable designs and also the seemingly simple ones in stocking stitch. I'm not a big fan of the new bell sleeves, though, and I can't see myself or anyone I know wearing the figure-hugging knee-length dress in a very warm wool and alpaca blend knit on 6 mm needles. With a polo neck. Just thinking of it makes me break out in a sweat. Taken literally, sweater would be a better word for this design than dress.
A design that drew my eye immediately was 'Devote', a cardigan with a stunning shawl collar.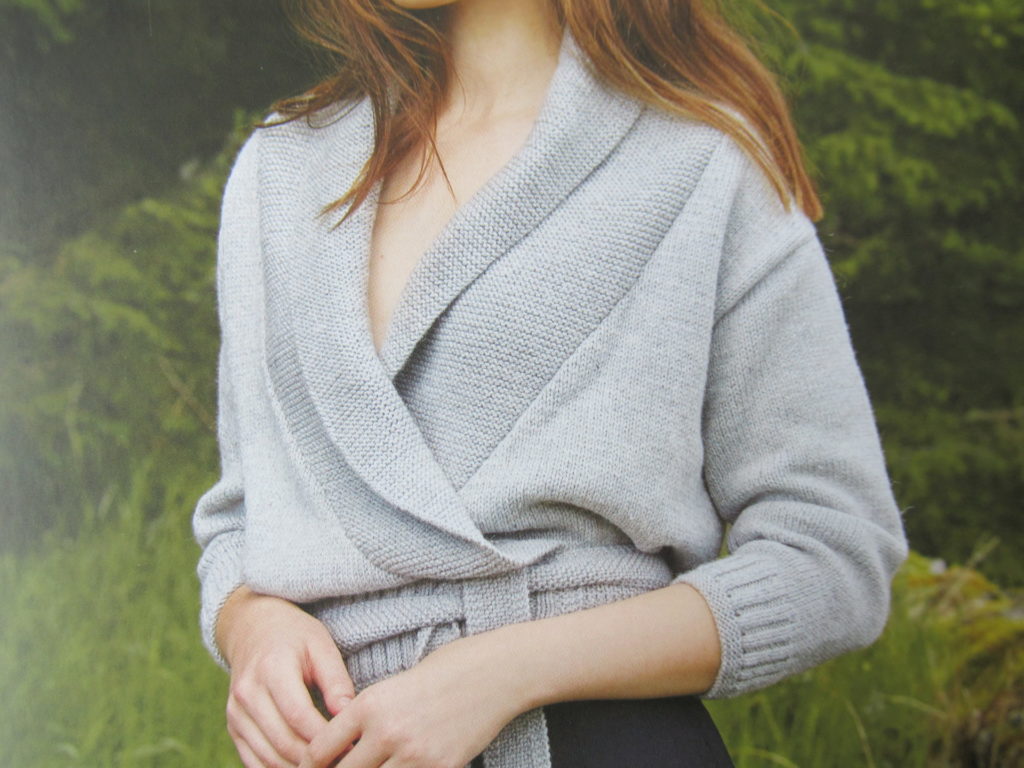 Beautiful! And it also has some lovely decorative decreases on the sleeves, too. But the shape is not suitable for me, alas. Too short and tapering down to a narrow waist. I could probably adapt it, but this time I was looking for something to knit straight from a pattern.
So I got out some of her older books. Even books from years ago don't look dated – that's quite an achievement. Earlier this year, Kim let us know that some of her books won't be reprinted anymore, so if you'd like to add some to your knitting library, don't wait too long. You can find them all here on her website.
One of my favourite Kim Hargreaves books is Pale, which was published in 2018. There are several patterns in it that I'd love to knit. To start with, I've chosen a cardigan pattern called 'Fair'.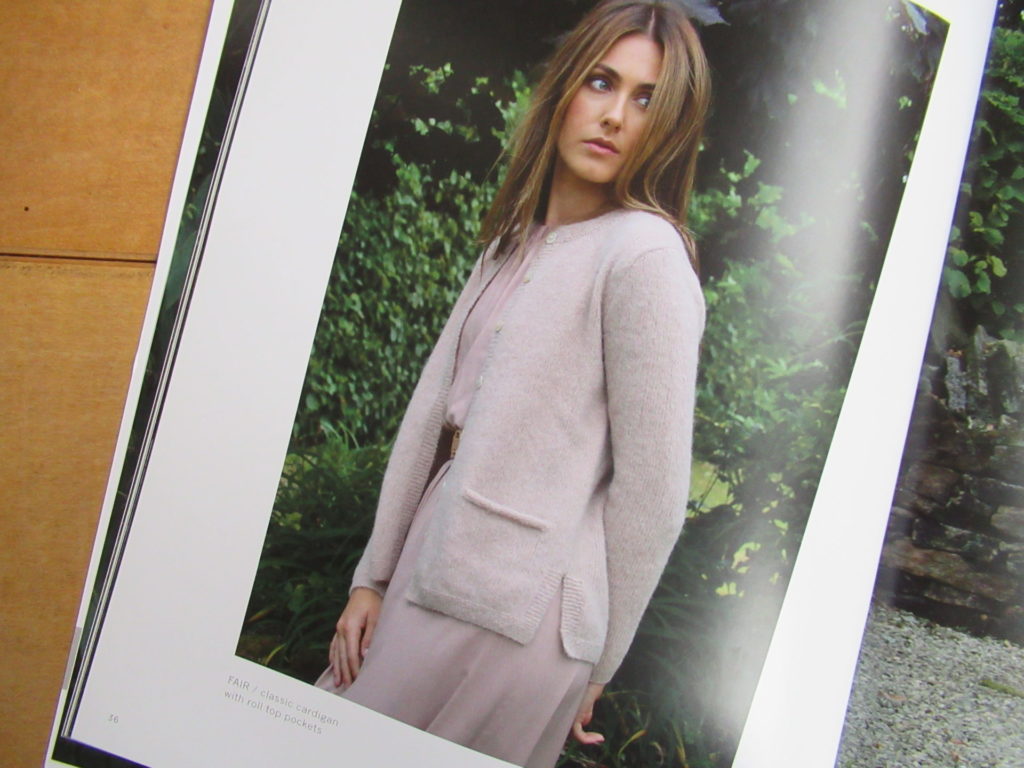 It's a simple little cardi in stocking stitch, but with a great fit and lovely details, like integrated pockets with rolled tops, a neat button band and side vents. It's designed for a new yarn – an airy cotton and alpaca blend – that I'd like to give a try. It's called Alpaca Classic and it looks very light and soft.
Now to choose a colour.
Autumn is the season of oranges, yellows and reds. I love these bright spots of colour in gardens and woods at this time of year.
The brightness of the yellow stagshorn (above) is a sight that makes me very happy. And it's the same with the orange lanterns of the Japanese Lantern.
And then there's red, from the bright red of the fly agaric at the top of this post to the deep dark red of these beautiful heart shaped leaves.
These are cheerful accents in a world that is gradually turning brown, but… apart from some shades of red, I never wear autumn colours. They just don't go with my hair and skin tone. Fortunately the yarn for the cardigan I want to knit comes in many shades. I dithered between several, but finally chose blue (again – it's my go-to colour).
The yarn producer, Rowan, calls this shade 'Peacock', but I don't think it looks like peacock feathers at all. To my eye, it is somewhere between turquoise and sky blue. Could I call it 'Autumn Sky on a Sunny Day'? I'm looking forward to knitting with it.
Coming back to the 'real' autumn colours, although I will never wear them in large doses, I can see me using them in small quantities, as accents in combination with other colours. I'd like to get out of my colour comfort zone a little and to experiment with them in that way. So last weekend, I chose a few small balls of yarn in autumn colours to play with.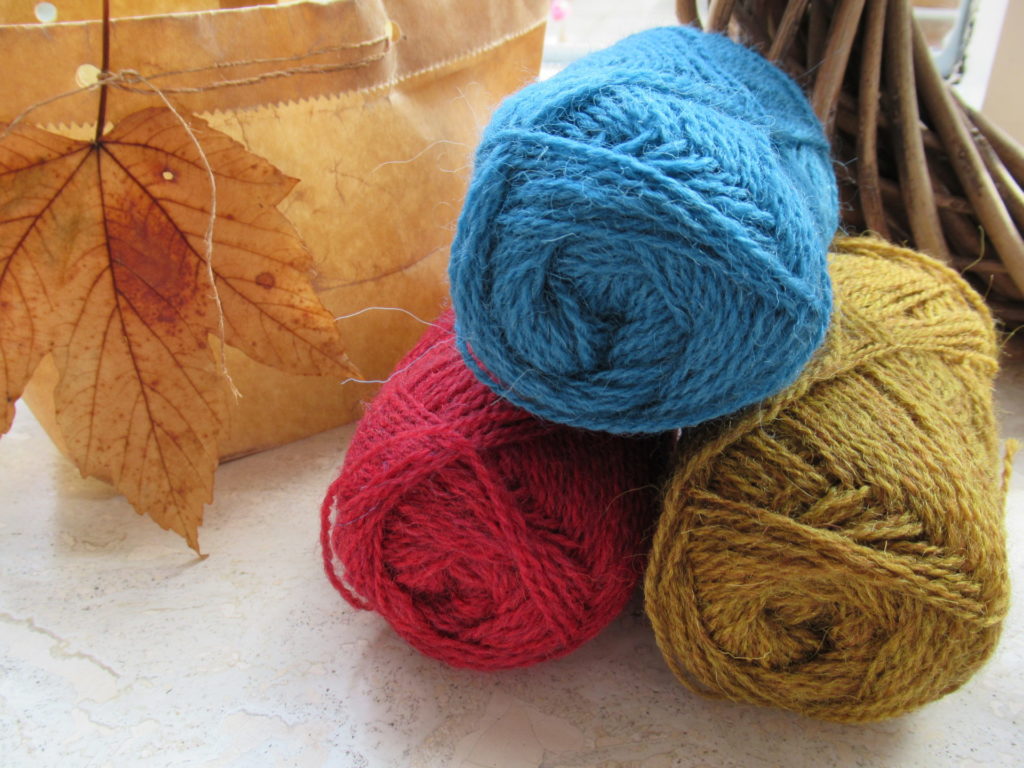 I bought these during a visit to two very special yarn shops I'd never been to before. Now I'm in doubt as to whether I should write about these shops – or yarn shops in general – on my blog.
On the one hand, I'd love to, and I think it could be interesting and useful. For me, it's about more than shopping and buying. It's also about creativity, colour, inspiration and meeting like-minded people.
But on the other, won't it seem terribly commercial, as if I'm advertising for these shops? (Which I don't want to do – I prefer to stay independent). Will people in other countries want to read about yarn shops in the Netherlands (and some in Belgium in Germany perhaps)? Does anyone want to read about yarn shops at all, for that matter?
I've been thinking about this for quite a while, but so far have been unable to make up my mind. If you have any ideas, thoughts or opinions on this, I would appreciate your input very much. Thank you for reading. Have a lovely week and until next time!