Back in February I decided that, in addition to some simple things and socks, I would also like something challenging to knit. Rummaging through some boxes in a cupboard, I found the kit for a Norwegian cardigan with a leaf pattern that I bought in 2006(!). I was looking forward to finally doing something with it.
To start with, I wrote a blogpost about our visit to the spinning mill in Norway where I bought it. Then I took everything out of the bag.
There were 7 colours of wool, in skeins of different weights. There was an iron-on label, a length of velvet ribbon and a small quantity of thinner wool. And there was a photograph of the cardigan.
The pattern was not included, but that was fine. I already had the book containing the pattern – Poetry in Stitches by Solveig Hisdal. It was the book that had lured me to the spinning mill in the first place.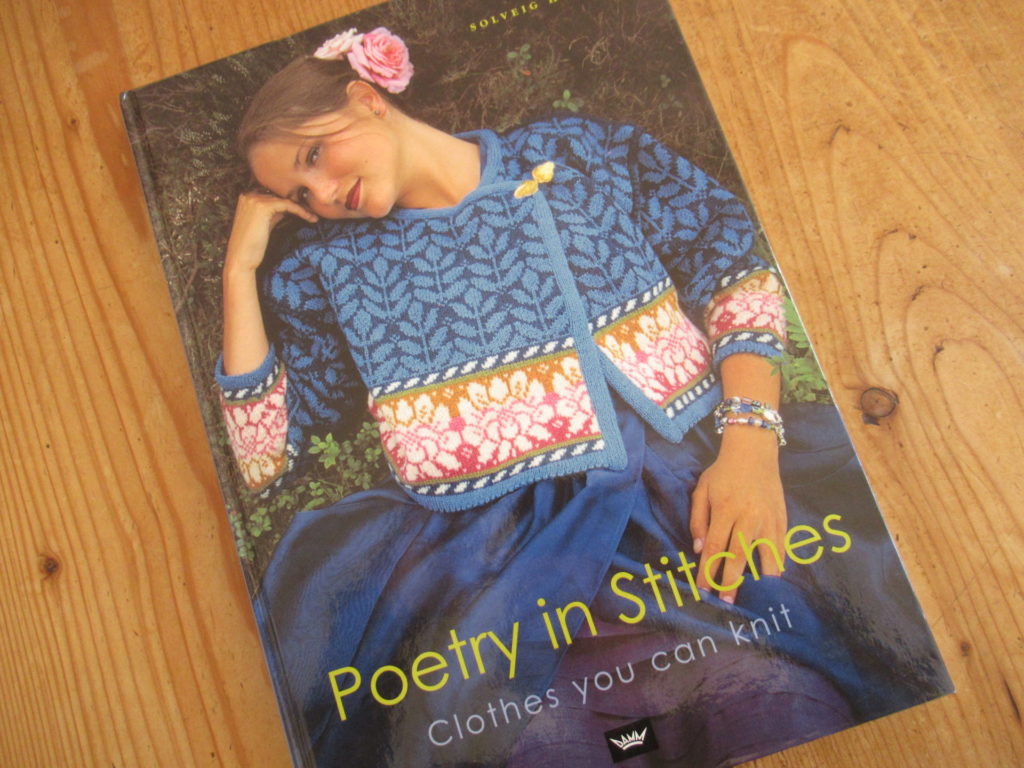 Poetry in Stitches contains patterns for many cardigans and pullovers, for adults, children and babies, a few children's hats and a summer top. And there is a muff and a pair of wristlets in an interesting combination of knitting and crochet. It is filled with beautiful photographs, not only of the knitted items, but also of the textiles and folk art from several museum collections that inspired them.
Even if you'd never knit any of the patterns, Poetry in Stitches is a book worth having. Unfortunately it is out of print, but there are some second-hand copies around. I saw one for $ 369! But some more reasonably priced ones, too.
After unpacking and photographing everything, I screwed my ball winder and my umbrella swift to the edge of our dining table and started winding the yarn.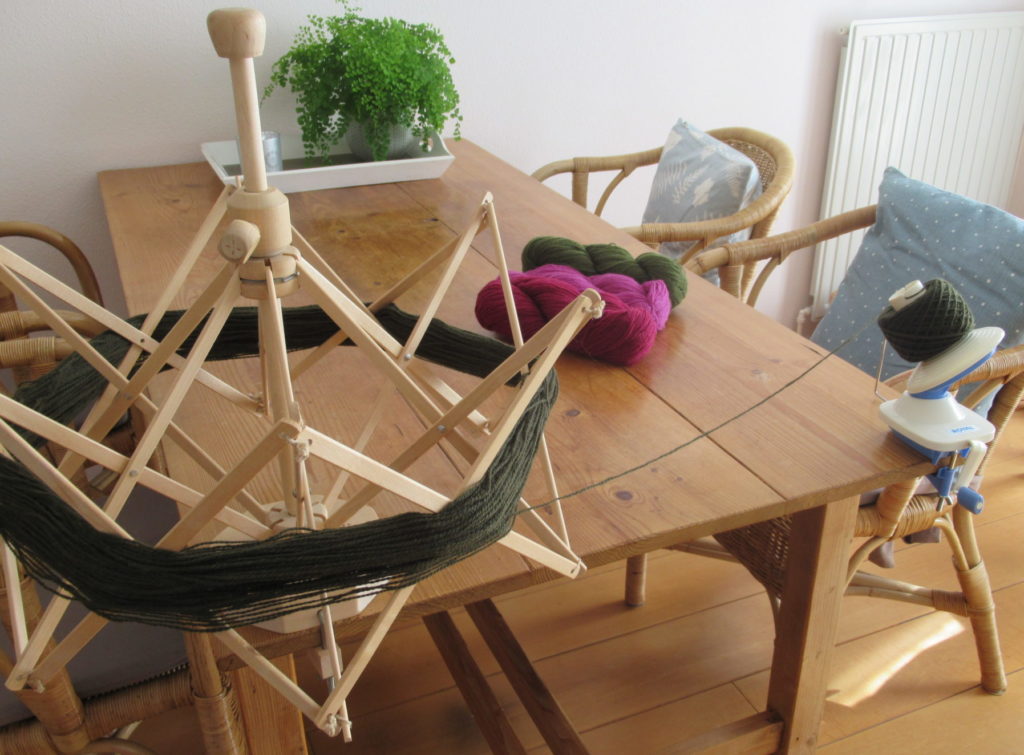 Long ago, I used to wind yarn by hand, while somebody else held up the skeins. It's a companionable and relaxing thing to do. But if you have many skeins to wind, the set-up with swift and ball-winder is much more efficient.
The result is different, though. Instead of round balls, a wool winder makes yarn 'cakes', that are flat on two sides and don't roll away.
When all the yarn was wound, I put everything neatly together in a basket. I found a corner in the living room for it, and…
… there it has stayed. Untouched. Eight months after I unearthed the kit, I haven't knit a single stitch. And before that it has lain around for 13 years! This is starting to look like a serious case of procrastination.
We all procrastinate from time to time, I suppose, but I'm not terribly familiar with procrastination. So, why am I procrastinating now? Don't I want to make this cardigan anymore? Yes, I do. I really do. Lack of time isn't the problem either – I can find time for all kinds of things. What is it then?
I could sense some question marks, doubts and uncertainties in the back of my mind, but they were rather vague and elusive. Time to bring them out into the open. Time for one of my problem-solving writing sessions.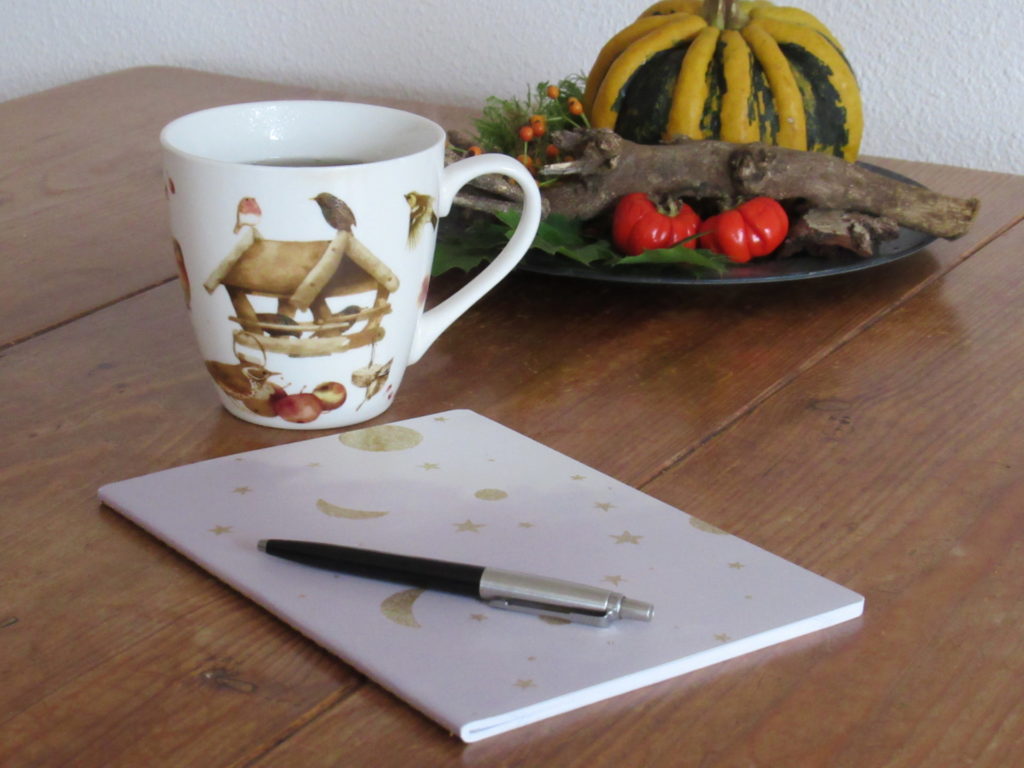 A notebook, a pen and a big mug of tea, that's all I need. And sometimes I also use a kitchen timer. As I often do when I'm stuck, I wrote down everything that came up as quickly as I could. I took a break, and then looked at what I'd written. What I saw was lots and lots of question marks.
Taking a closer look, I also saw that they could be grouped into three topics: The knitted fabric, shape and fit, and non-knitting elements.
The knitted fabric
This pattern has much larger motifs than Fair Isle or other stranded knitting usually has, which means long floats at the back. How do I prevent the knitting from 'pulling'? How do I get a nice and even fabric? How do I get crisp leaves? And how do I prevent the veins from getting lost in the leaves?
Shape and fit
This cardigan is basically a large rectangle with fairly wide sleeves attached. There is no side or shoulder shaping, and no armhole shaping either. Not very flattering. Am I going to knit it as it is, or am I going to do something about it? If so, what and how?
The pattern only has two sizes, which look like Large and Extra Large to me. How do I get the right size? And especially: will I be able to get the sleeves the right length? They look rather on the long side on the model, and my arms seem to be slightly shorter than average. Do I need to shorten the sleeves? And how? They have wide stripes, matching the front and back, that can't be made narrower. And I can't just leave a stripe off at the top or at the wrist, can I?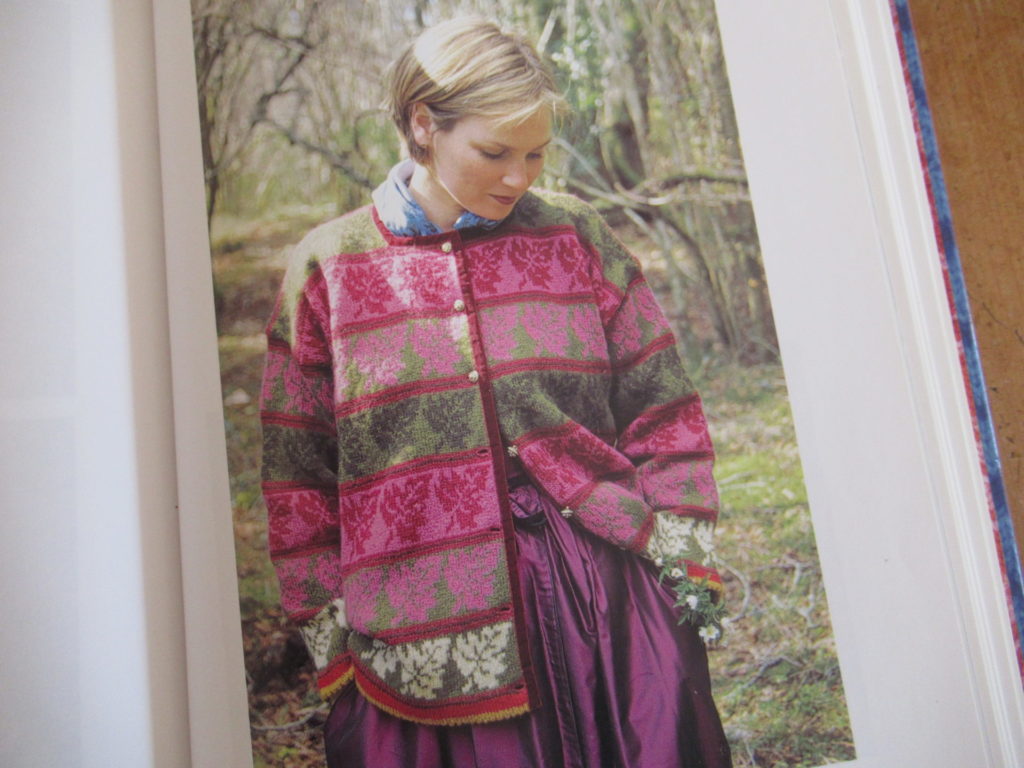 Non-knitting elements
There is a velvet ribbon along the fronts and neck. The ribbon in the kit feels fairly stiff. Is it suitable for sewing onto the softer and more stretchy knitted fabric? Will I be able to sew it on without the ribbon or the knitting buckling? Will I ever be able to get the corners of the square neckline right?
Then there's a lot of cutting involved. Cutting into knitted fabric is always rather nerve-wracking. I will need to cut the front open to make the tube into a cardigan, and I will need to cut armholes. And in this case, I will also need to cut a large piece out of the front for the square neck and a smaller, curved part for the back neckline. Without the help of any diagrams. Scary! I'm afraid to spoil all those hours and hours of knitting at the last moment.
And then there is the lining. Will it work – a non-stretchy cotton lining inside a stretchy woollen fabric? And where do I find a suitable fabric? At a quilt shop perhaps? Or should I leave it out? What is its function anyway? Is it purely decorative or is it essential for, say, the button holes?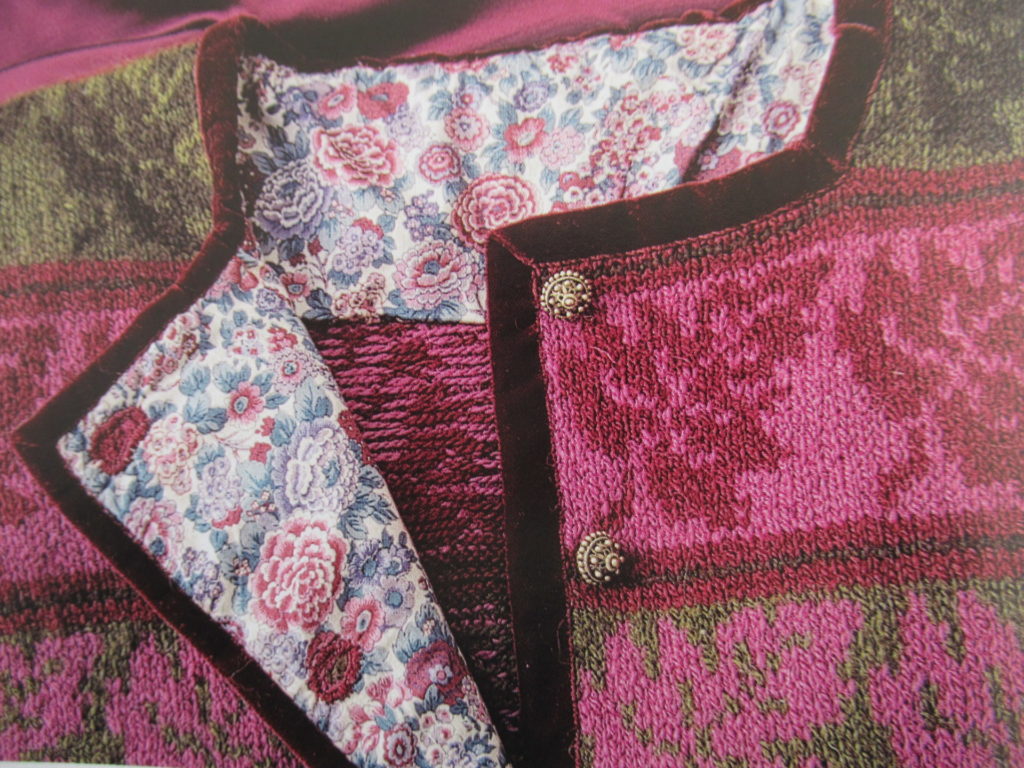 And what about the button holes? They need to be made through both the knitting and the lining. They don't look particularly nice and neat in the photograph, do they? Will I be able to make them so that they don't spoil the entire cardigan?
Taking the time to look at what has brought me to a standstill seems to have been really worthwhile. I don't have the answers yet, but at least now I have the questions out in the open. And, as Aristotle said:
Asking the right question is half the answer.
So, what do I do now? I've looked around for ways to deal with procrastination and came across tips about setting goals and deadlines. I'm not happy with those – they feel too much like work. What I did like was an item on WikiHow called How to Overcome Procrastination Using Self Talk. It has some very friendly pieces of advice, like 'focus on starting rather than finishing', 'break a long project down into short tasks', and 'make it fun!'
I can do that! My first short task will be 'knit swatches' (Duh, any knitting project starts with knitting swatches. Why didn't I think of that before?). I'll start with that, without looking too much at all those question marks ahead of me. And making it fun won't be any problem at all. Knitting is fun in itself, and the yarn and colours are lovely. All I need to do is make a pot of tea, put on some music and start knitting.