When we moved here 18 years ago, friends gave us a walnut tree. Or rather a tiny sapling that had sprung up in their garden. It has grown, and grown, and grown, and now provides a shady spot for lilies of the valley, ferns and wood anemones.
It also provides us with nuts. Last year, many were shrivelled up inside their shells. 2020 is a much better walnut year. Still, our harvest isn't huge. It's the magpies, you see. They love walnuts, and this year there is a large magpie family to feed. Fortunately they are generous enough to leave us a few, too.
This is our share of the walnut harvest this year.
Our big old pear tree has also done very well. Last year, it didn't give us a single pear, but this year it produced masses. So many, that we couldn't possibly eat even a tenth of them. So one evening, I loaded wheelbarrow after wheelbarrow with pears to share with everybody in the neighbourhood who wanted some. A great opportunity to catch up on all the local news, too!
And then there were still many left on the tree to share with a big and noisy travelling band of starlings.
Now, the tree is dropping its last few pears…
… and also starting to shed its leaves, now a dull brown. Among the pear leaves, there are some fiery red ones blown over from the Amelanchier, like chili peppers in the grass.
It is really starting to feel like autumn. The temperature is dropping, and it is getting dark soon after our evening meal. Although I knit all year round, for me this time of year always feels like the start of the 'real' knitting season.
I realize that I tend to write about my knitting projects mostly when starting and finishing them – the most interesting moments. Now, for a change, here are two of my knitting projects in progress.
Here is my Indigo Sea Shawl on the needles.
I've thrown it into a corner taken a break from it, because one of the skeins was colouring my hands and the white blouse I was wearing blue. Aaaargh!
After a while I ripped the offending part out, washed the yarn, rinsed it, gave it a vinegar bath and rinsed it again and again, until it (almost) stopped bleeding.
Now I've picked up the needles again and have almost finished it. I'm thinking of a slightly more interesting edge than just an ordinary bind-off.
I'm also still knitting on my Panel Debate cardigan. Progress is slow. For one thing, yarn and needles are very fine. For another, I've been knitting socks and other small items in between.
I'm now determined to speed the process up because I want to wear it. And also because I feel like starting something new – something warm, cosy and woolly.
Unfortunately, I can't literally share our nuts and pears with you here. But I can share a recipe using them. Here is my simple Pear & Walnut Salad recipe.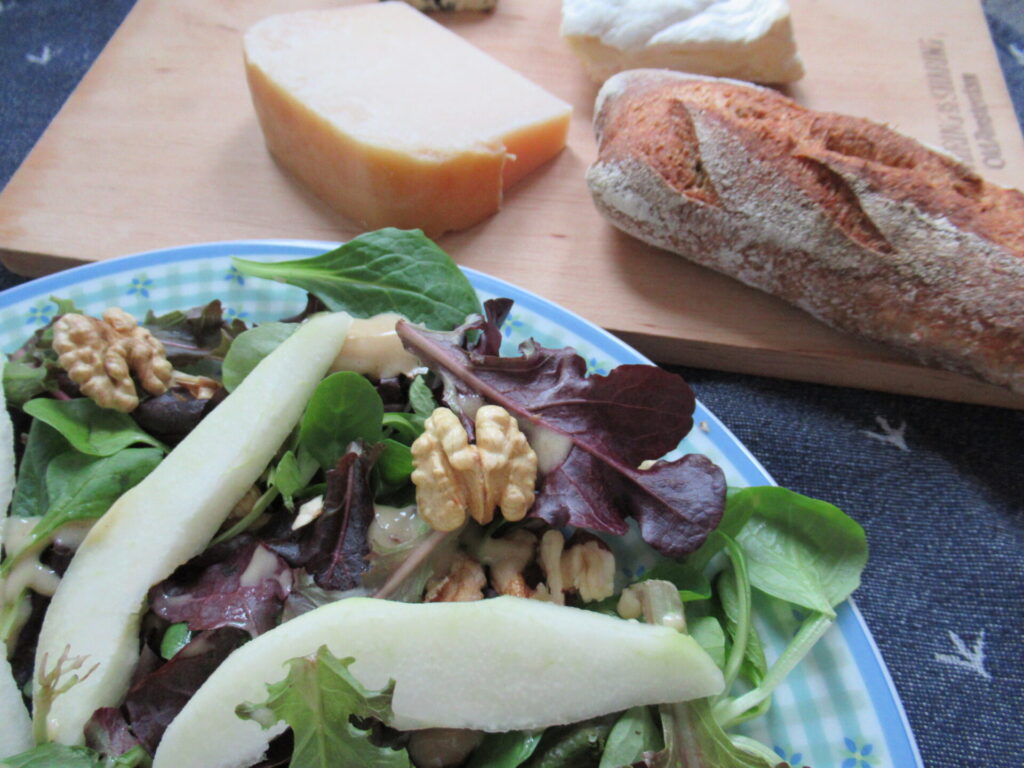 Pear & Walnut Salad
Serves 2 as a side dish or starter
Ingredients
50 g mixed salad leaves
8 walnuts
½ pear
For the dressing:
1½ tbsp (olive)oil
½ tbsp good white wine vinegar
¾ tbsp honey mustard
A pinch of sea salt
Some freshly milled black pepper
Method
Roast the walnuts in a dry frying pan and leave to cool
Rinse the salad leaves and gently pat dry with a clean tea towel
Halve the walnuts. Leave some halves whole and chop the rest coarsely
Whisk all the dressing ingredients together until they form a thick and smooth sauce
Mix the salad leaves with the chopped walnuts and arrange them on a plate. Distribute blobs of dressing over it
Peel and core the pear. Cut into thick slices and arrange on top of the salad leaves
Finally, add the walnut halves
Serve immediately and enjoy!