Fun, aren't they, these colourful knitted chickens? They live in the shop window of 't Ryahuis, one of the oldest (or the oldest?) yarn shops in the country. It was founded in 1963 by current owner Liane's Mum and named for a Swedish craft form called rya that was popular back then. I think it is some sort of rug hooking, but correct me if I'm wrong.
Today, hardly anybody knows what rya is anymore, but every knitter around here knows 't Ryahuis. This (below) isn't the best of pictures, and it doesn't do the lovely window display justice, but it gives an impression of the outside of the shop.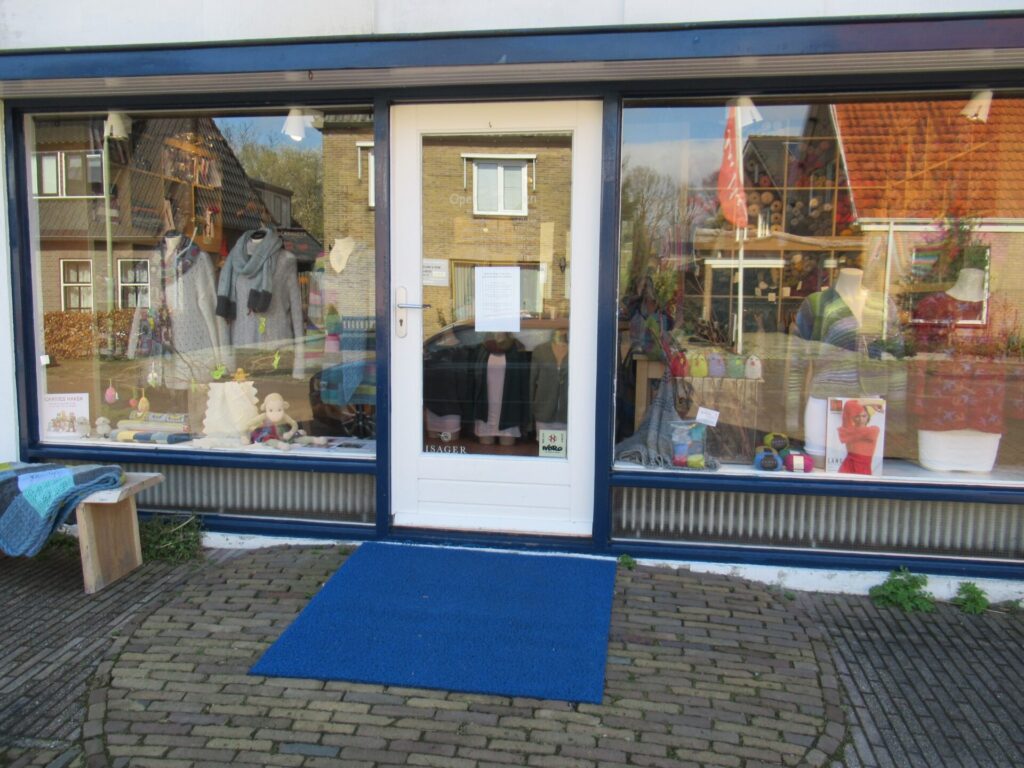 All non-essential shops have been closed here from mid-December. If I'd been on the committee deciding what an essential shop is things would have been different, but as it was 't Ryahuis had to close its doors too. Fortunately, we can now book a time slot at 'non-essential' shops. It has to be booked at least 4 hours in advance, there can be no more than 2 customers in a shop at any one time, and the time slot has to be for a minimum of 10 minutes.
When Liane e-mailed me that the yarn I'd ordered had arrived, I immediately booked a time slot. Fortunately it was a lot more generous than those 10 minutes and I had enough time to browse around and take loads of pictures to share with you.
Let's start with some yarn.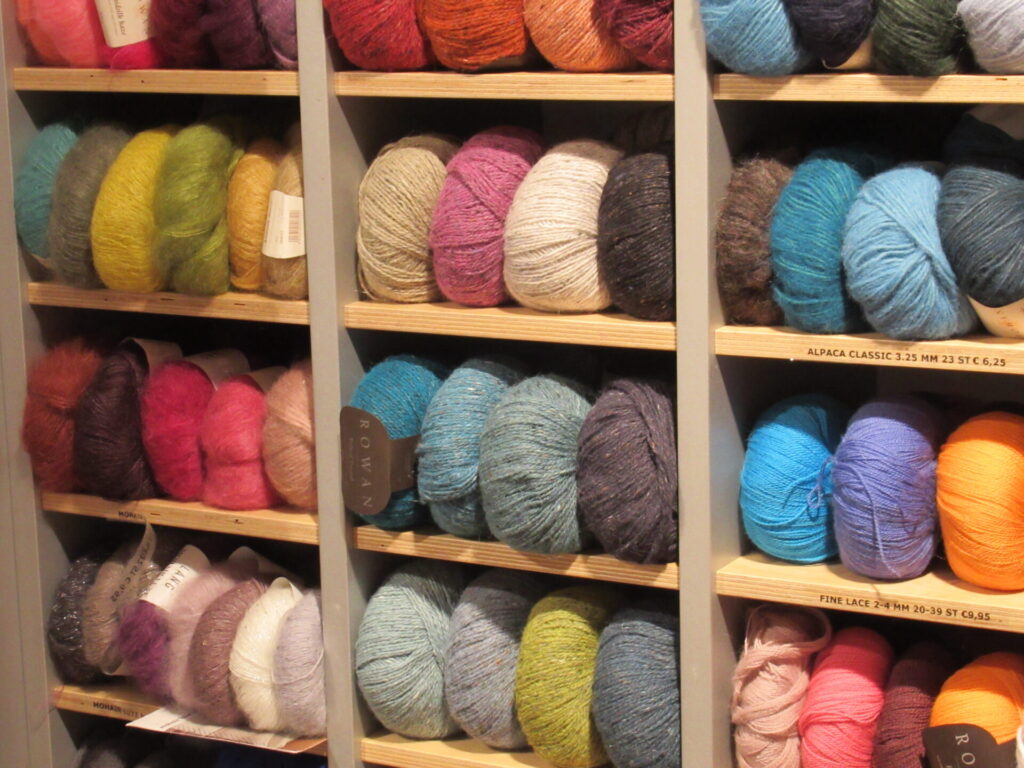 Ahhh, doesn't it feel good just to look at… well, yarn? (I may be slightly deranged, but for me it feels so good to just look at all the colours and textures.) There's some tweed there, some mohair, some alpaca and even a few sequins.
Every yarn shop has its own signature. One of the special things about 't Ryahuis is that they have many, many knitted shop samples to look at for inspiration or to try on.
There is this rack, and another one like it…
… shawls and scarves hanging or lying around everywhere…
… and there are several torsos and mannequins showing off knitwear.
I don't know what cardigan this lady is wearing, but the shawl is a Stephen West design. I'm not entirely sure, but I think it is Vertices Unite.
While I was browsing around, a parcel was delivered and I heard Liane exclaim, 'Yay, it's from our knitter! That was quick!' The summer top in it was immediately put on one of the mannequins.
It is knit in a linen yarn and the pattern is from the latest issue of Lang Fatto a Mano.
One other customer had booked a time slot at the same time. She needed some yarn and had a question about casting off a huge shawl (I think it was over 2 metres long) she was knitting for her daughter. While she (right) and Liane (left) were looking at it, I quickly snapped a picture (asking permission, of course).
It is a Rowan design, knit in their Alpaca Classic. And I can tell you, it doesn't only look gorgeous, it is also unbelievably soft.
Apart from us, customers, and Liane, there was somebody else there as well – shop dog Ollie.
Sadly, Ollie met with an accident several years ago and will have to wear braces on two of his legs for the rest of his life. He is such a gentle and calming presence in the shop.
I don't want to make this too long, because I want to show you a bit of the village, too, but there are a few more things I just have to show you.
During normal times, the shop hosts lots of knitting workshops and knit-'n-natter groups. People will be sat around this table now covered in knitting books and yarns.
Even the lamp has a knitted shade, and two mannequins wearing knitted items (what else?) are looking on.
One of them has a Kaffe Fasset scarf around her neck…
… and the other one is wearing a light and fluffy cream sweater with subtle colour details and a lace scarf.
I didn't ask, but looking at it, I think that the sweater is a Marianne Isager design.
Finally, let's take a look at what is tucked away on top of this wall of yarn.
Hidden just out of sight in the top left corner is a row of hats.
And next to them a collection of knitted monkeys, bears and mice designed by Anita from Zij Maakt Het. Another one of her monkeys, called Saar, is in the shop window looking out. Do check out Anita's website. Her stuffed toys are adorable and very cleverly constructed.
Well, time's up. For more information about 't Ryahuis, please visit their website. They don't sell all of their yarns online, but they do have a webshop for Isager yarns, and another one for knitting kits.
Because it was such mild and sunny weather and I had the entire afternoon to myself, I took a stroll through the village afterwards. The village of Zuidlaren is famous for its annual horse fair.
… as well as many other styles.
I walked to the small harbour at the end of the village…
… because I wanted to take a look at the mill museum.
Like just about everything else, it was closed, but still nice to take a look at from the outside. The mill dates from 1851 and used to grind grain and spices, and press oil from flax seed.
Walking back to the car, I passed a flower shop. Flower shops are the only shops considered 'semi-essential'. Like most other shops, they are closed to customers inside (apart from time slots now), but they can sell their wares outside.
Those lemons can't be real, surely?
Well, I think that was a fabulous outing. I hope you've enjoyed it too. Oh, and here is my 'loot'.
Rowan Kidsilk Haze and Fine Lace for a cardigan, Isager Bomulin for a summer top, and some Regia sock yarn. That should keep me busy for a while.
Wishing you a relaxed weekend. Don't forget to take a snooze now and then! Xxx
Note: My blog isn't sponsored. I just like writing about yarn and believe in supporting small and local businesses, especially during these difficult times.