While for some of you Summer is coming to an end (hello New Zealand and Australia!) we're moving into the milder weather of Spring. At least in theory. I have been able to pick a small posy of spring flowers from the garden to brighten up the hallway…
… but over the Easter weekend, the weather didn't look much like Spring at all. Brrr, it was close to freezing, with strong winds and hail storms.
Our chickens loved it! To them, hailstones are like sweets falling from the sky – white instead of multicoloured hundreds-and-thousands.
After their winter break, the chickens are providing us with plenty of eggs again. Usually, their eggs are slightly smaller than the average shop-bought egg, but recently they surprised us with two quail-sized ones.
Surprise mini-egg, normal Frisian chicken egg, shop-bought egg (with home-made decoration)
We're not as keen on hailstones as our chickens are, but wrapped up warmly we went for walks in a deserted town and a blissfully quiet wood. Also, it was ideal weather for snuggling up indoors, eating chocolate bunnies…
… and knitting. I have finished a reconstruction of a knitting sampler.
As you may know from a previous blog post, I've inherited a knitting sampler with 10 different knit-and-purl stitch patterns. I thought knitting a reconstruction would be a good way to get better acquainted with the stitch patterns and the sampler in general.
The original sampler was knit from cotton on small needles. Mine is knit from wool on 4.0 mm (US 6) needles. I omitted the edge stitches, but for the rest I tried to copy the original as closely as possible, casting on the same number of stitches and knitting the same number of rows for each stitch pattern.
The original sampler is 90 cm (35.5") long and 9-12 cm (3.5-4.75") wide, and weighs 53 grams.
My reconstruction is 188 cm (74") long and 20 cm (8") wide, and weighs 203 grams.
The stitch patterns include seed stitch, several kinds of ribbing and the mini blocks I used for my Monogrammed Guest Towel.
There is some brioche as well, and there are diagonals, zigzags, diamonds and triangles.
And also the initials I, EW and GW. As I wrote before, I think 'I' knit the sampler, and 'EW' and 'GW' were her parents.
Copying the knitted initials made me realize that they were, in fact, constructed of the same blocks used in the mini-block stitch pattern. Small blocks of 3 stitches by 4 rows, alternately showing the right and the wrong side of stocking stitch.
What was hardest for me to figure out, was the row of eyelets at the end of the brioche stitch section. It took me quite a few tries to get them exactly the same.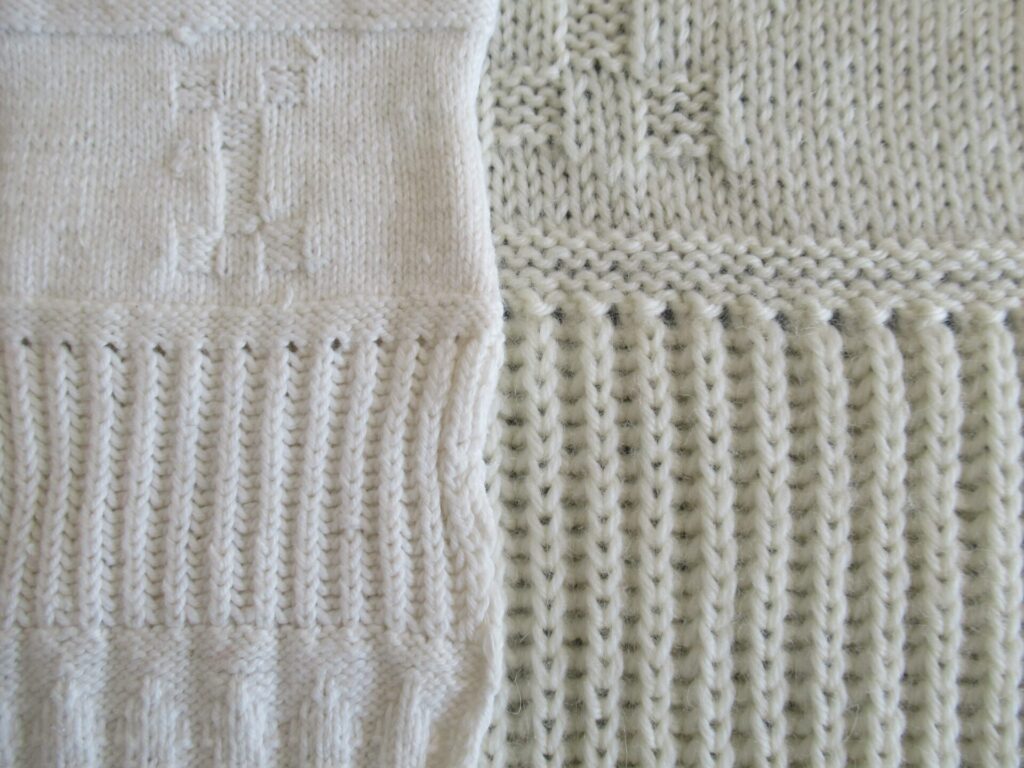 Although this is a small, fairly simple sampler, it must have taken 'I' many hours to knit. Did she enjoy it, or was it torture? Judging by the regularity of the stitches and the way all of the stitch patterns were finished to a balanced number of rows, I have the impression that she rather enjoyed the process. My guess is also that this was not her very first attempt at knitting.
Knitting this reconstruction, I have become convinced that the sampler really was a practice piece, and not made for decorative purposes. Although the knitting is neat, there are a few errors. And what's more, there are strange, overplied yarn ends sticking out of the brioche section…
… and there are knots in several places around the letter 'I'.
Did the knitter run out of yarn, so that she had to use up every last centimetre/inch available?
All in all, knitting this reconstruction was an interesting exercise. Although I haven't found out yet who 'I' was, I have the feeling that I've got to know her a little better. I wonder if she used this sampler as an example for many items for herself and her family.
In spite of the simplicity of the sampler, I see endless possibilities. In the fingerless mitts I'm working on and hope to show here soon, I've combined 3 of the stitch patterns. I have a lot on my plate at the moment and may not have time to write a blog post about them (or anything else) next week. I'm not entirely sure how things will go, but I'll be back as soon as I can.
Bye for now and take care!