Hello again!
Last time I was here on my blog, I told you that I have a lot on my plate at the moment. The picture of our hallway above gives an indication of one of the things on it. No, we're not moving house. Let's take a look at our living room for further clues.
Redecorating? Nope, not redecorating either. Or sort of, but not voluntarily. Actually, it's more restoring than redecorating.
Last autumn, a concrete sheet pile wall was hammered into the soil a little ways away from our house with so much force that it felt like a minor earthquake and cracks appeared in our walls.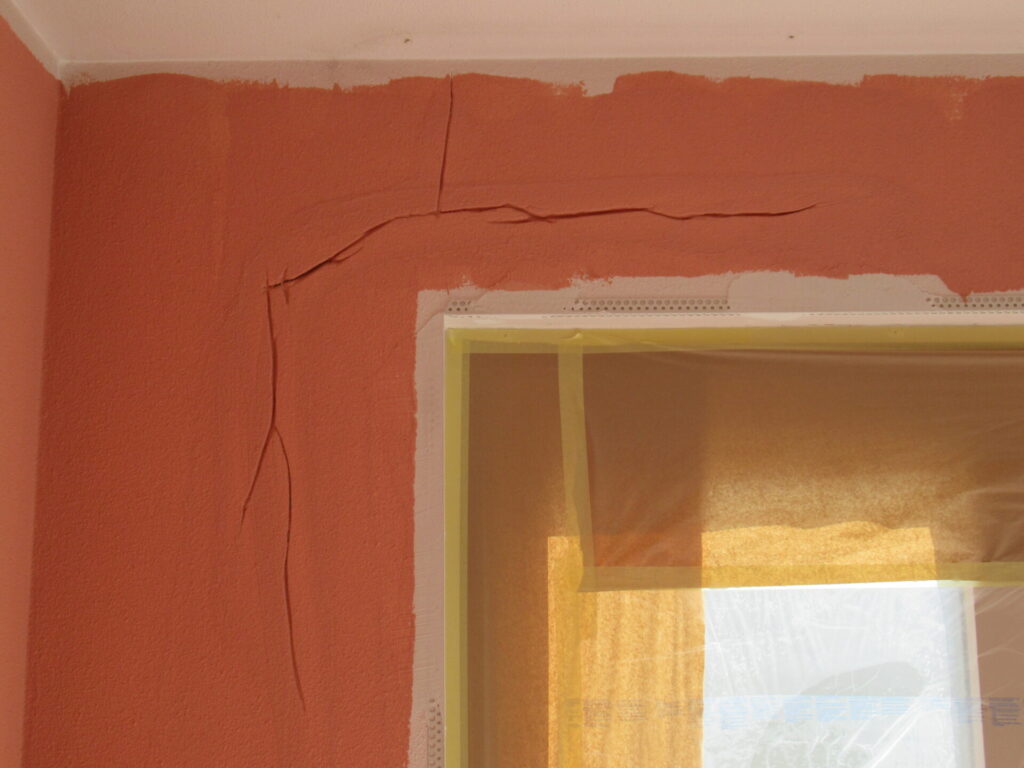 This is just a small, elegant crack that only needs some filler. In other places the plaster needs to be hacked away and restored entirely. Fortunately the #@*&%#! company that caused the damage is insured, but for us it's still a lot of upheaval, noise, dust etc.
Just like the house, I'm thoroughly shaken, but trying to be philosophical about it. Compared to the bombed houses in Syria or Iraq we sometimes see on the news, this is absolutely nothing. Besides, we're lucky that our bedroom was left unscathed. I'm acting as if it's a room in a boutique hotel. Room service is lacking, but unlike the rest of the house, it is warm. It also has a good bed and exactly the books I love beside it, as well as a perfect knitting chair where I can spend the evenings knitting.
During the daytime, I can also sit outside if I have a few moments to spare. It's still rather chilly, but the back of the cardigan I'm knitting has grown so fast that it's like a small, cosy lap blanket.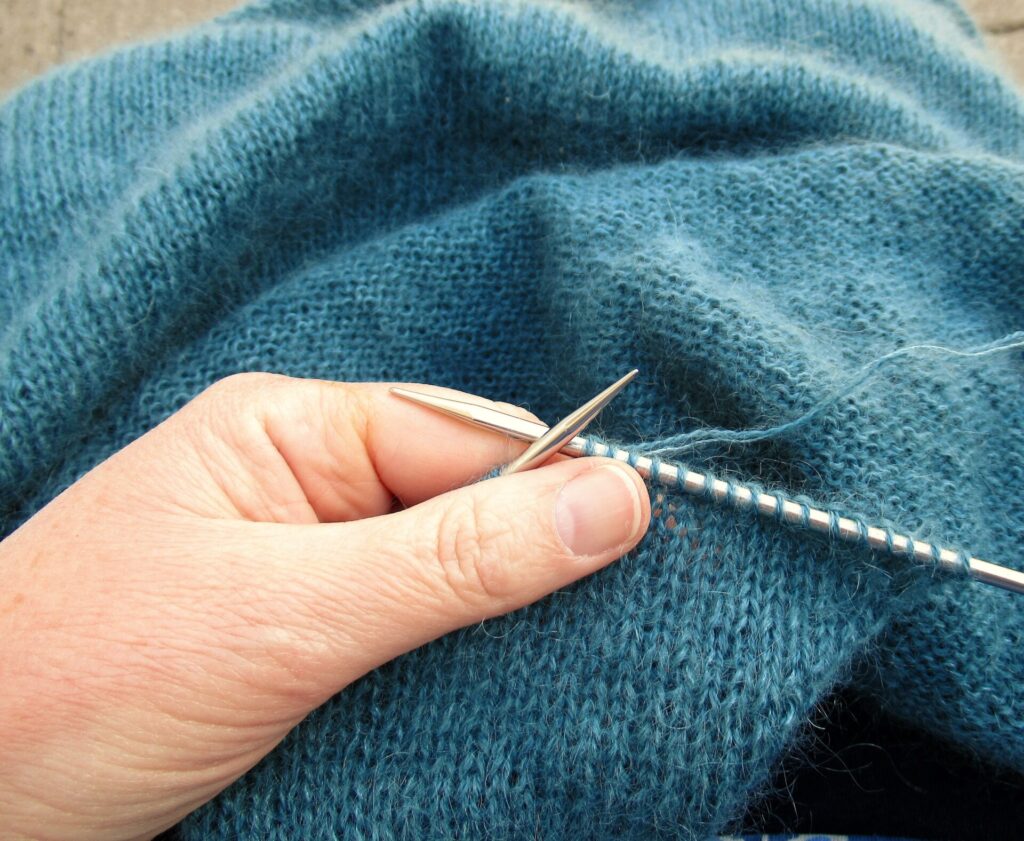 The pattern I'm using is Modern Wrapper Fine. I've made one before and knew that it would be perfect comfort knitting during this period of upheaval.
The garden is also giving me some solace. The pear tree and the Amelanchier are opening their first blossoms, and the wood anemones and wild garlic are lighting up a slightly shady area.
Another project that is growing, albeit more slowly than the cardi, is my linen stitch wrap in Felted Tweed. I love the way linen stitch always blends colours together. (The white row at the bottom is a provisional cast-on I'll write more about when I can find the time.)
Knit, yarn forward, slip, yarn backward. Knit, yarn forward, slip, yarn backward… A great way to meditate.
One of the books beside my bed in the 'boutique hotel room' is brand new – Mine Strikkede Favoritter by Norwegian designer Sidsel Høivik.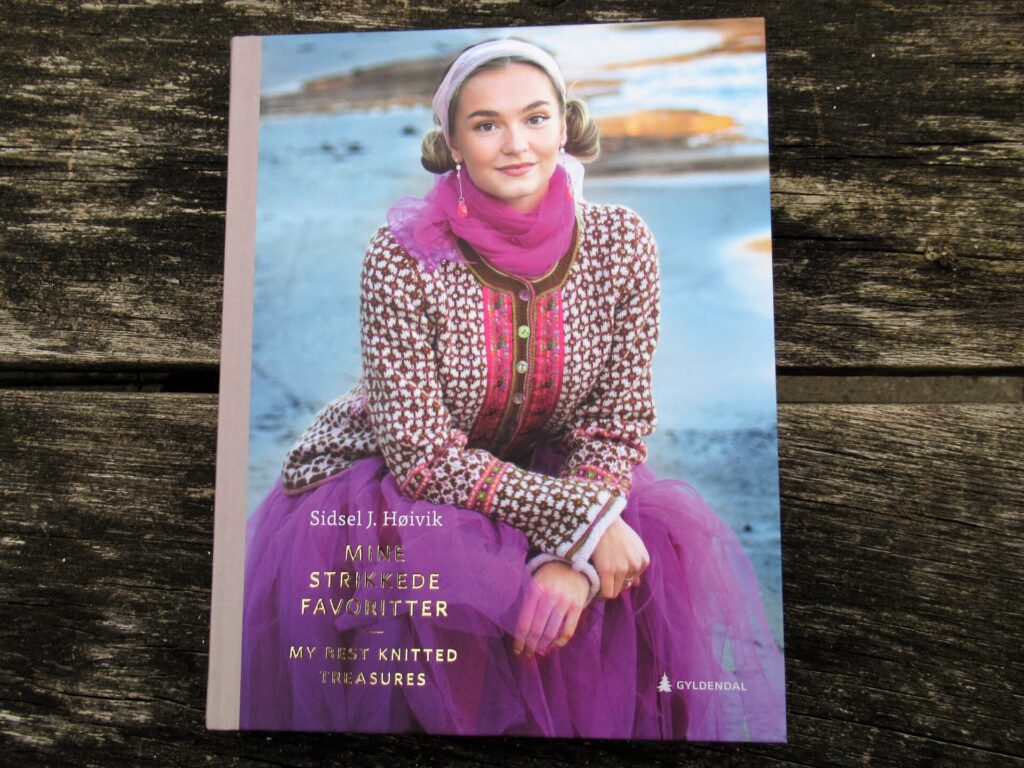 From the foreword I gather that, as well as new designs, it contains several re-knits from her other books. I don't have any of her other books, so that's fine. If you do, check if you still need this one. The difference with her other books is that they are entirely in Norwegian and this one is bilingual (Norwegian and English).
Sidsel's signature style is traditional Norwegian with a twist. She uses lots of embellishments on her designs, like embroidery, beads, sequins and ribbons. The book contains patterns for sweaters, cardigans and several accessories. My favourite design is a long cardigan with traditional Setesdal patterns on the upper part of the body and the sleeves, with embroidery on the star motifs, a nice length, pockets and a cosy collar.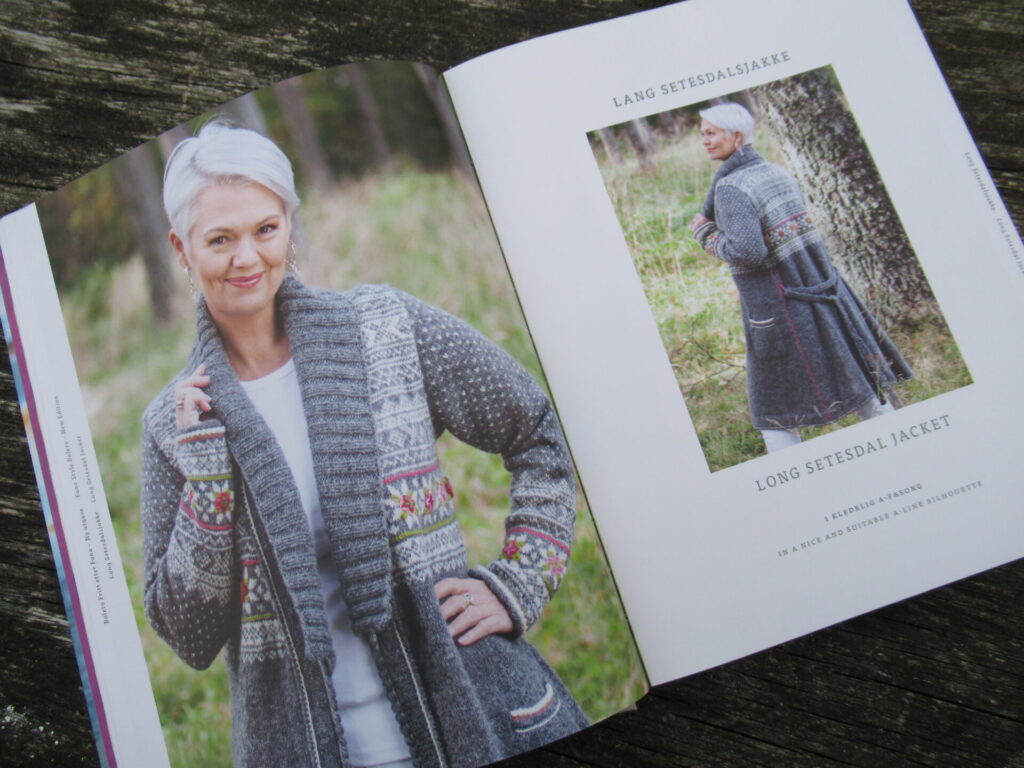 All of the yarns used in the book are from Hillesvåg Ullvarefabrikk, the small Norwegian family-run spinning mill I visited years ago and wrote about in this blog post. I bought my copy from a small yarn shop 20 minutes cycling from here. It is also available from Sidsel Høiviks own website, which offers kits for her lovely designs as well.
Well, that's all from me for now. The builders will still be here next week and the week after, but I hope that I'll become used to all the upheaval (and also that the other things on my plate will shrink) soon, so that I'll be able to go back to blogging as usual. Maybe I'll even be able to finish and publish my new pattern! Or am I now being too optimistic?
Anyhow, I hope you're safe and well. Take care! xxx