Hello! Today it's all about knitting (and some music). I'm sorry to disappoint the non-knitters among you – I promise to write about something of more general interest next time.
I had been feeling a bit off-colour for several days, but struggled on until I thought, 'Enough is enough' and gave myself an afternoon off. I brewed a pot of tea, put on some music and spread an unfinished knitting project and everything I needed to finish it out on the dining table.
Do you remember me writing about UFOs and my New Year's resolution to finish (or frog) them all? Well, this the first one. It is a cardigan called Willapa that was designed by Annie Rowden for Brooklyn Tweed. This is the front page of the pattern with a ball of the yarn I used: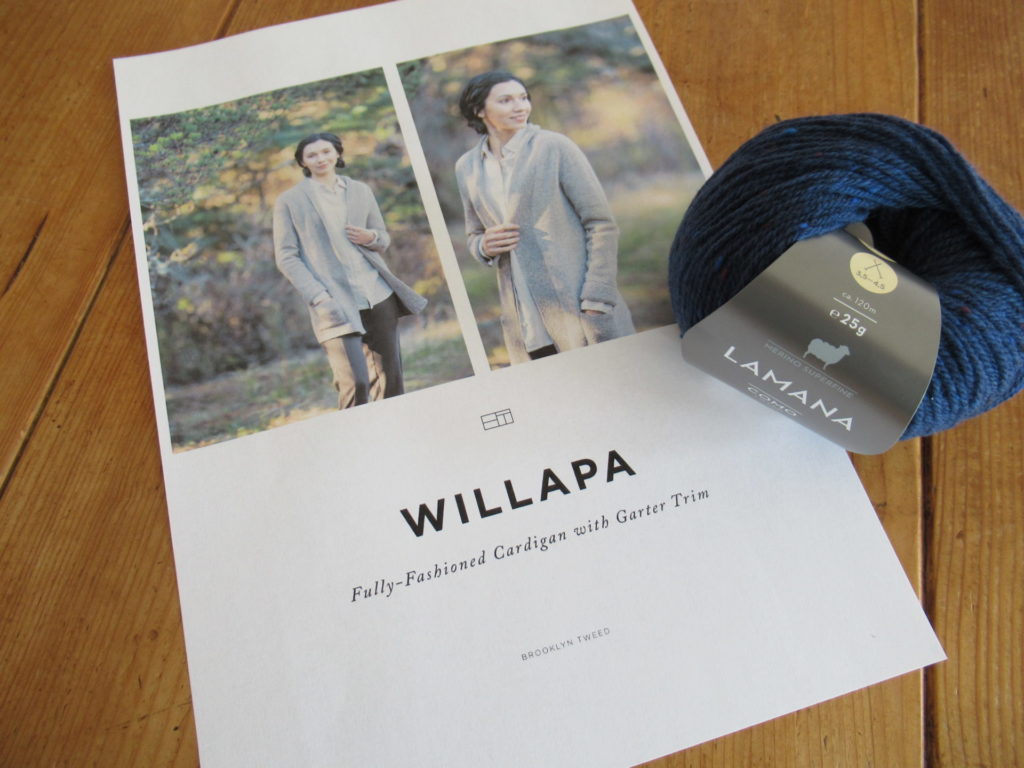 I would have liked to make it from the original yarn, Brooklyn Tweed 'Loft', but the only shop in our country stocking that had run out of my colour choices A, B and C. I chose Lamana 'Como Tweed' instead. The yarns are similar, but not the same. They are both fingering weights, both tweedy, and both knit up to the same gauge. But Loft is more rustic and has (imho) more interesting colours, while Como Tweed is airier and softer.
So, why did this cardi become a UFO? I'm not entirely sure.
It was almost finished, but very soon after I'd started the front border, the frog chorus started to chant 'Rip-it, Rip-it'.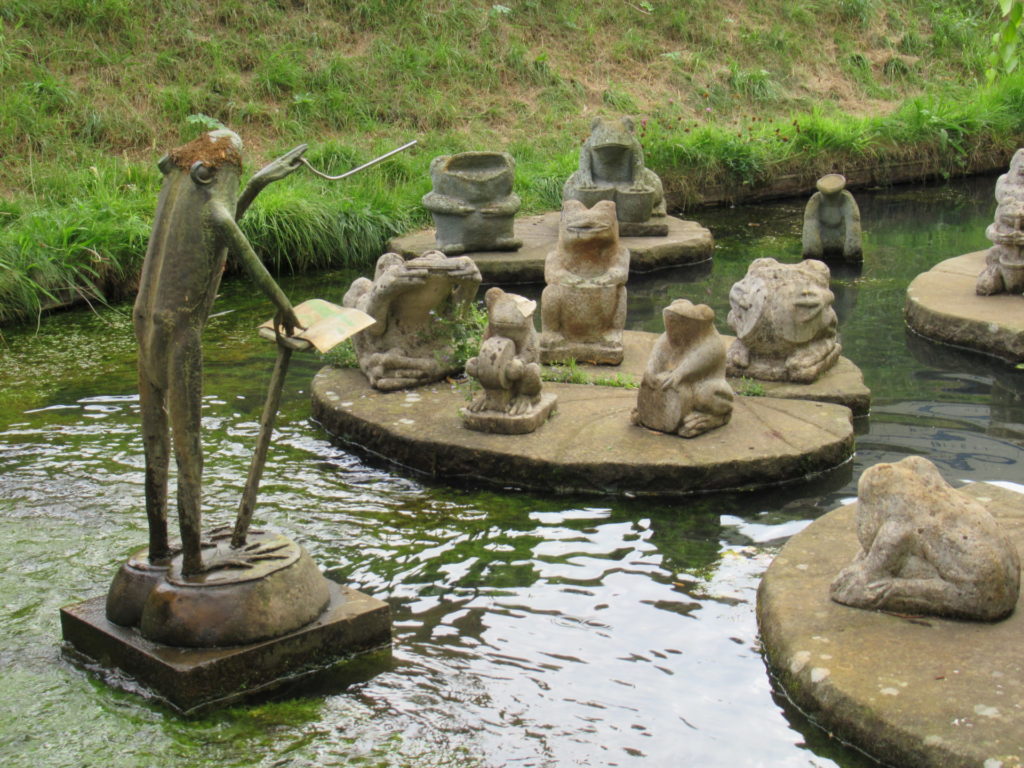 The pattern said 'slip the first stitch PURLWISE with yarn held in back', while I would have chosen 'slip the first stitch KNITWISE with yarn held in back'. I had my doubts, but thought, 'How much difference can it make whether you slip a stitch purlwise or knitwise?'
So, I ignored the frogs and knit on. And on and on. It wasn't until it was time to bind off that I decided I wasn't happy with the edge stitches at all. They were different on the left and right and looked untidy.
But before I followed the frogs' advice and ripped out many hours of knitting, I knit a swatch to check if slipping the first stitch knitwise would really be better than to slip it purlwise:
Yes, it did make quite a difference. The bottom half (A) of the swatch was knit slipping the first stitch of every row purlwise, the top half (B) slipping them knitwise.
Slipping the first stitch purlwise gave a stretchy/loose edge with a very different left and right side. Slipping the first stitch knitwise made the edge firmer. There was still a slight difference between left and right, but that was hardly noticeable.
So, I frogged the front border, knit it again, and was glad I'd taken the trouble.
At this stage Willapa was still a WIP. After the front border I knit the pockets and all the knitting was done. It was then that it became a UFO. I suppose it was because it was almost summer by then, and a warm cardi seemed irrelevant. And also because I dreaded weaving in all those ends and wasn't happy about the pockets.
Well, my afternoon off solved all that. Weaving in the ends took about an hour, but was quite pleasant with some good music on.
My husband isn't a big fan, so I only play this music when he's not there. But I love it, especially On the Nature of Daylight. It is something between classical and minimal music, and the composer's own website says, 'The Blue Notebooks is a subtle and peaceful protest against political, social and personal brutality.'
With that peaceful protest in the background, I found the courage to finish my cardigan. Here it is:
It has a very wide front border, widened at the neck with short rows, that can be turned down to a nice collar.
Following the instructions in the pattern, the pockets would have ended up exactly on the sides of my hips. This is already my widest part, and it doesn't need to be accented by pockets. So I moved the pockets down and forward, where they almost disappeared into the lower border:
Unlike the pattern, I used the same edge stitch for the pockets as for the front border (slipping the first stitch knitwise). The pattern didn't say how to sew on the pockets. I tried out several ways, and in the end just used ordinary small back stitches. The pockets are on the small side, but big enough for a hankie or a slip of paper with some notes.
Willapa is knit from the top down, has narrow sleeves with wide cuffs meant to be folded double, and has lovely raglan shoulders.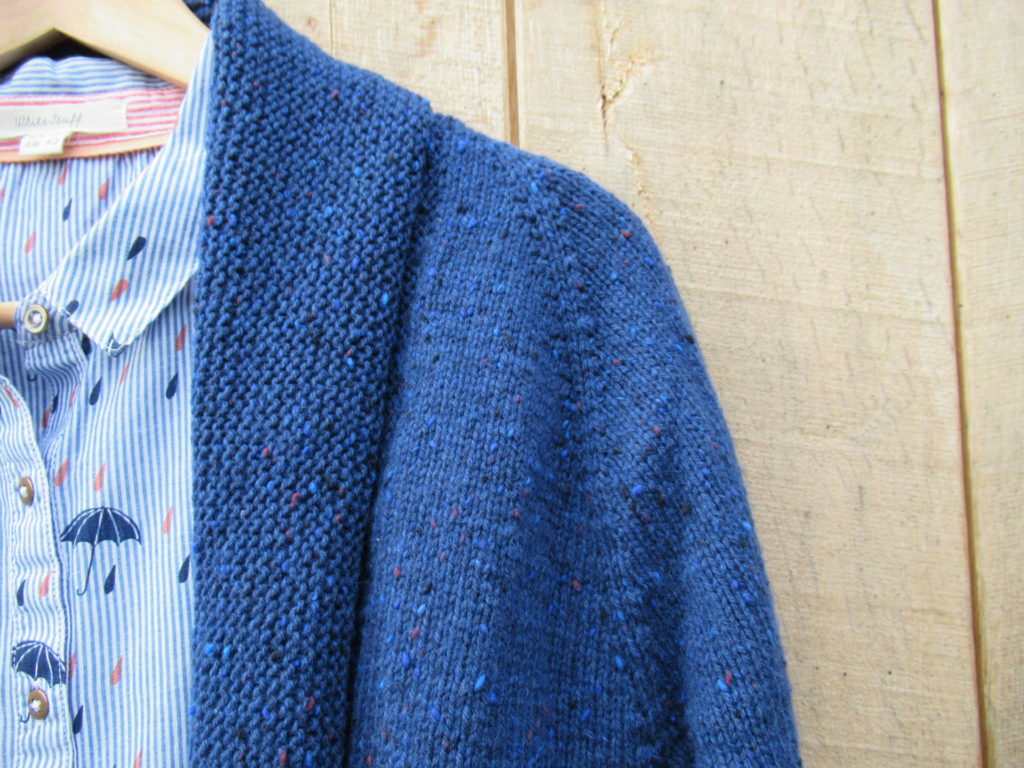 All in all I'm very happy with the pattern, the yarn and the end result. If you're looking for a simple, but definitely not frumpy looking cardi to knit, I can really recommend Willapa. You can find it on Ravelry and on the Brooklyn Tweed website. It is a well-written pattern and, apart from the edge stitches, there is much to love about it. I hope my notes are helpful for anyone making it.
(I can also recommend taking an afternoon off when you're not feeling quite well.)
So this was my first UFO turned FO. One down, eight more to go.