Knitters love abbreviations. An experienced knitter will be able to instantly visualize an instruction like 'K2, yo, *(k2tog) 3 times, (yo, k1) 6 times, (k2tog) 3 times; work from * to last 3 sts, yo, k2tog, k1'.
Now, please don't run away screaming if you're not all that into abbreviations. For this post it's enough to know just these three:
FO = Finished Object – This speaks for itself. Any piece of knitting that is completed (including weaving in the ends and sewing on buttons) is an FO.
WIP = Work In Progress – This refers to a piece of knitting that is actively worked on, or at least is still in the forefront of the knitter's mind.
UFO = UnFinished Object – A UFO is an incomplete piece of knitting that has been abandoned, hidden away in a dark cupboard or even completely forgotten.
Note: the line between a WIP and a UFO may be thin.
As I told you last week, I have more than a few UFOs. Some of them have lived in a dark cupboard for quite a while. Here they are: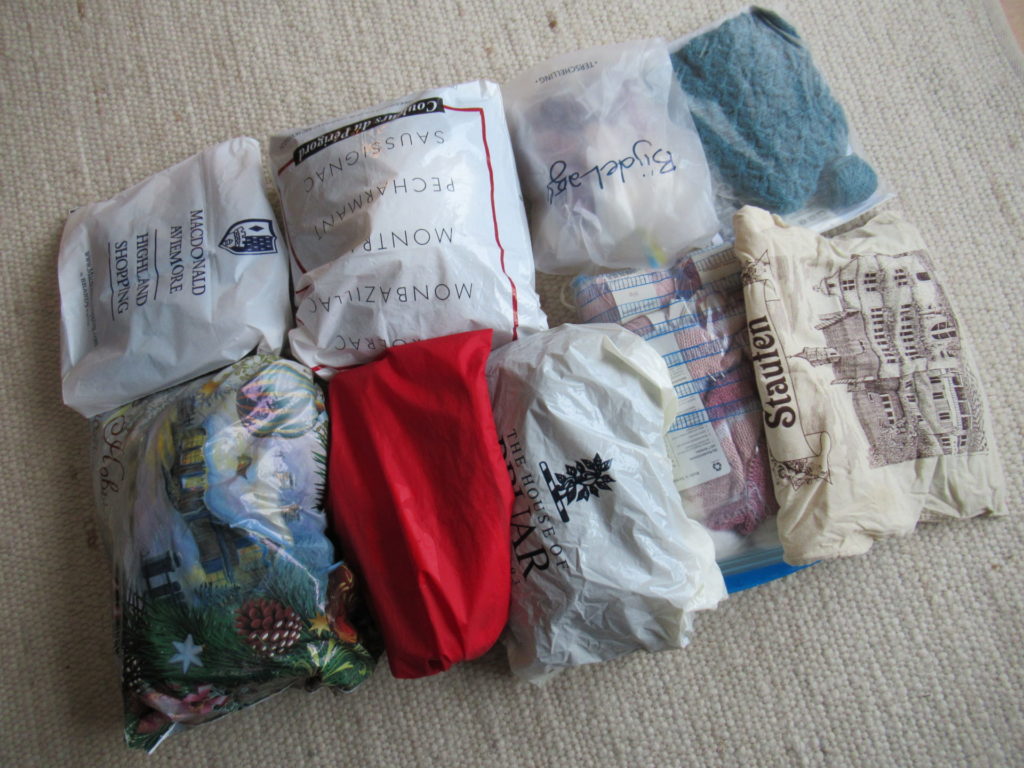 There are 9 items in total: 4 cardigans, 2 scarves, 2 cowls and 1 crochet project.
Embarrassing? Yes, slightly. But there are worse skeletons to have in one's cupboard, aren't there? And I can't be the only one, surely?
My resolution is to finish them all in 2020, or rip out the ones that I don't want to finish anymore and repurpose the yarn. I'll write about them here, now and then, hoping that they'll provide some inspiration, or an interesting or funny story. The only rule I'm imposing on myself is that they should all be gone (finished or repurposed) by the end of the year.
I plan to take the UFOs out of their hiding place one at a time, and transfer them, one by one, to the basket I made last year. I'll place the basket in plain sight, so that I won't forget it.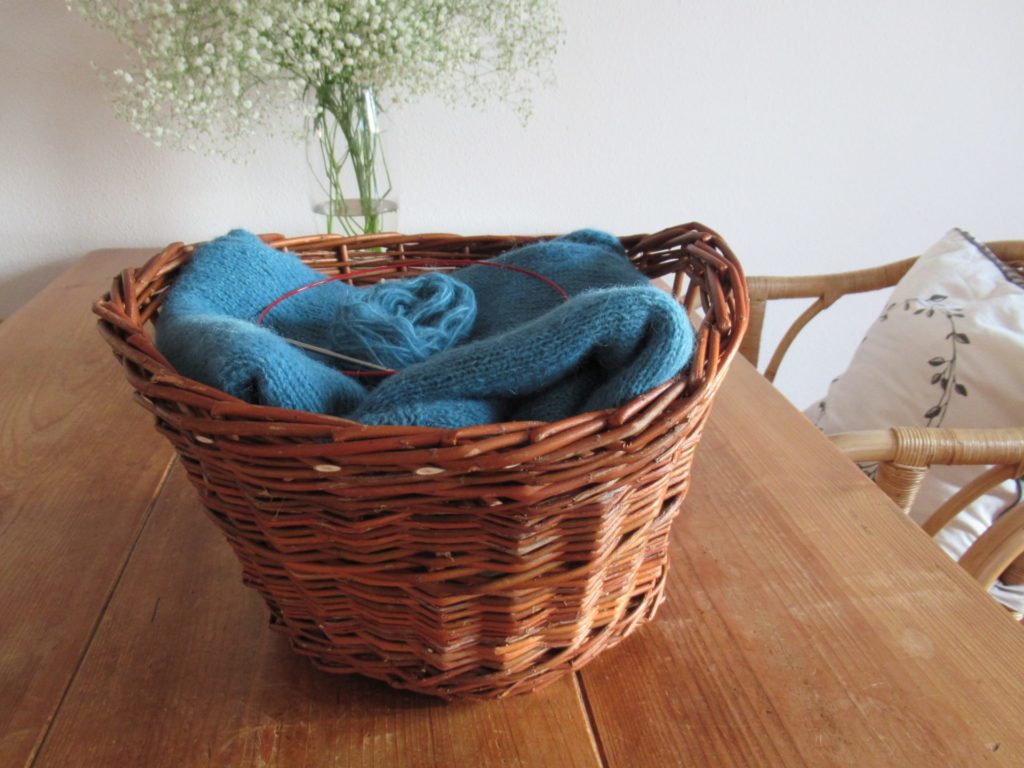 But first I needed to free up the basket. So to start with, I've finished my blue knitting project. This wasn't a UFO but definitely a WIP.
It is a long-sleeved cardigan with knit-in pockets. I chose this pattern by Kim Hargreaves because I wanted something simple for everyday wear.
Sometimes I block garment pieces, but this time I followed the designer's instructions and pressed them. I placed the pieces on the ironing board, covered them with a damp tea towel and, with the iron on 'wool', carefully pressed them.
It's a miracle what this does to the knitting: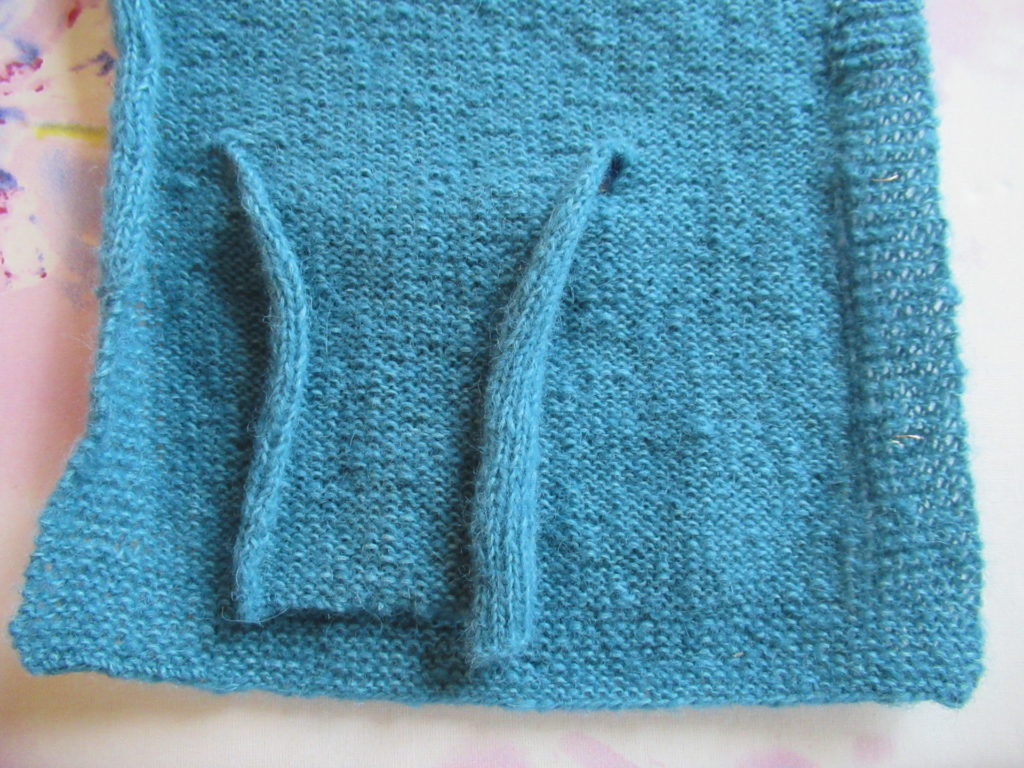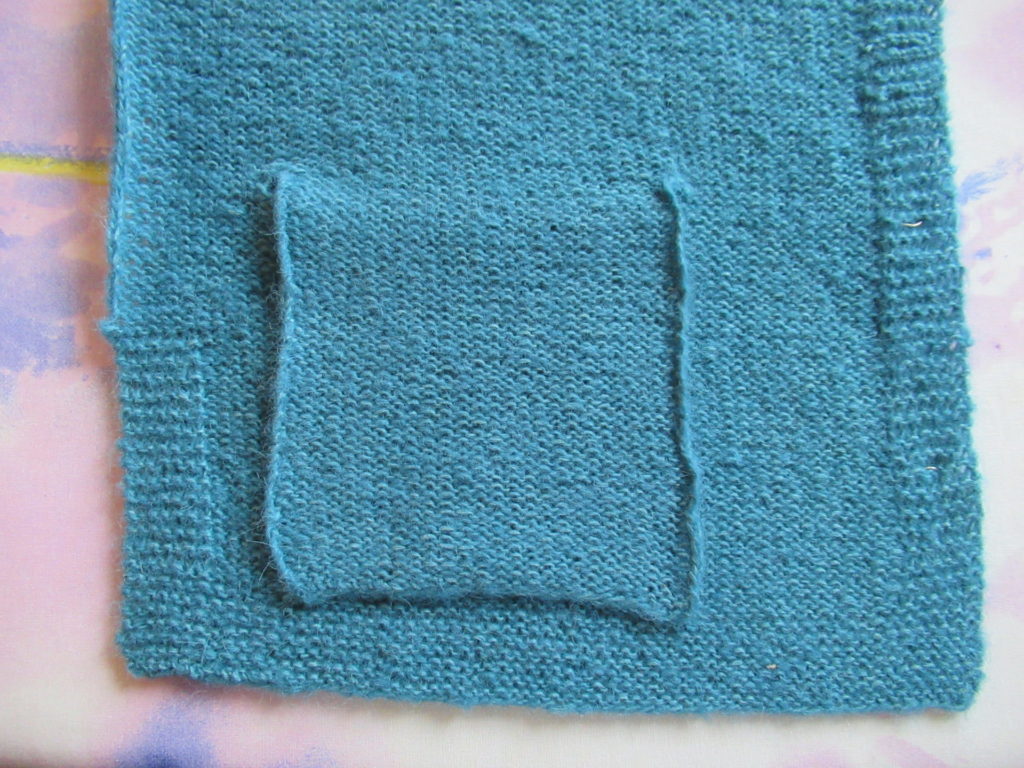 It's very satisfying to see all the neatly pressed pieces hanging over the back of a chair:
For me, it is at the finishing stage that a WIP is most in danger of becoming a UFO. No matter how much positive self-talk I use, I don't enjoy the finishing part of knitting. But some music and a mug of tea help a little.
Invisibly sewing the pocket linings to the inside of the fronts took several attempts. After seaming the rest together and sewing on the buttons, the entire cardigan was done. A WIP turned FO.
Am I happy with it? On the whole, yes, but there are two things I'm not entirely happy with. The first is that the cardi twists slightly to the right, as you can see in the photo below.
It's not that I put it on hastily. I already noticed that the pieces were slightly askew while I was still working on them. It must be something in the yarn that makes the fabric behave this way.
The yarn (Rowan 'Alpaca Classic') is made with a new technique. The alpaca fibres are blown into a cotton tube, resulting in a soft and airy yarn. I'm not an expert, but perhaps the cotton tube needs a tiny bit of tweaking?
The second thing I'm not happy with is that the button bands gape. Look:
The button bands don't overlap as they should. This isn't because the cardi is too tight – it has enough ease as you can see from the back.
It's always hard to get narrow button bands right. Maybe they gape because the yarn is so very, very soft and airy. Oh well, I'll usually wear it open anyway.
The things I do like are the simple, round neckline…
… the rolled sleeve hems and pocket tops…
… and the side vents with their neat garter stitch borders that are exactly the same width as the border along the bottom of the cardi.
I love this kind of attention to detail. But what I love most of all about this cardi is that it is incredibly soft and lightweight. It weighs just 250 grams! Very simple and very wearable.
Kim Hargreaves is an independent British designer. Her patterns have given me many hours of knitting pleasure over the years. The pattern of the cardigan above is called 'Fair' (Ravelry link) and comes from Kim's book Pale.