Hello, and thank you for all of your lovely comments last week, here and on Ravelry. It seems that most of you are multi-project knitters/crafters, too, and it was interesting to read about your knitting and other projects and how you manage them.
Some of you asked things like, 'where do you store all those baskets?' and 'could we see your crafting space?' Well, I do not have a dedicated crafts room or anything. My knitting baskets are all in the living room, next to our yin-and-yang black-and-white Ikea chairs. Most of them are hidden between the black chair and the sofa.
Two small ones are next to the white chair. If you look closely, you can also see the strap and a corner of my crochet project bag hanging from the chair.
And that is just my knitting and crochet. Today, I'd like to tell you a bit about the basket next to my spinning wheel.
In it is what is, to me, a mountain of spinning fibre. The picture below was taken after spinning up part of it, and it still looks like a mountain:
It makes me think of Rumpelstiltskin, you know, the fairy tale where the king locks a miller's daughter in a room filled with straw and she has to spin it into gold before morning or she'll be killed. On three consecutive nights she is given more and more straw to spin. Fortunately a little man comes to her aid, all the straw is spun up and the miller's daughter gets to marry the king.
In return for his services the little man makes the girl promise to give him their firstborn child. The only way for her to get out of that is to guess his name. In my book of Grimm's Fairy Tales, he rips himself in two when she finds out that his name is Rumpelstiltskin.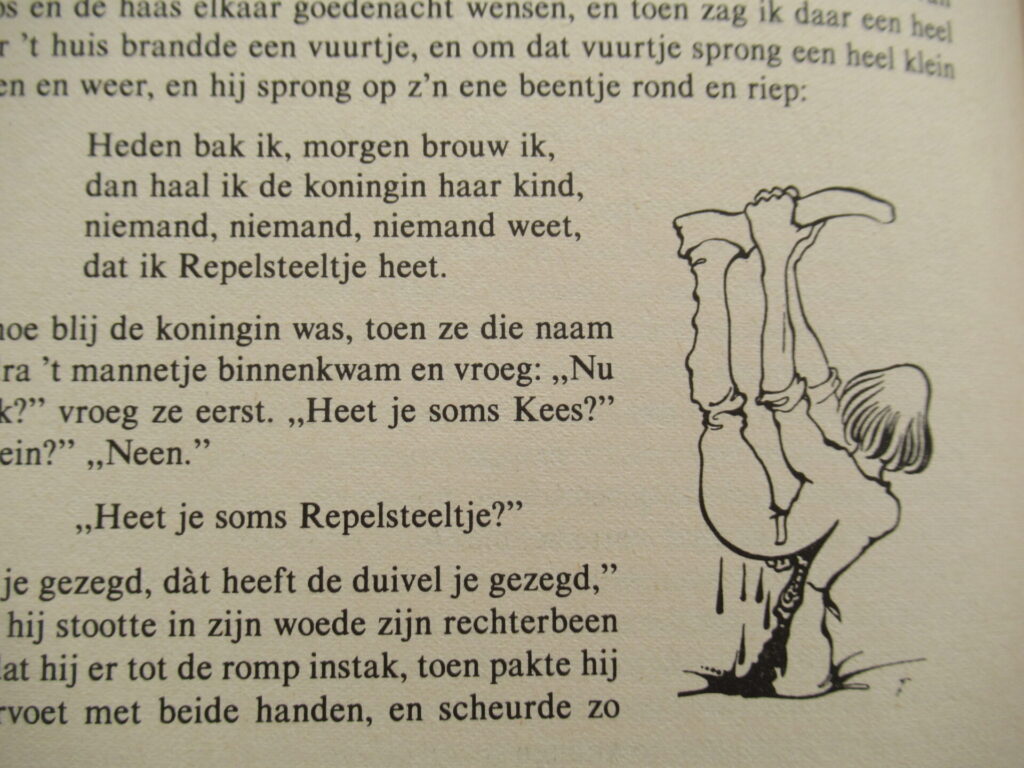 Even as a young girl, I had problems with this story. I mean, what kind of a 'reward' is it for the girl that she gets to marry a cruel and greedy king? Annet Schaap must have had the same feeling when she wrote De Meisjes, her retelling of seven fairy tales. (It was published in German as Mädchen and will be published in English as The Girls next year.)
The girls in these stories show us that it's no good believing in fairy tales. Some of them take matters into their own hands. Some of them do dream of princes and keep waiting. But unexpected things happen, and don't be surprised if the frog turns out to be better company than the prince.
The first story is called Meneer Pelsteel (mr. Pelstil). There is still a king, there is still a miller's daughter who has to spin bales of straw into gold, and there is still this little man helping her. But the ending is very different…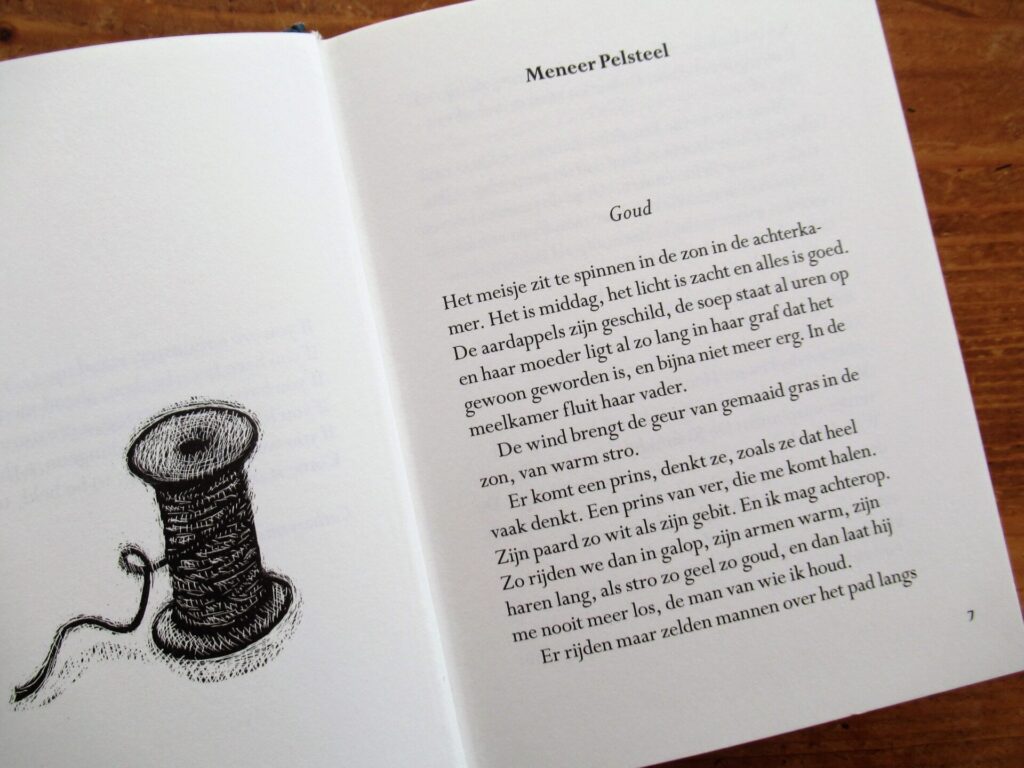 It's a great little book – very imaginative, poetic, wise and funny, with lovely illustrations by the author. Because of its sometimes ominous undertones I don't think it's suitable for young children, though.
The difference between the miller's daughter and me is that I'd love to be locked up in a room with my spinning fibres. In fact, these spinning fibres are already gold before they're spun. A friend gave me 200 grams of Ashford silk/merino sliver in a shade called Salvia (bobbin below right). Instead of turning it into a shawl or scarf, I'm adding 600 grams of John Arbon's Harvest Hues top, a merino/zwartbles blend in their Woad shade (bobbin below left).
All in all, this is a generous sweater quantity and I have now spun and plied about a third of it. I'm plying two threads of Harvest Hues with one of the Ashford blend.
To see what it will look like when knit up, I've knit a swatch. It's an aran-weight yarn with a gauge of 17-18 stitches to 10 cm/4 inches on 4.5 mm/US 7 needles.
It is 'busier' than I expected, so I think I'll also spin some in just the semi-solid darker blue to tone things down a bit, perhaps for the ribbings.
This tale will be continued at a later date. If I don't prick my finger on my spinning wheel (how???) and fall asleep for a hundred years, I'll be back with something else next week. Bye for now!