Hello!
Choosing yarn online is a tricky business, as many of you will know. Colours can look very different on a computer screen than in real life. I had forest green in mind for a jacket for our grandson. You know, that deep, fairly dark, leafy green. The yarn did look lighter and, well, different on my screen, but it was called 'forest green', so I thought it would be all right and ordered it.
When it arrived, it was not what I had in mind, and very much what it had looked like on the computer screen. Oh, well, it was a nice colour for a little boy anyway.
The last time I wrote about the jacket, I said that I 'only' needed to knit the hood. Well, the hood was almost as big as the rest of the cardigan.
I finished the knitting on Saturday afternoon and started weaving in the ends and seaming. It is getting dark early at this time of year and for work like this I need to switch the lights on at around three.
While I was seaming and sipping tea, I meditated on the term 'forest green'. How could the yarn producer have such a different idea about it from what I had in mind? My Oxford Dictionary defines forest green as 'any of various shades of green associated with forests'. Not very helpful. Googling it, I found out that on various websites about colour, 'forest green' is indeed the shade of the yarn, and that what I have always thought of as forest green is generally called 'dark olive'.
In a colour story about forest green on the Artists' Network, I found this painting from the Amsterdam Van Gogh Museum: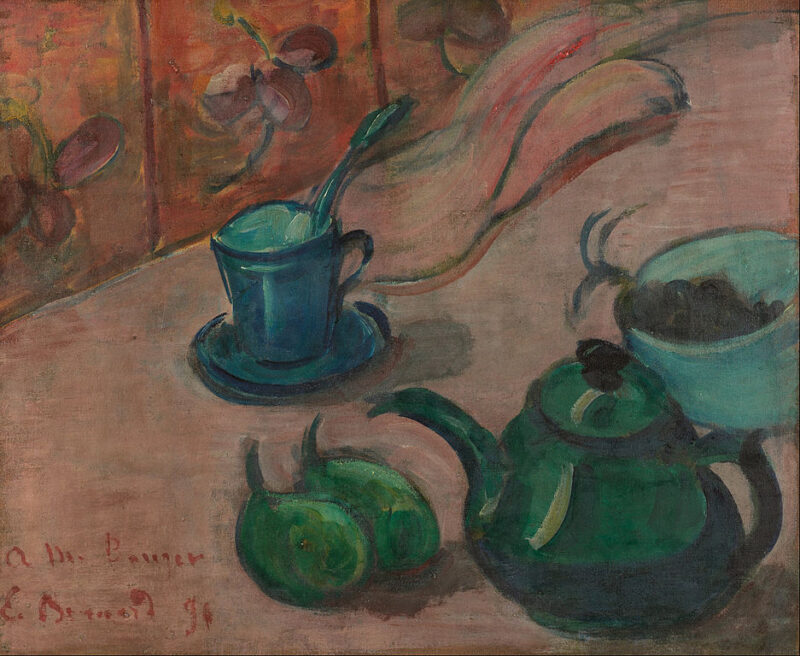 The accompanying text said: 'In a sense, the name "forest green" is a misnomer, because as artists well know, leaves and mosses are never a single color, much less a single value. Nevertheless, forest green does evoke the overall impression of foliage […] When the color finds its way into domestic spaces, it can lend a degree of earthiness and calm. This connection with nature is apparent in Still Life With Teapot, Cup and Fruit by Émile Bernard (1868–1941), in which the colors of the man-made objects seem to take their cue from the color of the fruit.'
Earthiness and calm – that sounds like a good thing for a baby jacket.
On Sunday, my husband was out on an excursion and I was home alone. A good moment to finish the seaming and sew on the buttons. It was a lovely, sunshiny day. Too lovely to spend indoors entirely, so I went for a bicycle ride as well.
Still shocked by the realisation that I've had a different mental image of this shade of green from the rest of the world all my life, I saw what I now know is 'forest green' everywhere. On a church door…
… on the lid of a wheelie bin…
… and on every bicycle route sign I passed.
For me, it's still more like garden-and-kitchen-waste-wheelie-bin-lid-green or bicycle-route-sign-green than the colour of a forest, grumble, grumble. (I'm very much attached to my own mental image of forest green.)
It won't make any difference to our grandson, though. His favourite colours are still those of his Mum and Dad's eyes. As long as the jacket is soft and warm, he'll be happy with it. And it certainly is that.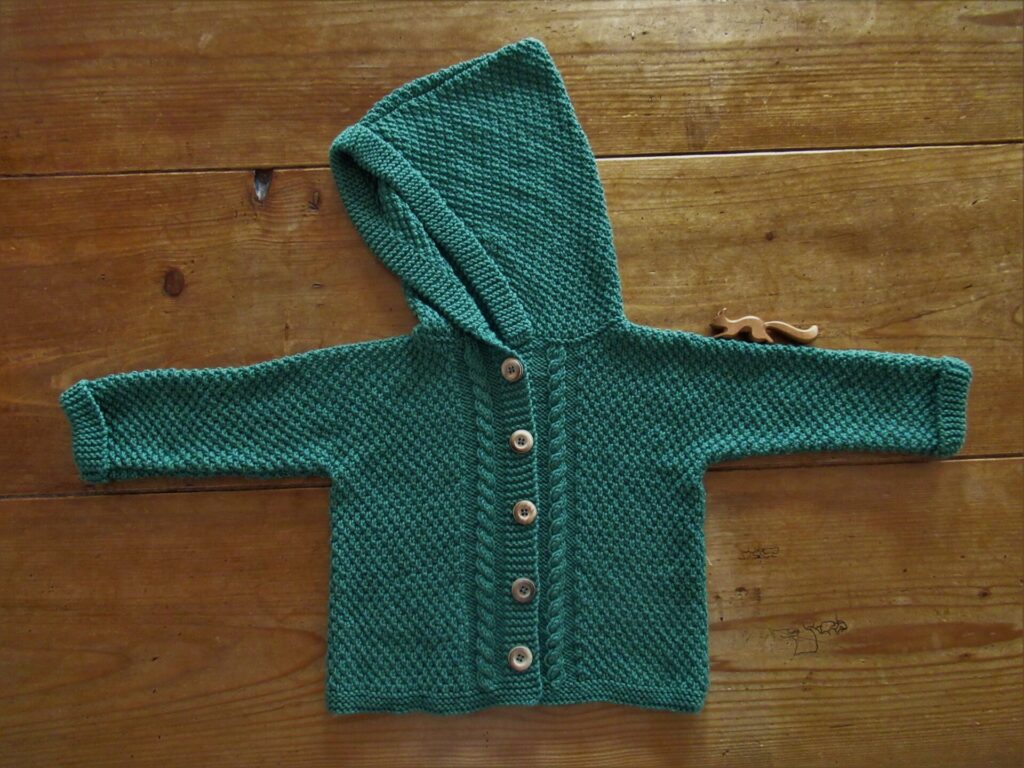 For any of you with babies and toddlers to knit for, here are a few useful details:
Pattern: Little Pixie Jacket (here on Ravelry)
Size made: 74-80/12-18 months (our grandson is only 7 months old, but he's a big boy)
Yarn: Garnstudio Drops 'Merino Extra Fine', 7 skeins, colour 31 Forest Green
Needles: 4.0 mm/US 6
Knitter's notes:
The sleeves are knit on to the body by casting on stitches at the sides. They have both underarm seams and seams on the top.
I put the sleeve and hood stitches on holders (old circular knitting needles) and used the 3-needle bind-off instead of seaming them.
Having knit this jacket before, I knew that the sleeves were waaay to long and made them a size smaller this time.
The hood is very warm and cosy for babies still lying down in their prams or strollers. For toddlers sitting up or walking, I think the hood will be too heavy and cumbersome hanging down the back.
The hood has a garter edging that is folded to the outside. The pattern says to only attach it at the bottom on both sides, but that won't keep it in place. I attached it with invisible stitches all around.
Thank you for your patience with my forest green grumblings. Have a lovely weekend and see you next week!