Hello!
A Ravelry friend of mine is trying out being a monogamous knitter, i.e. working on just one knitting project at a time until it is completely finished. She used to be a multi-project knitter like me, and is now finishing one beautiful project after the next. That made me stop in my tracks: could I be a monogamous knitter, too? It sounds attractively simple.
But what if, for instance, I'm in the seaming stage of a sweater and need something small to take along to knit on a trip? Or what if I'm knitting something intricate, am tired in the evening and would benefit from some restful mindless knitting?
At the moment I have 6 projects on the go, and they all live in separate baskets. There is nothing spectacular inside any of these baskets, but perhaps you'd like to take a look?
Basket 1: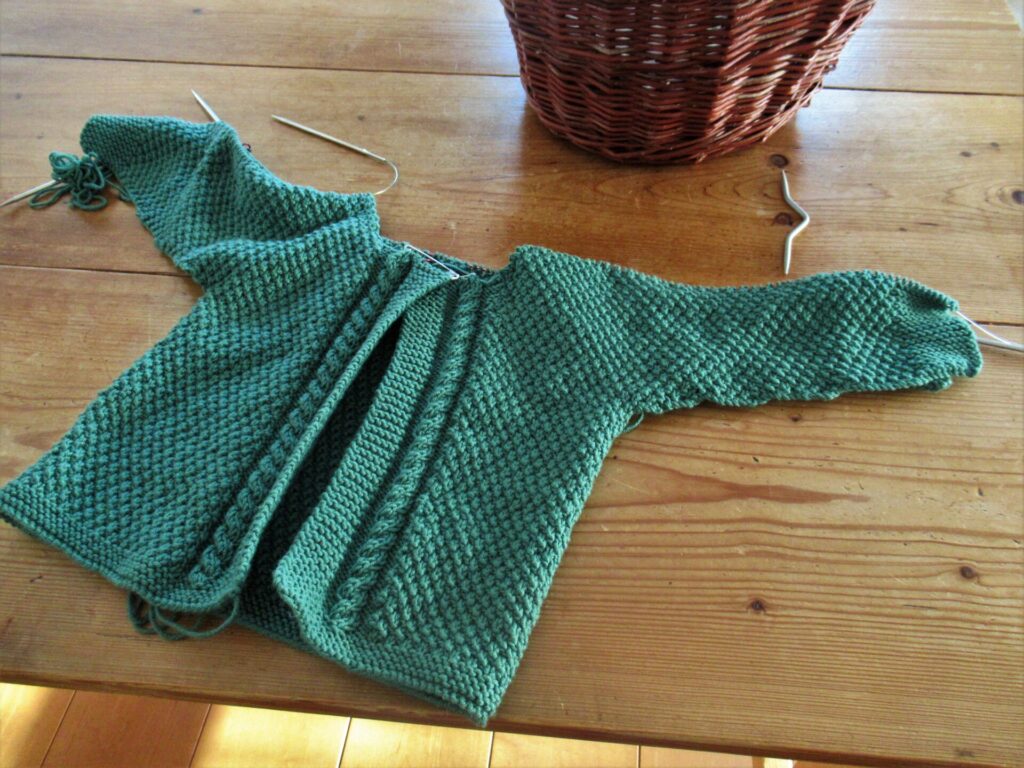 This is the project I want to finish first – a jacket for our grandson. He has almost outgrown the jacket I knit for him before and will need a new one soon. The sleeves are almost finished and then all it needs is a hood.
Basket 2:
This vest is even closer to being finished. All I need to do is knit ribbings for the pockets, sew the pocket linings in place and sew on buttons.
Basket 3:
This is my sock knitting basket. It holds all kinds of knitting paraphernalia, a pair of striped socks that only need their ends woven in, and a ball of beautiful pink sock yarn. Both of these lovely yarns (one with yak down and one with silk!) were a gift from a friend. I'd like to make a very special pair from the solid pink yarn, perhaps something with cables or twisted stitches, or a bit of lace…
Basket 4:
This may look like knitted bunting, but is in fact part of a series of swatches for a new design of my own. These three mini-swatches are all about increases. M1L, M1R, kfb or kfbf? I'm puzzling out which increases to use where.
Basket 5:
This is a simple cardigan for myself, knit from a very soft wool and alpaca blend. It is hard to capture the colour – it's a deep navy blue IRL. I'm keeping track of where to knit in the button holes by looking deep into the eyes of this panda:
It's a fun but unreliable row counter. The problem is that its lock doesn't function, which means I need to be very careful with it or it'll jump from 19 to 29 or 39 rows and then where would I be?
Basket 6:
Sorry, I can't show you what's inside the last basket. It's a surprise gift in the making. Well, okay, I can tell you that it's going to be a pair of mittens. I'll be able to show you after they've been unwrapped, towards the end of December or early in the New Year.
More about my progress with the contents of the other baskets soon, I hope, including details about the patterns, the yarns etc. Six baskets is about the maximum I can handle, I think. And I'd really like to reduce the number to three or four. Or shall I try reducing them to just one? How about you? How many projects do you feel comfortable juggling? And how do you organize them?