Hello, and welcome to an autumnal post filled with fungi (and some yarn). 
Autumn is a magical time in the forest. It's the time of rustling leaves underfoot. The time of warm reds, oranges, yellows and browns. The time of golden light on some days, and a fog that shrinks the world and muffles all sound on others. It is also the time of mysterious mushrooms and treacherous toadstools.
On our walks we marvel at the masses of fabulous fungi popping up this year, and some of them seem to stare back at us open-mouthed.
Beware of the poisonous panther cap – some say that it can make you fly, but I wouldn't like to give it a try:
I'm not sure I'd like to try these babies either, although they are edible:
They don't look too bad when young, but all grown up they look vile, dripping their viscous black ink.
It's easy to believe in fairy tales, walking through the forest in autumn. I mean, who doesn't think of gnomes seeing something like this?
And the fungus below certainly has fairy tale-like qualities (of the creepy kind). It can move, sort of like a slug, even leaving a slime trail. In Dutch it is called heksenboter (witches' butter).
In the picture above it is cream coloured, like real butter, but more often it is bright yellow.
The yellow colour explains its English name – scrambled egg slime. It also goes by another name. (Please skip the next line if you're squeamish):
Dog vomit slime mold
Well, we certainly aren't scraping that off the branches to spread on our baguettes! No, I really prefer making my own herby 'witches' butter'. There are two things that always go into it: garlic and parsley. For the rest I vary with the herbs I use.
Parsley doesn't do well in our garden, so that is shop-bought. Until the first night frosts our herb patch provides us with chives. And on the left there's a herb that I discovered and planted a couple of years ago – salad burnet (kleine pimpernel in het NL). It is an evergreen that gives fresh cucumbery-tasting leaves all year round.
Here is my very simple recipe:
Herby Witches' Butter
Ingredients:
150 grams unsalted butter
1 clove of garlic, pressed or finely grated
Small bunch of parsley

Some chives and salad burnet (or other fresh herbs)

Coarse sea salt
Black pepper
Method:
Leave the butter to soften at room temperature for a while
Mix in the garlic with a fork
Chop up the chives. Strip the leaves of the other herbs from their stalks and chop up as well
Combine the herbs with the garlicky butter
Season with freshly ground black pepper and sea salt
Delicious with some crusty bread, salad, and a bowl of soup. Pumpkin soup would be great, or my Simple Mushroom Soup (recipe in blogpost Soup and Socks).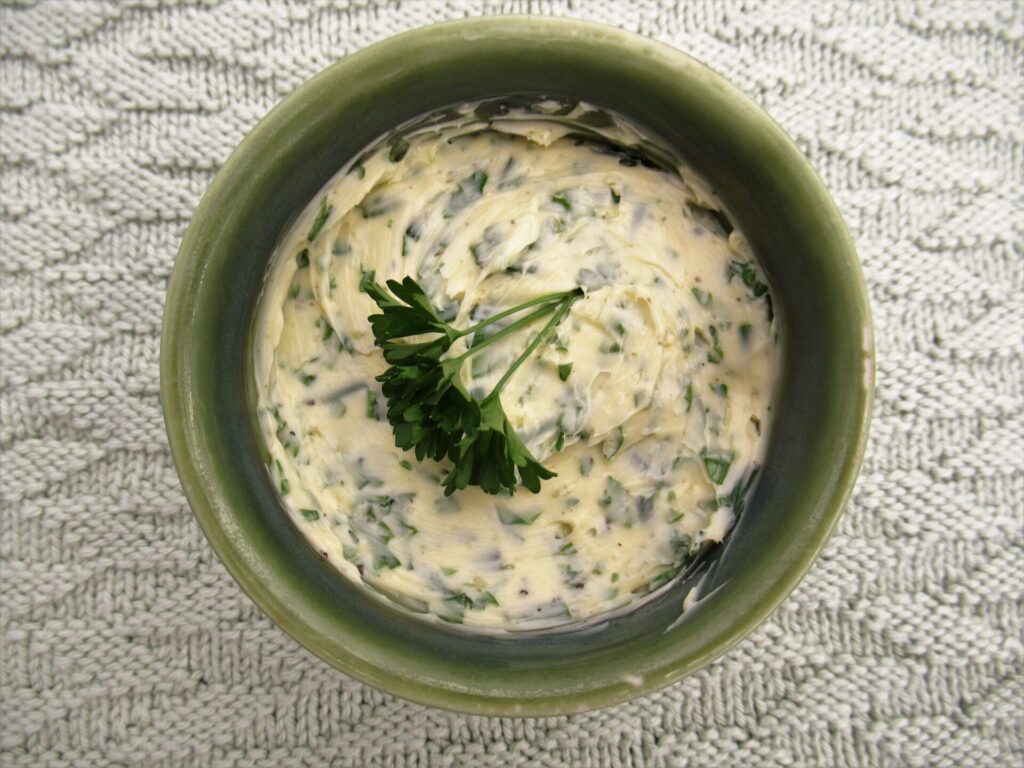 The butter jar was photographed on one of the dish cloths I knit a couple of years back and wrote about here. I also wrote a post about the organic yarns I used for them here. So how are these yarns holding up after two years of frequent use?
First of all, I need to tell you that I've ignored the yarn manufacturers' washing instructions, washed the dish cloths at 60˚C/140˚F and put them in the dryer on rainy days. Despite the rough treatment they've had, none of the dish cloths show any holes. For the rest, from worst to best, here are the results:
3) Rosários4 'Bio Love': Alas, alas. This was the yarn I loved best, but it is the yarn that has faded most and looks the shabbiest now. I still think it is a great yarn for things that do not need to be washed quite as often, though.
2) Lang Yarns 'Baby Cotton': This has kept its colour and looks good when dry, but when wet stretches a lot and feels rather thin. So, not great for dish cloths, but fine for baby or other garments.
1) Surprisingly, the winner is Anna & Clara '100% cotton 8/4'. This was the least expensive yarn and has performed the best by far. Actually, these dish cloths still look as good as new.
Well, that's all for today. Bye for now, and if you go mushrooming – be careful!!!