As I already hinted at in a recent post about dishcloths, I've been trying out several organic cotton yarns.
Taking care of my family's health and that of our planet is high on my personal agenda. For almost two decades now an organic farm has delivered groceries to our door.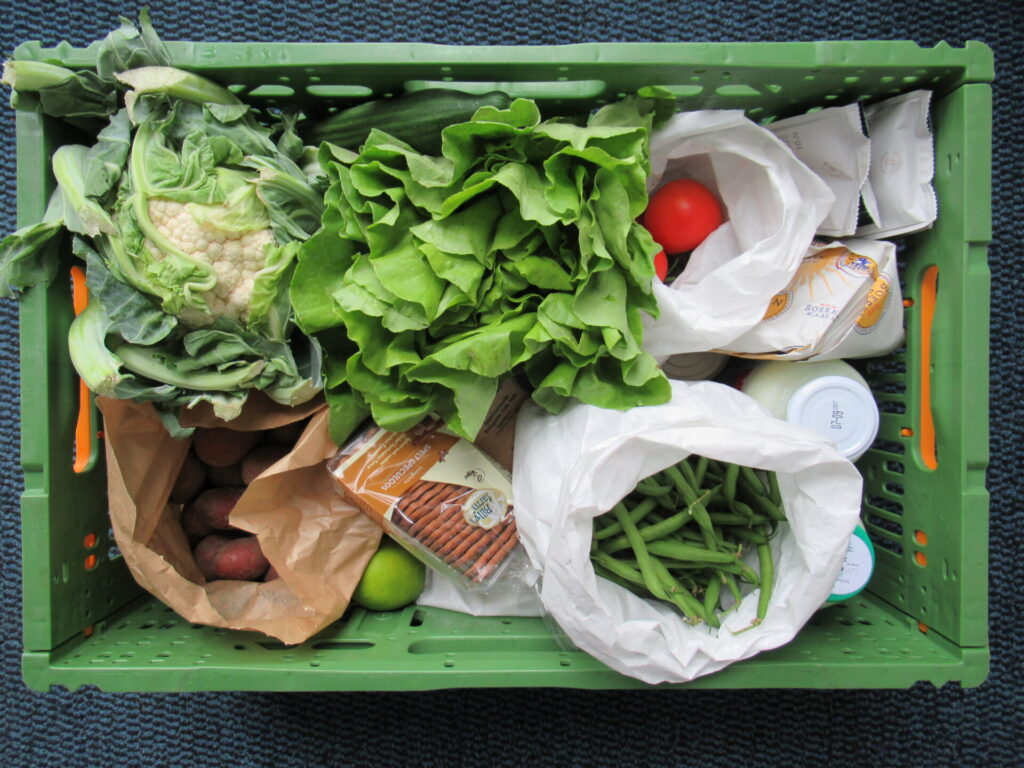 Going organic when it comes to knitting yarns would be a logical next step. But going organic isn't always easy. It takes extra planning and effort, it can be more expensive, and sometimes there just aren't any organic options available.
For a long time organic yarns were few and far between, and they were not always terribly attractive, to say the least. But the landscape is changing, and I'd like to try some of them out now. To start with, I've chosen 3 very similar organic cotton yarns:
Anna & Clara '100% Cotton 8/4'
Rosários4 'Bio Love'
Lang Yarns 'Baby Cotton'
So far, I've only used them to knit dishcloths. I've looked at similarities, differences, washability and how it feels to knit with them.
Basic facts
| | | | | |
| --- | --- | --- | --- | --- |
|   | Material | Wt/M/Yds | Organic | Price |
| 1. Anna & Clara | 100% cotton | 50 g/160 m/175 yds | Yes | € 1.82 |
| 2. Bio Love | 100% cotton | 50 g/175 m/191 yds | Yes | € 3.75 |
| 3. Baby Cotton | 100% cotton | 50 g/180 m/197 yds | Yes | € 4.95 |
All 3 yarns are 100% organic cotton, and their metreage/yardage is very similar. The prices vary a lot, though, and there are other differences too.
Let's take a look at the yarns from very close up: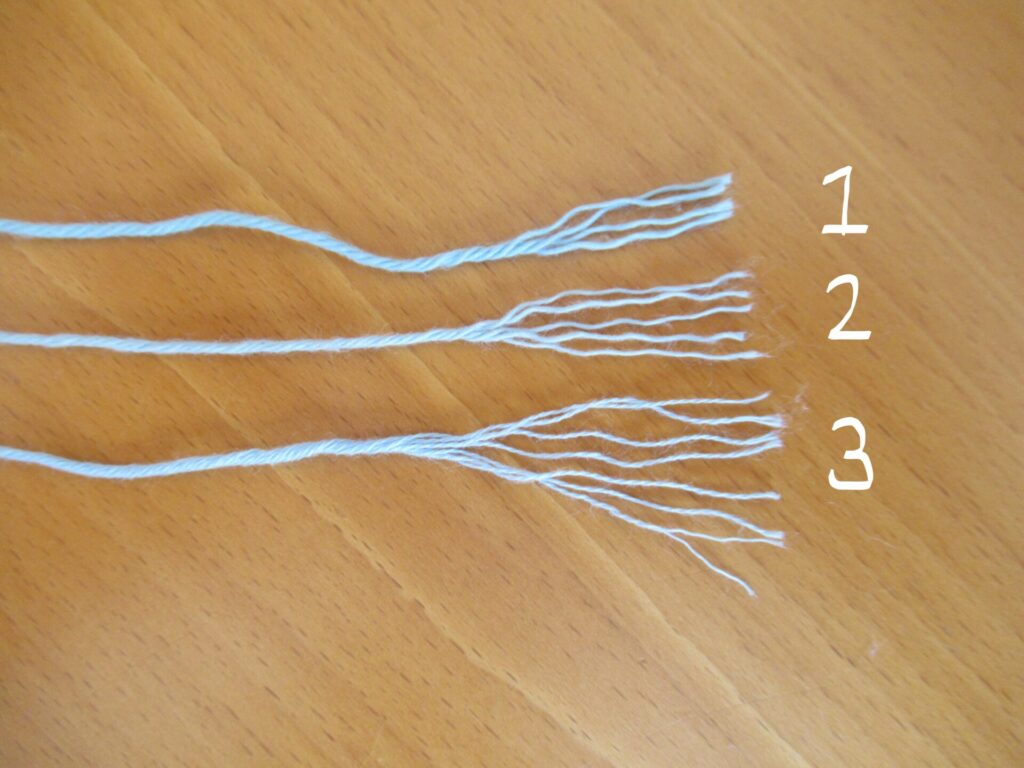 Yarn 1 (Anna & Clara) consists of 4 plies
Yarn 2 (BioLove) consists of 5 plies
Yarn 3 (Baby Cotton) consists of no less than 7 plies, each consisting of 2 plies again.
Interesting! What does that mean for the knitting experience? I'll describe the yarns one by one first, and then I'll give my 'verdict'.
Yarn 1: Anna & Clara '100% Cotton 8/4'
At € 1,82 per ball, this yarn proves that organic doesn't have to be expensive. It has that nice, dry cottony feel and the thread is firmly plied.
To me it looks and feels like a good old-fashioned cotton yarn. Only it is not just available in white and ecru like in olden days, but in about fifty different shades, including several multi-coloured ones. Strangely enough, there are no dye-lot numbers on the ball band.
The yarn is sold in Søstrene Grene shops and isn't available online. I don't mind spending some time in their lovely Danish-style surroundings, with relaxing classical music in the background. But it is a disadvantage if there isn't a shop in your part of the world or you are unable to leave the house.
Here are the dishcloths I knit with this yarn:
The ball band says: 60˚C, tumble dry on low temperature. When I first washed them by hand, the darker shades bled a little, but that was only on first washing. They shrank a little after machine washing and tumble drying, mainly in height. And the knitting became slightly harder to the touch, but still felt fine.
Yarn 2: Rosários4 'Bio Love'
Portuguese yarn producer Rosários4 has a substantial 'Ecofriendly Collection'. On their website 'BioLove' isn't part of that collection, however, but can be found under 'Yarns for Kids'.
BioLove's thread is smooth and well-plied. I knit 3 dishcloths with it and found it a really lovely and soft yarn to knit with.
The colours are matte and sort of 'dusty'. There are 19 colours in all, in groups of 3 or 4 matching shades. A big plus for me is that there is a shade card.
The washing instructions say: 30˚C, do not use tumble dryer. I first washed my dishcloths by hand, and the colours didn't bleed at all, not even the darkest shade.
Later I wanted to try out what would happen if I ignored the washing instructions, so I washed them at 60˚C in the washing machine and also put them in the tumble dryer. Not a great idea, because it made them shrink considerably – several centimetres in both directions. But they still stayed very soft.
Yarn 3: Lang Yarns 'Baby Cotton'
Apart from the pale blue you see here, the shop where I bought the yarn only had a few bright and unattractive (to me) colours, so I only bought one ball. But looking on the producer's website, I see that it is available in 52 fabulous shades.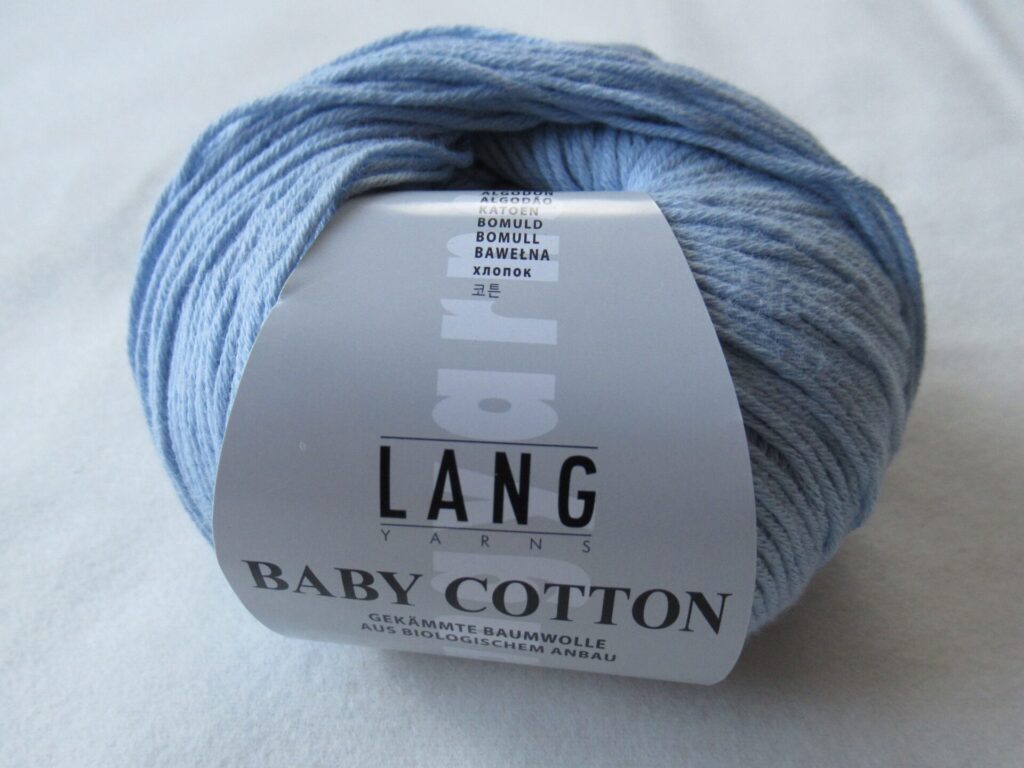 At € 4,95 per ball, this makes for a rather expensive dishcloth. It is clearly the most luxurious of the three yarns. The thread is very smooth, the yarn is has a slight sheen and it is silky to the touch. It is loosely plied, and may be labelled slightly 'splitty' by some.
Baby Cotton has the longest metreage/yardage of the three. Knit on the same needles with the same number of stitches, the dishcloth became the same size as the others, with considerably more yarn left over. In other words: this yarn goes a long way.
Washing instructions on the ball band: wash at 60˚C, do not tumble dry. There were no issues with bleeding, but I didn't try any darker shades. I washed my dishcloth at 60˚C and put it in the tumble dryer. It didn't shrink at all widthwise and only a little lengthwise, and it stayed just as supple and shiny as when it just came off the knitting needles.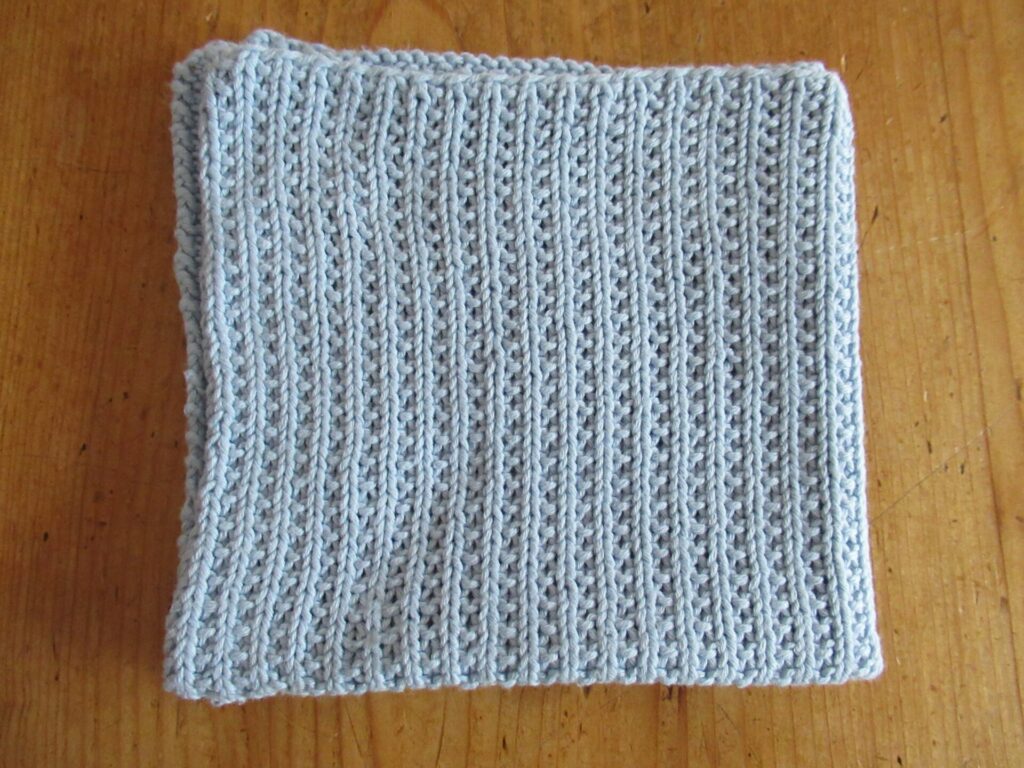 My verdict
As you probably already know, I'm not sponsored by shops or yarn producers. Everything I write here represents my own, subjective opinions and experiences. So, here is my verdict.
Anna & Clara. An excellent yarn for knitters with a small budget. Perfect for dishcloths, soft toys and projects that eat up a lot of yarn, like summer blankets.
BioLove.This would be my yarn of choice for baby clothing. It is soft and stays soft, has an enchanting colour palette, and, well, most of all it is just a feeling. This feels sooo agreeable and right for little ones. For me, this has the swoon factor.
Baby Cotton. This is the yarn I would choose if I were to knit something for myself or another adult, a summer top or cardi, say. It has a more luxurious look and feel because of the super cotton quality – smooth, silky and drapey. That's apparently what those 7 very fine double plies do. It would be great for baby clothing and dishcloths, too, but it comes with a price tag.
3 Tips
Machine washing is no problem for any of these yarns, even at 60˚C, but if using BioLove for baby clothes, I'd stay on the safe side and wash it a lower temperatures. And be careful with the tumble dryer. In my experience it's mainly that that causes shrinkage. That's no problem for dishcloths, but for (baby) clothing I'd definitely avoid tumble drying.
The knitting shrinks more in height than in width. So, if you want your dishcloths square, knit them a little higher (approx. 2 cm/¾") than wide, and they'll end up more or less square after washing and tumble drying.
The Organic Consumers Association gives 9 Good Reasons for Choosing Organic Cotton.