Hello dear fellow knitters, nature lovers and other readers.
Today's blogpost is again part of my effort to keep at least this little corner of the world as normal and uplifting as possible. So here is my Cygnus Cowl, the new knitting design I've been working on for about four months. I'm not a quick designer. I like to sketch & swatch and test & tweak until every detail is just right.
As I told you last week, it was inspired by one of the inhabitants of the reedlands close to our home – Cygnus olor, better known as the mute swan. Here it is, sailing along regally in a still wintry landscape.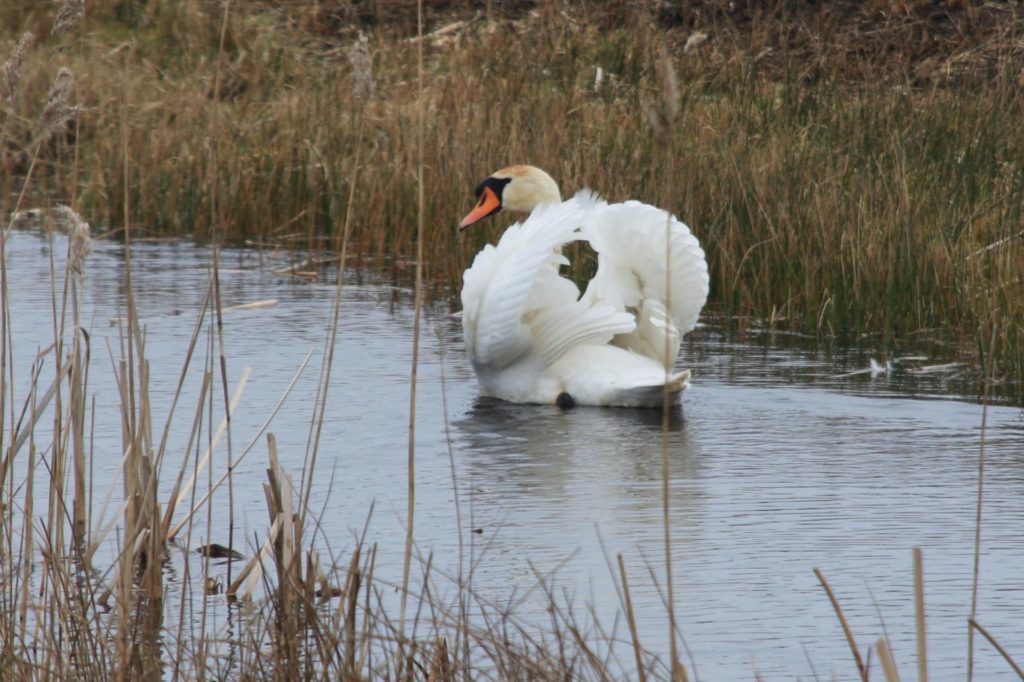 Mute swans can produce a weak trumpeting sound, and hiss when provoked, but are mostly silent. Hence their name. I know that they can be aggressive, but from a safe distance they look like fairy tale creatures.
In Dutch they are called knobbelzwaan, for the black knobbel (knob) at the base of their bill. They are fairly common around here. Do they live in your part of the world too?
I have photographed them in different seasons. In June last year, I spotted a nesting pair through some reeds.
And on a sunny summer's day, I took this picture:
I asked the swan to please pull up its leg, because it looked silly with its foot sticking out from between its feathers. But it refused to oblige.
Now, a little more about the cowl. You've already seen it at the top of this post, and here's another picture, with the model's hair tucked inside to show it in its entirety:
And this is what it looks like from the back:
The lovely model is our daughter, and I've designed the Cygnus Cowl with her in mind.
The yarn I used is Rowan 'Brushed Fleece', a bulky wool and alpaca blend. Two balls of 50 grams each are enough for the cowl and several swatches. It already feels nice on the ball, but after soaking and drying it is as soft as swan's down.
The cowl consists of two parts. First there is the cowl body, knit in an all-over cable pattern resembling rippling water:
And then there is a long swan's wing feather, knit separately.
Here the Cygnus Cowl is laid out flat. It has a narrow indentation on one side and the feather is wrapped around it later. White is hard to photograph – I hope you can see the details clearly:
It isn't a beginner's knit, but for a slightly more experienced knitter it is totally doable. I've explained the cables and several other knitting techniques in the pattern. And the description of how the cowl is finished is accompanied by photos.
The above pictures were taken indoors. It was early March and our plan was to take lots of photos outside, but the weather was uncooperative. It was a cold, blustery, rainy day. Here's an impression of our outdoor photo shoot.
Raindrops on the lens and icy hands made it hard to take clear pictures. There were puddles everywhere and the ground was muddy. The wind tugged hard at our daughters red cape (a thrift-shop bargain made with cashmere, squeee!)…
… and made her hair fly all over the place.
In the end we found a sheltered spot behind a reed-roofed barn, but by that time my model/daughter was chilled to the bone. And how to get onto firmer ground again without sliding into the mud?
We had to work fast, and fortunately ended up with enough usable pictures. And in spite of the unpleasant circumstances we had a lot of fun.
I realize that white isn't for everybody. If white doesn't suit you but you like the design, why not make it in the colour of your own favourite bird – flamingo pink, raven black, dove grey, owl brown or teal blue?
You can find the Cygnus Cowl pattern here on Ravelry.
As always, thank you for reading. Please take care and stay healthy!