'Pssst! Hey! Take me home with you!' the ball of yarn in a gradient of blues whispered. It happened at our regional annual crafts fair. 'I don't think so,' I said, 'You're far too expensive, and what would I do with you?' The yarn ball wasn't impressed. It kept up its insistent whispering, and after walking around it for about a dozen times, I said, 'Okay, I surrender. I can't deny that you're gorgeous, and you can come home with me.'
It would have been so nice to tell you a romantic and poetic story about the inspiration behind Morbihan, my new shawl design. About how I was inspired by the sea – by its myriad shades of blue and its waves lapping the shore. But you may already have gathered from my previous post that it didn't work that way. It was the other way around. It was the yarn itself that made me make this shawl, and it was only later that I made the connection with the sea.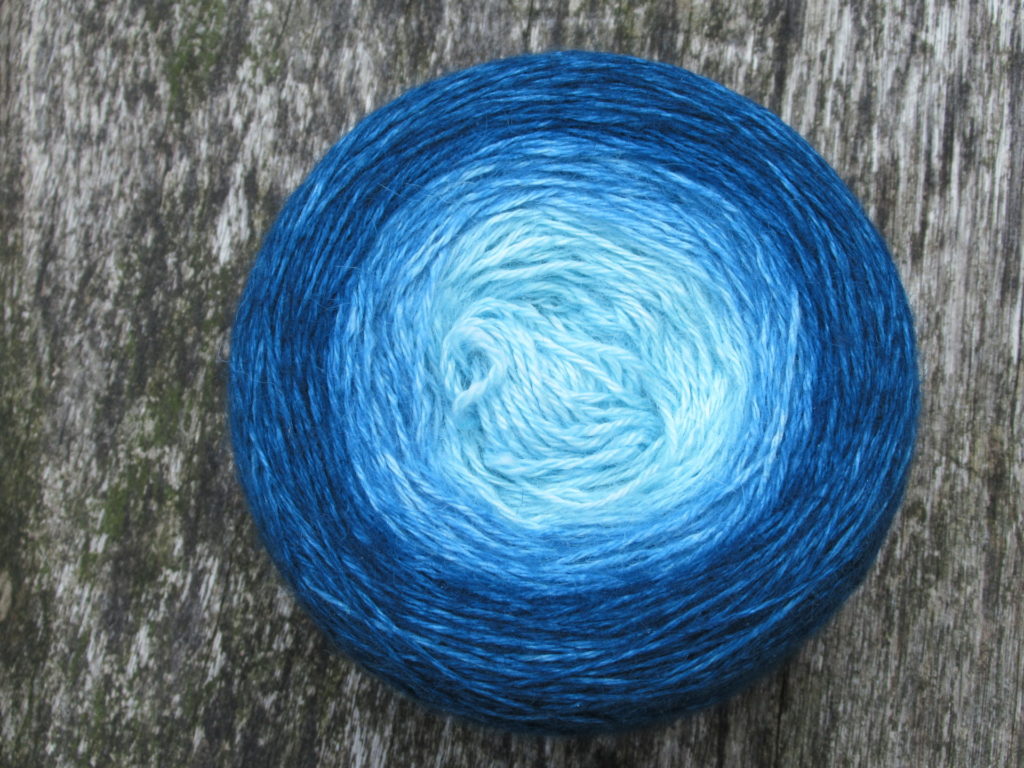 The yarn that seduced me was Lang Yarns 'Puno', a blend of wool, alpaca and silk. What I love about this yarn is, first of all, its gorgeous colours, and also its drape, its softness and its subtle sheen.
And after knitting and blocking, I noticed how beautifully the lighter bits of this semi-solid yarn undulate along with the waves of the lace pattern, especially in the simple stocking stitch sections of the shawl.
This yarn cost € 49.90 for a single ball (or rather 'cake'). Gulp! Granted, it was a generous 200 grams and 800 metres, but still… Not exactly a bargain.
Because I didn't have any spare yarn for swatches (I wanted to use up all of this precious yarn for my project), I first tried out my ideas with some yarn scraps. When I had a clearer picture of what I wanted to make, I still hesitated about using the Puno. I didn't want to spoil the yarn by ripping out my efforts several times. So, I bought some inexpensive yarn for a trial version, and it looks like this: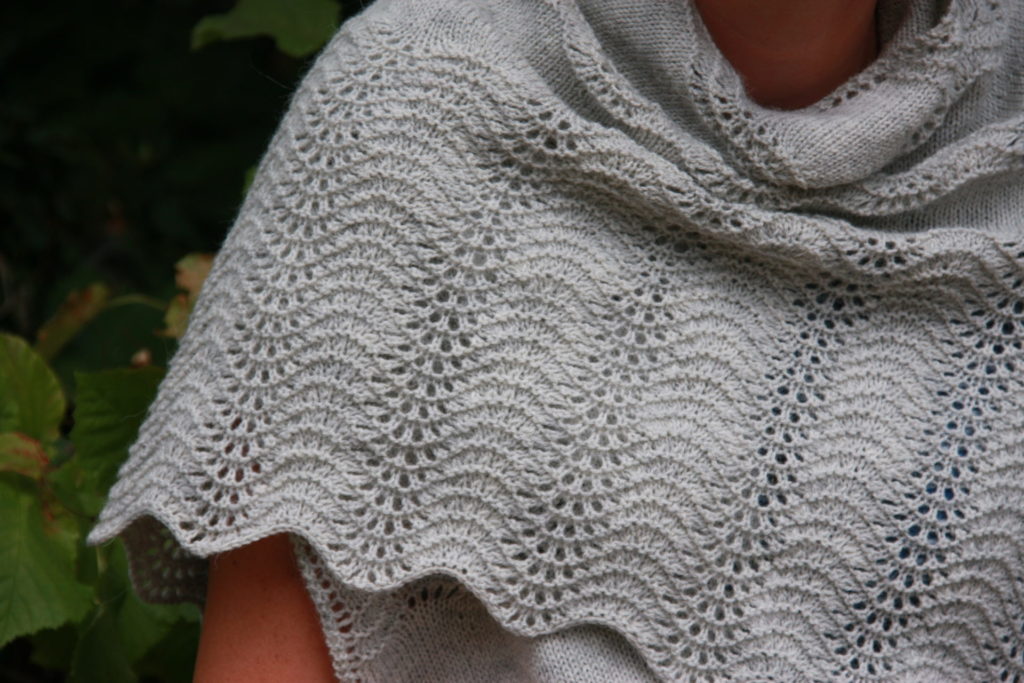 This is Drops 'Flora', a blend of wool and alpaca, with a similar weight/metreage ratio as the blue yarn – four 50 gram balls of this yarn are the equivalent of one ball of Puno. This was a bargain. I bought 4 balls with 30% off for the grand total of € 7.44.
Although this was only meant as a trial version, it has become a lovely shawl in itself. What I like about this yarn is its woolly cosiness and how beautifully it shows the lace pattern.
And it didn't end there. After I'd decided to publish the Morbihan pattern, I wanted to make absolutely sure that there weren't any errors in it, so I decided to make another one to check it.
This time I used a cotton yarn. I wouldn't normally choose cotton for a shawl, but during a very hot period this summer, I started looking for yarns that wouldn't stick to my hands and found this. I don't know if your screen is big enough to read it, but the card behind the yarn cake says 'handmade'.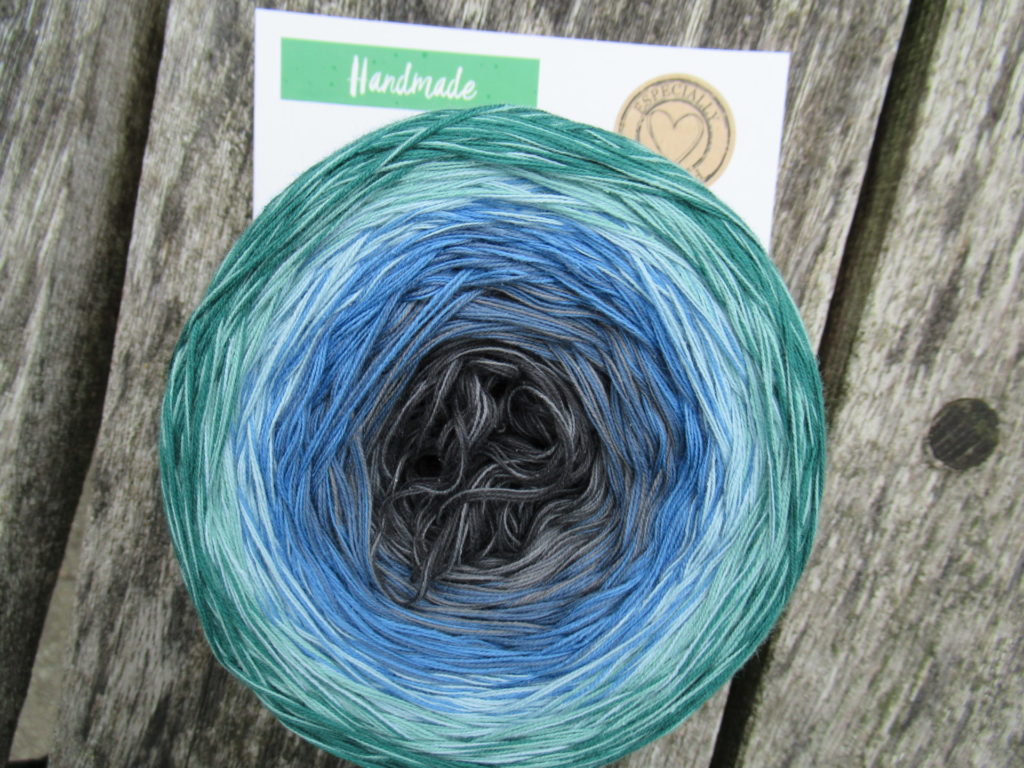 Huh, handmade? Yes, this yarn cake really is handmade! And it's organic too!
Saskia, the owner of Wol zo Eerlijk, a yarn shop specializing in fair trade, organic and otherwise sustainable and animal friendly yarns, makes these yarn cakes herself. She combines several threads of a very thin cotton yarn and winds them into fabulous colour gradients. There are over 25 colourways to choose from.
The colourway I chose is called Planet Earth, and goes from a medium green through blue to almost (but not quite) black.
The thin threads that the yarn is made up of, are not twisted around each other, and I was a bit concerned that the yarn would be hard to knit with. I expected to stick my needle between the threads and miss one or two here and there, but personally, I didn't have any problems.
Because this yarn is handmade, the cakes do not all have exactly the same weight. The ball band says 'approx. 225 grams', but mine was 235 grams. This meant that I could add quite a few extra rows to the border (the pattern explains how to do this) and it has become quite a big shawl.
At € 29.95 per cake, this yarn is rather more expensive than that of the grey Morbihan. But considering that it is handmade and organic, and has a generous metreage, I think it really is a bargain, too. It would be an ideal choice for warmer climates, vegans and people allergic to wool.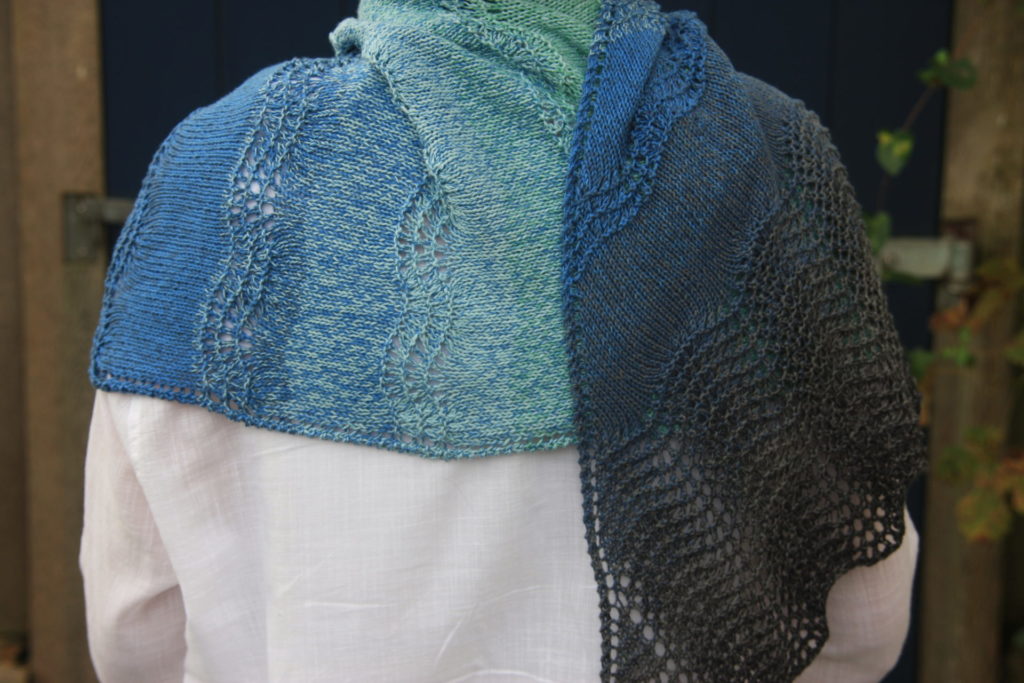 Well, those are my three versions of Morbihan. I think it will work in almost any yarn – cotton or cashmere, sheep's wool or silk, viscose or vicuña, alpaca or acrylic… Wait, no, not acrylic! That's about the only yarn type that I wouldn't choose. I don't think it's very suitable for lace knitting, because it will bounce back after blocking.
Should you decide to make your own Morbihan, in whatever yarn takes your fancy, I wish you happy knitting!
Note: This post isn't sponsored in any way. The descriptions of the yarns are based on my own experiences with them, and represent my own honest opinions.