Hello!
Thinking about knitting projects for the winter months and rummaging through my yarn boxes, I came across some yarn that I bought in Harlingen a while ago. I was going to write about it at the time, but then all kinds of other things cropped up and I never got round to it. Time to rectify that.
After dropping our charges off at the Harlingen ferry terminal on a glorious day in early autumn, we had the rest of the day to ourselves. As it was still early, we first went for a stroll on the dyke, saying hello to the two-headed stiennen man (stone man).
Harlingen (or Harns in Frisian) is the main port of Friesland, situated on the Wadden Sea coast. It was great to look out over the sea for a while.
And also to feel it under our feet, stepping onto the floating pontoon that's there for bathers.
The wide open sky, the fresh air, the great expanse of water – so calming and uplifting. Why don't we come here more often?
We took our time walking to the city centre via the harbour. I was keen to have a look at the replica of Willem Barentsz' expedition ship. It set sail in 1596 to discover a new passage to China via the northeast. It is surprisingly small.
The woodcarving on the prow tells us the ship's name: de Witte Swaen (the White Swan).
There were cannons on board for protection.
But they could not protect the crew from the greatest danger, the extreme cold. De Witte Swaen got stuck in the ice in the Arctic Ocean. Barentsz and his men were forced to spend the winter on the island of Novaya Zemlya. They built a lodge from driftwood and the wood of their colourful ship.
When they ran out of supplies, the crew decided to try and return in two small open boats. In the end only 12 of them returned. Barentsz himself did not survive. Yeah, it's quite a story.
Well, let's get back to the present day and continue on to the city centre.
There are many interesting buildings, a museum, a tile factory and lots of lovely shops here, including a wonderful bookshop, but I'm only taking you to one of them – a yarn shop called Atelier Swoop. It is run by mother-in-law/daughter-in-law team Geertje and Beau Ann.
Officially it is a 'Scandinavian Concept Store', selling Scandi style gifts and things for the home as well as knitting yarns, antiques and delicious home-made cakes.
(We had to sample these, of course, to make sure they really were delicious – I can now safely vouch that they are.) But to me it is first and foremost a yarn shop. So let's take a look around at everything that may interest a knitter. The yarns in the shop all come from Denmark.
Here is a wall of Isager yarns. If the picture looks fuzzy on the left that's the fuzziness of the 'Silk Mohair' yarn. On the right, Isager's lace-weight 'Alpaca 1'.
Here is a close-up of the top of the cabinet, with and adorable little knitted cardi, the ubiquitous dried hydrangeas and some antiques.
Small displays of yarn are dotted around the shop. This is some Isager 'Spinni':
And this is a thicker yarn that may be Isager's 'Jensen' yarn, but I'm not entirely sure.
This cosy corner houses a CaMaRose yarn that really lives up to its name: 'Snefnug' (snowflake). It is very, very soft and airy, only much warmer than a snowflake.
There is also a small but interesting selection of knitting books and magazines, all with a northerly slant.
This attractive book is filled with warm outdoorsy colourwork sweaters in Norwegian and Icelandic yarns:
It is by Linka Neumann, and its title is Vilmarks gensere in Norwegian, Noorse truien breien in Dutch, Einfach nordisch stricken in German and Wilderness Knits in English.
Ah, that was lovely, tasting some delicious cake, browsing around, and chatting with Beau Ann and Geertje. And what did I leave the shop with? Three skeins of Isager Alpaca 1 (left) for a scarf for a friend. And a big bag of Isager Eco Soft (right) for a cardi for our daughter.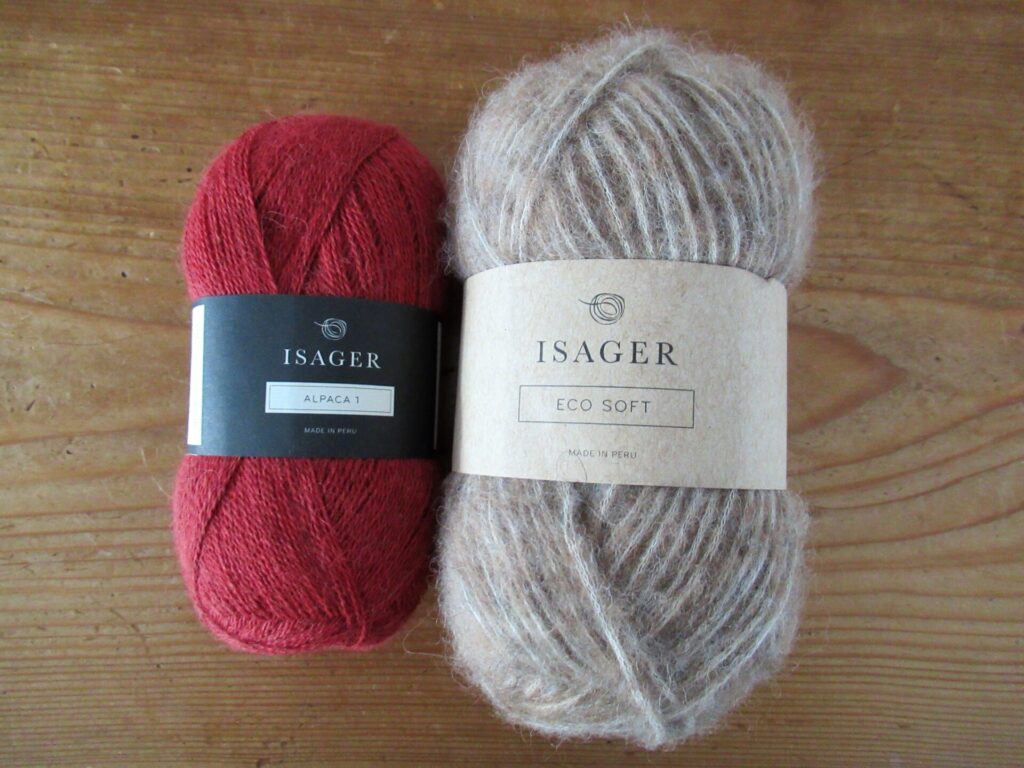 More about those in the New Year, I think. First I'd like to finish a few WIPs* and some gifts.
If you're ever in the area, Harlingen is absolutely worth a visit. Please check out Atelier Swoop's website (no web shop, brick-and-mortar only) for their opening hours. (In these uncertain times it may be best to contact them first to be on the safe side.) And there is a great website with loads of information about Harlingen here.**
Thanks for visiting Harlingen with me. Hope to see you again soon!
* WIP = Work In Progress
** As you'll probably know by now, I'm not sponsored in any way. I only write about the things I write about because I think they are worth writing about.