Hello!
Why do we knit? Or rather, why do I knit? (I can only ever speak for myself.) Sometimes it is because I want something to wear that I can't find in the shops. Other times it is because I want to give someone else a knitted embrace, toasty feet or warm hands. Often it is because I need something to occupy my hands and soothe my mind. Or I see a pattern and think: That is so beautiful – I'd love to make something like that!
This time it was the yarn that did it. The yarn in the photo above. It is a new Rowan yarn called 'Felted Tweed Colour' – a sibling to their all-time favourite 'Felted Tweed', but now in a slow gradient of colours. The palette was developed by the famous designer Kaffe Fassett. As soon as I saw it, I thought: Wow, those colours!
I chose the colourway called 'Frost'. It doesn't remind me of frost, snow or ice at all, however. It reminds me of hydrangeas. Maybe you remember my blog post about cycling to Giethoorn this summer, when I took this picture: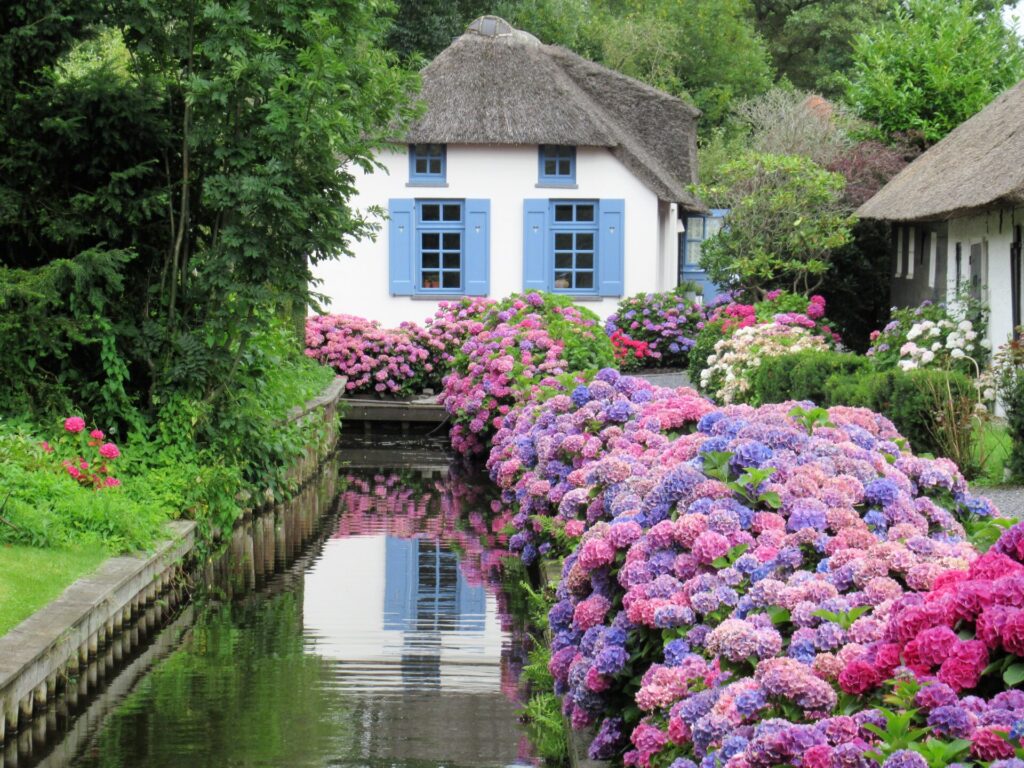 A few days ago, I popped over to Giethoorn again. This is the same spot at this time of the year:
Here the hydrangeas have lost all their colour. In other places there are only lacy skeletons left:
But some hydrangeas have retained their colour and just become more muted than in summer:
It's these that the 'Frost' yarn reminded me of.
And what did I do with the hydrangea yarn? I combined it with some Kidsilk Haze to knit another Story Lines shawl. At first I thought of using some pale pink from my stash:
But then I decided that the contrast was too strong and chose a purple shade called Dewberry instead.
I took the finished shawl along to Giethoorn and asked Albert Mol if he was okay with being my model. Listening carefully I thought I could hear him say: 'Of course darling. Fabulous idea!' (Albert was a very gay person in every sense of the word.)
In hindsight I think a little more contrast would have been a good thing. In some places the Felted Tweed is exactly the same shade as the Kidsilk Haze. The stripes are visible, but don't stand out very much.
The back view below shows how the Felted Tweed Colour yarn moves gradually from one colour to the next, forming wide stripes.
I've given this shawl a wider garter stitch band at the end. Neither the Romantic Ruffle nor the Dainty Droplets I used for the other two Story Lines shawls (shown in this blog post) seemed right for this yarn. I used the Basic Bind-off also described in the pattern instead.
Some of you may remember Albert Mol. For those of you who have never heard of him, he was a Dutch dancer, writer, actor and comedian. Giethoorn has honoured him with a statue because of his role in the 1958 comedy film Fanfare that was shot in the village. As there are many people in Giethoorn going by the name of Mol, I suppose he must have family roots here as well.
Part of the action takes place in Café Fanfare, which hasn't changed much since then: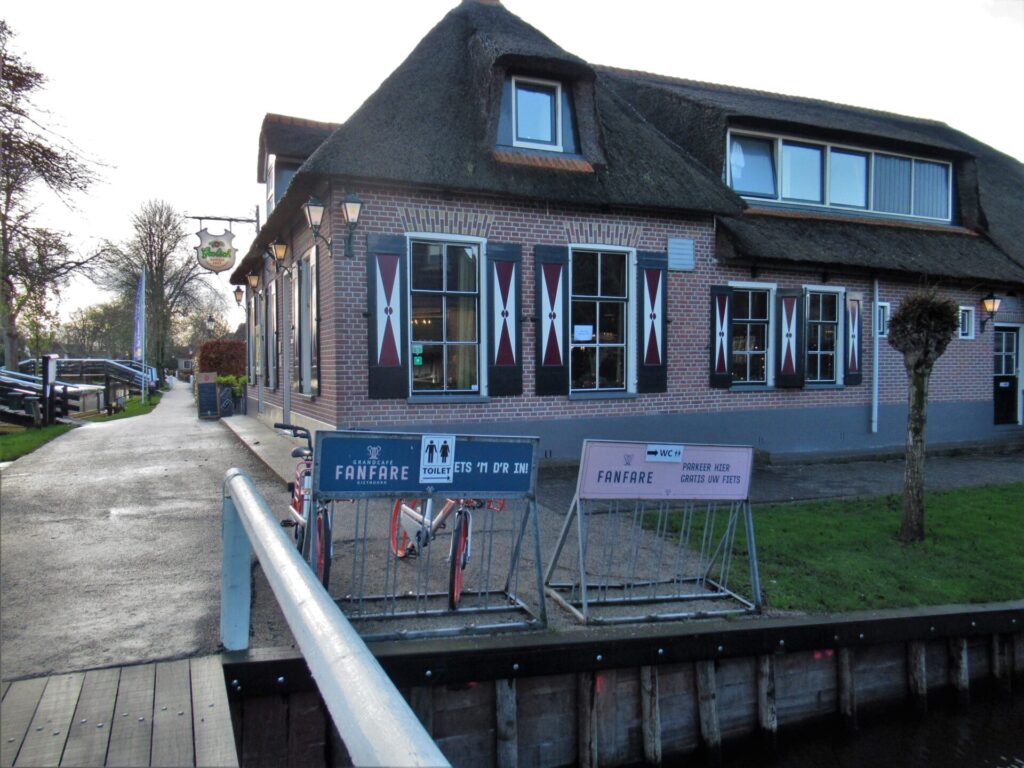 Fanfare is about two rivalling local brass bands that both want to win a competition and are prepared to do anything to prevent the other band from winning. It is in black and white and obviously rather old-fashioned, but still great fun.
Just like Café Fanfare, the rest of Giethoorn (called Lagerwiede in the film) is still very much like it was back in 1958, too.
If you feel like watching some fun slow tv on a dreary December day, Fanfare can be viewed here on YouTube, with English subtitles. (Albert Mol plays the role of one of the conductors, much younger than his bronze statue and without beard.)
And in case you'd like to make a similar Story Lines shawl, it takes 2 skeins of Felted Tweed Colour and 2 skeins of Kidsilk Haze. The Story Lines pattern can be found here on Ravelry, and my notes about the hydrangea version here.
I wish you an enjoyable weekend, with something fun to do, watch and/or knit!